Looking for Southern California family fun this summer? Plan a visit to Knott's Summer Nights between now and August 11 to experience this year's summer nights entertainment and special foods. Coupled with the newly redone Calico River Rapids white water ride and Ghost Town Alive, all ages will enjoy a day at the park!
Knott's Berry Farm is also a spectacular choice for where to spend your upcoming July 4th holiday with a beautiful fireworks display at 9:30pm. The founding fathers would approve!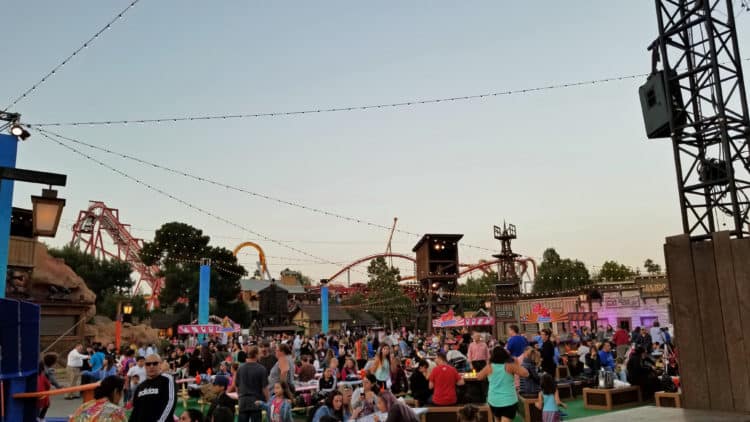 We attended a complimentary evening at the park last week, so we could attend media night and try out all the fun ourselves. Summer nights is spread out over the midway, where you'll hear entertainment throughout the evening, from a DJ high above the boardwalk by the Charleston Circle Fountain to the Top 40's bands at the Calico Mine Stage. There are also other unique summer entertainment around the park.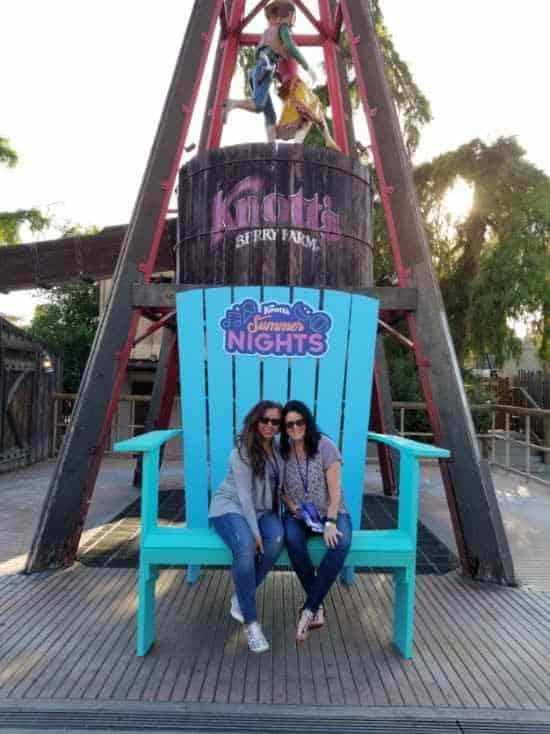 Keep an eye out for the characters wandering the midway. We ran into Anita Drink and Duncan Disorderly. LOVE the humor, and they were totally into their roles.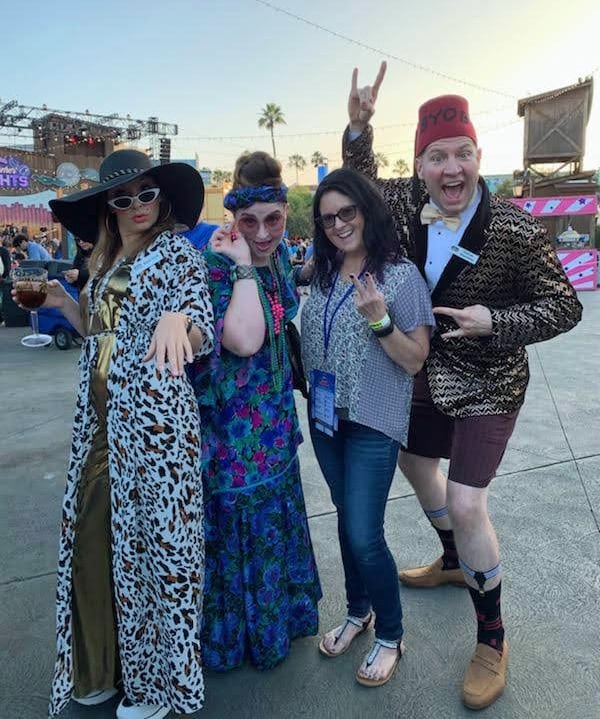 We also found these two hanging out around the dessert booth. Who could blame them? I did, too.
Speaking of dessert….when you're at Knott's, you can't miss trying their themed food, and as usual, it didn't disappoint. I am all about the boysenberry items and this year, I tried some boysenberry wine.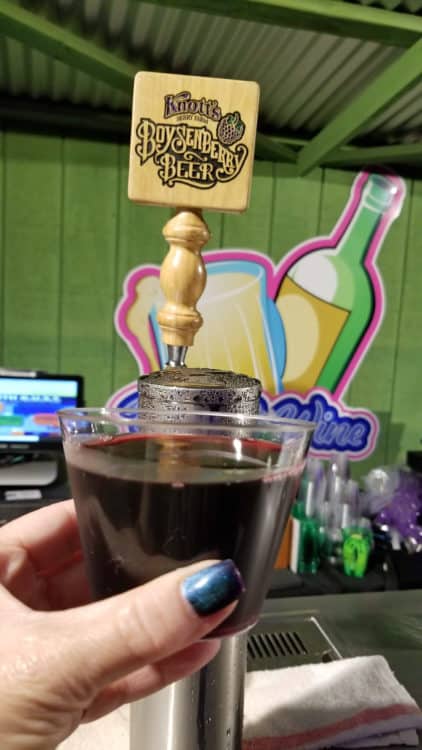 Winner!
With the purchase of a tasting ticket for $35, you can pick up to eight items to taste. The word "taste" is a bit of a misnomer, as they are each a full serving, so eight tastings is plenty; two of us barely used one card throughout the whole evening! (Keep in mind, the wine/beer booths may close earlier than the rest of the booths.)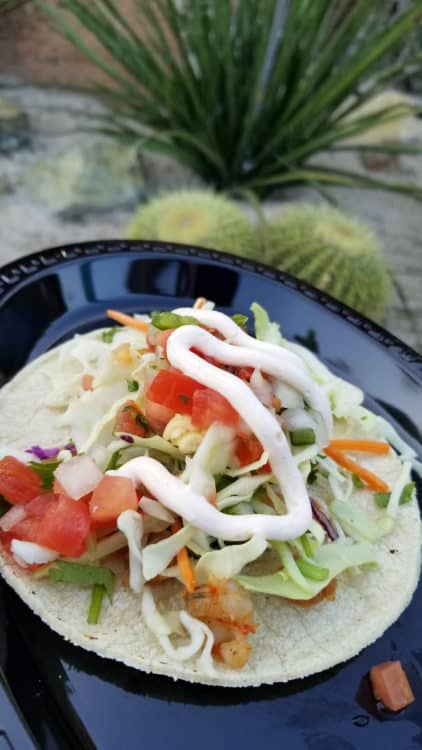 That shrimp taco was my favorite savory item of the evening. Fresh, made right in front of me and pretty filling. I almost went back and got another one later.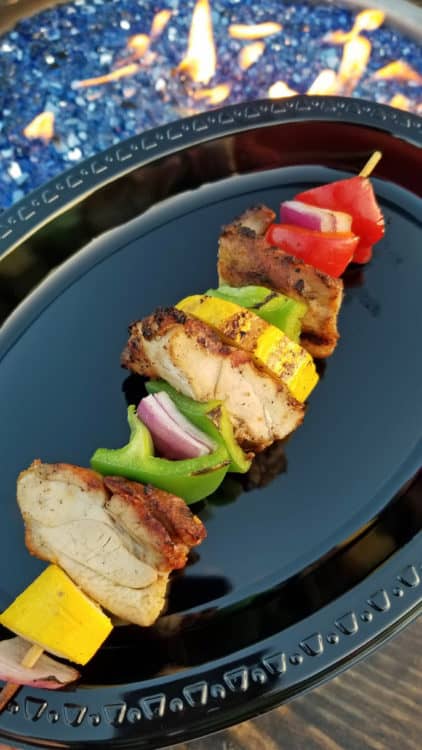 The kebob booth was hopping all night long as well. They had shrimp, chicken and veggie options and they were pretty big as well as tasty.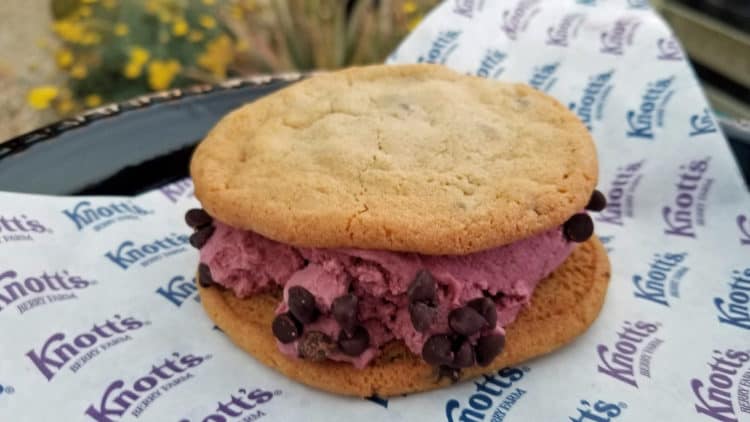 This cookie sandwich though….it's a thing of beauty. They had a few options for you to customize it to your preferences, and I chose chocolate chip cookies, boysenberry ice cream (of course, of course, of course) and a dip into the mini-chocolate chips. SO good. It's a good size, so plan accordingly. They do not skimp on the ice cream and those cookies were large on their own. My favorite thing of the night!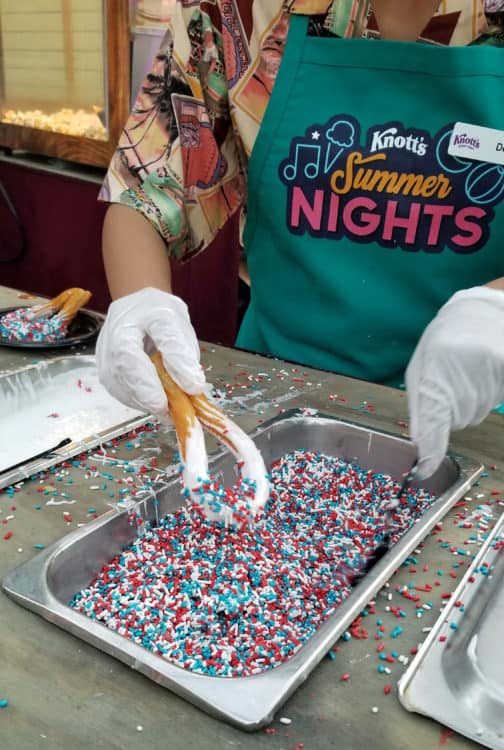 Those churros were really popular. We were tempted to get our own as we waited on the hubs' strawberry shortcake. (He got the last one, they were popular, too!)
All of the Knott's Summer Nights fun is included with your regular admission, though the food is extra, as always. Visit Snoopy and your Peanuts friends over in Camp Snoopy and don't forget to spend some time in Ghost Town, where you can participate in the fun of Ghost Town Alive…just watch out for the sheriff! He could put you in his jail!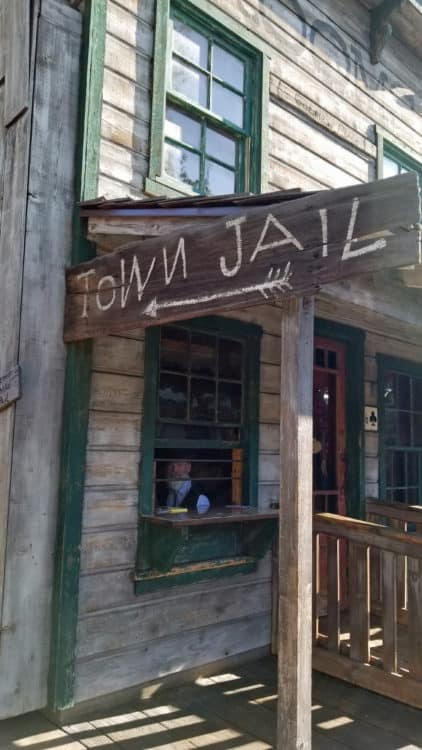 He was keeping his eye on us.
As always, it was another fun day at Knott's Berry Farm! Buy your tickets online or at the park, but if you buy online, you may save some money! You can also purchase your tasting tickets ahead of time, too. Passes are also available and are a great deal if you plan on visiting more than once. Passes start for $33.50 upfront and are as low as $27.50 per month for just three months, depending on which type you purchase. Some include Knott's Soak City Water Park and/or parking, so you can really amp up your summer fun on the cheap!