My daughter works as a zombie this year. For reals. She's got the tough job of putting on makeup of her own choosing, throwing on gross clothes, and heading to a local amusement park where she scares innocent, but expectant, patrons all night long. She's been working on making her look more scary and getting my opinion on looks. Then I got the big question: what do you think about costume contacts?
The mom in me wanted to yell no, no, no, but the rational person stepped in and calmly said "Those aren't good for your eyes, so I'm forget those and work on just making your beautiful brown eyes as creepy as possible." She responded "Ah, okay. What do you think about this style of blood on my face…" and the conversation went onwards. She chose a new look, which I've shared with you below, and her gorgeous dark brown eyes are shining safely without costume contacts.
Creeper!
Crisis averted, but 17% of people have tried them at some point, with 24% of those people getting them from a non-medical source.
I wrote this review while participating in an Influencer campaign by Mom Central Consulting on behalf of Johnson & Johnson Vision Care, Inc. and received a promotional item from Mom Central to thank me for participating.
Eye care – an undervalued thing in a society where we're worried about fitting in a workout, looking good for work and then being able to jazz up our look for a late night on the town, where our eyes will be so tired the next morning but darn, we will look good!
Then throw in living in California or another sunny area, and you've got a recipe for disaster if you're not careful.
Being a mom, we have a lot of things to discuss with our kids, and proper contact usage is just one more thing when your child goes for prescription contacts. Three out of my four kids wear corrective lenses, and two wear contacts most of the time; the third is itching to get them but I'm not sure he's ready yet to take proper care of them. I also wear contacts for a special event, so I know the work involved. Wash your hands, clean the lens, store them properly in a clean container, all the while using the proper solution that goes with the lenses. It's not difficult, but if you miss a step because you're in a hurry to get out the door or hit the bed, you could be jeopardizing the health of your eye.
If your eye doctor says to use a certain type of solution, use that type of solution. We ran out once and grabbed a different kind; big mistake, evidenced by the red, teary eyes until we switched back and cleaned everything thoroughly. Lesson learned to always practice proper contact lens safety.
Another very important part of contact lens care is length of wear and use. Each type will have a certain shelf life, a standard amount of use before you throw it away, and many are not cleared for using at night when you sleep. Sleeping in contacts not made for it can dry out your eyes in the very least or seriously scratch them. I know more than one person who had to go the ophthalmologist because they were partying too hard and went to bed with the daily wear contacts still in. Oops. And ka-ching, because they each had to seek medical care. (I also tried it once myself, 20+ years ago before there were any nighttime wear contacts affordable to me and ouch. I was lucky, there was no damage but I had to put on my glasses for a few days.)
A lot of people just don't regularly focus on the fact that contacts are medical devices. You have to take them seriously. Use good hygiene, don't use saliva to moisten or clean them (ewwww), disinfect them properly and seek medical help when you need it. Then there is the obvious thing of never wearing someone else's contacts – like prescription medication, contact lens are prescribed just for the person who received that eye exam and the name on the label.
We all get lazy sometimes – honestly, it's why there are days I don't wear contact lenses and just pull out a pair of glasses – but eye care isn't where I need to shave off time, and I want to set a good example for my kids. When we talk about contacts, I want to be truthful and not have to hang my head, and when my 13-year-old eventually gets his contacts, it'll be a conversation we have, too.
Do your teens wear contacts? Do you have problems with them following proper procedure for contact lens safety?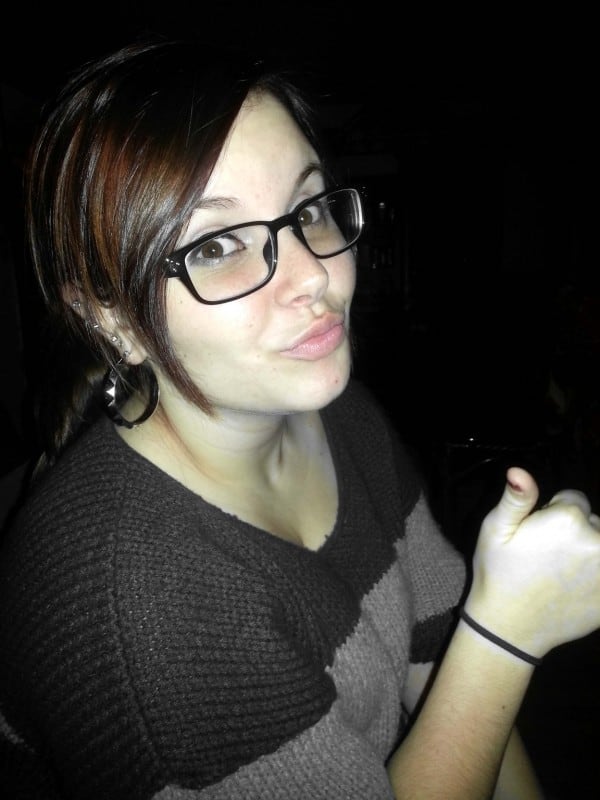 Thumbs-up to contact lens safety! If you run out of contacts or proper solution, pop on those glasses!
Johnson & Johnson is a great resource for answers about contact lens safety, lenses and eye care and your eye doctor can help you, too. Keep track of your individual contact lens replacement schedule with the ACUMINDER® Tool, a free service that sends an automatic reminder via email and/or cell phone text message on when to replace contact lenses, when to   order new lenses and when to schedule an eye exam. Registration is free and open to all contact lens wearers.
Stay well!