I love holidays…we typically go overboard and I am always sorry when it's time to put things away, but usually, that just means it's time to decorate for the next holiday! Halloween, Easter, National Tortilla Day…the list is endless.
Today I made a Halloween craft based on something I saw along the way somewhere — flowers with eyeballs. It's totally not what you expect, as it looks like it's just a pretty but scary flower arrangement for Halloween in gruesome-ish colors of black, purple and sparkly gold. But then you look close and realize that the flowers are looking at you!
Below are the step-by-step photos and directions to assemble one of those scary flower arrangements. The supplies are simple and affordable:
1 small vase in a Halloween color
1 branch of black or otherwise scary flowers (I don't recommend flat flowers as the glue and edges are obvious)
2 stalks of Halloween-colored branches or shimmery stuff (for lack of a better word)
enough flat googly eyeballs to put an eyeball in each bloom of your flower branch
black pom-poms, enough to put 1 or 2 in each bloom
Elmer's or similar non-toxic glue
Assemble everything on a flat surface and get started!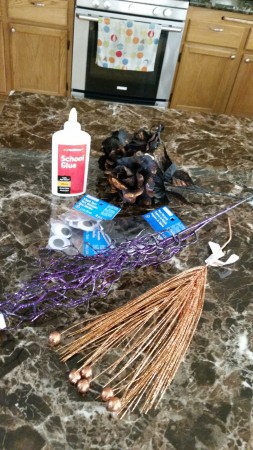 I love the colors!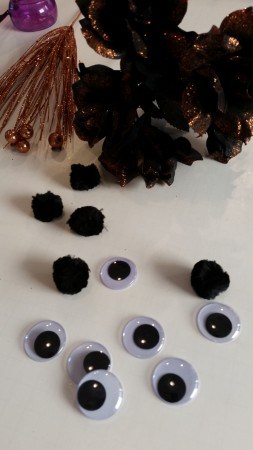 Something about crafting with eyeballs….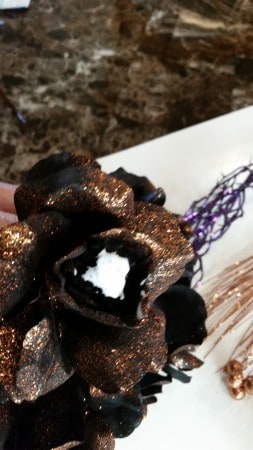 Hold the branch of the flowers. Stuff one or two pom-poms into the center of each bloom, depending on how deep the center is. You want the eyeball to sit flat far enough away from the well of the bloom so that it is easily seen. I used glue to glue the two pom-poms together when I had to use two.  Put more glue on the top pom-pom and put on the eyeball.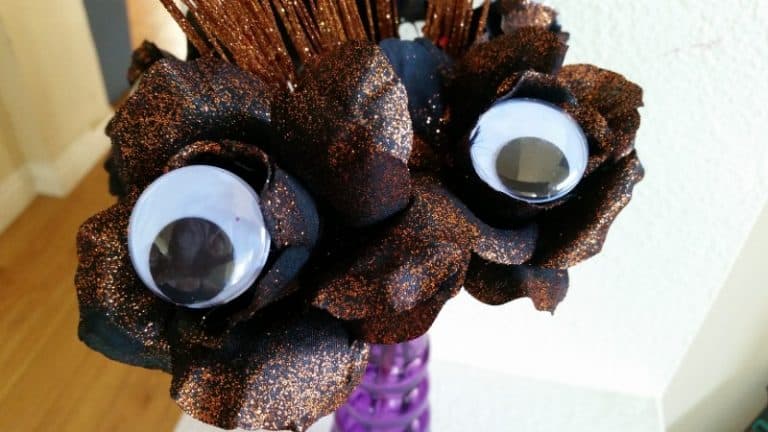 Attach the eyeballs.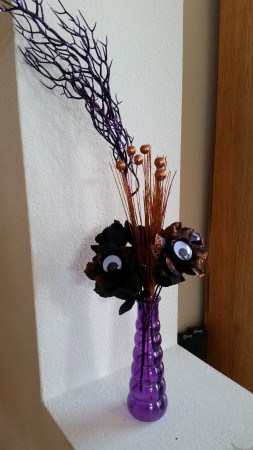 When the eyeballs are dry, bend the blooms/stems as necessary for your arrangement and assemble the filler stalks all inside the vase. You're done!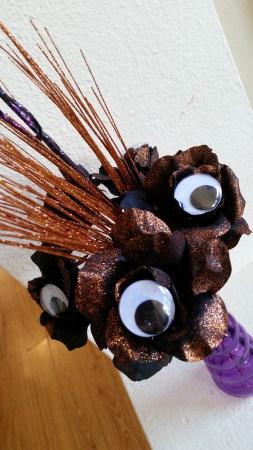 I love how it turned out! We had a guest over right after I was finished and the eyeballs elicited a giggle from a little girl. Score! This craft took all of ten minutes to assemble, about $10 to make and it easily comes apart for storage. We have a purple theme for most of our Halloween decor so it fits right in and adds just a little bit of creep to our entry way.
And I had a lot of fun making this very simple, basic Halloween craft!