Every year, except for the year we moved back to California in 2013, we put in a backyard garden. When we moved into this house, it took us another year to get the landscaping done properly, with raised beds and planters, to have sufficient space for all the vegetables, herbs and flowers I wanted. I envisioned a relaxing space, one that not only looks peaceful but smells good. This year, I took on one added task: creating a butterfly garden that also attracts hummingbirds.
Thing was, I knew nothing about how to do that. I didn't know diddly about what attracts birds and butterflies and keeps them hanging around. Thank you, Google, for schooling me in all things butterfly garden. There are so many educational sites out there, and here are a few I read:
In short, I learned that you need host plants that provide places for butterflies to lay eggs and for the chrysalis to evolve, as well as plants that will provide the pollen necessary for them to eat. Hummingbirds like red and orange flowers, but they aren't fond of yellow and white blooms. Gardens created with varying heights and formations help attract all the beauties by offering a multitude of natural places to eat and fly.
Creating a butterfly garden didn't cost me anything extra over what a regular garden would cost; I just chose different flowers and bushes. It did take me three trips to Lowe's and one to Home Depot and a few hours of all that Google reading so I'd know what plants to buy and where to put them all. I probably spent about $150 on the garden total, with half of that on vegetables, so if you're going just for the butterflies or hummingbirds, you can do it easily for less than $100.
It's all been in the ground for almost three weeks now. We're already seeing an increase in butterflies and everything's starting to bloom. It's so relaxing to sit out back, beverage in hand, or even just working on the laptop, watching the colorful butterflies enjoying my flowers and helping to pollinate everything. Seeing nature at work so easily is rather amazing, knowing you can change your environment without a lot of effort.
We still have work to do in the backyard, as we've got a 15′ by 15′ patch of dirt that the dogs need as a potty area. We tried sod but it didn't take, as the slight slope created drainage issues, so we're putting in artificial grass. There's a huge orange tree in the middle of it that provides shade, so it's a beautiful space even without the grass completed. Here are a few photos of the various plants so you can get a quick glimpse of what a butterfly garden in a small backyard includes. I'll update the growth later in another post, as everything's changing on what feels like a daily basis. I also have a mass of rogue tomato plants that came back on their own from last year and controlling that small jungle is a feat in itself already. We're going to eat well this year!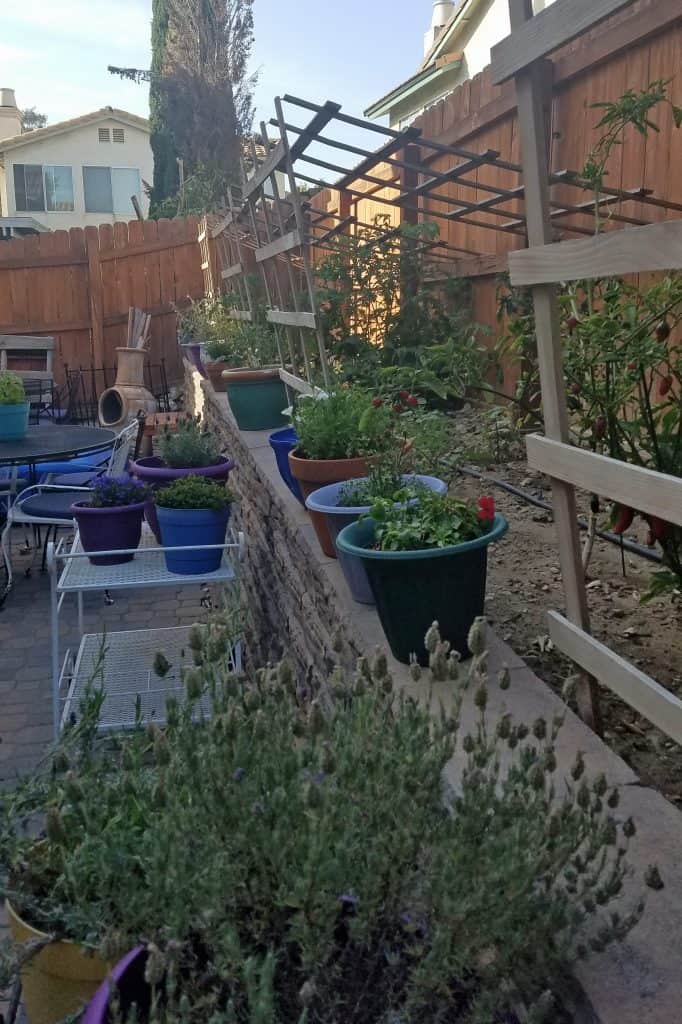 That's one end of the long garden. You can see some of the jalapeno peppers and part of the mass of lavender buds. I love to make lavender syrup to use in champagne or other cocktails, and I also make potpourri bags. There are so many possibilities for lavender use.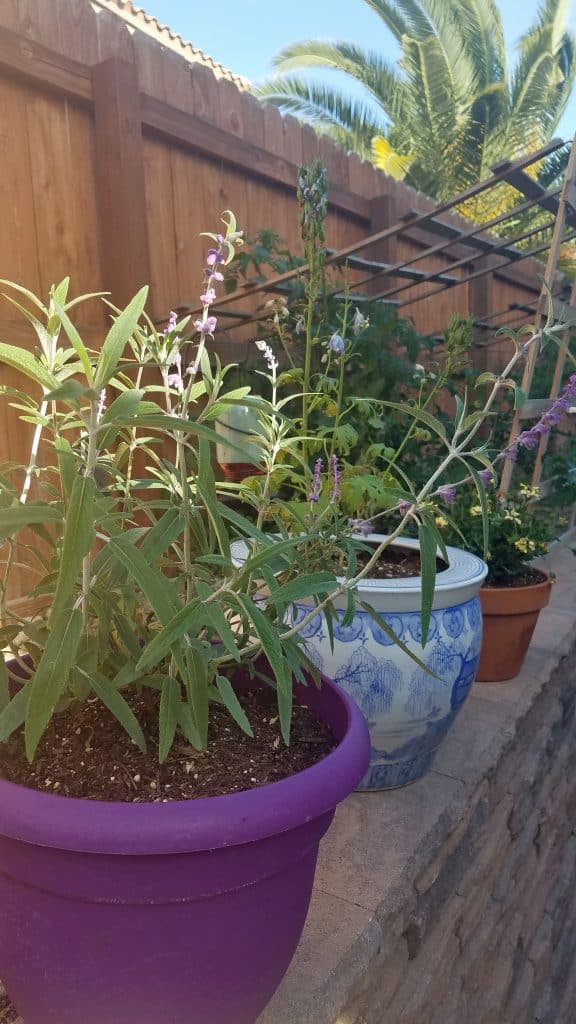 That sage plant is probably one of my favorites. It blows in the wind every day and the flowers are like velvet. The yellow daisies aren't favorites of the hummingbirds — which I didn't know until after I'd gotten them home — so I placed them in the middle of the garden away from most of the other plants.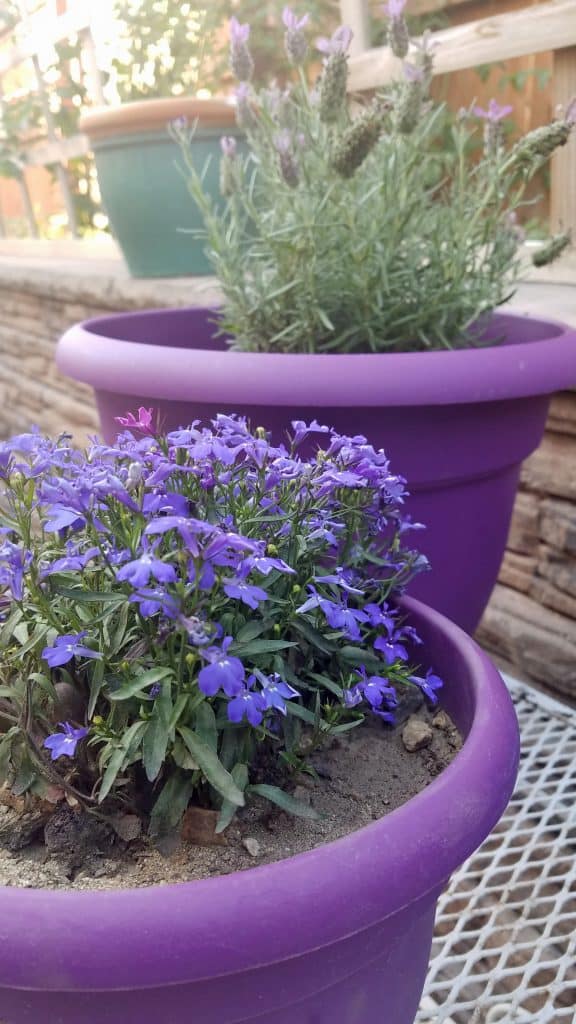 Purple! I have several of those plants and while I don't remember their names right now, I love the bright variations of purple that come up. One plant can have several shades and they come back year after year if given some shade and enough water.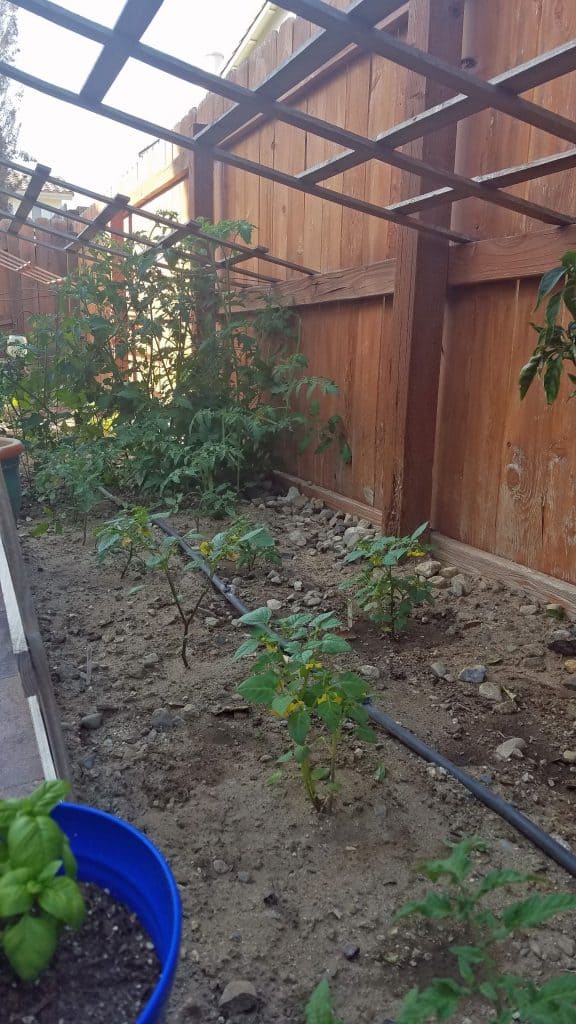 Hello, tomatillo salsa! Last year, I had three plants that produced enough to keep us in salsa all season long. I hope to experience the same this year. I also hope that little basil plant takes off as we love to eat Italian food.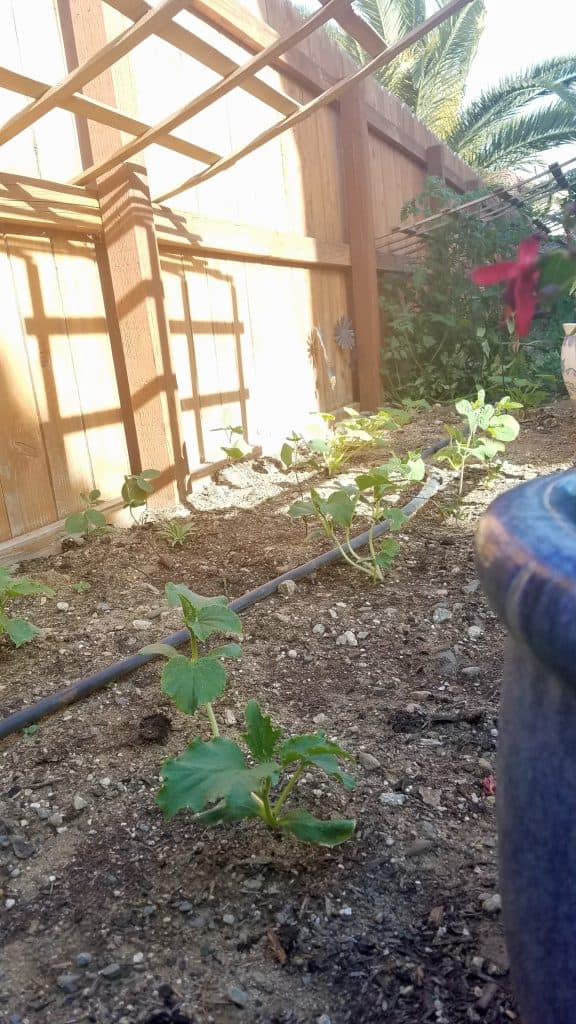 Lots of zucchini bread and cucumber-infused water ahead, too. Zucchini's great in protein balls too, did you know that?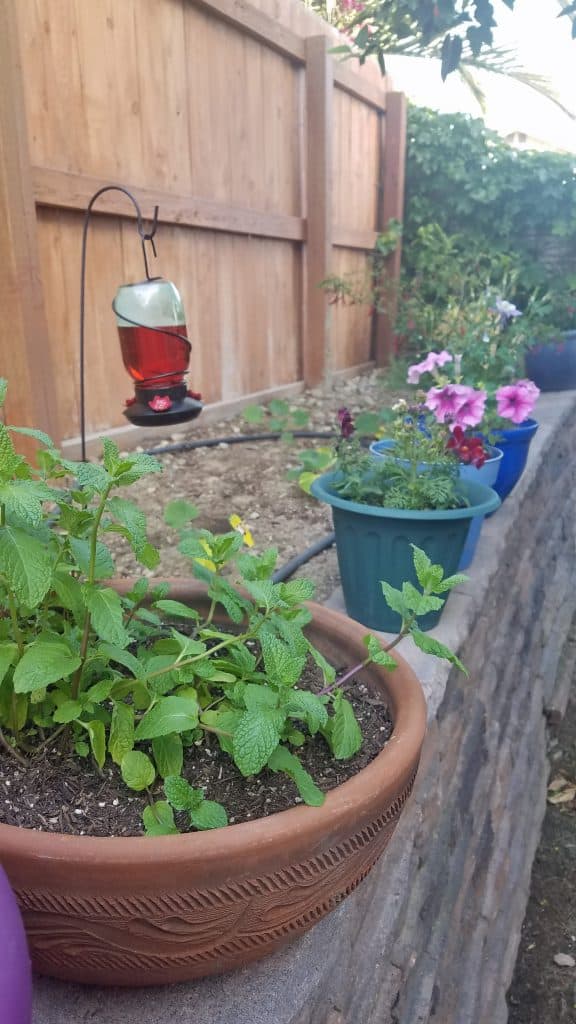 I have learned one thing since this picture was taken: don't use hummingbird nectar with red dye in it. That has since been emptied out and replaced with a non-dye version of water for the hummingbirds. No need for artificial dyes or buying something expensive when you can make it yourself. That mint is one of my favorites, too, just for all the uses, mainly mojitos and teas. Mint oil is also a good natural ant repellant, as long as you don't go overboard.
Whether you start a big garden or a small one, enjoy it. Fill your space with your favorite colors and the flowers that make you smile. Having birds and butterflies visit is just a bonus.