Lately I've been using essential oils for so many things: congestion, stress, sleep, energy, etc. Each month, I buy new oils, new containers and try new things. I've tried Simply Earth's monthly essential oil box a couple of times before and love the selection.
Each month is a surprise, with different oils, new recipes and even a craft. One month, it was soap with essential oils and this month, it's an adorable turkey magnet. I love crafts and never take enough time to do them; now I have no excuse not to!
Each Simply Earth monthly essential oil box is different. Priced affordably at $39 per month, it's a monthly subscription that will save you money if you regularly purchase essential oils. With the added recipes and suggestions for use, you'll get even more out of the new oils as well as any you may have sitting on your shelf.

Simply Earth's products are quality, so you know that every essential oil included is purely sourced from areas around the world that provide the absolute best ingredients. Simply Earth works with the farmers so every plant is harvested safely and ethically. Then the oils are collected via cold-pressing or steam-distillation. This means that what ends up in your bottle is 100% quality and safety.
The oils then arrive in your home, packed carefully in a cardboard box, in amber bottles that protect the oils against any damaging UV rays while keeping them fresh. If for any reason you are dissatisfied, you have a 365-day guarantee. I don't run into those very often.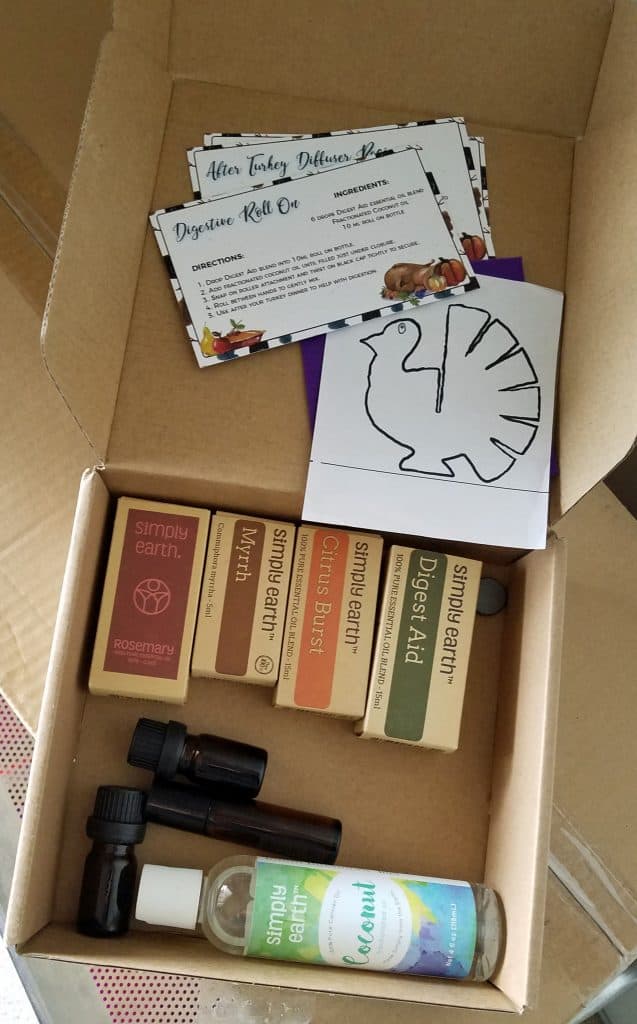 I suffer from a chronic sinus condition and allergies. I go to bed congested frequently, and like most busy ladies, I don't fall asleep quickly after a stressful day. I keep a diffuser next to my bed and each night, I run it with a few drops of lavender oil or eucalyptus oil. Sometimes I mix in peppermint oil. I sleep better and my congestion is sometimes better. It's crazy to think that something so simple can be so helpful!
Then there's the added bonus of it providing a fresh, clean scent for the room. I also run a diffuser in my office (I work from home full-time), usually with oils designed to energize and/or relax.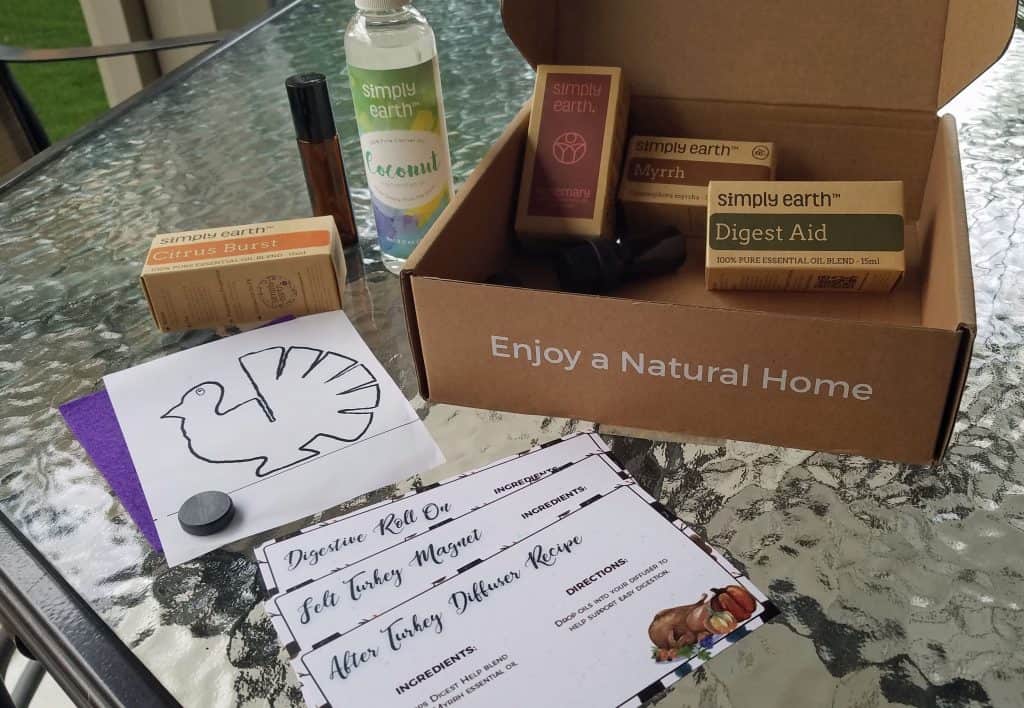 The November monthly essential oil box from Simply Earth contains recipes designed to help you during any crazy Thanksgiving celebration plans you may have. A digestive roll-on, which you can make easily, put it in the provided amber bottle and then tuck it in your purse for use wherever you go. We all tend to overeat, or eat things that are new, which may upset our system. This little recipe could come in really handy on turkey day!
If you're considering subscribing to Simply Earth, I've got a $40 gift card or free oil available to my readers! Follow the directions below, and then let me know what you order and what you think about your steps towards enjoying a natural home!
***Use code 
DONNABIROCZKYFREE
 to get a $40 gift card or a free oil (worth $10 below).
To get the $40 gift card, subscribe on the box then type the code 
DONNABIROCZKYFREE
 and type the email. IMPORTANT: DO NOT INCLUDE ANY OILS WITH THE SUBSCRIPTION BOX IN THE CART. 
The $40 gift card will be sent to the email provided after paying for your first subscription box. The $40 gift card can be used to purchase anything from the website including the $29.99 diffuser.
To get the free oil, choose the oils then type the code 
DONNABIROCZKYFREE
 and type the email. It will then take off $10 from the total amount. IMPORTANT: DO NOT INCLUDE THE SUBSCRIPTION BOX. ***
If you're not sure, consider Simply Earth's mission towards helping end human trafficking. Did you know the average age of an individual forced into human trafficking is 13? Because of that scary number, Simply Earth is donating 13% of their profits to help end it.  WAY TO GO, Simply Earth! 
I'm off now to put some Citrus Burst in my office diffuser. Tomorrow's going to be a busy Monday and I am going to need the uplifting, energizing and peaceful scent it will provide!