Makeup is not my forte. I don't have the flair for creating the perfect winged eyeliner, sculpted cheekbone or smokey eye. I wear makeup almost every day, but getting ready for the many press events I attend takes effort. I can't just grab my makeup kit and be out the door 20 minutes later looking like a celeb. Getting glam is no easy feat, but with the help of Sephora, I now have a much better shot at showing up for a red carpet event looking like I belong there! (And in a shorter amount of time because now I know what works and I have the tools to make it happen.)
First, thanks to Sephora for sending me complimentary products to try. I was in awe when I opened the box, and I still am. Those brushes! The shadows! The brow gel, the cleaning products, the hand masks, the applicators…I love it all and I'm having fun on a daily basis trying out each product.
Last week, I attended the red carpet premiere for the new Disney movie, Pirates of the Caribbean: Dead Men Tell No Tales. Held at the Dolby Theater, there were two pre-parties so I wanted to pull off my look without a hitch. I scored on a little black dress with gold accents, matching pirate-themed jewelry (from a booth at the Comic Con Revolution) and for a pop of color, I chose purple heels with just a hint of sparkle. (Thanks to my friend, Janis, over at MommyExpertBlog.com for taking this photo of me on the carpet!)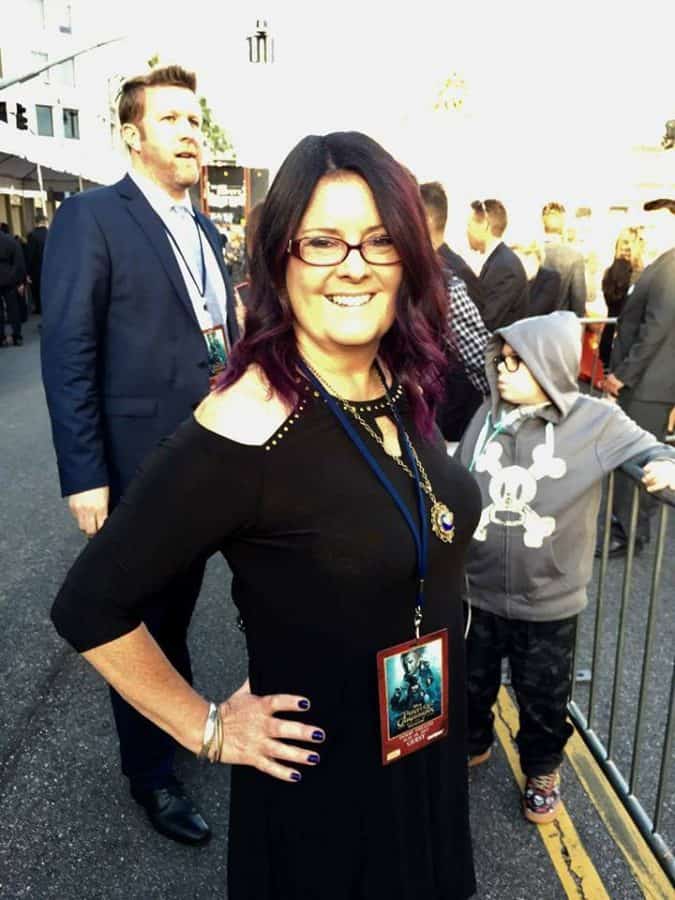 Attire was the easy part though, because my skin is a totally different story. I have dark freckles, an uneven skin tone, naturally frizzy hair and dry skin. I had to work the day of the premiere, so I didn't have time to go get my makeup done. I'd gotten my hair re-purpled the day prior, so I had even more pressure to get my makeup on par. That meant long, curled eyelashes, filling the crinkles around my eyes and applying my foundation so well that you can't even tell I had any on. I envisioned just a little glitter for my eyeshadow and a matching liner that still stands out behind my glasses. (I was driving myself home at night and contacts and I aren't necessarily friends after wearing them for hours.)
Makeup doesn't start with just what you can see though. Your skin needs to be cleaned properly, then moisturized. Hiding wrinkles, minimizing any dark spots and alleviating puffiness is often more than even the best of foundations can handle. Sephora's products covered all my bases: various cleansers, facial and eye-area moisturizers, hand masks and cuticle care to display my shiny purple manicure in the best light, the list goes on. The products are quality — no oily residue or heavy feeling, and they all smell fantastic while including skin-safe ingredients.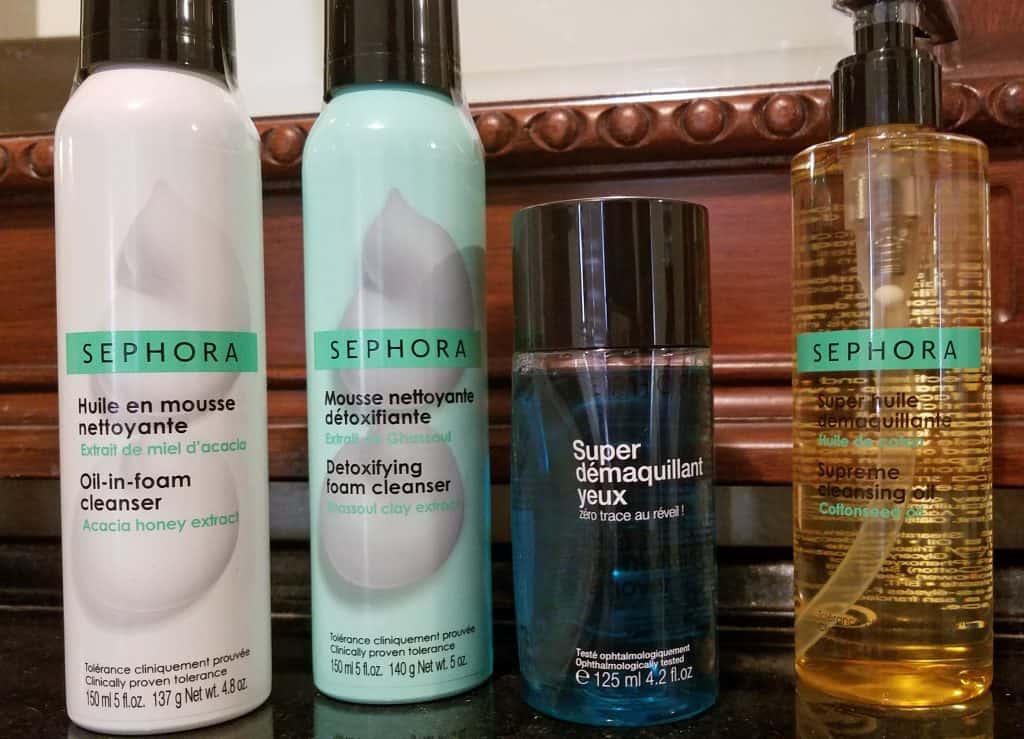 Then you have to put together the look, from powder to blush to liner to shadow to brow gel. It's work getting ready for these events, though I wouldn't let that get in the way of any of these amazing events, ever. Now learning more about what Sephora has to offer, I don't ever have to worry anymore. Look at the shadow options in this Mixology kit! Mix and match or blend to your heart's content, the possibilities are endless. I chose the bottom middle trio for the night of the movie premiere, and used the kohl color in the top right to line my lower lid. Minimal effort, as the shadow didn't flake off and it blends effortlessly. No hours in front of the mirror!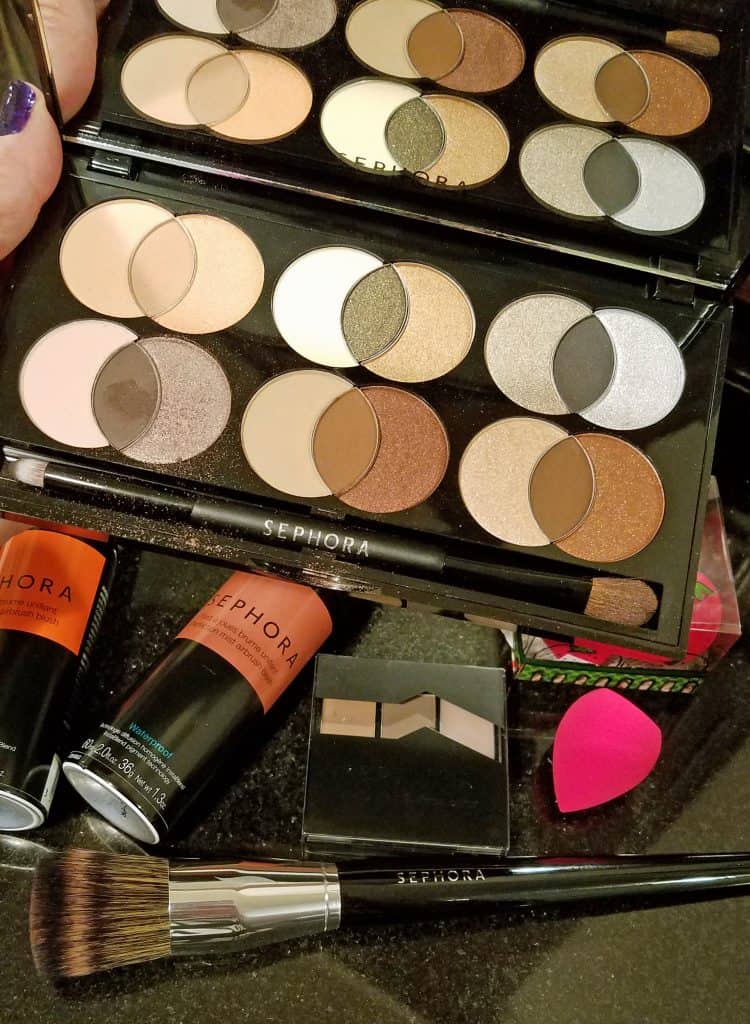 The applicator in the Sweet and Warm Shadow kit is wonderful, but with an arsenal of Sephora brushes in all sizes, you can blend in even more ways. The packaging on the brushes keeps them clean and easily stored; they each stand on their end so you're not damaging the bristles just to store them. They're so soft and spread powder so smoothly and come in every size/purpose you'll need.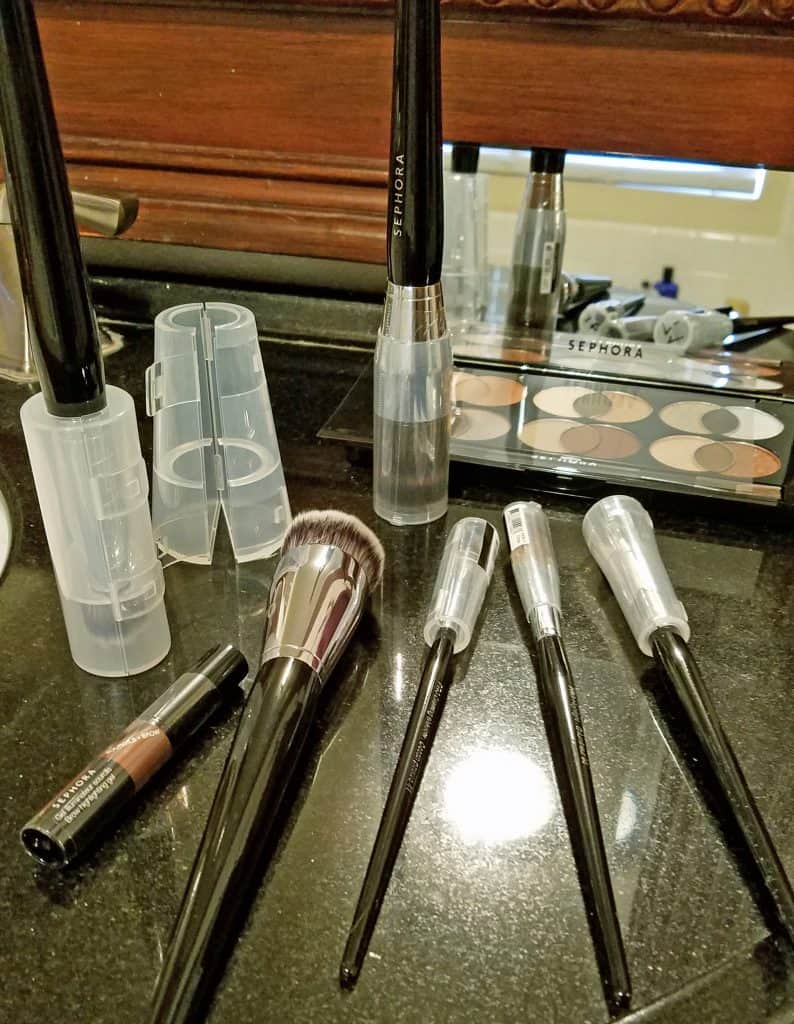 After a round of getting glam and staying all put together for an event, a good cleanser is critical for ongoing skin health. Thorough makeup removal that doesn't hurt your skin while taking off all signs of your fun night out is critical. Moisturizers for day and night will help alleviate those wrinkles and over time, you'll have to worry about them and any dark spots less.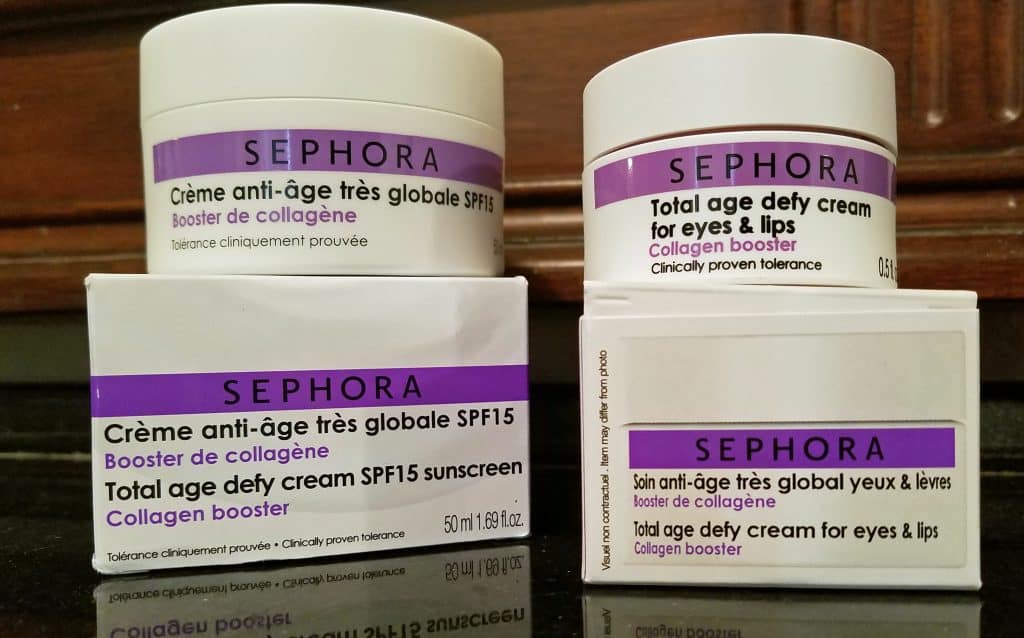 I won't use a moisture or cream on my face anymore unless it's going to help prevent me from UV damage. Sephora doesn't let me down as even it's age defy cream has an SPF 15 sunscreen. The Total Age Defy cream for eyes is also for your lips, too. You don't see that often, right? Double-duty products save you money and space, and both are collagen boosters, making them even more multi-purpose. (Collagen helps your skin keep its elasticity and youthful appearance. Read more about beauty terms here on Sephora.com.)
You can't forget cleaning your makeup tools either. Clean your brushes in-between applications with the Mini Switch, or use this other brush cleanser for proper hygiene. With so many beauty products on the market, you have a lot of ways to keep your skin and beauty regimen healthy, but spending a little more will make the routine easier and give you more confidence you're doing the best things you can for your skin.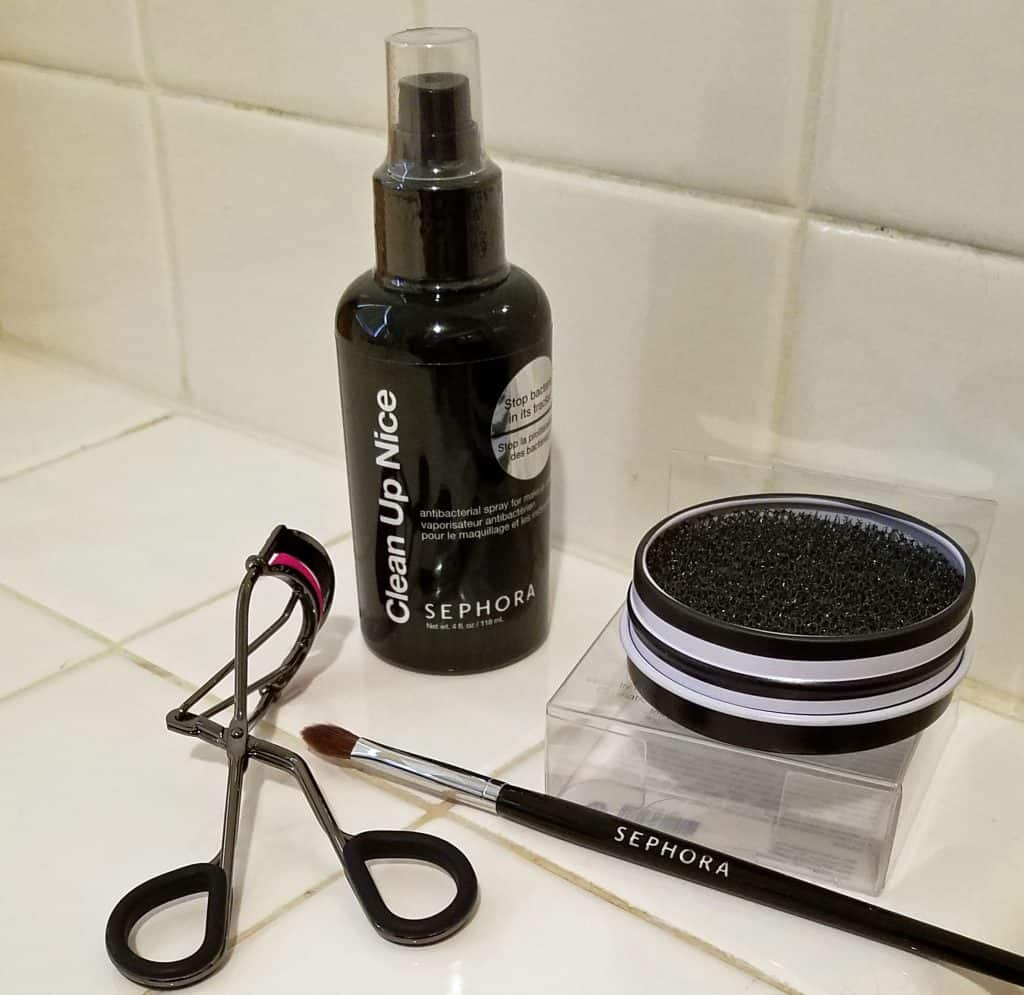 Packing a small bag to take in the car is something I learned on my first trip. I keep my press bags pre-packed and ready to go, so I only have to grab my camera and necessary lighting or sound equipment, and I have a mini-makeup case handy as well. Sephora products make getting glam on the road easy, too. Throw in one of the adorable strawberry sponges, a mini-foundation, the three-brush kit, a small makeup palette and you're good to go whether you need touch-ups or a full make-up session.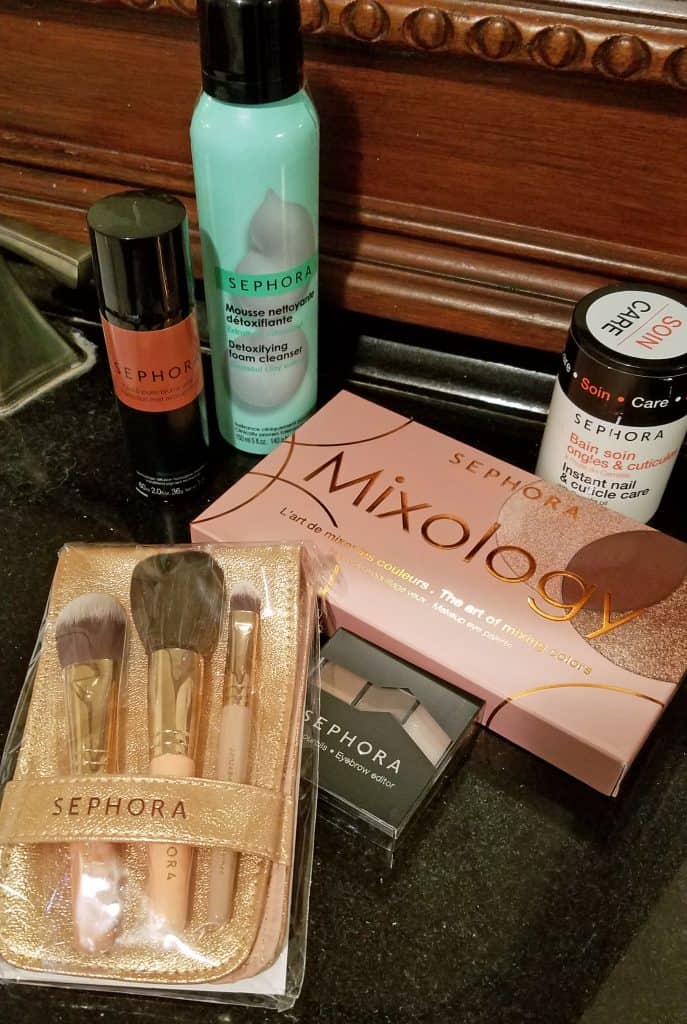 With that little kit, you're ready at a moment's notice for any type of makeup prep you need: glam movie premiere or a day at the office or even a night of indoor skydiving. This array of brushes covers all your bases, including an eyelash brush so you're not dealing with any errant blobs of mascara to detract from the plush look after using a Sephora mascar to length and plump up your lashes. That eyelash curler is a dream, by the way! I haven't used one in so many years, because the last time I tried it, I felt like I'd pulled out have of my lashes. Not so with this Sephora curler! One quick crimp and my lashes immediately looked fuller and framed my eyes much better. When you're a four-eyes like me, you sometimes need to play your eyes up more. This makes it easier and doesn't hurt.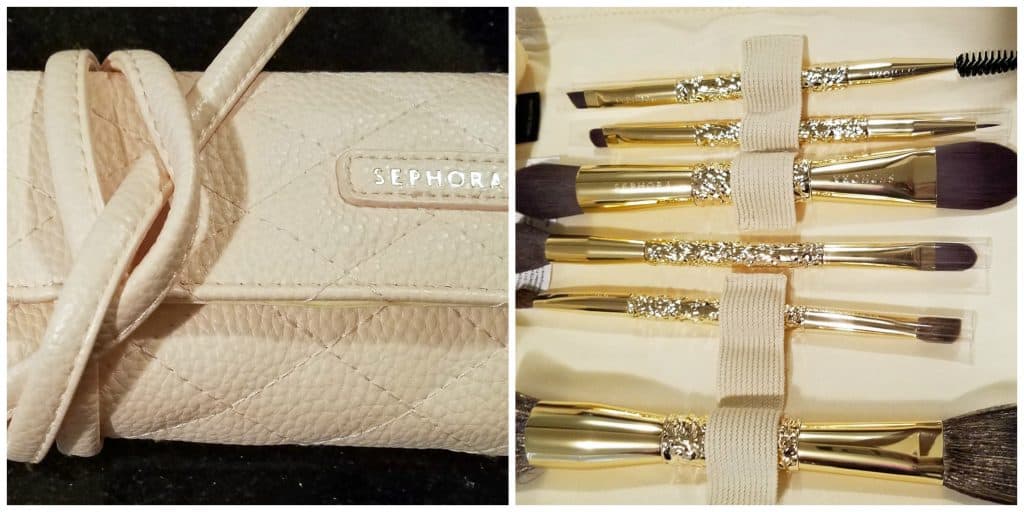 I love that even the brushes bring a touch of glam to your makeup regimen without even doing anything. Sparkly handles and a wrap-around brush case are fun to throw in your suitcase without worry of damage and they don't take much space.
What's your biggest beauty challenge? My guess is that Sephora can help you resolve it. It helped me, a makeup non-extraordinaire, get ready for the red carpet as well as a school meeting and a client lunch. I'll be sharing more on social about different products I'm using, and I'll be sure to share photos of before/after with the hand masks. Learning the basics of makeup will help you be able to do a lot with just a few quality products with confidence. Glowing skin is a part of healthy skin care and if you take your makeup off the right way, you're doing more for yourself every day. In a busy world of meetings and nights out on the town, you can never get enough of that time, so make the most of it all. Let Sephora products help you get ready for everything your life brings you and do it with sparkle!