Sleep…we all need it but for some of us, getting good sleep is more work than it ought to be. With the stressful lifestyles most of us live, long gone are the days of flopping onto the bed, pulling up the covers and instantly entering dreamland. Even my teenage son, who plays football and works out at the gym daily, doesn't sleep as easily and as peacefully as he used to. Many times we blame our activity, but sometimes we have to look at the obvious: is our mattress helping or hurting our sleep?
We buy new cars every few years, buy new clothes every season and rotate our tires, but we often forget that our mattress gets used daily and needs attention, too. Even if your current mattress isn't sloped or showing signs of wear and tear, chances are it is if you've had it for any length of time. If you aren't getting good sleep most nights of the week, be sure to check out your mattress while you're also examining possible issues with your schedule or health that could be negatively impacting your sleep.
Nectar Sleep sent me a complimentary mattress in exchange for sharing this post with you. I can tell you our personal experience and give you a short video on what set-up looks like, as well as the first ahhhh of laying on the memory foam.
We have pretty high standards for a mattress and we knew Nectar Sleep wouldn't let us down. (That's an affiliate link, fyi!) Nectar's mattresses are stated as amongst the comfiest out there, and they come with a Full Comfort Guarantee and Forever Warranty. Don't like it? Let them know and they'll take it back. How often do you hear of that?
If you need help with the installation, they'll even do that for you, but as you'll see in my brief video a little bit below, I think you'll be surprised at how easy it is. Ours came looking like the photo below, in a column-shaped canvas bag; it's heavy but we rolled it into the house without needing more than one set of arms. You can see it's the width of the mattress, which is the size I requested as my son needed a new mattress. (And that's his messy room behind the mattress to the right.)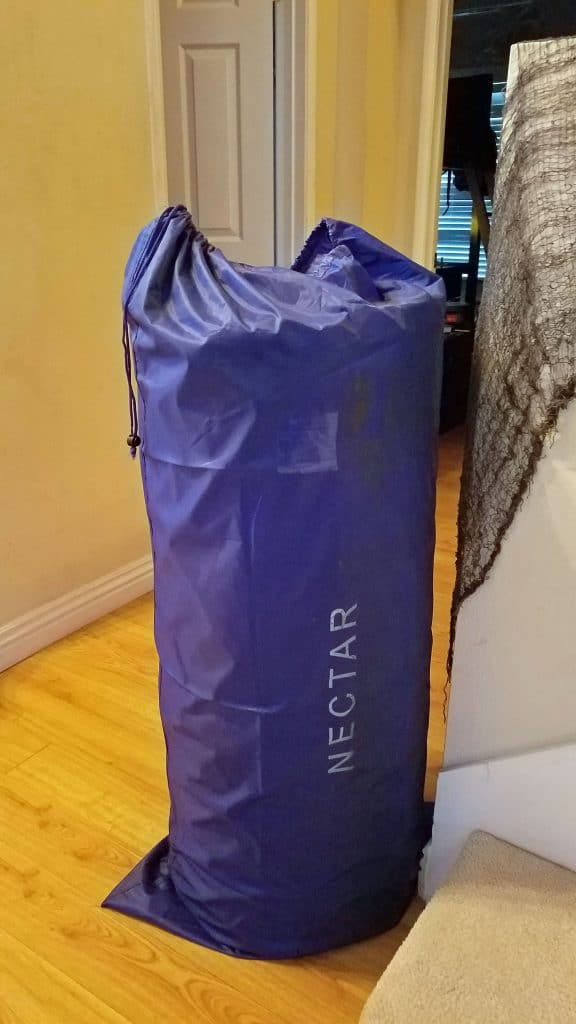 Inside that blue delivery bag is a grey duffel bag that holds the mattress and its set of instructions. If need be, you can carry the mattress with those straps in that bag.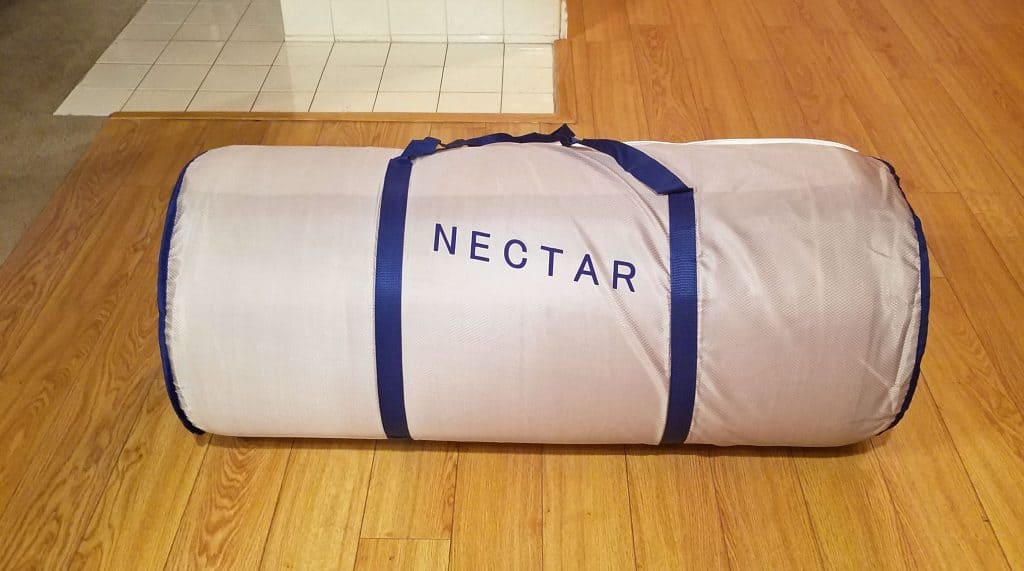 You literally unzip the bag, remove an external protective plastic bag — with this handy little tool they've enclosed. We started to use scissors at first, but this tool really makes it much safer to not catch the actual mattress cover when you remove the plastic.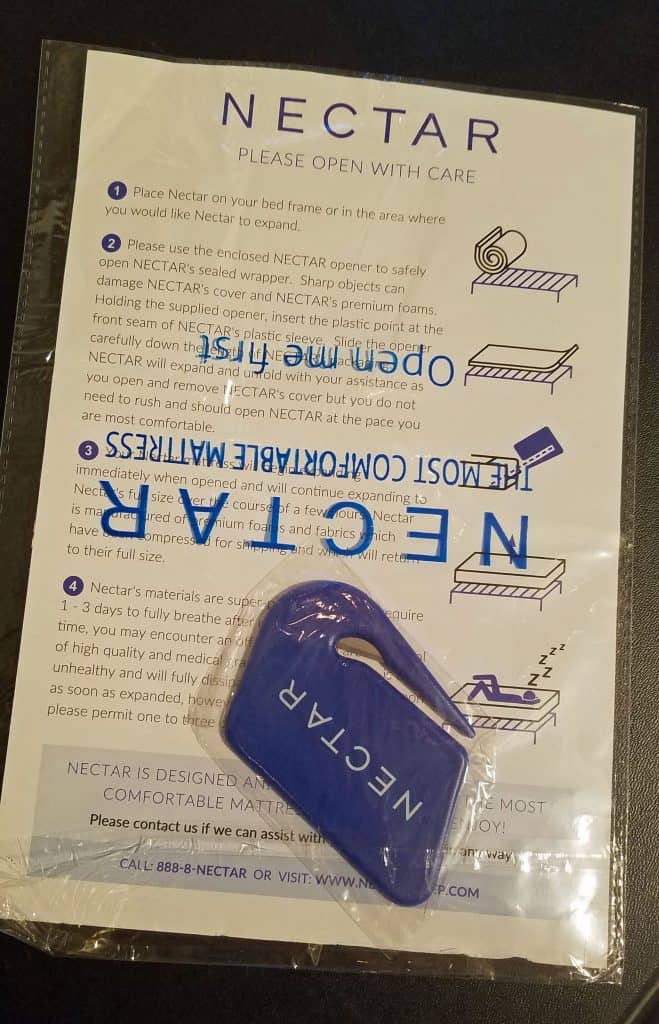 Roll the mattress flat and as it expands to full size, remove the other protective plastic bag, again with the tool. Poof, literally. It expanded to almost full size within seconds and will continue over the next couple of days. (My son's bed is a raised bed above a desk, so getting any video of installation up there would have been possibly dangerous, not good for a video showing you how to do it!)
The bed sets up on your existing foundation, frame or flat on the floor. No need to buy any further equipment, though Nectar Sleep does sell those if you want. We already had a bed frame so we didn't need anything else. It even came with two pillows!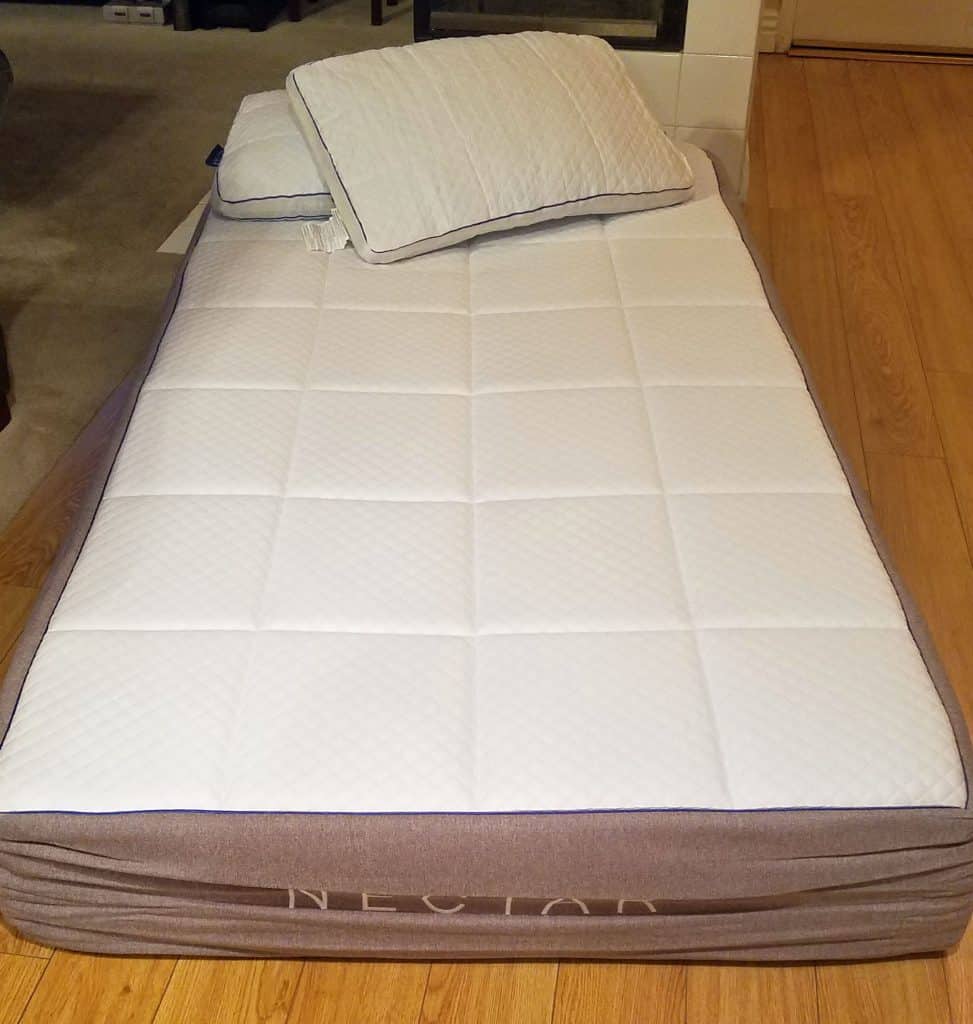 The mattress is considered semi-firm to firm, and is covered with a lush foam, wrap and breathable, removable cover. You get the comfort of a pillow top but with the firmness of a mattress, and the top layer stimulates air flow to help keep you cool. See how fast the memory foam cradles my hand but then fills back up after I remove it?
Nectar Sleep even did a study, which showed that Nectar sleepers fell asleep 20% faster than those of other mattresses. I'll take those odds!
Nectar even offers a 365-day sleep trial, so if you don't like it, you're not locked in forever — less than 3% of buyers return their mattress. With Nectar Sleep prices, getting good sleep is also more affordable than most other memory foam mattresses!
My son reported back that the mattress did indeed give him a good night's rest, no odor and complete comfort all night long! Tired teens are a bear, so thanks, Nectar Sleep, for the gift of a good night's sleep for an active teenager!