A few years ago, while cleaning out my produce drawer, I came up with one of my favorite side dishes: jicama, mango and cucumber salad. Jicama is an underrated vegetable, and its crispy-fish consistency and mild flavor lends itself to so many things. I was really excited when I learned Melissa's Produce created a versatile Jicama Wrap, opening up many new ways to utilize jicama. My first stab at using them was to make dessert jicama wraps. Sweet, savory and delicious, a jicama wrap makes a great snack or side!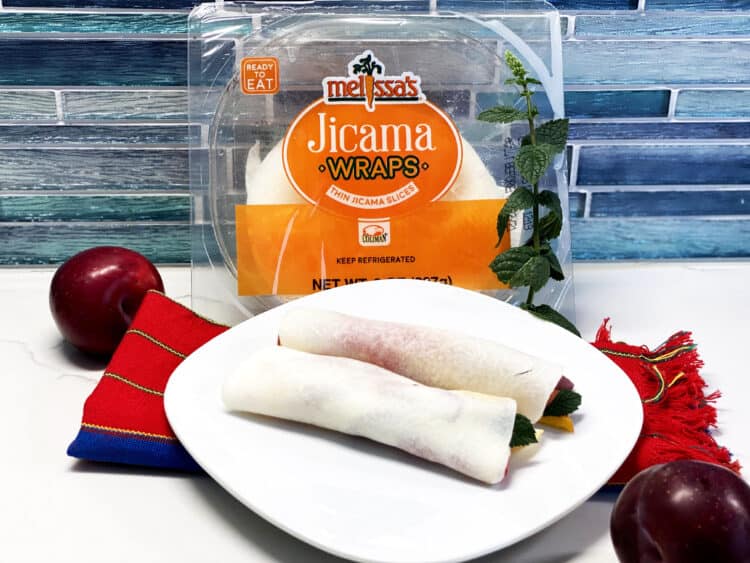 If you've never had a jicama, head to the store and buy one now. (Melissa's Produce is available in so many brick and mortar stores now, including Smart and Final, Trader Joe's, Sprouts and more. You can also buy from them online at Melissas.com.) They are the big brown odd-shaped item below right, next to one of my most favorite snacks in the world: Melissa's Clean Snax with Coconut, Ginger and Turmeric.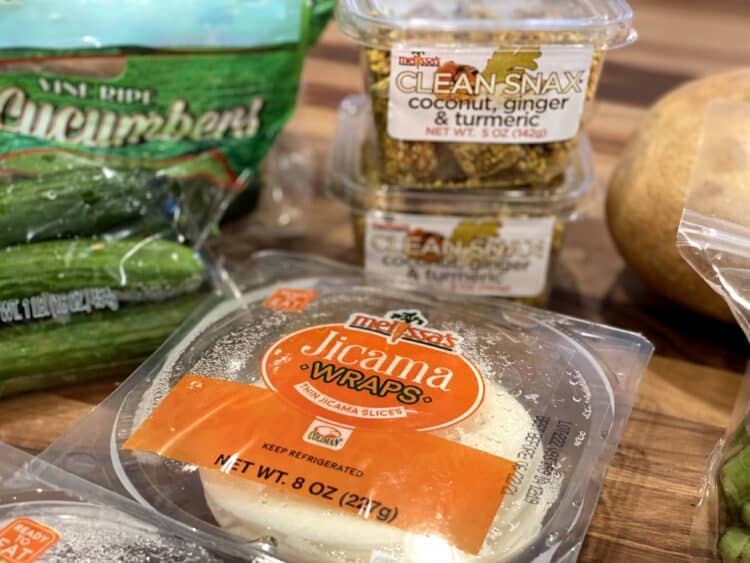 They are great chopped like carrot sticks for a veggie tray, dipped in hummus or drizzled with tajin and lime juice. They can last in your refrigerator for a week, if not longer, and if you only cut into it a little at a time, it will stay stay fresh if wrapped up properly, without any discoloration. Healthy and tasty and low-carb!
Jicamas can also be baked and made into French fries! Shred it into a semblance of slaw. Make a relish for tacos. (That's SO GOOD with a little chili powder, cilantro and tomatoes!) They're relatively inexpensive and you can buy small or big depending on your needs, making it an affordable addition to your produce shelf.
A jicama wrap is low-carb, low-calorie and perfectly proportioned. Wrapped to be stored in your refrigerator, you can pull out a couple at a time, then reseal. This makes it easy for the snack I share below, my dessert jicama wraps. And before you think, wait, a vegetable for dessert, yes, you're right! You won't believe it until you try it.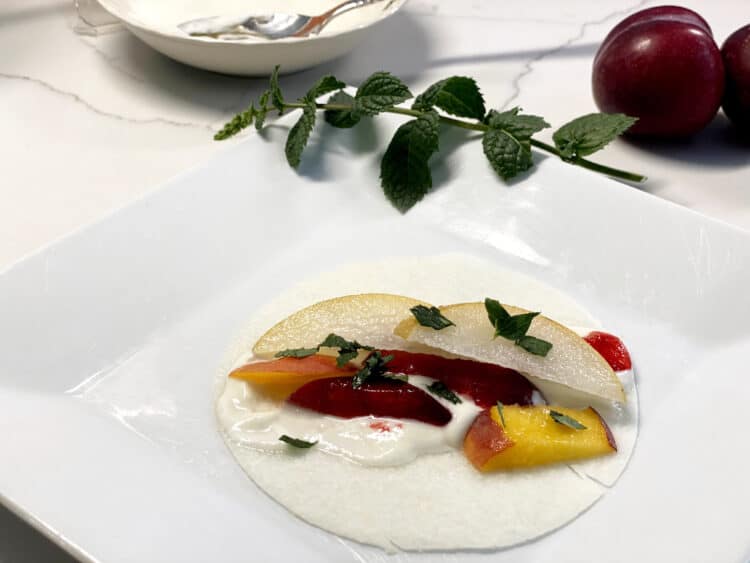 As a mom of four, I had to learn over the years how to knock out a laundry list of snacks on a whim. It's a hard habit to break, and I still believe in the value of time and money in the kitchen. Not everyone wants to spend a long time making food, and sometimes, you need to serve up something fast. These dessert jicama wraps can be as involved, or easy, as you choose. I made them once with kiwi and mango, and because I wanted to see how it tasted, I threw in a long seeded matchstick of cucumber. SO GOOD. It's all about using what you have and providing a unique snack without spending a lot.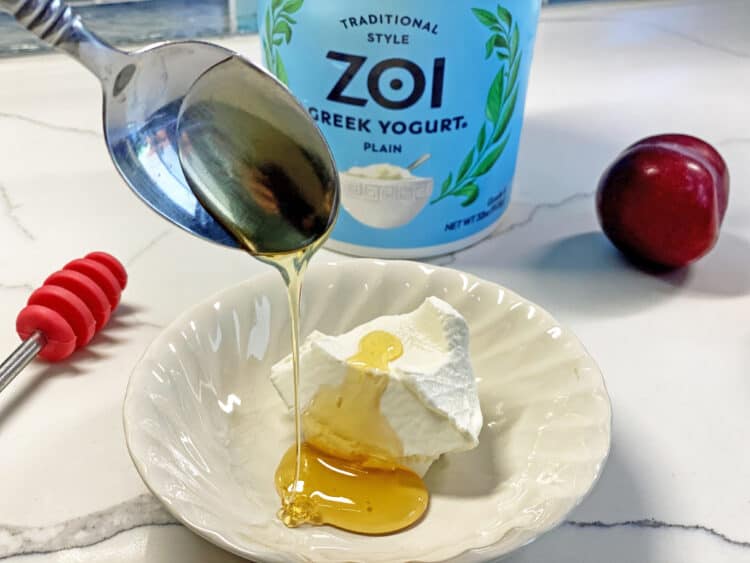 Like my last recipe, the oven-baked fruit leather, you can shake this up and make it a bunch of different ways, all depending on what fruit you have available. If someone's sweet tooth requires more 'sweet,' you can put some whipped cream on top! You'll be feeding the family mostly healthy and they'll like it just as much.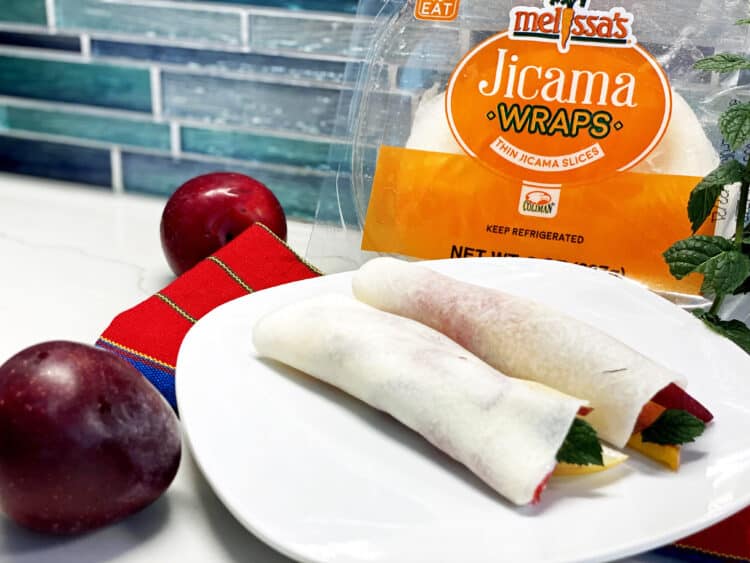 Dessert Jicama Wraps with Fresh Fruit
Ingredients
1

package

Jicama Wraps from Melissa's Produce

variety of fresh fruit

2

sprigs of fresh mint

1/2

cup

Greek (or vanilla) yogurt

1/4

cup

honey

1/4

tsp

vanilla (optional)
Instructions
Slice your fresh fruit of choice. (If discolorization is a concern, add a few drops of lemon juice and mix to cover.)

Mix the yogurt and honey together until whipped. (Add optional vanilla if preferred.)

Spread whipped mixture on center of jicama wrap, from one end to the other.

Arrange sliced fruit on top of yogurt and honey mixture.

Lay mint leaves across the top.

Roll up and serve! Dot with whipped cream if you want to amp up the sweetness.
I prefer to make these jicama wraps as-needed. The wraps themselves make a great addition to a charcuterie tray, where people can add whatever else they want. Put out some nut butters or hummus, or even cream cheese. Slice some grapes, put out some different cheeses or meats, and people, vegan to vegetarian to no-dietary-restrictions can make their snacks to order.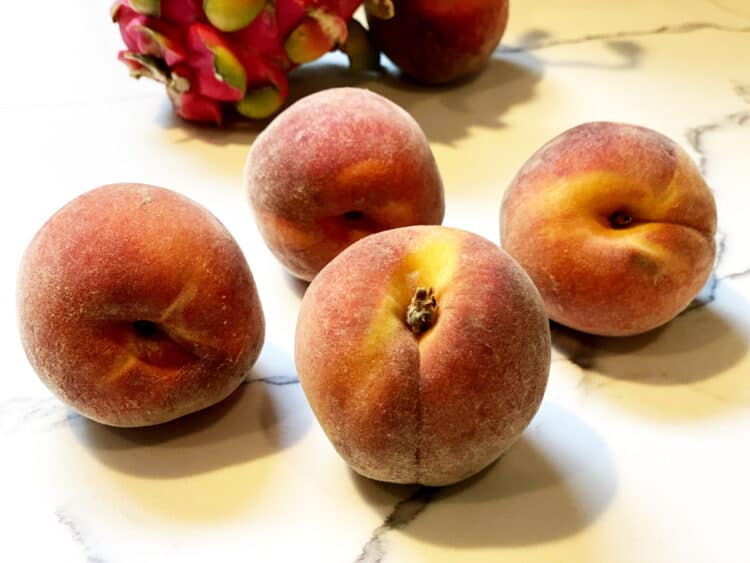 And peaches. Add these peaches to your assembly line. Juicy, perfectly ripe and full of peach flavor, you'll probably run out before you run out of the wraps. Next time you have a jicama wrap in your fridge, get creative, you'll find so many easy ways to enjoy them!