"Just like Budapest all over again." Anyone that's seen The Avengers has wondered, 'but what exactly happened in Budapest?' Marvel's new Black Widow origin story gives insight to the history between Hawkeye and Natasha while developing her character into far beyond an assassin or spy…and we're all here for it.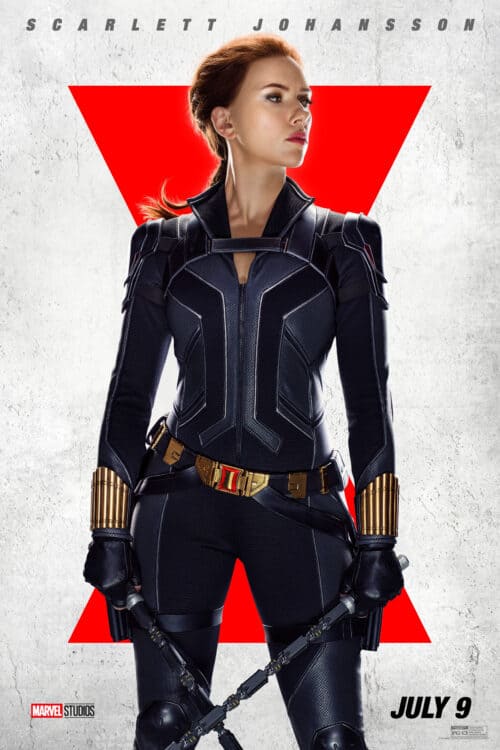 Without giving anything away, Black Widow is a game changer for the MCU. It fills gaps and personalizes Natasha Romanoff, while elevating her to a serious badass, and not just because she can put up a good fight.
Natasha's conversation with Loki in The Avengers has her telling Loki there's red in her ledger. Loki points out it's dripping with blood, and for a split-second, we wonder if he's hit a nerve…until we realize she's so hardened that his words don't make a dent. He's given away his plan and she's moved on without an apparent blip, but the new Black Widow origin story makes you wonder if that's really the case.
Black Widow takes place after the Civil War movie, where the Avengers were split up, some in hiding, after their differences in opinion about the Sokovia Accords. The team was divided, and Nat had held back the Black Panther long enough to allow the Quinjet to take off. As we learn in Black Widow, that caused Nat to be hunted down, causing her to go into hiding.
Enter her past. Remember in Endgame where she tells Cap that the Avengers are her family? Not so fast.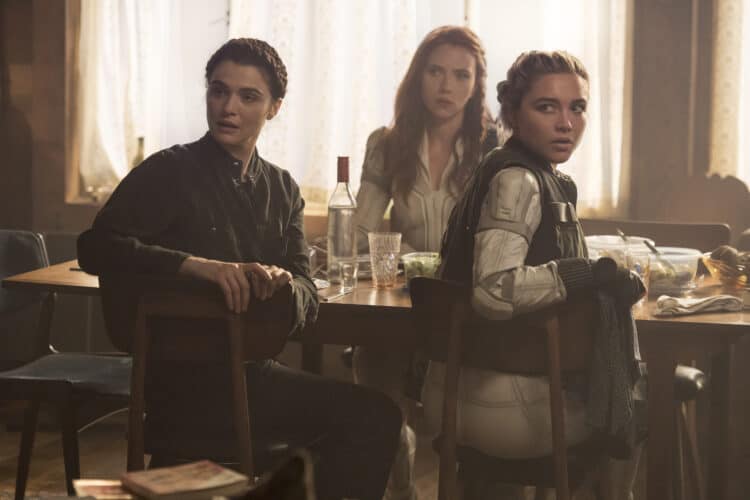 Nat's colored past is far more than the Red Room. It's more than Drakov. It begins with the semblance of a normal childhood, ripped away by two parents who were far more than they seemed, leaving her in the hands of a sadistic leader who had big plans of domination. It's about memories of a chance at a normal life, in a place we'd least expect.
The great thing is that this movie can be watched independently of any other Marvel movie. You can jump right in and enjoy this movie for what you see on the surface. It's a great first Marvel movie for someone on the fence, and having a female superhero who is kicking ass is going to win some people over.
We get a glimpse of Natalie Romanoff before she was an Avenger. Before she was turned into a widow. She's a sibling and a daughter. Then she's not. She's a woman on a mission to take down the person who turned her, and her sister, into what they are today. The person who decimated her one chance at normalcy and forced her to make decisions she's still living with in her life as an Avenger.
Black Widow is a 2 hour 14 minute long ride and when it's over, you'll be surprised that the time flew by. It's full of action, a little humor and a lot of back story, giving us a new all appreciation for Natasha's skills and how she got them.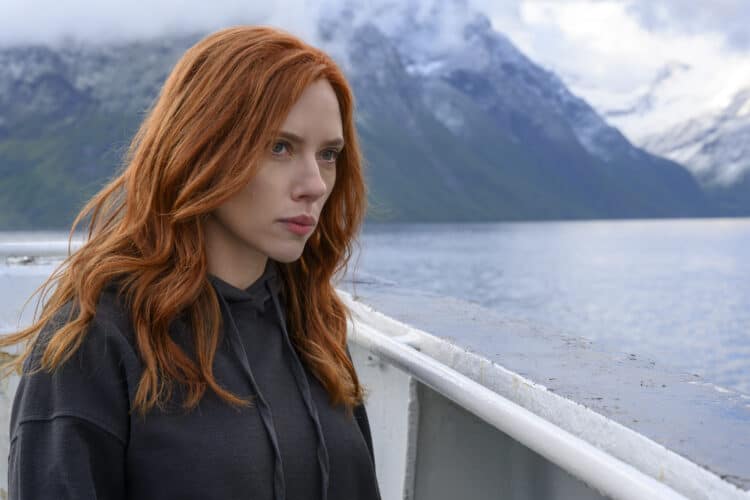 In typical Marvel fashion, there are plot twists and little nuggets that allude to other Marvel characters and story lines. It keeps you on your toes while endearing the Black Widow even further. As Natasha returns to a questionable time in her past in order to right some wrongs, we're given insight into what drives her to her decision to be the one to be sacrificed on Vormir in order to get the infinity stone, so Iron Man can snap to bring everyone back again. Her choice to let go of Hawkeye's hand is no longer a stunner.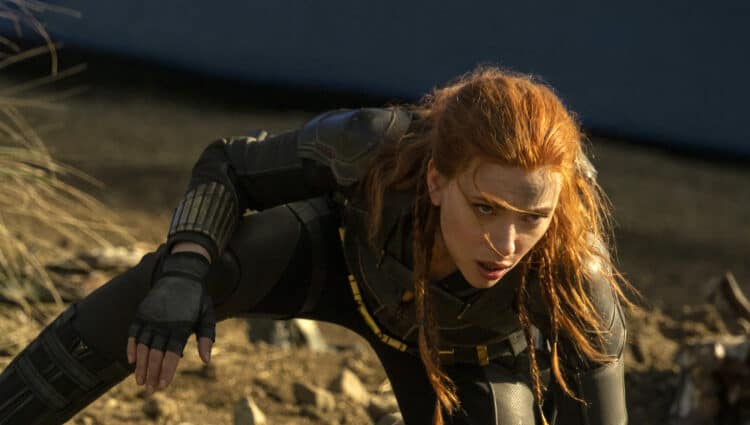 Black Widow is full of action scenes and fantastic fights, all the way down to Natasha's pose upon landing. Her sister will become a new favorite and you're going to want to see more of Yelena, played by the gorgeous Florence Pugh. David Harbour is perfectly cast as their father, the Red Guardian (aka "Alexei"), with just a touch of smug and a side of emotion. And then there's Rachel Weisz ("Melina") evidently still aligned with Drakov despite her distant attachment to the girls and her husband of many years ago.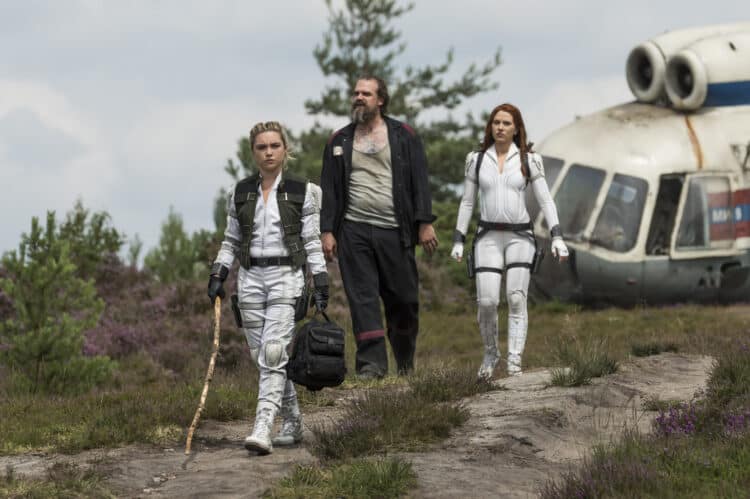 When things hit the fan and it's time to reunite the family, it's on Black Widow and her sister to bring down Drakov. With the help of her mom, dad and a friend who we meet for the first time, Natasha falls back on her spy skills learned in the Red Room and uses them against the very people who taught her how to use them.
As far as origin stories go, Black Widow hits the mark. We get enough of her history to understand why she's happy being independent, and we can applaud her for retaining a good heart despite all that's happened to her. We see her fighting skills at a new level, and we understand why she's so confident taking on the bad guys by herself. We also want to give her a big hug…for no other reason than damn, this woman deserves a break. We also know the where, who and why.
I loved Black Widow for its relentlessness. We're hit, time and again, with more reasons to make us feel for Natasha. You won't be able to watch any Avengers movie again without seeing her as a child learning about bioluminescence, still seemingly innocent to what lies beyond their backyard. She's taken on the role of an adult as a young girl, and seems to carry it all the way through her life, where she's manning the monitors and the team in Endgame, from earthquakes to sightings of Hawkeye. It all makes sense now. More MCU pieces falling into place.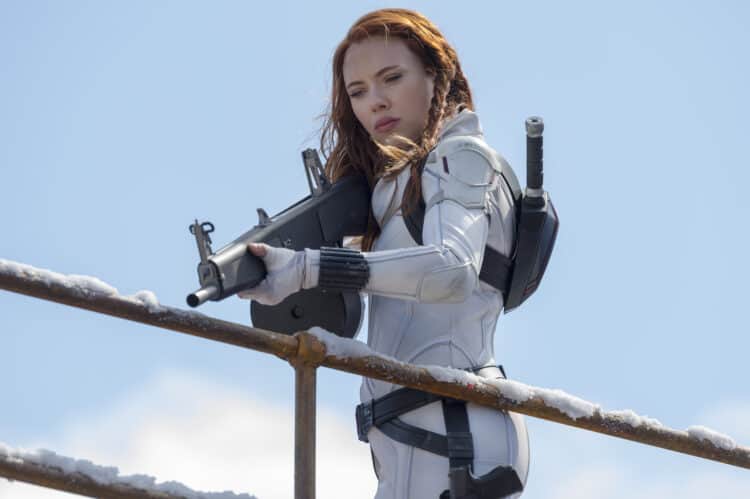 I'm probably even more sad now that we lost Natasha in Endgame. She's a hero with a big heart and more bravery than we ever saw in a prior Avengers movie. She can also take a punch without letting it stop, even more than when she shocks herself with the pin placed on her by "Alexander Pierce" (Robert Redford) in Captain America: Winter Soldier. "Those really do sting."
Black Widow hits theaters on July 9, or you can stream it with premiere access on Disney+. Buy tickets or purchase premiere access on Disney+ for $29.99. It's a critical piece in the Marvel canon and I'm hoping to see it referenced in future movies. Nat deserves it.