Shopping from home has a certain appeal, but I've lost track of how many times I've gone to put together an order and half of what I need or want is unavailable. And then, just when you think you're all set, you get a notification that a couple other things you want are out of stock. Then, to cap it off, your shopper messages you that they no longer even have the eggs. Not so when you order a Melissa's Produce pantry box!
Melissa's sent me a complimentary pantry box to test out here at home, and we immediately dove in to come up with some ideas on meals to make with the ingredients. The box inspired quite a few options. Check it out!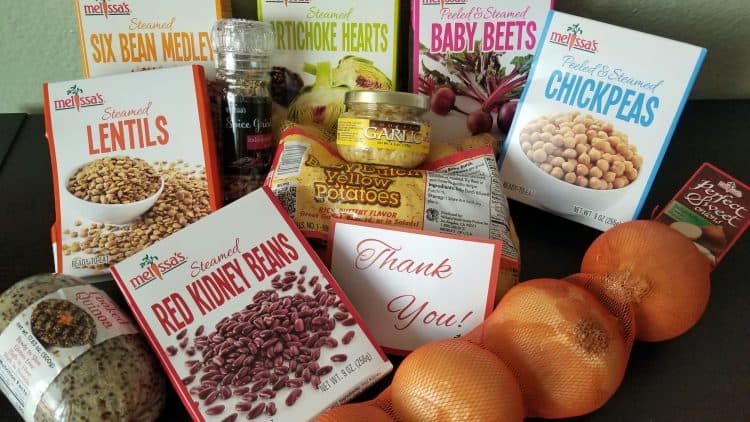 What comes to mind when you see this? This is the Standard Pantry Box, which runs for $54.89 here on their website. You can also see their other two choices available.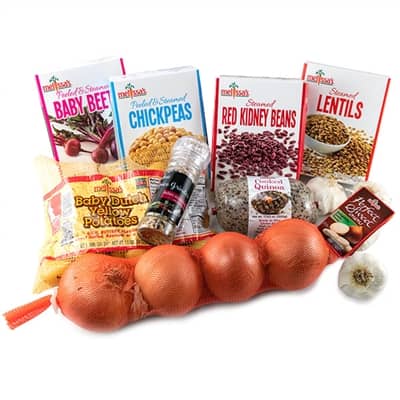 So what did I end up making with the ingredients of my box? Quite a few things, but I think the favorite was my Red Beans and Dirty Rice! Red Beans and Rice, and Dirty Rice are two recipe staples in the south. I learned to make both when I was living on Ft. Jackson before I had kids, and they're hard to find out here in Southern California. I hadn't had either in a very long time.
I could easily be a vegetarian…except for bacon…so I would have been fine having one or the other for dinner, but I live with three carnivores so I decided to mix it up and make a version of Red Beans and Dirty Rice in my Instant Pot. It's so easy and so fast, it's not even really a recipe, but here it is.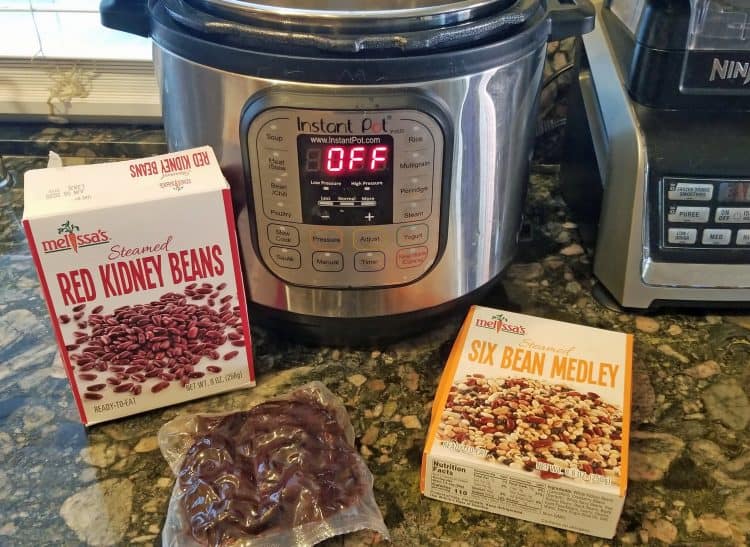 Red Beans and Dirty Rice
Ingredients
1

16 oz tube

pork sausage (Mild or Hot)

2

cups

white rice

3

cups

chicken broth

1

package

Melissa's Produce Steamed Red Kidney Beans

1

package

Melissa's Produce Steamed Six Bean Medley

1

15 oz can

stewed tomatoes

2-4

tbsp

Cajun seasoning

1

tbsp

garlic powder

salt and pepper, to taste

2

dashes

hot sauce (Tobasco is the best for this)
Instructions
Fry the pork sausage in the Instant Pot on the saute option.

Put the remaining ingredients all in the Instant Pot after the sausage is done. Do not drain any residual grease/pork fat.

Stir to evenly distribute, and steam at 12 minutes. (Typically, the rice/broth alone would go for just 8 minutes for perfect rice.)

Let the pressure go down on its own for 10-15 minutes. Open safely and serve.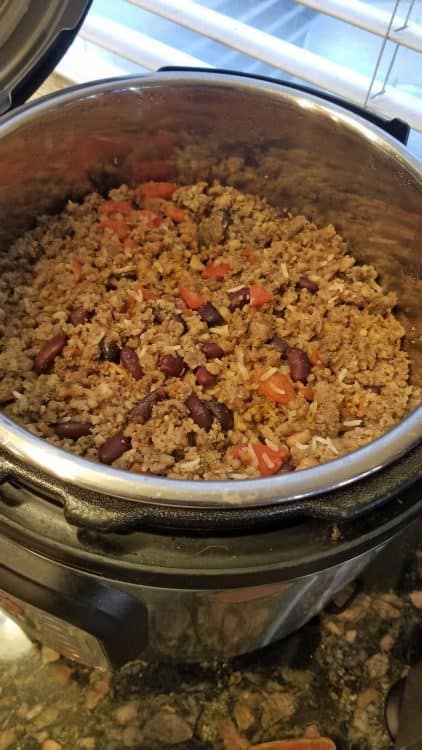 The other ingredients got used quickly, too. I put the beets on arugula with feta and a homemade lemon-olive oil vinaigrette. The quinoa was another big hit, and it was SO easy; I sliced it up, pan-fried until very crispy and seasoned it heavily with garlic (some of the fresh from that pantry box jar, too), chili powder, salt and pepper. With so much flavor, it was a nice side to braised thyme chicken thighs. Those potatoes are the perfect size to par-bake, smash, then bake more, covered in garlic and other spices. All that, and more, for a low price and ease of ordering!
These boxes take about five days for shipment via FedEx, and shipping is free. No more worries about if you'll get what you need when you get a pantry box.
Thanks, Melissa's, for helping us to get back to some southern roots and make a standby we've missed. It's now a part of our regular menu rotation, and with your steamed products, it's even easier.