As the weather grows colder and the holidays approach, it becomes even more important to find good and easy healthy recipes to add to your weekly menu plan. Holiday parties, school events, football games, shopping expeditions…the list goes on and sometimes eating right takes a back seat. It doesn't need to though. I'm as guilty as anybody of putting my health last, but with Christmas looming large, I can't slack. If I don't choose our meals carefully, we're going to all be a few pounds heavier because it's easier to pick up food than find time to make something healthy. Thanks to the new Ninja Duo, we don't need to make that choice anymore!

Shark Ninja sent me a Nutri Ninja Duo so I could test it out, create a few recipes, and then share it all here on the blog. The recipes, photos and experiences are all my own. Any time I'm challenged to make a new recipe, I grab it. That kind of thing isn't work for me; it's fun, and the payoff is big, because not only have I gotten to experiment in the kitchen, but I have a new meal to add to the list. Keeping the menu varied means no one gets bored and I don't have to hear "we're eating THAT again?"
The first half of the goal of this challenge was to make a breakfast, lunch and dinner using the Nutri Ninja Duo. The second half was trying to make as much of the meal in the bowl as possible. Since the Nutri Ninja is all about nutrient extraction and infusion, this means that the Ninja ensures we get as many of the nutrients into our food as possible. While some units require a lot of chopping and straining, the Ninja blends so quickly and so thoroughly, you can hide a world of nutrients in your food. If you're a mom who likes to make your child's baby food, you're going to want to test this unit out. Make baby food one minute and a smoothie for yourself the next.
The recipes I created are simple and don't require any ingredients that are expensive or difficult to find. I did all the shopping for all three recipes, in fact, at Sprout's Farmers Market. I chose organic when I could, but that's not required. You can likely find all of these things at any grocery store and no meal will cost you more than $10-12, though if you don't have things like olive oil or seasonings, it could go higher.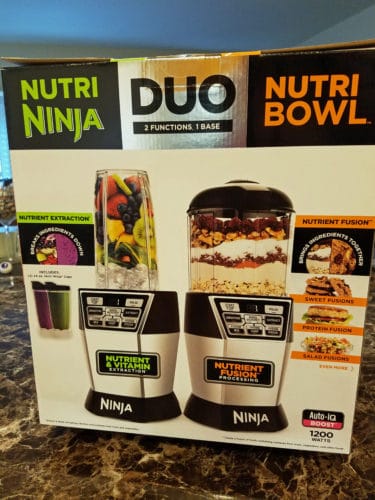 But first, a little about the Nutri Ninja Duo. It's a small 1200-watt counter top machine base that has interchangeable food prep containers. There's a four-cup blending bowl or two 24-ounce cups. There is a blade for each type of food prep that is easily secured. Add the food, close up the bowl/cup and blend away. The machine has an auto-IQ option, so it knows when the items are completely blended. If you want to do it yourself, you have the on/off and pulse options as well. If you're like and enjoy smoothies, you can put all your ingredients into the cup, screw on the blade top and place it on the base. Use the auto-IQ option and you're done. Pop off the cup, remove the blade lid and put on a drinking lid. Off you go!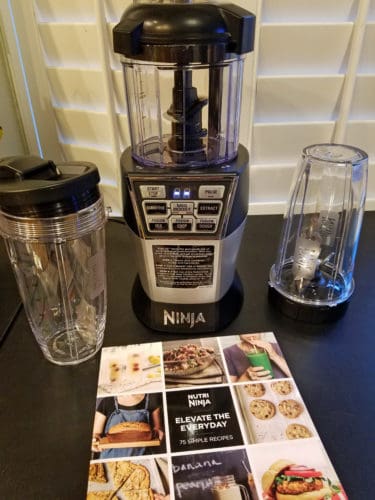 Onto the food…
Three Easy Healthy Recipes for Your Holiday Season Meals
For breakfast, I made an egg white omelette with spinach. Green blended food isn't always the prettiest but this dish was light and delicious. For lunch, I mixed a fresh non-traditional hummus with a kick, and dinner was a broccoli-cheese soup that the family raved about. Each recipe is below for you to print out and make for your hungry family tonight!
Egg White Vegetable Omelette
Made all in the one blender bowl, you can literally drop the ingredients into the machine, blend them and pour into a warmed frying pan for a fast and healthy breakfast.

Ingredients
4

egg whites

1

tbsp

milk

1

handful

fresh spinach

3

tbsp

sun dried tomatoes

3

tbsp

feta cheese

1/2

tbsp

olive oil

1/2

tsp

crushed red pepper flakes

salt and pepper, to taste
Instructions
Place egg whites into Ninja bowl. Blend for 20-30 seconds to whip egg whites into foam.

Place spinach and sun dried tomatoes into bowl with egg whites. Pulse for another 5-7 seconds to chop vegetables and blend.

Heat small frying pan on stove. Add olive oil to lightly coat.

Pour in egg and vegetable mixture. Heat until thoroughly cooked on bottom; flip over and continue to heat. When eggs are almost completely cooked, season with salt and pepper. Add feta cheese and red pepper flakes on top.

When thoroughly cooked, fold onto plate and enjoy!

The next recipe, hummus, is so easy to make that you'll never want to buy it pre-made again!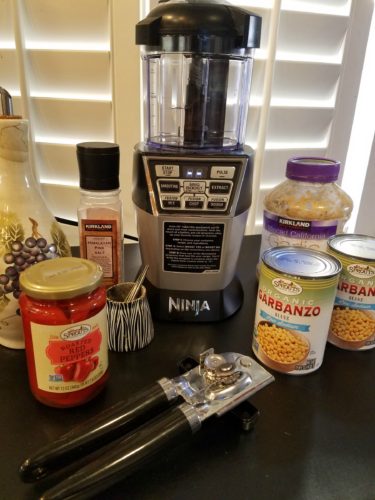 The Nutri Ninja blends in seconds and you'll be so glad to have such a time saving piece of equipment.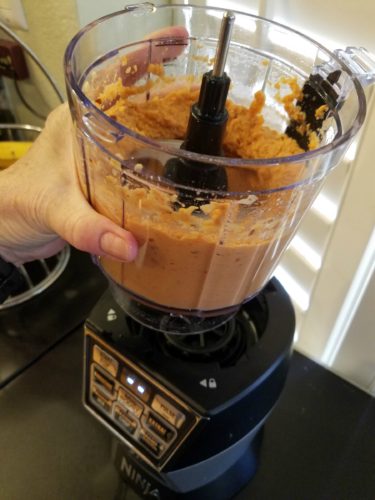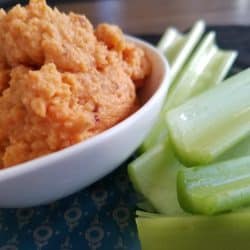 Spicy Hummus
This non-traditional hummus doesn't contain tahini but has a kick that will be enjoyed on pita chips or vegetables.

Ingredients
1

can

garbanzo beans, drained

4

tbsp

olive oil

3-4

roasted red peppers

1

tbsp

lemon juice

1

tsp

red pepper flakes

salt and pepper

fresh vegetables or pita chips for dipping
Instructions
Place garbanzo beans in Ninja bowl. Pulse until pureed.

Place remaining ingredients, except chopped dipping vegetables, into bowl and pulse until mixed.
Then comes dinner, because a cold winter night calls for soup. Anything with ingredients this delicious looking has to be good, right?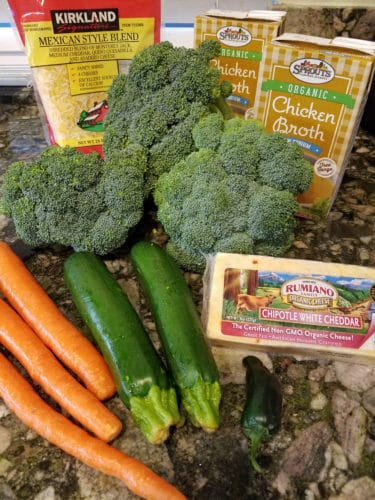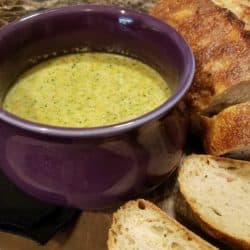 Broccoli-Cheese Soup
Made with fresh ingredients, you can serve your family a day's worth of vegetables in such a delicious way, they won't even know it's healthy.

Ingredients
3-4

large broccoli crowns

Approx. 3 cups of broccoli

2

small green zucchinis

Approx. 1 cup of zucchini

3

small carrots, peeled

1-2

small fresh jalepenos

1/3

cup

flour

4

tbsp

butter

4

tbsp

minced garlic

3

cups

chicken or vegetable broth

2.5

cups

milk (lowfat or regular)

8

oz

cheddar cheese

8

oz

chipotle cheddar, or another spicy cheese

1/2

tsp

nutmeg

1

tsp

cayenne pepper

salt and pepper
Instructions
Trim the broccoli down to just the crowns, no stems. Trim ends off of zucchinis and cut into smaller chunks but do not peel. Cut carrots into quarters and trim and seed the jalapenos. Steam all broccoli, zucchini, carrots and jalapenos in microwave steam container or on stove. Set aside.

In Dutch Oven, melt butter. Add in garlic and saute for 5 minutes. Sprinkle in flour, stirring frequently until thickened up; on low-med heat, let roux lightly brown for 5 minutes.

While roux is browning, place steamed vegetables into the Ninja bowl. Lock bowl and using pulse button, mince up vegetables. (Approx. 6-8 seconds per batch; it may take 3 batches in bowl.) Set aside.

After 5 minutes, slowly pour in broth, whisking constantly. Then do the same with the milk. Pour in vegetables and blend well. Bring mixture back up to a simmer. Add in seasonings and cook for another 3-4 minutes.

Pour in cheeses, stirring constantly to melt. Bring back up to heat thoroughly and serve!
Now you have three new easy healthy recipes to make your holiday season meal planning easier. Let me know if you try them and what you think.
Happy holidays!