Monday, Wednesdays and Fridays, I get up and run. Right now, it's at 7:30. I know, I know, that's sleepin' in, but for me, it's temporary. Little Dude goes back to school next week, and he has to be there at 7:30am. That means that for now, I'm still staying up my normal hours (11pm, midnight, whatever) and getting up at 7:15am. Next week though? I dread the idea of the alarm EVERY. SINGLE. WEEKDAY.
I've been doing this parenting thing for 26 years now. I've earned some sleeping in, right? Yes. But I also have four years more in me, I can do this. I CAN DO THIS.
Still though, I am not a morning person. I whine a little. I may grunt. I hit snooze at least twice before I stumble out of bed, walking really stiff-leggedly to the bathroom, and then back to the bedroom (we have an ensuite bed/bath) where I go to the dresser, grab my workout clothes and complain as I put them. "There's no coffee until after I run. I need coffee. I don't want to run. I really don't like running.
You know the drill…but I get up and do it despite my lack of motivation. I start the day healthy and thereby commit myself to a healthier day. Good, healthy food. Cardio to keep me moving. Motivation to not screw up and eat that pink dessert served at an awesome conference. Energy to keep moving. And energy includes my food. I have to eat breakfast when I workout frequently, yet I'm not a breakfast person. I don't like heavy food in the morning..it's about 3 steps after I like people talking to me, looking at me or expecting anything from me before, eh, 9am?
So I eat breakfast, and then I eat lunch. I eat breakfast at my desk, and lunch is frequently eaten at my desk as I work through another project, deadline or piece that I have to write. I can't suffer the afternoon slump, so I have to be comfortably full, not heavy but it has to get me through. Then there's dinner, which falls just as I am often heading to the car to get on the road to another event.
I'm tired.
Food is important and you can't overlook the necessity of eating the right things at the right times. People that eat three meals a day are statistically more likely to lose weight and keep it off. But, if you're a working mom, you are fitting cooking that food — one day a month, week or daily — into an already overloaded schedule of work, family and household chores, along with the need to be social and get away from the grind. This is why Freshly is a website to bookmark.
**Freshly provided me with six various complimentary meals in order to try the food and write about it for you all, but the opinions and photos are my own. If you subscribe, I may also get compensated.***
Freshly sent me six meals with a variety of flavors. I got a garden omelette for breakfast, chicken stir-fry, turkey chili, and carnitas burrito bowl for lunch, and lemon garlic salmon and steak peppercorn for dinner. Six entirely different meals, six different flavor profiles, yet all completely delicious.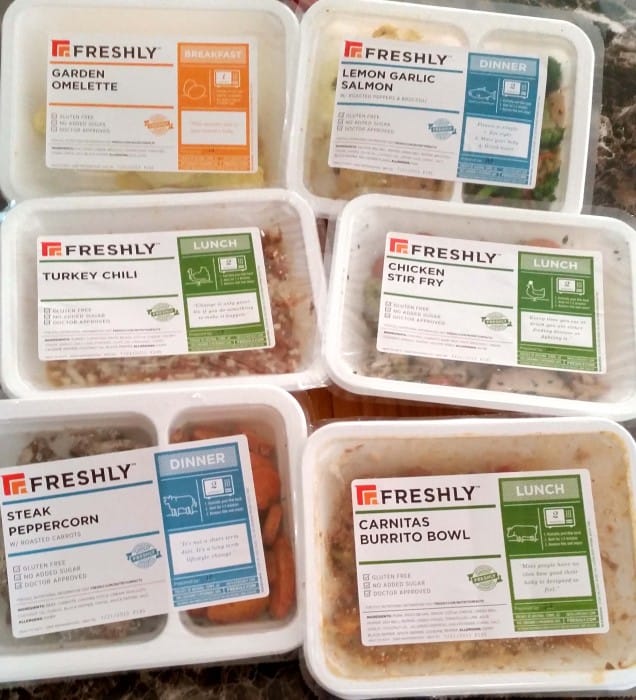 A background on Freshly: it's a home-delivery system for healthy, gourmet meals that are freshly made. Simply, right? You can order the plan with several different options, such as 7 days/21 meals, with a healthy focus, or a flex plan, with a delivery of 6, 9 or 12 meals. The plans start at $69 per week and it's like having a personal chef! With free shipping and a guarantee you'll like them, you're set. Get the delivery, stick in the refrigerator, and it's there when you need it. Labels are clear with the gluten free, no sugar added and doctor approved options, and each package comes with a quote, an icon with what type of meat is includes (if it does) and they're each color-coded for the type of meal. No bleary-eyed confusion when you go to grab one to stick in your lunch bag on your way out the door <too early> each morning!

Freshly puts a lot of time into menu and meal creation. The ingredients are vetted out by a doctor, to ensure that they're healthy, and once the meals are created, they're tested to make sure they taste good. This way, you don't get anything that doesn't taste good and isn't healthy. What a relief, right? When I was able to test the products, I didn't have to worry about anything; I peeled back the cover a little, stuck it in the microwave and cooked it for 1.5-2 minutes. Transfer it to a plate or bowl and there was my meal! The menu is expansive and covers all sorts of preferences. I found the food to be flavorful with no shortening of salt and pepper — in a good way — and they definitely were filling. Breakfast, I'm okay with a smaller portion and I actually had leftovers of my omelette. For lunch, I ate them all with no worry, but the dinner options were really filling. I slowed down, tasted my food, and enjoyed my meal. That's such a big deal when you're trying to lose weight, as I am! (Those 12 pounds that I was talking about..I'm down a little but gotta keep going…)

Freshly.com offers an affordable way to get gourmet food delivered to your door, fresh and not frozen, so you can quickly and easily heat them so you're back to work or on the road fast. I liked the carnitas burrito bowl the most, but everything was good. This stir-fry? So good!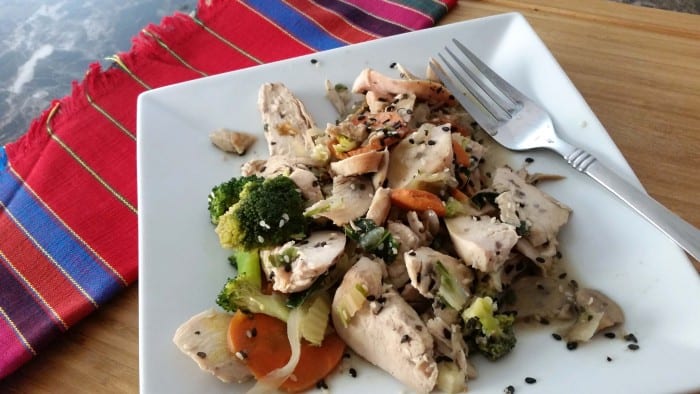 The omelette was light and fluffy, the turkey chili was just as good as if it had been fully carnivorously-focused (I can't eat red meat) and the chicken stiry-fry had a good mix of textures, which isn't easy when you're stir-frying vegetables. Honestly, if I was in need of a meal-planning <free> delivery service, I'd call on Freshly. With a subscription, you know the deliveries will come on time when you want them and need them, no fuss and no worries about what to put in  your lunch bag.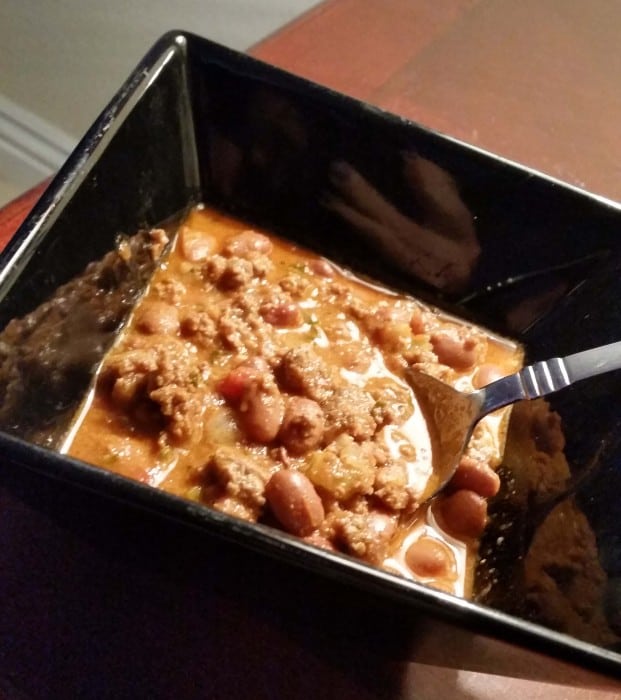 Do you want to try it? I've got a discount code for you! A great way to try is a small package: order six meals and get three free with this code: DCC3FREE. Test out the meals and decide for yourself! If you're a regular reader of my blog, you know how careful I am about what I promote, and I really believe you'll like Freshly.com. I love the ease and convenience of microwaving the food and getting back to my desk to write more SEO copy or continue to plan marketing strategies..or write a blog post…brain food either way!
Let me know if you give it a shot! Freshly.com is a new company and the focus is simple: healthy, delicious, fast and easy. What busy mom and/or woman doesn't want that? Let me know if you try it!
Find Freshly on Facebook and Instagram — and I hope you post some of your own pictures that I can see, too!