In early May, I went on a clean eating reboot program for two weeks. It was actually much easier than I thought, but after the first week, I found it harder to come up with clean eating ideas that didn't require much prep time. Not planning ahead can be a killer for any nutritional lifestyle change, so sometimes I had to wing it and get creative with what I had in my refrigerator.
Luckily, Melissa's Produce had just sent me a large complimentary box of produce of different types. I typically make one recipe and share it here on the blog, but it was a busy week of graduation preparations and the husband was out-of-state on business, so I was making smaller meals in line with my new dietary approach. Here are some of the clean eating ideas I came up with that don't take a lot of time or cost a lot of money. (And bonus, my sons liked them all, too!)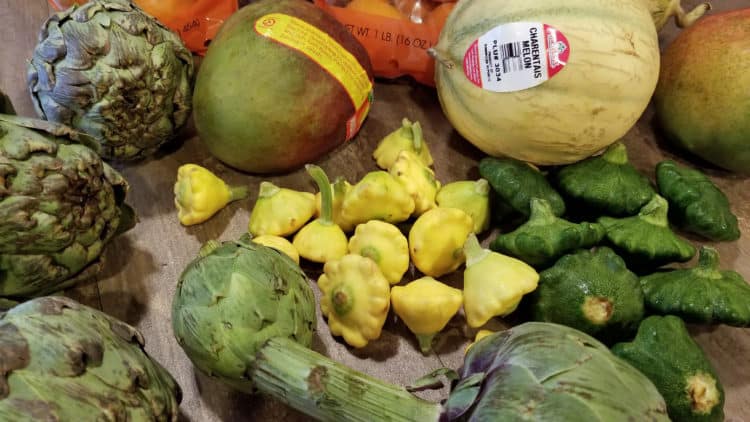 Produce in its natural state is a rainbow of colors, and this box was a gorgeous display on my table: patty pan squash, artichokes, Charentais melon, mangoes, Pixie tangerines, lemons and more. So many things to try!
The same week, we also got a box from Melissa's Produce at a cookbook demo event which included swiss chard, ginger, fresh garlic cloves, fresh herbs and more. Between the two boxes, I came up with a lot of clean eating ideas to make our meals healthier and delicious so the rest of the family would enjoy a vegetable- and protein-heavy menu with less carbs. I think it worked!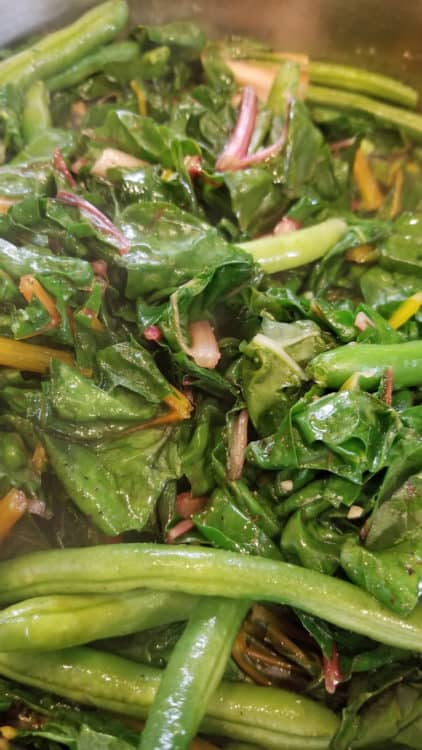 See the steam coming off the above vegetables? That's a piping hot stir fry mix of Swiss chard, green beans and minced fresh garlic. It was super-easy to make, too. Pour a tablespoon or so of quality olive oil into a fry pan on medium heat, then tear in Swiss chard in smaller pieces, add in the minced garlic, whole fresh green beans and place the lid on top. Saute gently, stirring a few times, until the vegetables have softened. Season with salt and pepper to taste and serve hot. Swiss chard can sometimes benefit from a little more softening than the green beans, so it's all about your preference.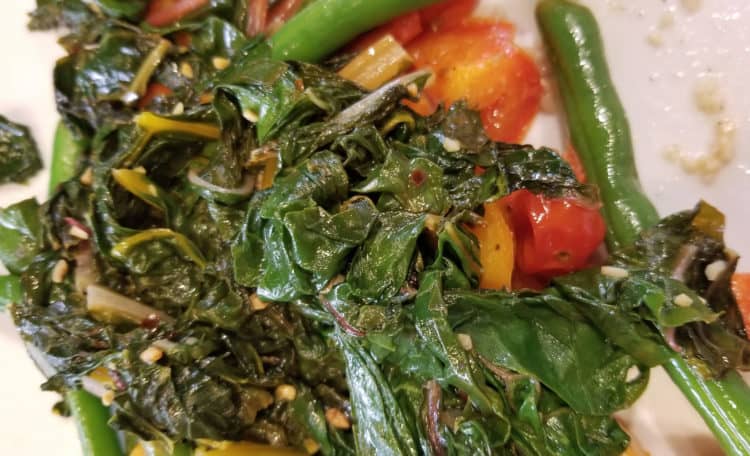 This was so good, in fact, that I made it a second time. I used a similar process, but in a separate pan, I heated up halved cherry tomatoes. They take less time than the other vegetables, so consider that when you plan. In this dish, I squeezed fresh lemon juice over the top of the greens to add a little tang. It cuts some of the oil while adding a new flavor profile. I also sprinkled in hot red pepper flakes to kick it up a notch, but that's optional as not everyone likes the heat.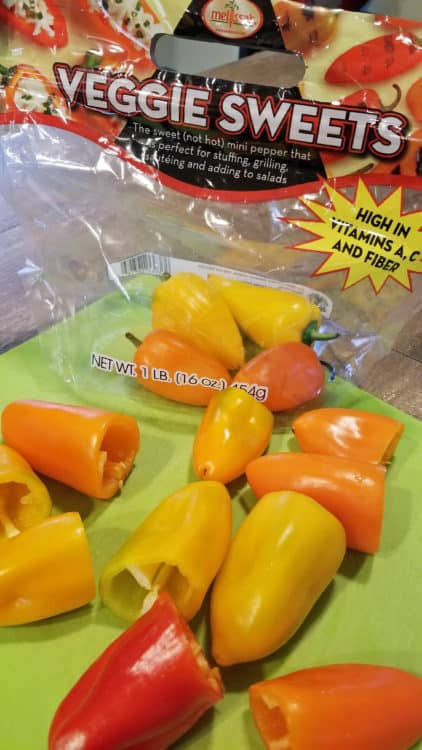 I could use these mini sweet peppers in so many ways, so we easily go through one bag a week, if not more. I frequently put them in scrambled eggs at breakfast or on top of a salad at lunch. They also make great snacks dipped into hummus or roasted as part of a one-sheet dinner of sausage, sweet potatoes, mushrooms and carrots.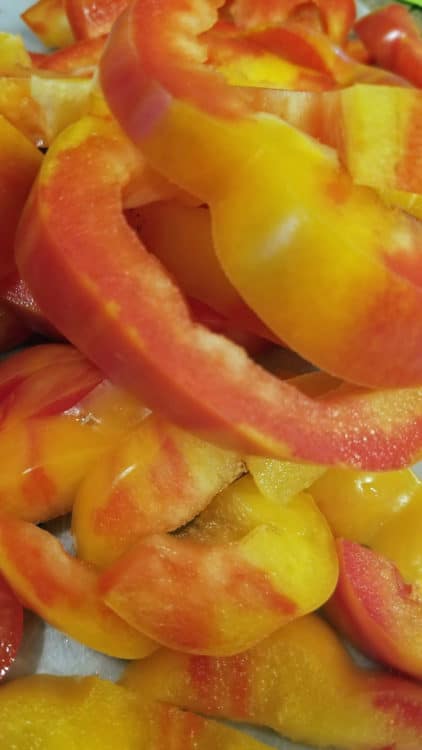 The below dish is a spin off a dish I saw my daughter, a health coach, share on her Instagram. I love its simplicity yet varying flavor profiles and textures. It's seasoned ground turkey, browned and set aside, mixed with black beans, sliced mini sweet peppers, a small can of chopped green chilis and 3/4 cup organic salsa heated thoroughly in the same pan used to brown the turkey. Add the ground turkey back in for a couple of minutes to ensure it's hot enough, and serve over fresh greens. I used a mix of baby spinach, kale and arugula. No dressing necessary, but if you are worried, a small drizzle of olive oil and/or fresh lemon juice will change it up.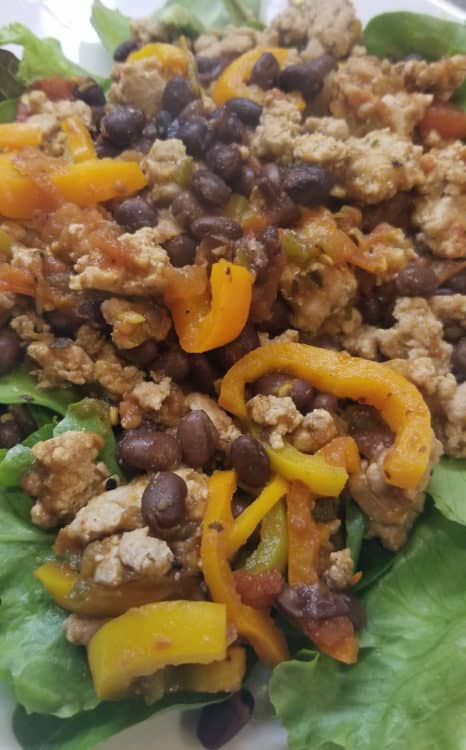 Fruit is low in calories but the sugar content can be higher in some types than others. Fruit sugar is still far healthier than regular sugar, but it's always a good idea to do some research before you go wild on the fruit. This list of low sugar fruits is very helpful in explaining. Fruit can fill sugar cravings and it can provide nutritional value, like this beautiful Charentais melon from Melissa's Produce. It's sweet and filling and one melon can provide a few servings. The Charentais melon reminds me a little bit of sherbet, is soft enough to blend into a smoothie and is similar to canteloupe in consistency. Slice some up with your salad at lunch or as a dessert with your dinner!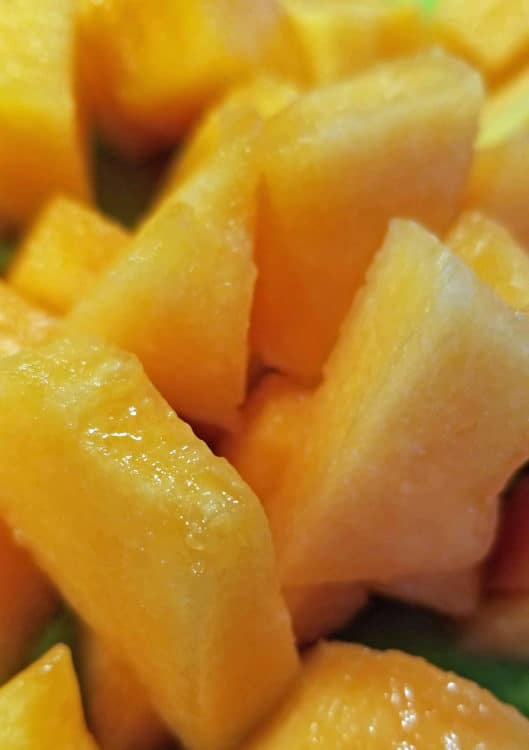 One part of any healthy eating approach is staying hydrated. This is my downfall, like a serious downfall. I have to force myself to drink water, and I get bored with it quickly. I end up forgetting to drink any until I'm thirsty, which is a sign that I've waited too long. I've found that if I add some sliced lemon to a refillable bottle, I drink it faster.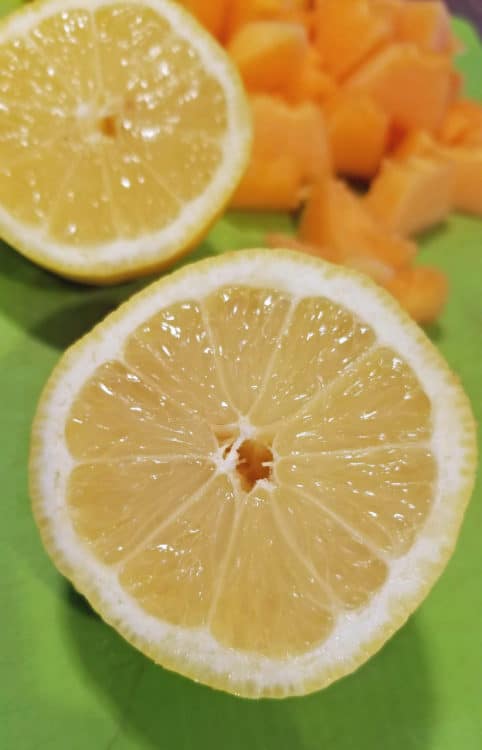 Plus, there's just something about a pretty beverage being more appealing. Another option is to shave some fresh whole ginger into thin slices and placing them in the internal canister of a water infusion bottle. I have a couple of them that are portable, as well as a pitcher for the refrigerator, so flavored water is readily available everywhere I go. Ginger is good for digestion and nausea, it has breath freshening powers and it is just tasty.
I hope my clean eating ideas give you some inspiration for fast food prep, whether it's for a meal or for a snack. We have a new love for Swiss chard, and the hummus I made (including some of the fresh garlic cloves) was perfect to dip the peppers in for a mid-afternoon snack. Clean eating isn't just about what you eat, but when. Smaller, more frequent meals with adequate amounts of fat and protein — which is something you can have calculated by a health coach, nutritionist or doctor — can help speed up your metabolism and keep you feeling fuller, longer.
Clean eating isn't as hard as it looks, and it isn't a hard and fast "no sugar ever" approach. I lost seven pounds in my first 11 days and while I was fairly strict the first two weeks, I'm still losing simply by cutting out extraneous things like alcohol, bread (beyond some wheat toast at breakfast) and decreasing the carbs I'm consuming. I still had a cocktail at my son's graduation dinner yesterday and I enjoyed a couple of glasses of wine a few nights ago. Balance. Life's too short to deprive myself continuously of the foods and beverages that I like. I'd rather carry an extra 10 pounds than feel resentful that I can't enjoy eating and drinking what I want sometimes. Clean eating means that I can do that without one or two items not on my list derailing me completely!