Yes, you heard right. Grapefruit cupcakes. Citron buttercream. They're the latest dangerous cupcake!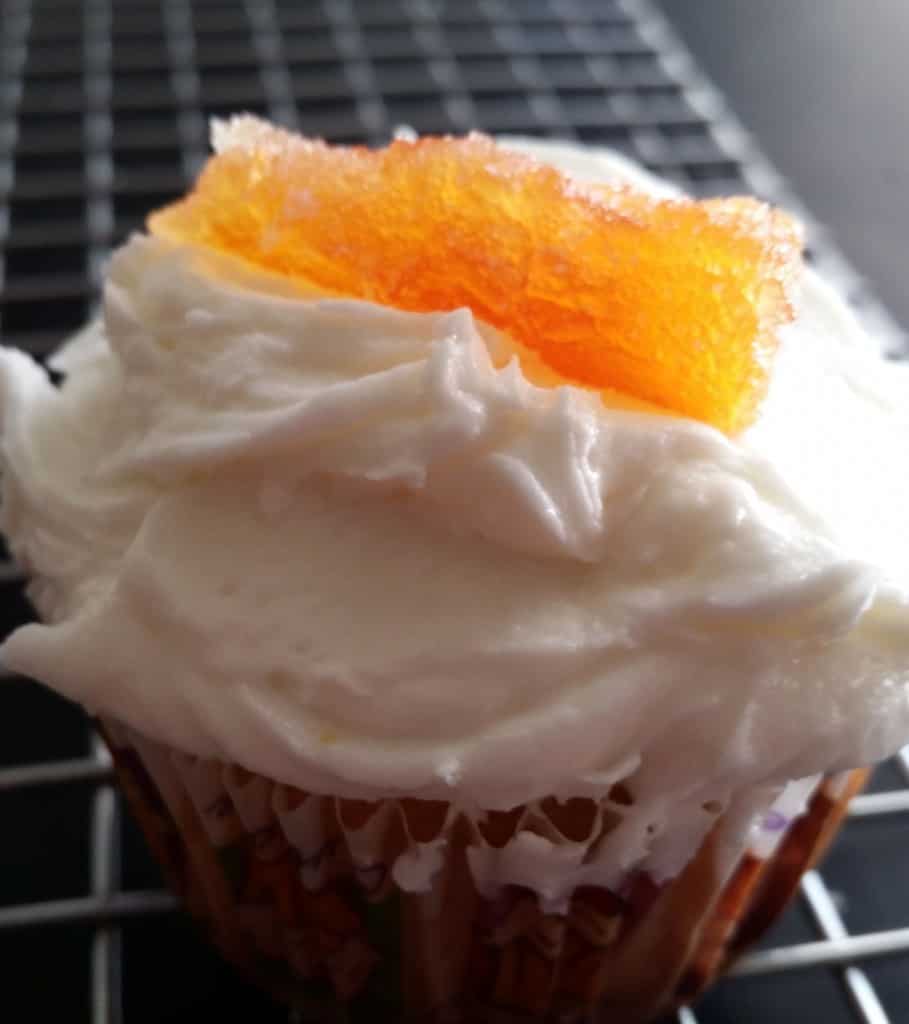 Yum.
I can't take credit for the entire dangerous cupcake recipe, as it was inspired by last month's Food Network magazine cupcake article. It contained four unusual recipes for cupcakes and of course, we had to try at least one, so I decided to try and make grapefruit cupcakes.  I followed the recipe mostly for the batter, though I did use vanilla almond milk instead of regular milk, dropped in about six dashes of grapefruit bitters and 1/4 cup extra sugar. I wanted to increase the flavor of the grapefruit but without making it too tart. I think it came out perfectly!
The buttercream was easy. Below I've listed how I made it, though it's a very simple change-up on a regular buttercream.
Citron Buttercream
1 stick of butter, room temperature
4 cups of confectioner's sugar
3 oz. of Citron vodka
1 tbsp. grapefruit zest
1/4 cup milk
Cream the butter in a mixer until light. Gradually add in sugar until it becomes too thick, then add in 1/4 cup of milk. Add in remaining sugar, followed by vodka and zest. Mix further until combined and fluffy.
Buttercream can be piped but I chose to frost it old-school by hand, something I've not done in ages.
I also topped the cupcakes with a piece of candied grapefruit peel, but that's a separate blog post as I used the recipe from a new book I'm reviewing, and I have a ton of pictures. The grapefruits were so beautiful and the color range as I turned the peels into candy was really pretty.
Want a really different cupcake but you're not sure where to start? Change your extract or use a little bit of fruit juice, but be sure to appropriately adjust your sugar ratio so it's not overly sweet, without affecting your texture. Same goes with the buttercream. Those little bottles at the Total Wine checkout counter are perfect for adding a bit of boozy zing to a cupcake; just bear in mind, alcohol bakes and cooks out, but if put in buttercream, the alcohol properties remain, so remember that if you're planning a cupcake to serve to those under 21.
Get creative and enjoy the latest dangerous cupcake recipe! Grapefruit cupcakes with a citron buttercream frosting sound like a very weird combination, but these two unusual flavors work well together for a fun unique dessert you'll love!