If you say fava beans, chances are someone will make a joke about how you should have them with chianti. Anthony Hopkins' famous line in Silence of the Lambs doomed fava beans to being a quote forever, but after trying them last week for the first time, I'm here to say they deserve so much more recognition. Try my fave beans with bacon recipe and you'll probably agree.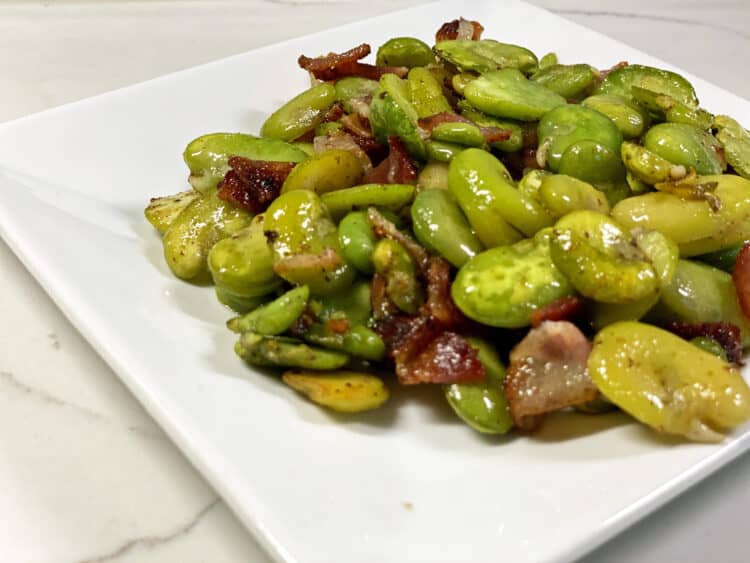 Fava beans are an odd mix between lima beans and peas. They look like big snap pea pods, then when you get them out of their external shell, they look like lima beans or butter beans. They can take a little tedious work to get them ready to eat — if you're traditional and remove both layers of shells — but they are truly delicious once you're done. They are great at absorbing the flavors in which they're cooked, making them incredibly versatile. They also cook up quickly (if the outer skin is off).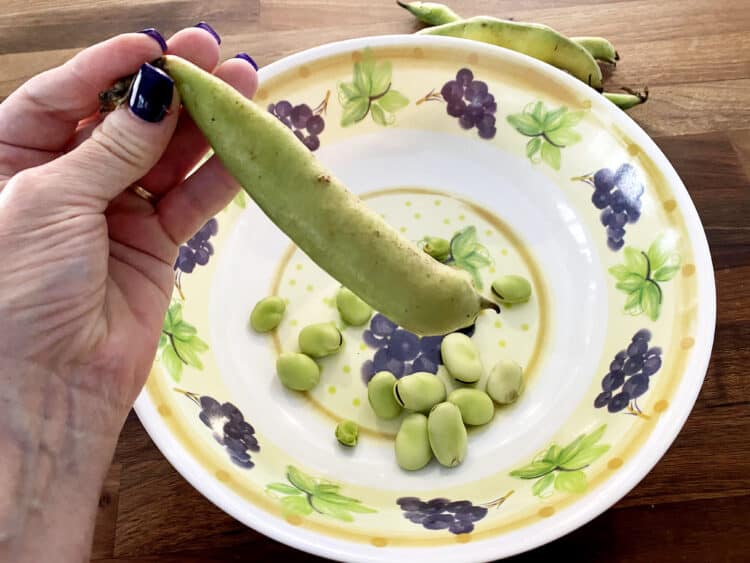 To get to the fava beans, you need to slice open the side of the big pod and remove all the individual beans. Some people slice with the tip of the knife, and others just poke their nail in the seam and pull. Then you can — or not — remove the outside layer of the bean. I did this also with my fingers, and it went pretty quickly.
Some chefs will say that you don't need to remove that outer shell, but I did some with the shell on, and some without, and I much preferred the flavor with them off, though I know we missed out on some of the nutritional value. It's all a matter of personal preference…and time, because that second half removal took longer than the first. The choice is yours!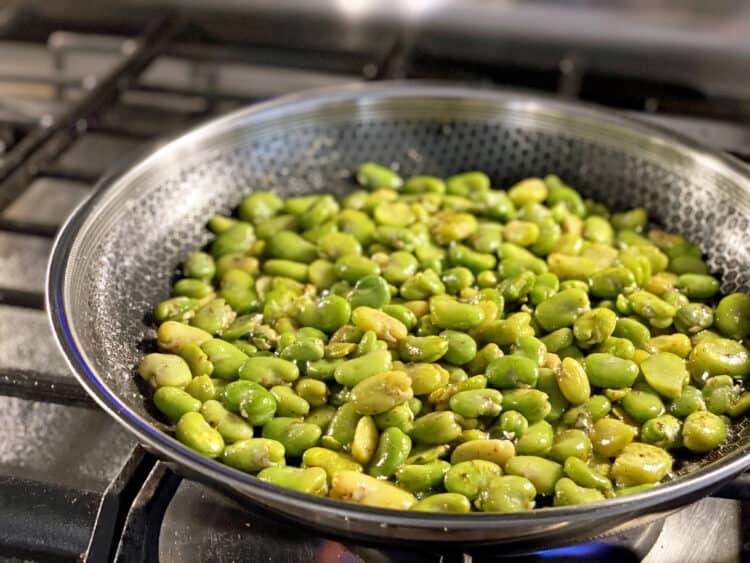 After having spent several years living in the south, I learned the value of bacon with anything green. Fatback, bacon grease, lard…it's used in a lot of different forms, and while it's not always healthy, there are ways to minimize the bad factor and still ramp up the flavor. I tried to do that with this fava beans dish, and I think I succeeded.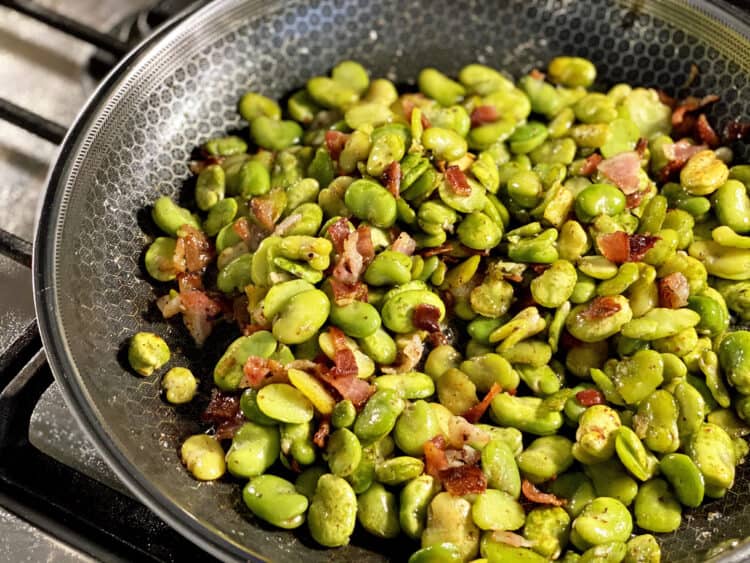 Fava Beans with Bacon
Fava Beans with Bacon
Ingredients
1

pound

shelled, cleaned fava beans

1/2

stick

butter

1

tbsp

minced garlic

5

slices

bacon, raw

1/2

tbsp

red pepper flakes

salt and pepper
Instructions
Blanch the fava beans. To do this, boil them for three minutes, then remove with a straining spoon and immediately place in a bowl of ice and water.

Fry bacon slowly in large saute pan. When it's done, remove bacon to plate with paper towel while leaving bacon drippings in pan.

Melt the butter in the large saute pan. Add the minced garlic and stir, mixing in any bacon drippings or pieces.

Place fava beans into the frying pan, add seasoning and saute over medium heat for approximately 5 minutes. Check the consistency at this time, and if it's not soft enough for your preference, saute 1-2 more minutes.

When there is one minute left for the beans, crumble the five slices of bacon into the beans and heat through. Serve.
These fava beans with bacon will give you another side dish to add to your weekly family menu planning. Anything with bacon is good, right? Enjoy!