A few weeks back, the husband and I went to an early screening of Frozen 2. I had attended an early press day and seen a lot of behind-the-scenes footage and drafts, and I was intrigued to see how it would all come together. And come together it did, tying up loose ends and answering a lot of questions we may have had about Elsa and Anna. Here's my spoiler-free Frozen 2 review and thoughts on the movie!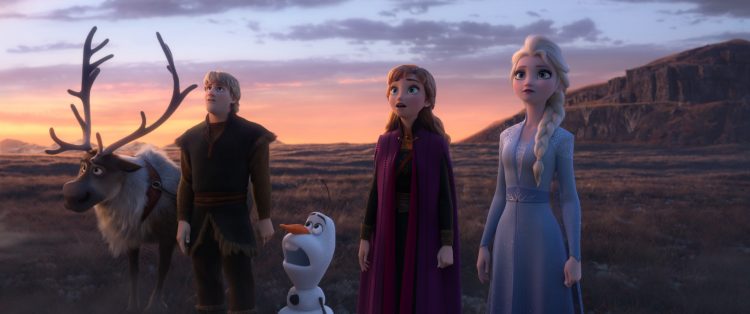 Frozen 2 picks up not far from the end of Frozen 1. A few things have changed, such as living arrangements, clothes and color-schemes. Oh, and Olaf. My favorite character now has permafrost, so he'll never melt and he can read….yet he still thinks that Sven talks and sounds a lot like Kristoff.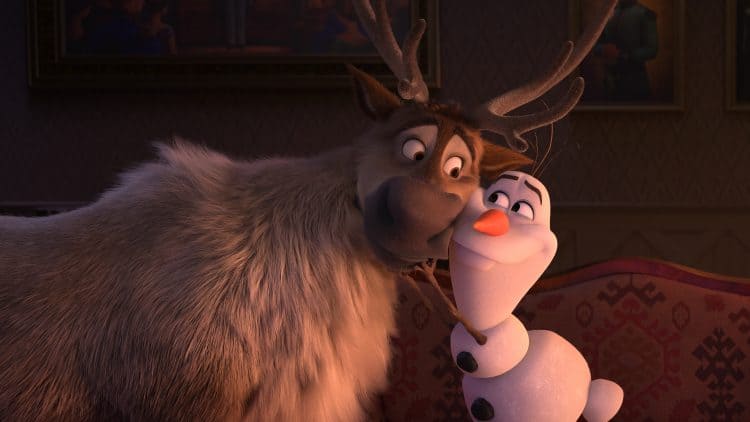 Frozen 2 is not a sequel, but the second half of the whole story of Elsa, Anna and their family. In Frozen 2, we get to see flashbacks to their childhood, including a heartwarming scene of their mother, Queen Iduna. The history of their parents wasn't really explained in the first Frozen, so in this second movie, all is explained — and it's entirely unpredictable.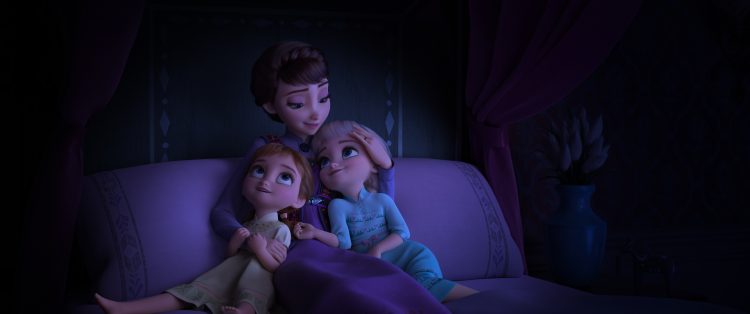 From the beginning of the movie, we learn Elsa has been hearing things, a hauntingly beautiful song being sung off in a distance. During a game of charades, where Olaf wins because he can shape himself into basically any clue, Elsa realizes that she may have to follow the voice "Into the Unknown," which is my favorite song of the movie.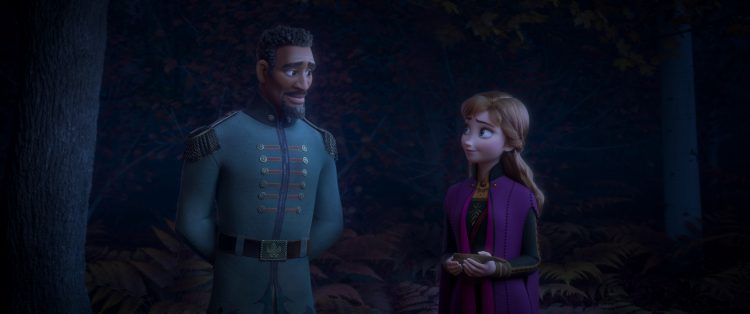 Anna refuses to let her take this adventure alone, so of course Olaf and Kristoff and Sven all take off together as a family to help Anna figure out what's going on. Along the way, they face challenges bigger than they expect, including an icy underwater horse, Gayle the wind and family they never knew existed.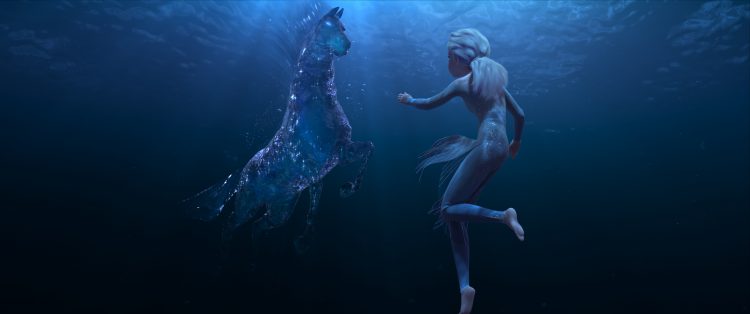 In the end, Elsa finds out how she got her powers and Elsa realizes her ability to lead. Their relationship solidifies even further as they each take their place in life that is far different from what they had dreamed…yet it's absolutely the best for each of them.
The movie is darker than the first Frozen, yet not in necessarily a scary way. Kids may have a few moments where they are frightened by as Kristen Bell says in the cast interview, kids understand far more than we give them credit for, so they should all be fine. There's humor, making it a movie even adults will enjoy, and there's a couple of scenes where tears may flow. It moves quickly and has a lot of action, and there's a definite 80s flashback you're going to get a big kick out of.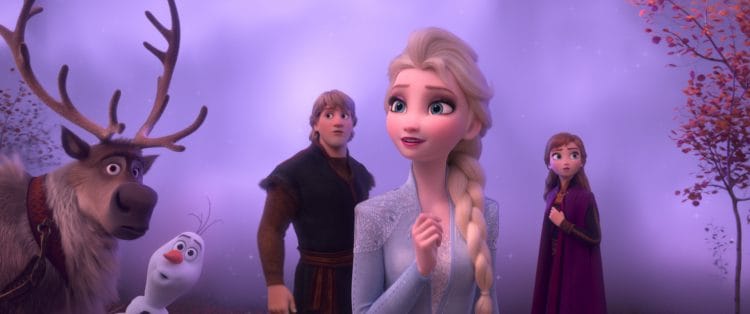 If there's a message in there, it's to not let fear define you. Complacency can be comfortable, but going into the unknown can allow you to be open to happiness and wonder you never knew you could find. Being open to trying new things can yield wonderful results, but we have to temper it with not leaving our loved ones behind. Remembering our lives are intertwined is important, and it's okay to ask for help. Be yourself, take the risk, and let love help guide the way.
My Frozen 2 review isn't earth shattering, because a lot of Disney movies have similar messages, but I also don't want to ruin the movie for you in any way. The trailer says enough about the adventurous theme, and the musical score is partially revealed, but you're in for a treat throughout the whole movie as various characters sing….especially Kristoff. And on that note, go buy your tickets!
If you're looking for more info than my Frozen 2 review includes, head over to my interview post for fun cast photos!