Scooby Dooby Doooooooo! Who hasn't heard this iconic phrase? I grew up watching the original animated version of Scooby Doo and the gang, but I never really knew the story of Scooby. Thanks to the new movie by Warner Bros., now I do, and you can too, with the release of the Blu-ray and DVD versions on July 21. Also, each version includes a digital download copy, too!
The Story of Scooby Doo and the Mystery Inc. Gang
"SCOOB!" reveals the never-before-told story of Scooby's origins. It shows how one of history's most famous friendships began when an adorable, homeless puppy met a lonesome young boy named Shaggy, and how the two of them joined forces with aspiring young detectives Fred, Velma and Daphne to become the celebrated Mystery Inc. Now, with hundreds of cases solved and adventures shared, Scooby and the gang face the biggest and most challenging mystery of their careers: a plot that will unleash the legendary ghost dog Cerberus upon the world. As they race to stop this "dogpocalypse," they discover that Scooby has a secret legacy and an epic destiny greater than anyone imagined.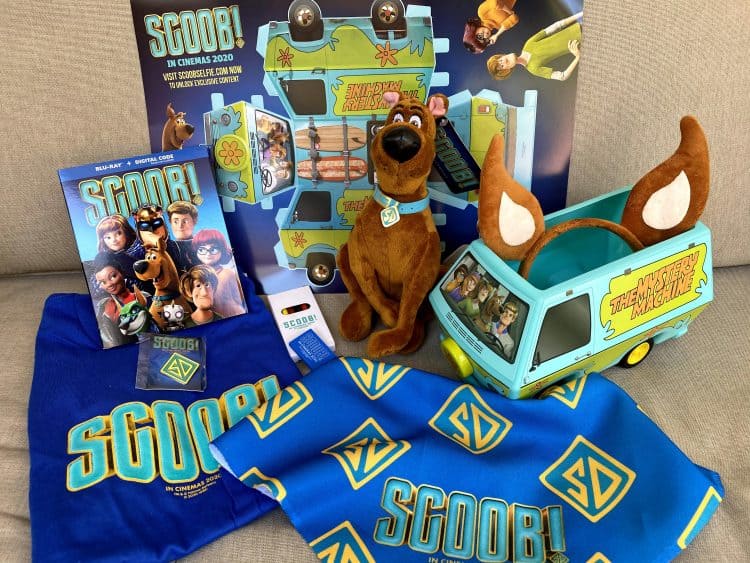 "SCOOB!" features an all-star ensemble cast led by Will Forte, two-time Oscar nominee Mark Wahlberg, Jason Isaacs, Gina Rodriguez, Zac Efron, Amanda Seyfried, Kiersey Clemons, Ken Jeong, Tracy Morgan, Simon Cowell, and Frank Welker. With that kind of talent involved, you know you're in a treat.
Or in Scooby's case, Scooby Snack. Thanks to BarkBox, my dog, Shuri, got to enjoy her own bags of those infamous snacks, and she was hooked. I'm excited to share Scoob with my family. I wouldn't have done my job as a mom if I hadn't introduced all four of my kids to Scooby, or told them the story of how I asked to be called Freddie as a kid. Secretly, I wanted to be Velma though, she was always so smart!
Now, thanks to Warner Bros., who sent me this goody box, I can continue the tradition with my granddaughter. I'll be able to introduce her to the Mystery Machine and proper mystery-solving skills. I can't wait! She's going to enjoy this plush Scooby and Shuri is loving the Scoob bandana. Now if getting her to sit still was this easy all the time!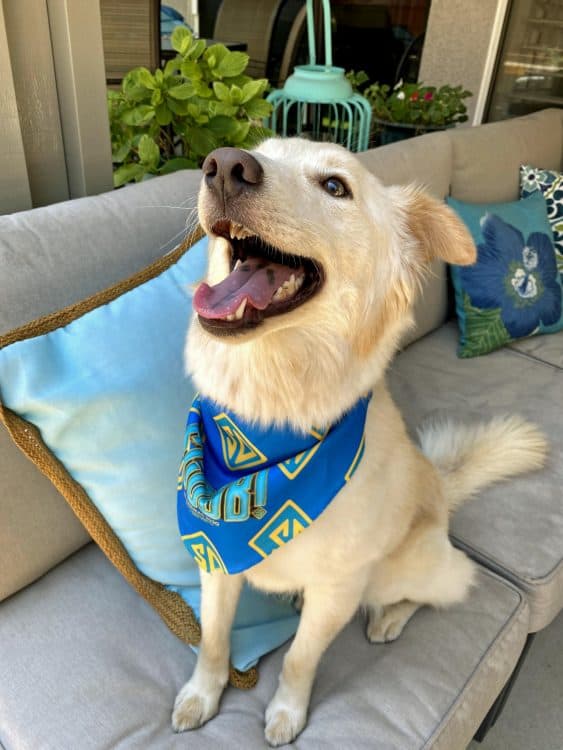 4K UHD, BLU-RAY AND DVD ELEMENTS
"SCOOB!" 4K UHD Combo Pack and Blu-ray contain the following special features:
· Bloopers
· Deleted Scenes
· How To Draw Scooby Doo
· New Friends, Newer Villains
· Puppies!!
"SCOOB!" DVD contains the following special feature:
How To Draw Scooby Doo
Pick up your copy today, so you and your family can learn the behind-the-scenes story of Scooby, Shaggy, Daphne, Freddie and Velma, the Mystery, Inc. gang! (And of course, don't forget the Mystery Machine!)
And for fun, here's a pic of Shuri when I tried to put the headband on her. She was uncooperative, to say the least, and ran around trying to eat it. Puppies keep you on your toes!