This past week, I was invited to attend the opening event for the Disney Store Toy Story 4 takeover at the Glendale Galleria. I grew up loving Disney — literally, a few miles from Disneyland as a teenager — and even now that I'm older and my kids are no longer little, I'm still a mega Disney fan. A trip to a Disney Store is as much for me as is it for the recipient of whatever gift I'm buying, so I was so excited to see what ShopDisney and the Disney Store had 'in store' for us!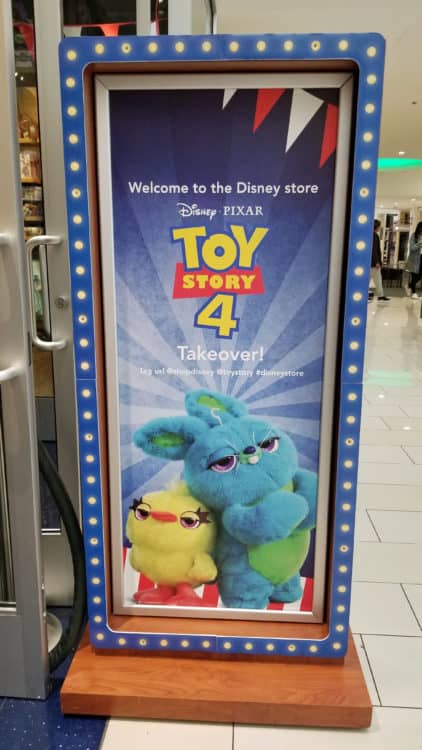 The special Disney Store Toy Story 4 takeover is happening at all of the flagship Disney stores throughout the month of June. (It is not occurring at the outlets.) During June, you'll find a new decor based on Toy Story 4 characters, like Woody, Buzz, Little Bo Peep, Jessie, Duke Caboom, Forky and more, in honor of the upcoming release of the long-awaited Disney-Pixar Toy Story 4 movie on June 21.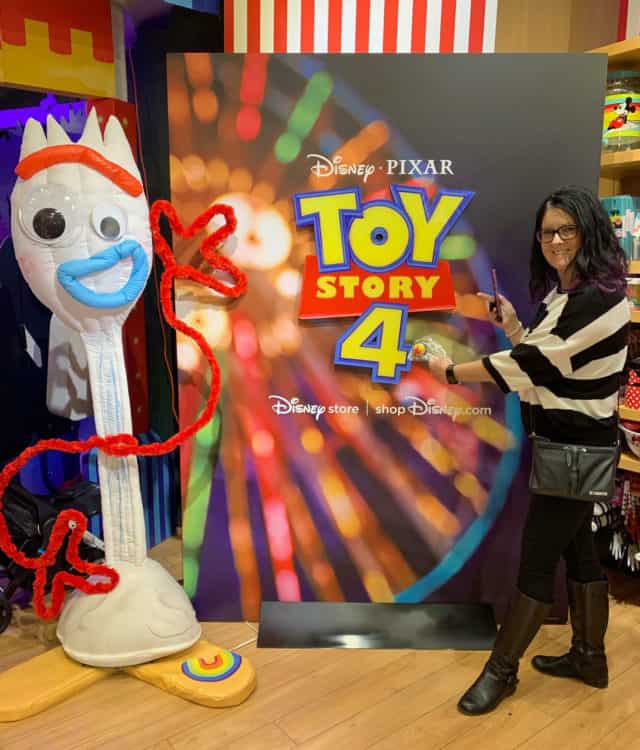 If you've not yet met Forky, you're missing out. I got this fun Forky selfie during the event, designed to show us the new theme of the store, the fun new Toy Story 4 toys and clothes, and games that are available to customers during the Toy Story 4 takeover.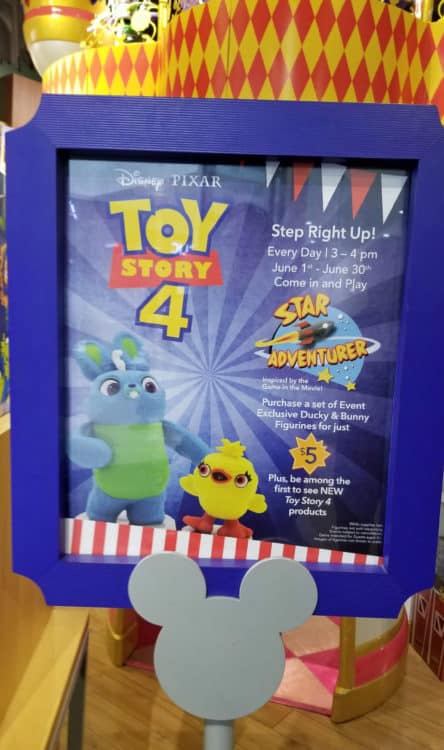 Because there's no age limit on Disney fun, I played the Toy Story games, too. Pick a Toy Story character and see if the claw grabs it; if it does, you win! Race a character by cheering and throw balls into buckets to help the rocket rise.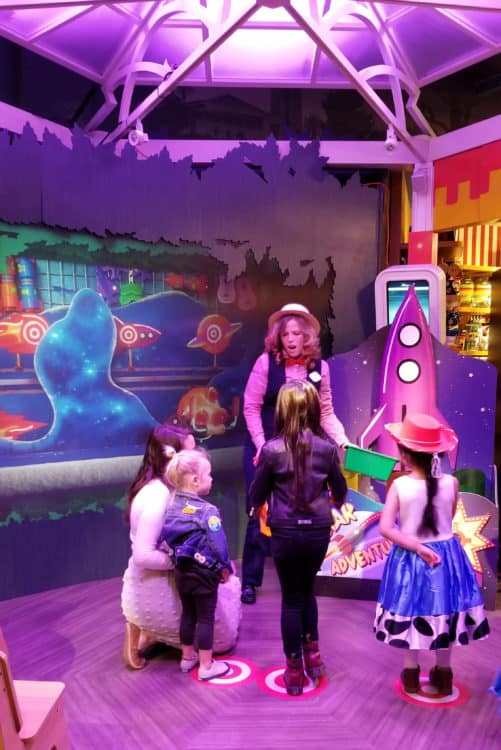 If you win, you get a sticker, which you can take to the register and exchange to buy special toys for only $5: a Bunny or Ducky, characters from the movie. (We were given each and they are so cute!)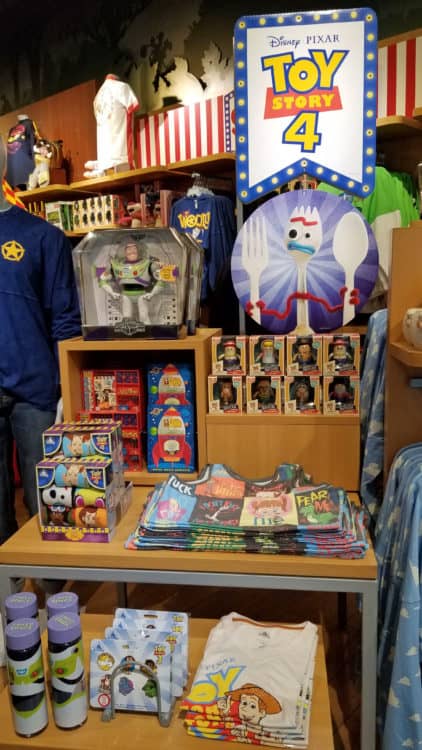 Everyone's favorite new character is Forky, and while I haven't seen the movie yet, I already like him. I can't wait to head back to the land of toys…and Mr. and Mrs. Potato Head, two of my other favorite characters.
If you're like me, you buy gear related to the movies, and the Disney Story Toy Story 4 game is huge when it comes to toys, clothes and other must-have items for Disney fans. Look at this Disney bag!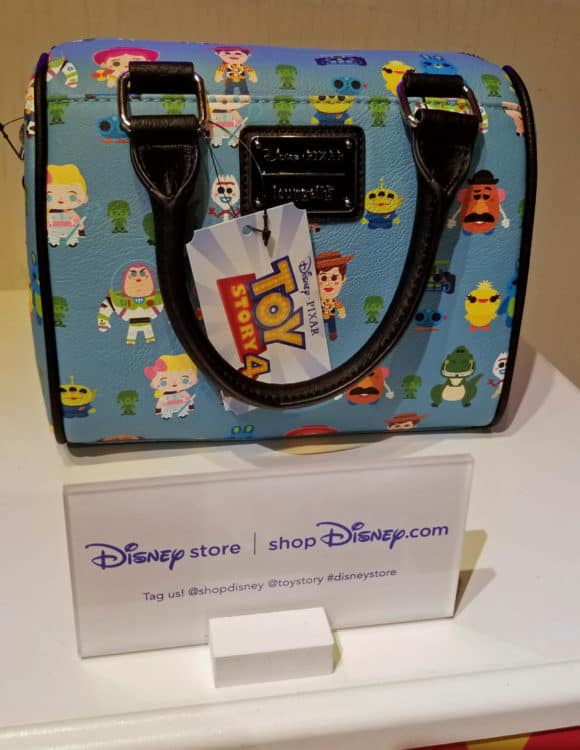 I'm ordering these baby moccasins from ShopDisney.com for my new granddaughter, and I found a few other clothing items that I'm going to want…I mean, need, for future trips to the happiest place on earth to show my Disney side!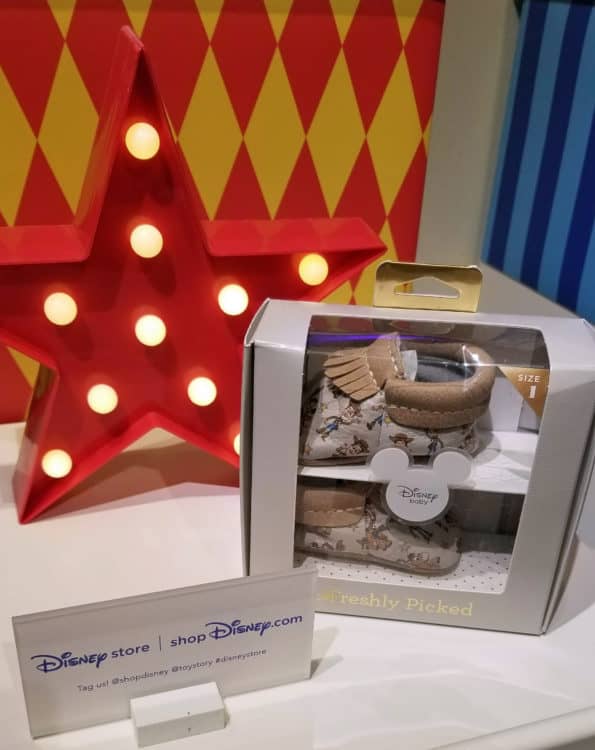 As always, the store is full of whimsy, like the spinning ferris wheel by a castle, and a mini-wall of magical mirrors that begged for a silly selfie.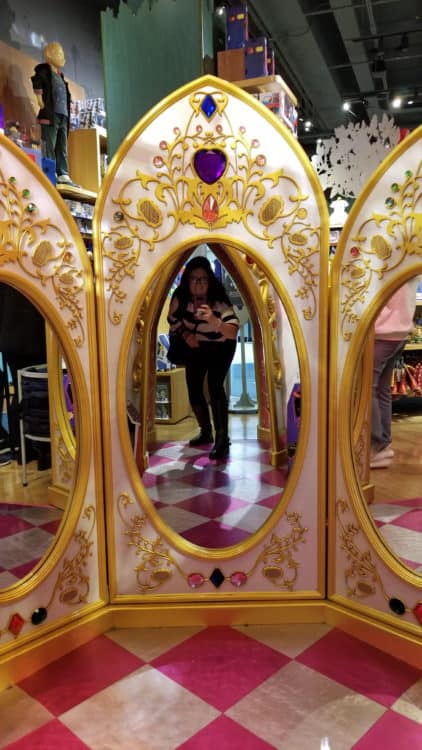 The entire store is going to be decked out in Toy Story 4 gear all month long, so you need to see it before it disappears! It gives you the magical feel of the Disney parks with the bonus of having so many Disney toys and jerseys and clothes in one place. It also has this mug.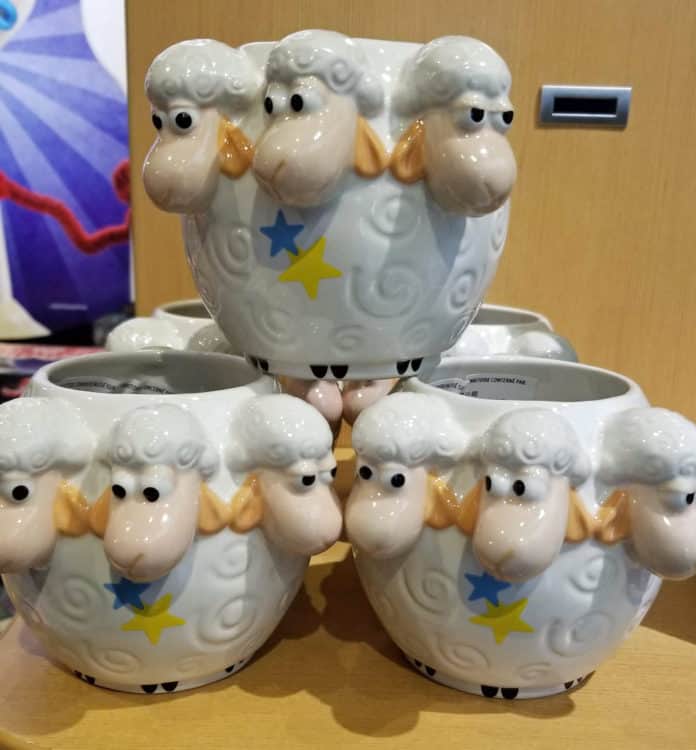 I need it. Who wouldn't want to start their day with coffee out of this baaaa-d boy mug each day?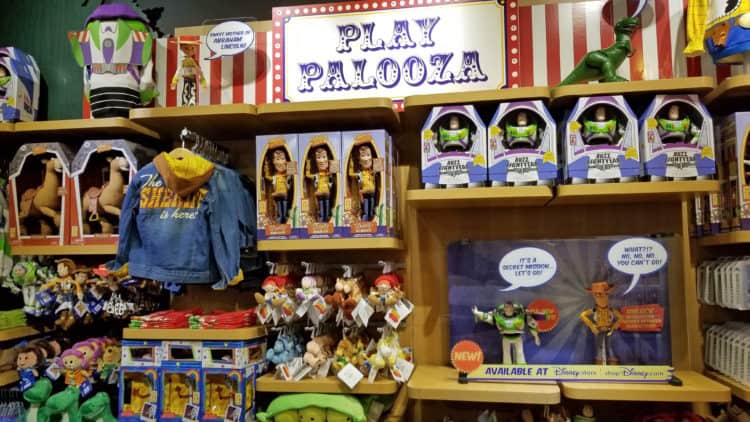 To infinity and beyond! I can't help it, I think of that phrase every time I see Buzz and I love the relationship he and Woody have. There are so many good messages in the Toy Story movies, but I feel like the friendships they form model to kids, and everyone, that we can be friends despite our vast differences.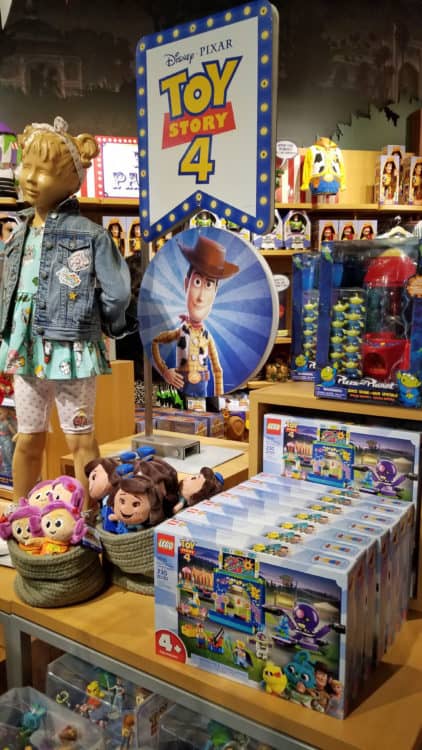 Thank you again, Disney, for the fun day! I'll be back soon to experience more of the Disney Store Toy Story 4 takeover at my local shop. My shopping list will undoubtedly be even longer once I see the movie!