Disney movies embed themselves in our hearts and our minds in a way no others do, but it may be the music that lives on even more. When I think of Disney's Beauty and the Beast, I think of "Be Our Guest." Aladdin? "A Whole New World." Little Mermaid? "Under the Sea." Disney music is renown, and we often just soak it in without realizing the talent and work behind it. The new Disney+ documentary about Disney lyricist Howard Ashman, "Howard," available for viewing on August 7, does a fabulous job of changing that.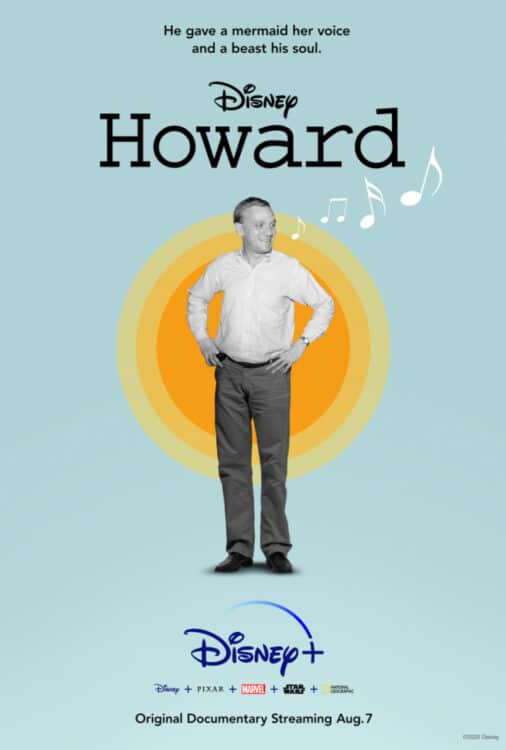 "Howard," created/directed by Don Hahn (producer of Lion King, Hunchback of Notre Dame, Beauty and the Beast and more), is the behind-the-scenes story of Howard Ashman, co-creator of the music listed above, as well as many other iconic productions, including Little Shop of Horrors, also co-wrote with Alan Menken. (Did you know it started very off-off-off-Broadway, yet it's now a rite of passage for many? "Let's do the time warp again….")
I had the honor of attending a Zoom press junket last week with Don Hahn and fellow Disney journalists/writers. You don't have to ask me twice when it comes to Disney involvement. (I love Zoom, and its mute ability; we had contractors doing some early remodel work, and of course, the puppy barked at them sporadically. I stayed on mute, and I'm pretty sure there was at least one puppy sighting when I had my video on. Good thing she's cute.)
Howard Ashman's story is one that needed to be told. He passed in the middle of the making of Aladdin, dying of AIDS at the young age of 39. In those 39 years though, he touched the hearts of so many. As told by Don, family members (including his sister) and colleagues, "Howard" gives you an inside look of the writer/director/dramatist described as fearless, smart, prepared, learned, funny, big hearted, and so much more.
The start of Howard's career is one to be admired. He moved to New York City and on day one, opened a theater, putting on a litany of plays, including Little Shop of Horrors. His thought was to direct children's theater, if Disney movies didn't pan out. Clearly, they did.
Getting an HIV diagnosis in that era wasn't like now, with medical advancements and a difference in public acceptance, but Howard didn't let it slow him down though he did keep his health a secret in general. He wrote the lyrics for Beauty and the Beast while hospitalized, and had written the initial songs for Aladdin before he died. He never got to see either released, but his co-writers did move to NYC to work bedside as his health declined.
Don tells the story of how Howard was due to speak at 92nd Street Y, on the very day he got his diagnosis. No one knew though, as he was up on stage speaking without any reveal. Sadly, there were no photos taken that day but the strength he displayed spoke even further to his mastery and professionalism.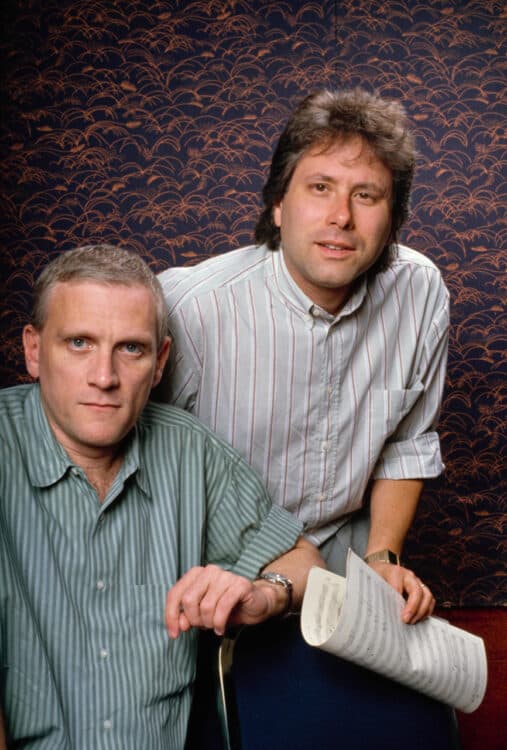 His collaborations with Alan Menken are the most known, but he also worked with Marvin Hamlisch on Broadway's Smile, a show that came out to disappointing reviews. However, it was that impetus which drove him towards Hollywood, where he worked with Disney animators — who didn't even get to work on the Disney lot at the time — creating movies that live on in history as some of the best work in history.
Don Hahn made the movie, something that's been in the works for some time now and taught Don patience (as there was nowhere to release it at the time, since Disney+ was not yet in existence), telling the story of a man who was able to entertain and inspire audiences in a profound way, even when he was no longer able to speak, see or write anymore. His ending was tragic, such a loss for the world of lyricism and movies at-large, but in his short life, he made a huge impact that anyone whom ever worked with him or met him can attest to. "Howard" gives them that chance, with their powerful narration conveying to us, those that didn't know Howard, how much he was loved and respected.
"Howard" hits Disney+ on August 7 for streaming. One fun piece of trivia that will stick with you after is that every single movie Howard Ashman worked on has a song about food. Now you're trying to think what they are, right? Just one more piece of Disney magic!
You'll enjoy "Howard." It's a documentary made with a lot of found footage, successfully taking you back in time, grainy footage and all. Despite that, it doesn't come off as one as much as the building of an epic honor to a man of great talent that deserves to be remembered.