Disney's newest live action remake movie hits theaters on May 24, so keep reading if you're looking for a no spoiler Aladdin movie review!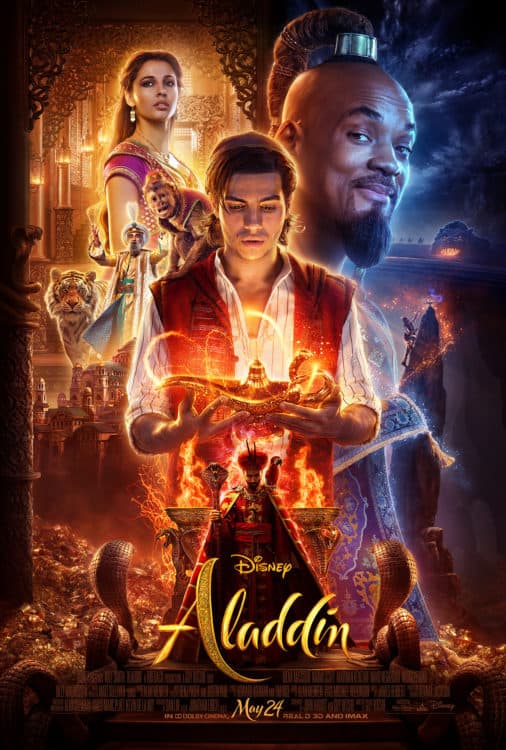 Last Sunday, I attended the Aladdin cast interview movie junket. (Head on over there to read it for scoop on Guy Ritchie's nickname, which cast member can dance the best and what Naomi Scott did that endeared her to the rest of the cast.) We had just seen the movie the day before at a press screening, and we were still talking about it, including the stellar soundtrack. More on that in a bit.
When word got out that Will Smith was playing the genie in the live action remake of Aladdin, there was a lot of chatter and not all of it was positive. Concern was heavy about whether he'd do the beloved Genie properly, mainly because he had such huge shoes to fill. Robin Williams was so perfect in the role, it's hard to separate him from the rest of the movie. When I went to see the movie, I reminded myself to watch it with an open mind and not let my feelings about that detract from the overall feels it gave me.
Turns out, my worry was for nothing, because Will Smith nails it. He does not try to mimic Robin Williams' version of the big blue wish granter, but he uses the same lines and music, adds a little twist and the result is a different version of Genie that you will immediately love.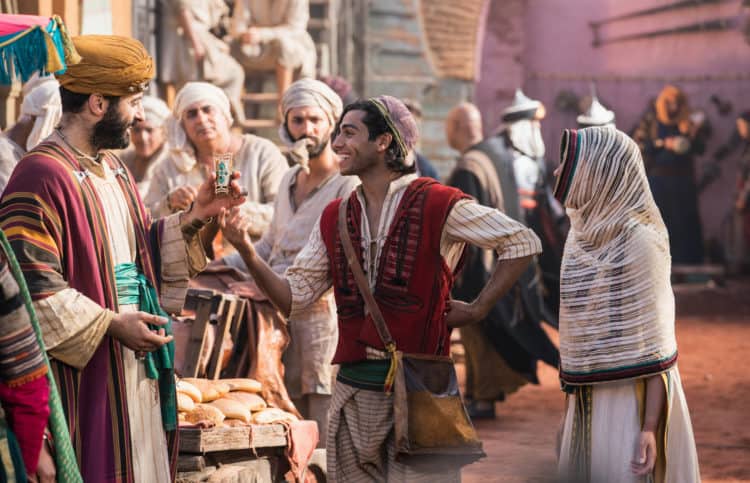 Aladdin is the story of Aladdin, a 'street rat' from Agrabah who runs into a beautiful girl in town one day as she's giving bread from a market vendor to poor hungry children.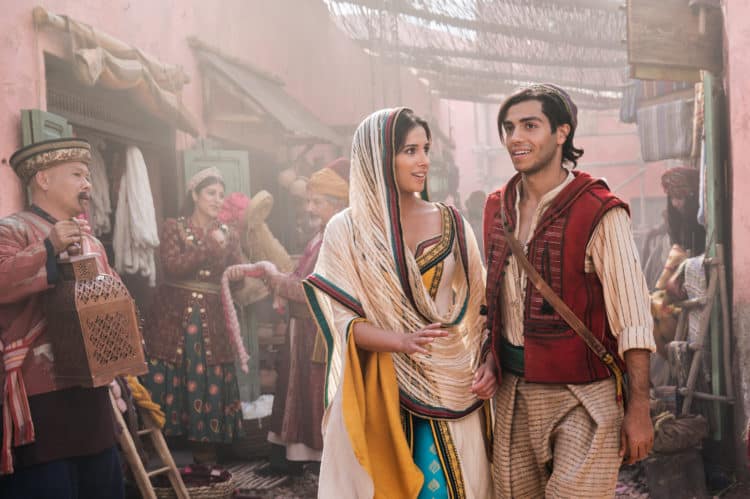 He rescues her as she tries to extricate herself from the unhappy vendor, and Aladdin is smitten. He runs into the movie's villain, Jafar, the supreme guide to the Sultan, and he soon finds himself in the Cave of Wonders, attempting to bring the genie lamp back in exchange for a reward.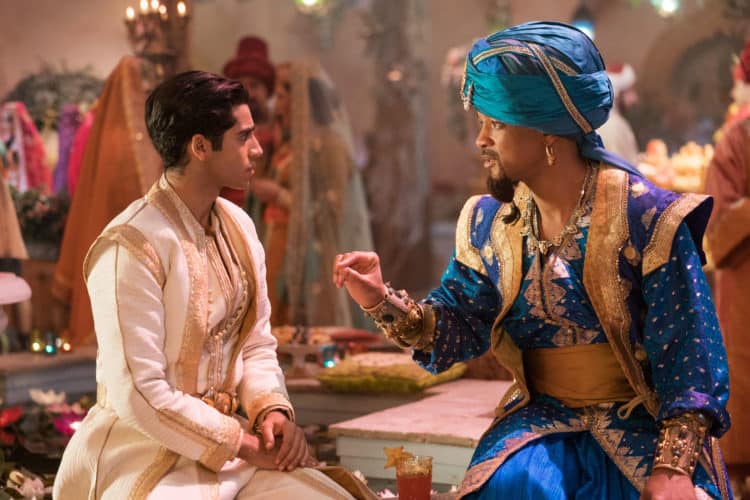 Needless to say, it doesn't go as planned. Aladdin uses the situation to feign the life of a prince to win over Jasmine under the pseudonym of Prince Ali. Once Jafar learns of Aladdin's new life, he sets out to not only change it but change everything. Aladdin and Jasmine and her beautiful handmaid have to work with the Sultan and his lead guard, Hakim, to save the kingdom.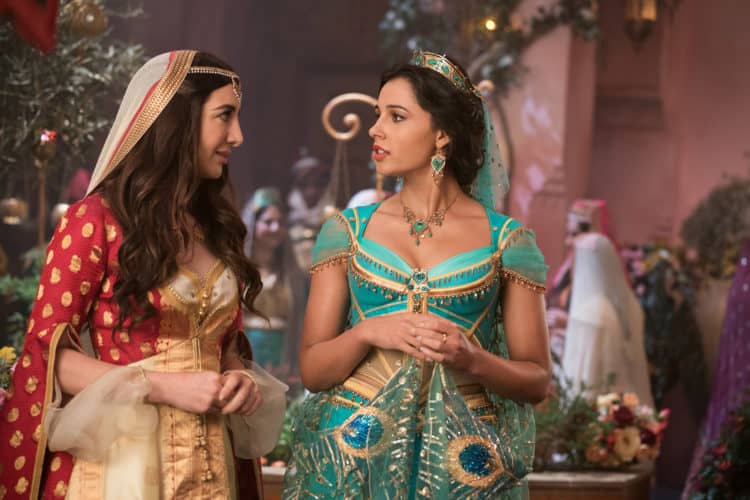 Along the way, we are treated to the regular Aladdin musical numbers that have us dancing in our seats. "Friend Like Me" brought back amazing memories while sucking me in completely to the new Genie and the extended story. This new version of Aladdin lasts two hours and eight minutes, so it may be a little long for smaller kids to make it without a potty visit, but it's completely worth it.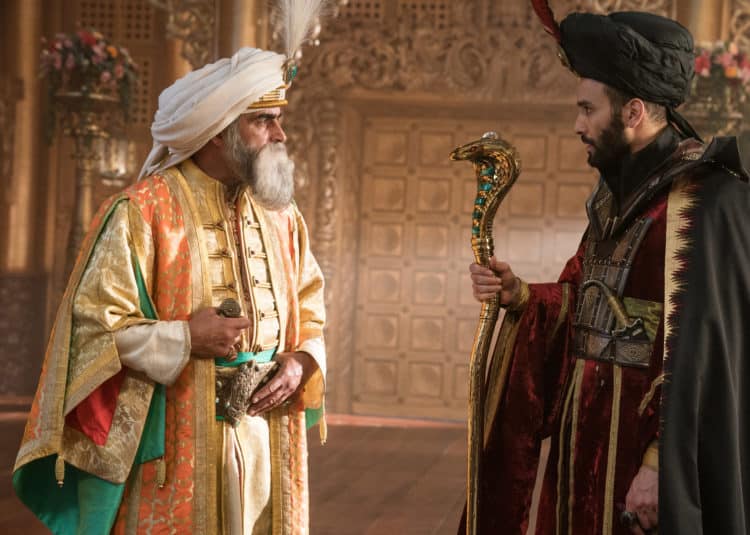 In a nod to today's societal and political climate, the decision was made to make Jasmine a little less 'passive' than the original version. To drive it home, a new song was written for Naomi Scott to sing. Entitled "Speechless," it hits home with its lyrics that will be relevant for years to come.
"I won't be silenced. You can't keep me quiet. Won't tremble when you try it. I will not go speechless."
While the movie does have its serious and dark notes, in keeping with the story that includes an evil villain who uses his staff to attempt to hypnotize people into doing his will, it also has a long list of witty one-liners and comedic lines you'll thoroughly enjoy.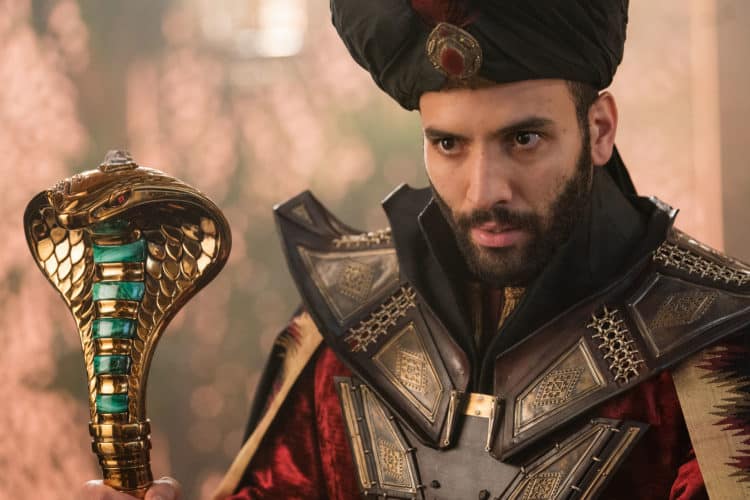 There is so much more that I want to share, but this wouldn't be a no spoiler Aladdin movie review if I tell you much more. Just trust me.
Do you trust me?
The official movie trailer is fun and whimsical, so give it a watch. The movie is fun for all ages, making it a great family movie night or if you're like me, a date night event. Tell me after what you think!