My sub line says it all: eat there. Eat at Brio Tuscan Grille at Victoria Gardens in Rancho Cucamonga.
If you haven't yet, you must try it. If you've been there, you know what I'm talking about.
**Disclaimer: I was provided a complimentary <amazing> meal but the opinions and photos below are my own.**
I love pasta. Ravioli ranks right up there at the top and throw in some brown butter, crispy bread and tiramisu, and I may never leave, so when I learned Brio Tuscan Grille was opening at Victoria Gardens in Rancho Cucamonga, California, I knew it was something I wanted to write about. We love Victoria Gardens and live very close to it; we're there frequently and this time of year, it's fairly crowded yet it doesn't deter us. (In fact, I think it may even make the experience better! Love the holiday hustle and bustle!) Brio Tuscan Grille occupies the building that was Borders, and while I was sorry to see the bookstore go, Brio fills it perfectly.
The outside of the restaurant truly beckons to you on a cold night like last night. (We Californians are a hearty bunch, but when the temps drop to the 40s and 50s..or 30s, like this morning..we bundle up like you've never seen and we can scout out a warm place like no one else.) There's an outdoor patio with plenty of vertical heaters in the midst of luxurious furniture. We didn't sit out there, as much as I considered it..briefly. I just couldn't risk my martini freezing up…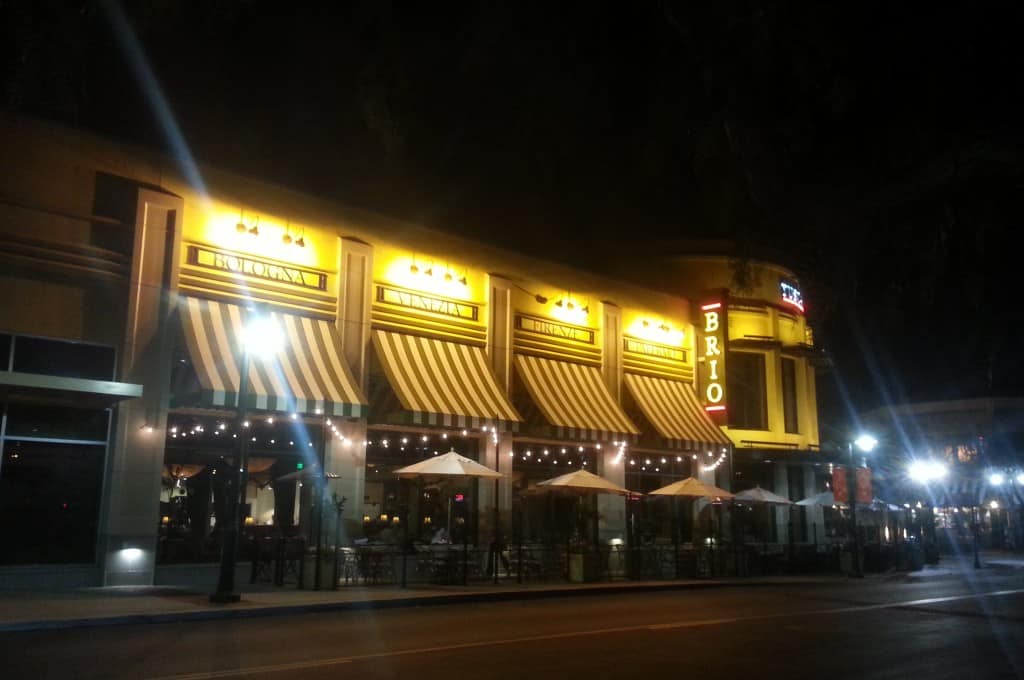 The interior is even more beautiful. The round atrium that Borders had as their entrance area is now the bar area. What a perfect placement for the Christmas tree!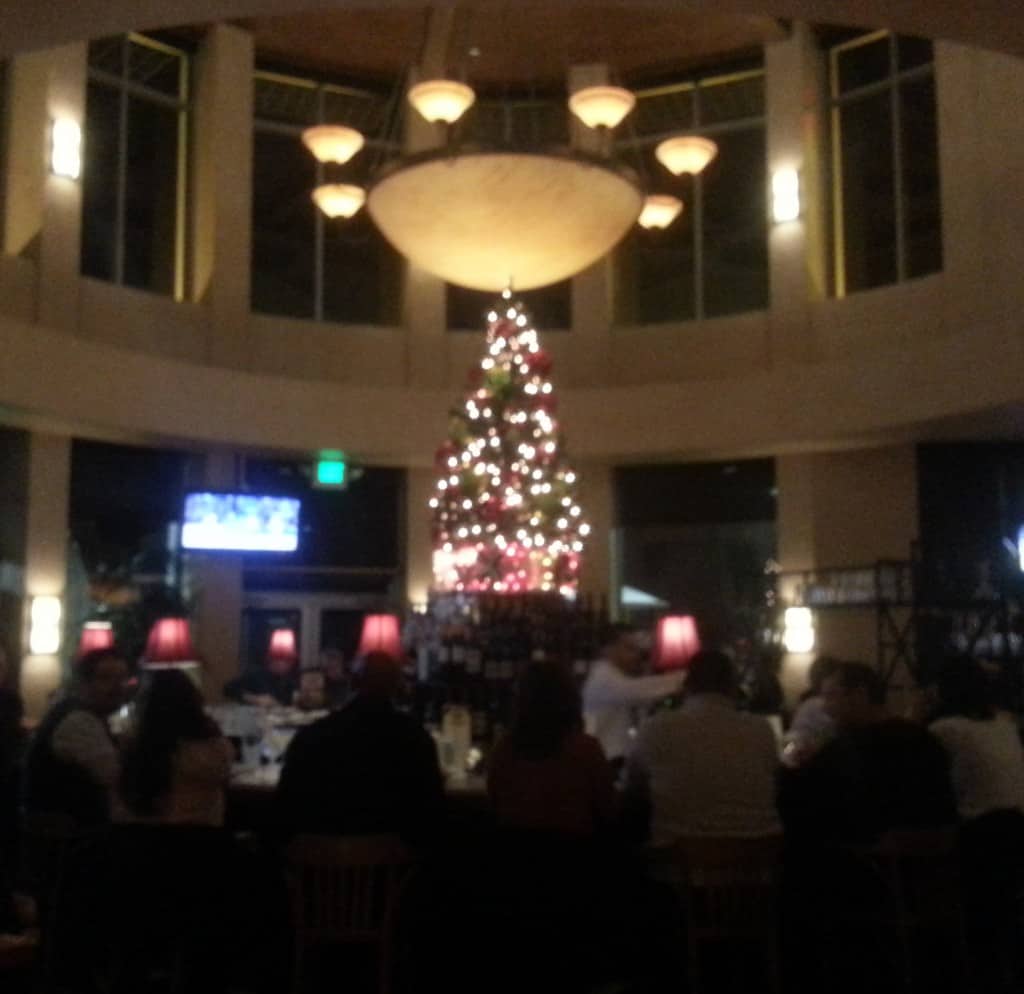 The staff was wonderful, beginning with the hostesses all the way through to management. (Katie was the manager on duty last night — shout-out to Katie! Thank you again!)  Everyone was friendly, smiles all the time, and very attentive but not in-your-face. Perfect! We had all our needs met, right when needed, and every request was answered quickly and exactly as we asked.
Our reservation was 6:30, but we were there a little early. We expected to need to sit in the bar until our table was ready, but they were able to seat us right away. We were placed in a good area with a view of the entire restaurant and the pizza oven. Pizza ovens always get my attention, and Brio's gave me a serious case of pizza oven envy. I have always wanted one and theirs is a work of art.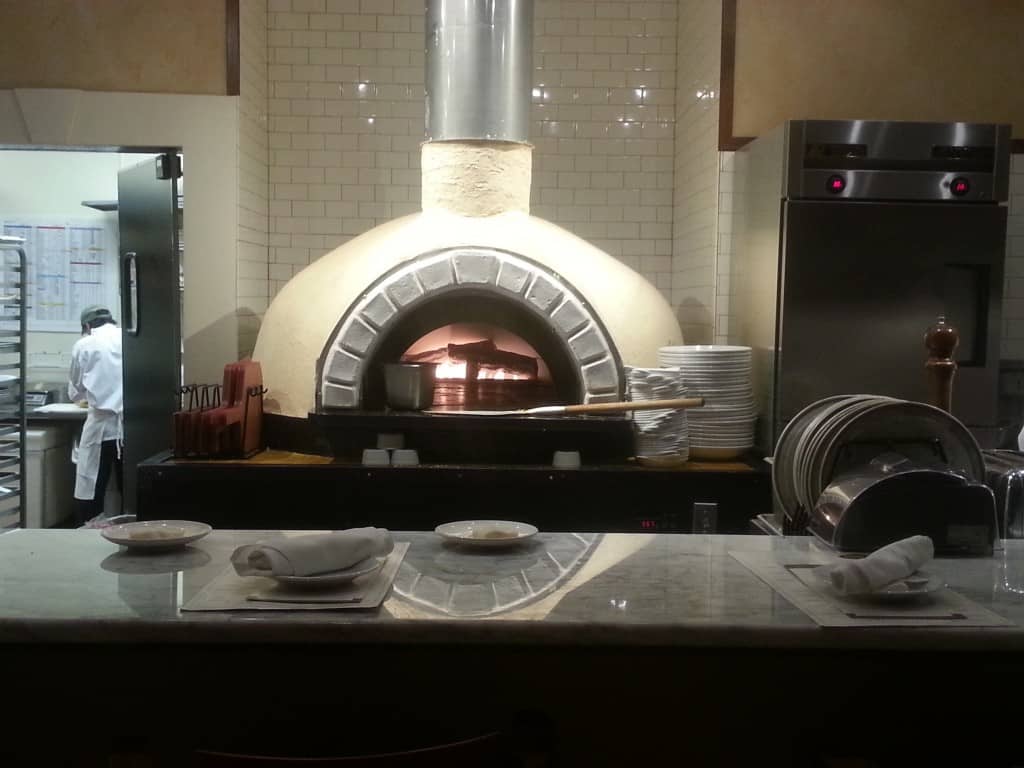 First priority was to try a martini. They're featured on Brio's website and looked very appealing. Flirtinis? Yes, please. We were not disappointed, all the way down to the cherry in the bottom!  I won't tell you all the ingredients — you need to hit up Happy Hour and experience it yourself — but I will say the Prosecco touch was perfect. It had a nice bubbly feel to it and I could have had two. Or three. (I stuck to one, fyi.)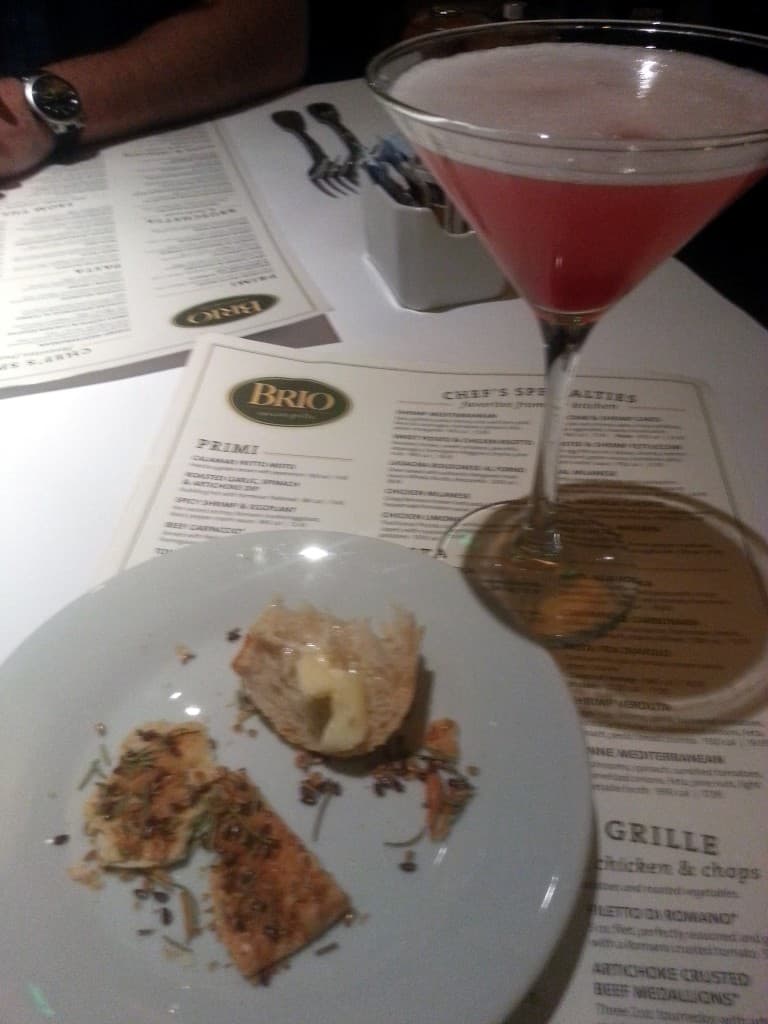 We were also served fantastic sourdough bread, the perfect kind..you know, crispy on the outside and soft on the inside. The parmesan crisps were a perfect accompaniment and kept us busy until the lobster bisque arrived.
Let the Mmmmmmms begin. We shared a bowl, which they offered to put into two cups for us (thank you, Marcos!) and it was OH SO good. I couldn't have eaten the bowl myself and even begun to eat my entree, but I had to try it and was really afraid a cup wasn't going to be enough. I like food, and I love a good seafood chowder, soup or bisque. I haven't had a good one since we ate a She-Crab soup in the middle of Chesapeake Bay, Virginia, last year, so this was a long-time coming. Well worth the wait! Large chunks of lobster, a hint of sherry and a perfect consistency. (My husband may or may not have tried to lick both cups.)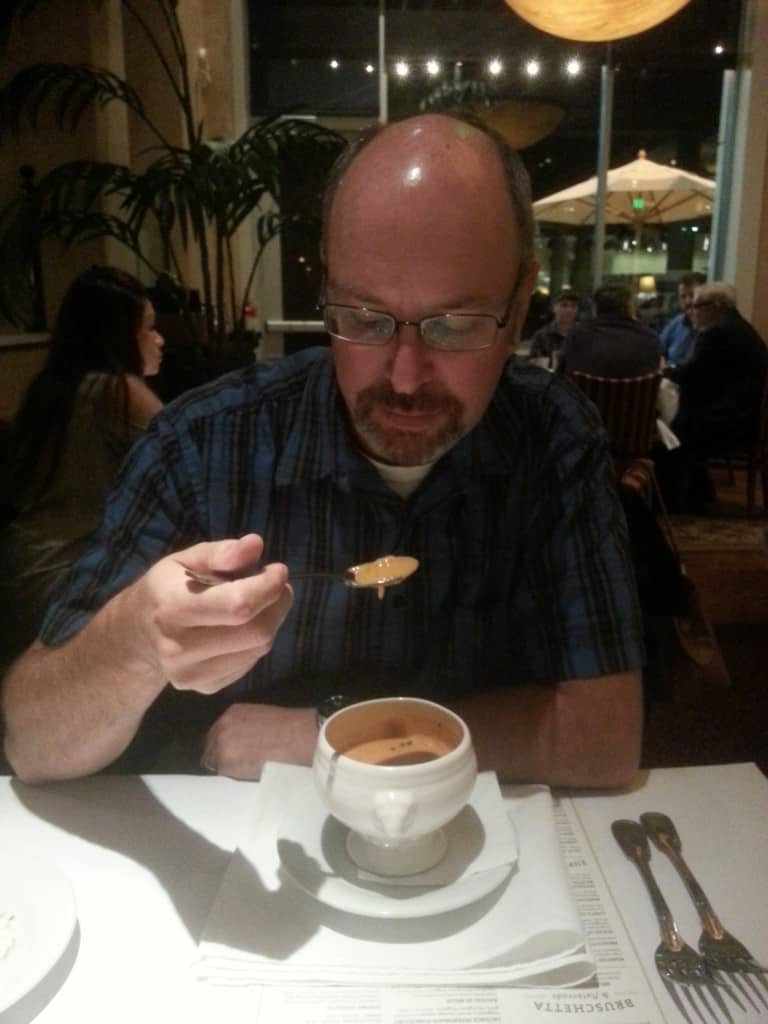 I ordered the Sweet Potato & Chicken Risotto. I love a good risotto, and they're a lot harder to find than you'd think. They're often too dry or just lacking in seasoning, but Brio's was another perfect part of the meal. Loved it. Ate it all. Every last bite. The chicken was moist, the sweet potato truly sweet and not overcooked or mushy like sweet potatoes easily can be. Pine nuts, pancetta and asparagus all added up to be a very satisfying meal.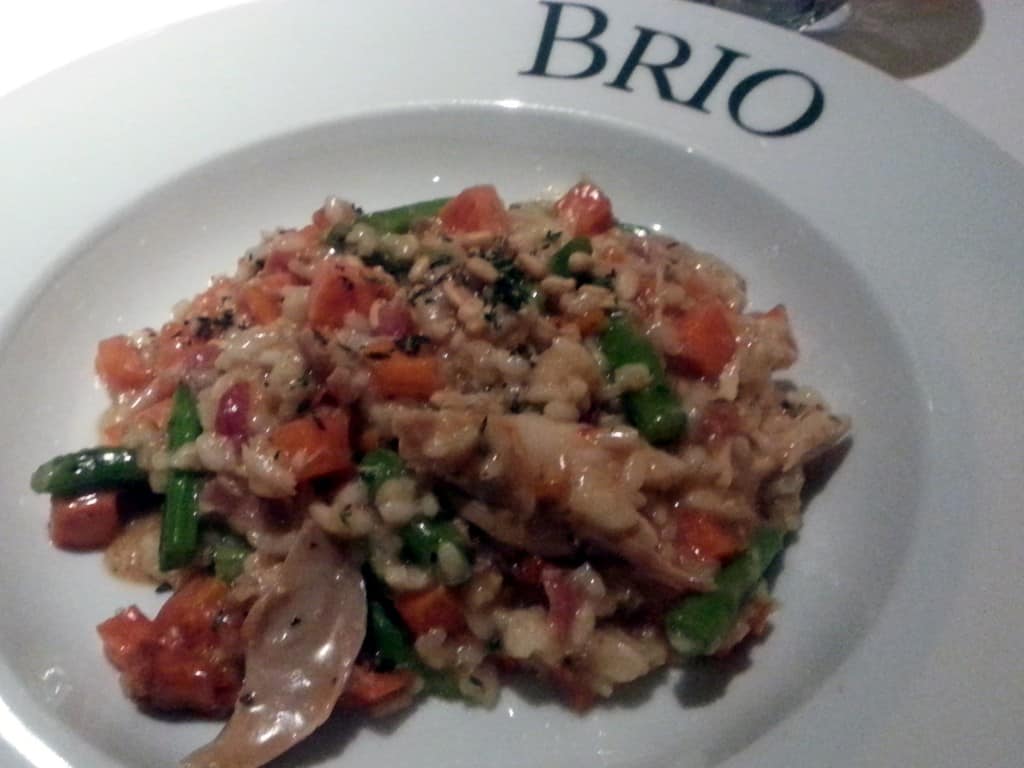 But I couldn't stop there. We had to order dessert.
First though, my husband's entree of choice: Grilled Mahi-Mahi, which came on a bed of farro with tomato-basil vinaigrette and spinach. Of course I tried it — I wouldn't be a good food blogger if I didn't try everything, right?? — and could have happily ordered that as well, but I let him eat the rest of it and stuck to my risotto. Getting full.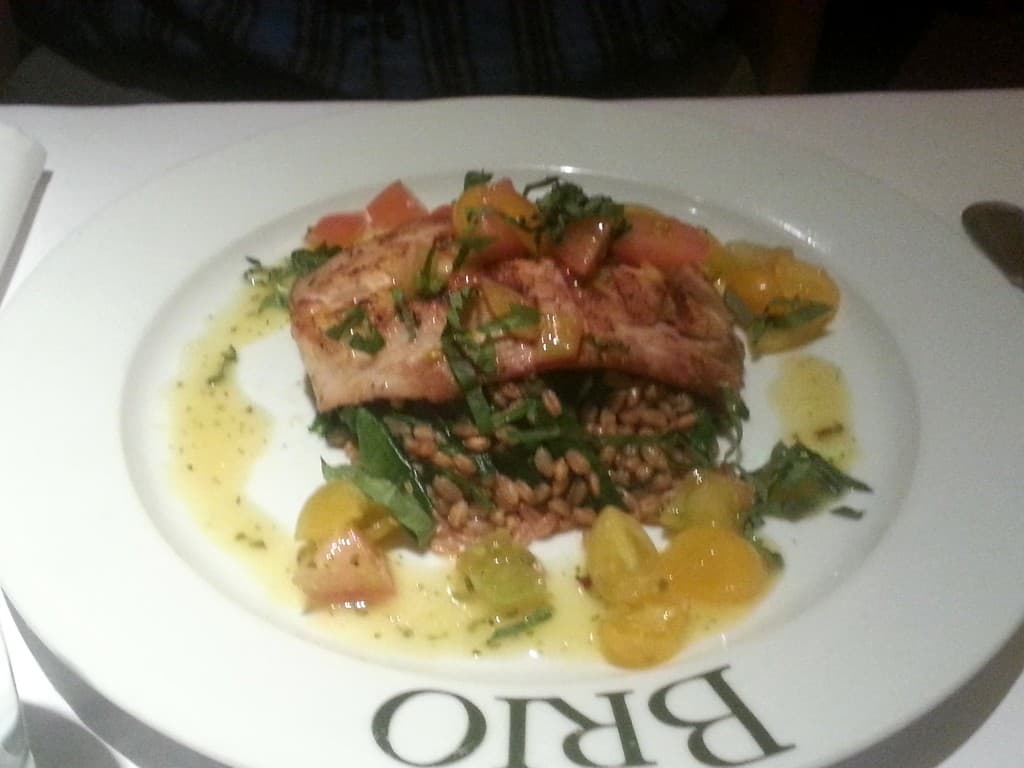 Then Marcos brought over the dessert platter.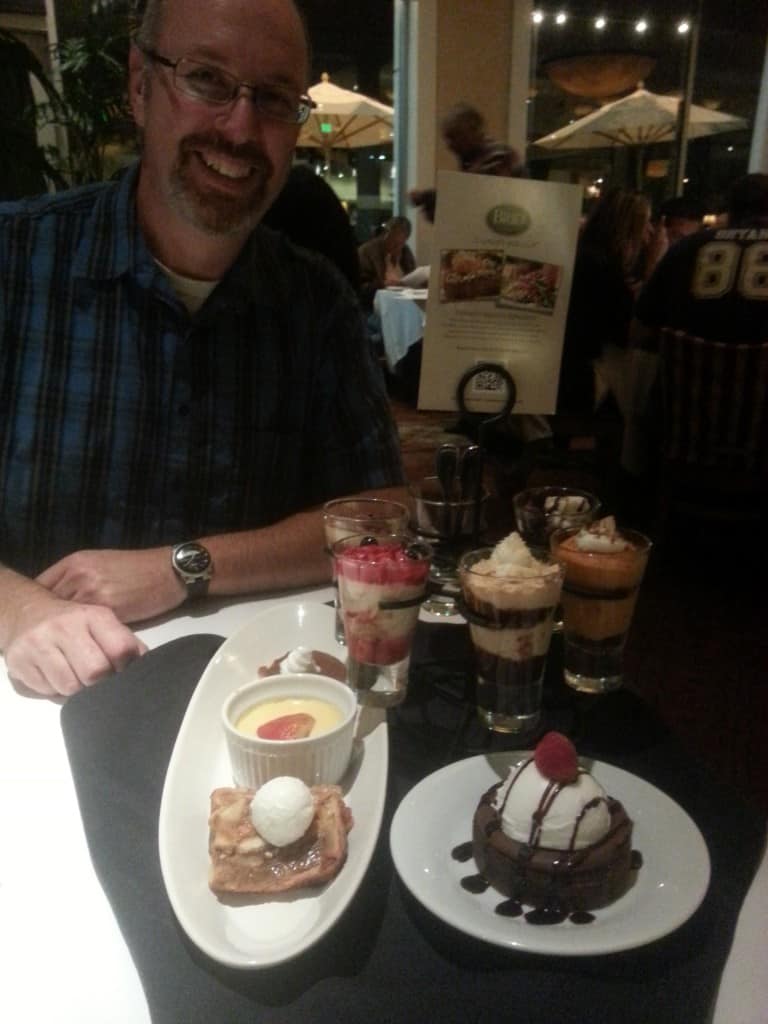 I know, right??
While they had so many delicious-looking options, I chose my favorite dessert ever, Tiramisu, and he got the Mascarpone Cheesecake. I am all over Tiramisu but his cheesecake was so amazing, I almost traded. He wasn't having any of that. (It might have been that he was too busy laughing that I'd breathed up a healthy dose of cocoa powder on my first bite of the Tiramisu and coughed for a couple of minutes.)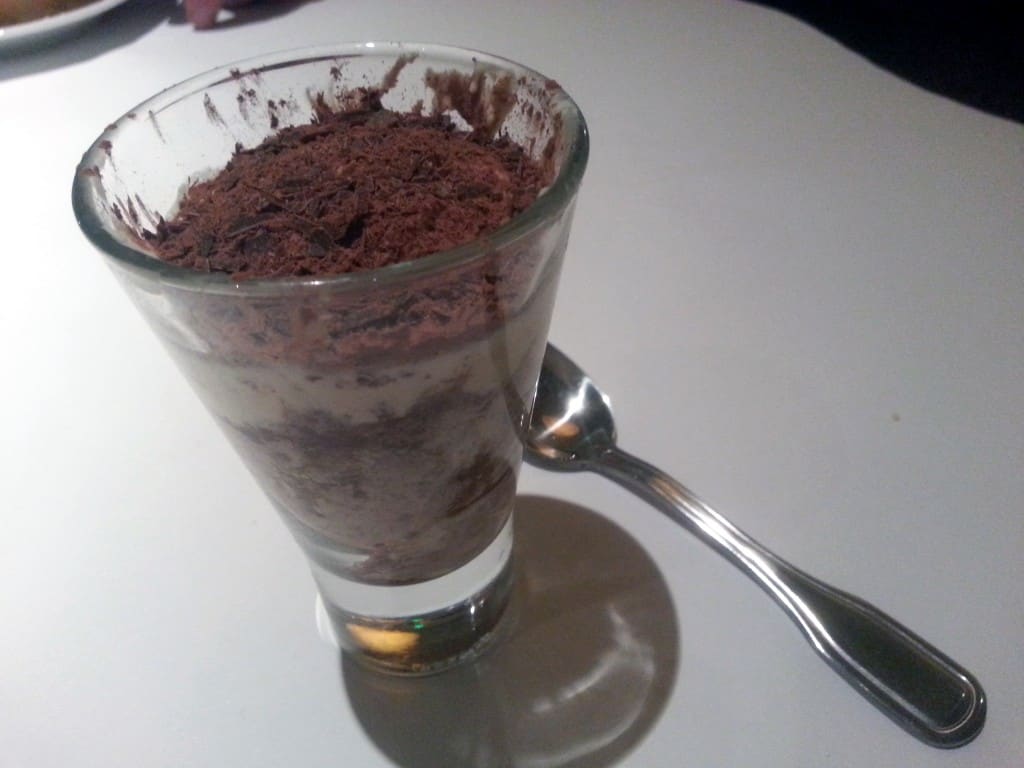 Yum.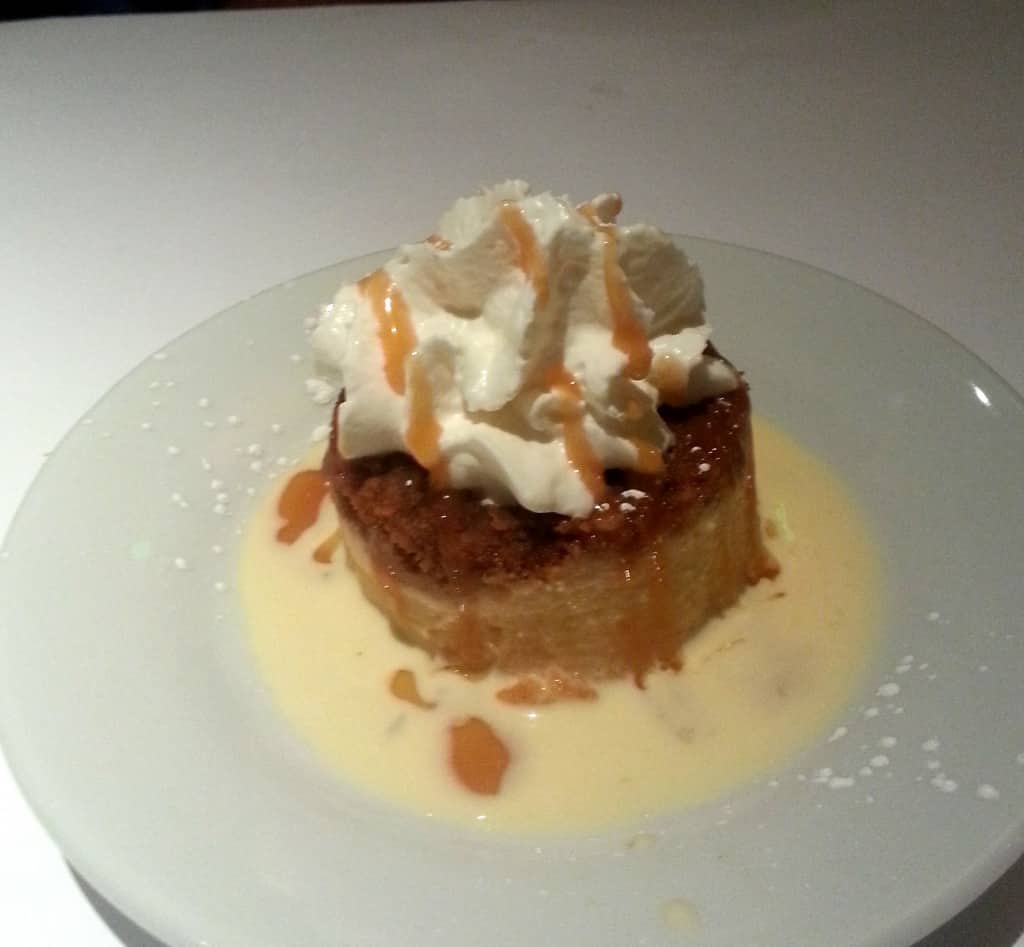 We capped off the meal with a glass of Pinot Grigio and looked at a table devoid of the plates we'd completely cleaned off, as they are quick about clearing your table very discreetly. I took more pictures, enjoyed the atmosphere, admired the crowd they had going on on a very cold Wednesday night, and headed to the car, where we briskly began to freeze between the restaurant and the car…
Brio and staff, thank you. And thank you for accommodating me as I stood everywhere taking photos! We had such a fun evening and I'm very appreciative of the opportunity to visit your restaurant. We will be back to try the clam chowder and the portobello Ravioli! (It was between that and the risotto, and the risotto won out.)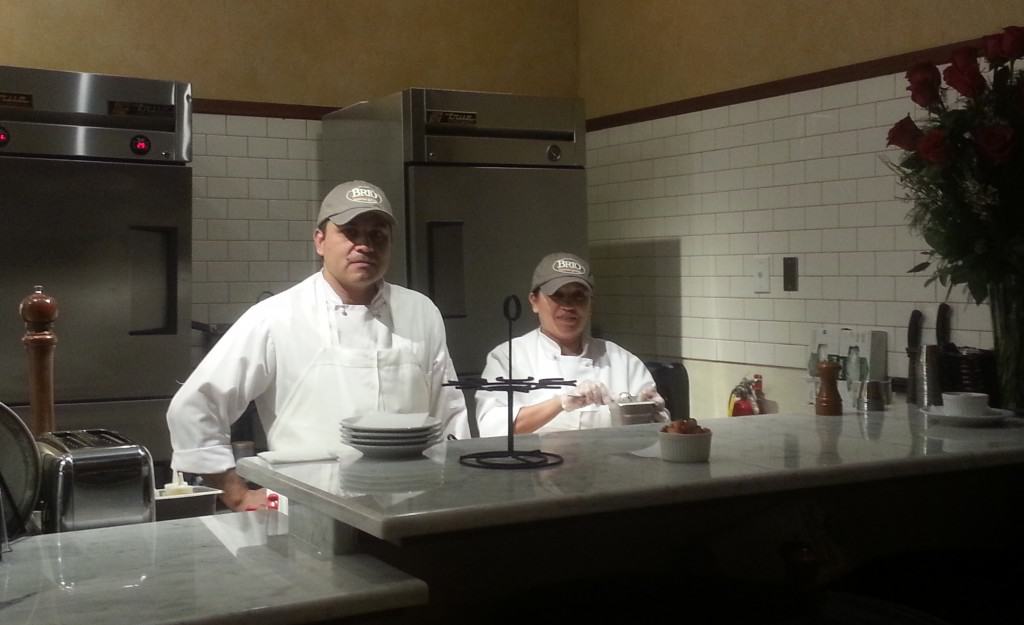 This is Katie the friendly Brio Tuscan Grille at Victoria Gardens manager and Marcos, our waiter with a smile!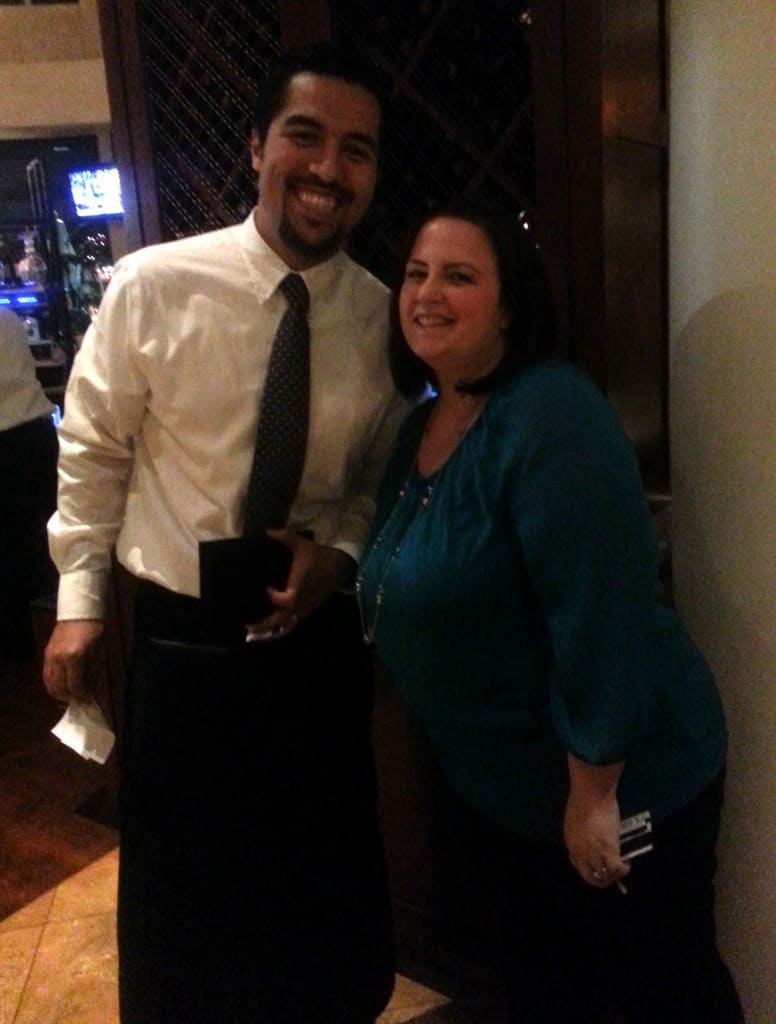 If you're in the Rancho Cucamonga area and want to try a new approach to Tuscan food in a place with a fun, casual and enjoyable environment, Brio's your place. Victoria Gardens is fun any time of the year, but come now during Christmas season and you can witness the "snow" fall and the gorgeous Christmas decor. (And Brio's is beautiful as well — one sneak peek below!)