Are you missing attending stadium games in person? I know I am! The roar of the crowd, the thunder of the applause, cheering for your team….and the smell of food. Now that we can watch some sports on television, we can gather around the big screen and cheer…and eat. I can't recreate a lot of the foods we typically enjoy, but these Sweet and Savory Roasted Pumpkin Seeds make a great game-day snack and they come together fast!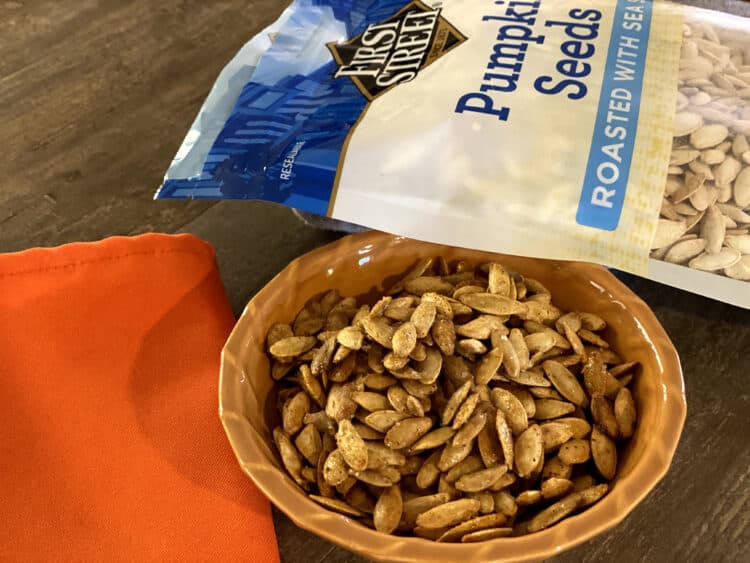 This post is sponsored by Smart and Final, in partnership with their Root for the Home Team campaign taking place right now! It helps us all remember what it feels like to cheer for our favorite team in the stadium while enjoying it safely at home. With one quick trip to my local store, I grabbed the few things this recipe needs and in under an hour, I had them in the bowl and ready for the family to enjoy.
Smart and Final makes it easy to get all your shopping done in one place. I went in without a list, came out 30 minutes later and had a lot of great ideas for meals for the week, as well as food my teenager can grab on the go. He's currently distance-learning due to COVID quarantine and I've found that one way to help motivate him is with food. He's a snacker, and I know he's going to enjoy these roasted pumpkin seeds even after game day is over!
Most of the time, at Halloween, I make roasted pumpkin seeds using fresh seeds straight out of the pumpkin. As much fun as that is, it's not always realistic, so to be able to put these together fast, I used a bag of pre-roasted and lightly salted First Street pumpkin seeds. (Smart and Final has a lot of options for nuts and seeds to snack on if you're in a hurry!)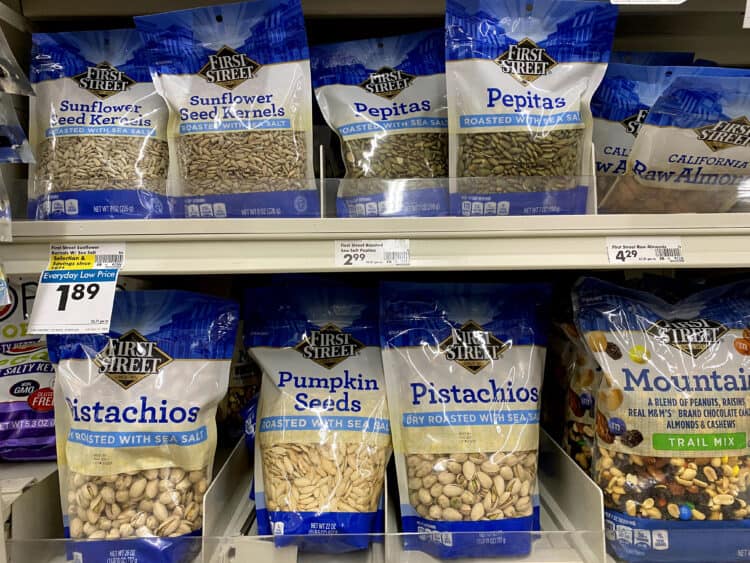 You could do these with fresh seeds if you want, but I'd double the roasting time and maybe add a little more salt. On with the recipe!
Sweet and Savory Roasted Pumpkin Seeds
2 cups First Street roasted pumpkin seeds
1 tbsp Kosher salt
1 1/2 tbsp melted butter
2 tbsp brown sugar
1 tsp vanilla
1/2 tsp chili pepper
Heat the oven to 325 degrees.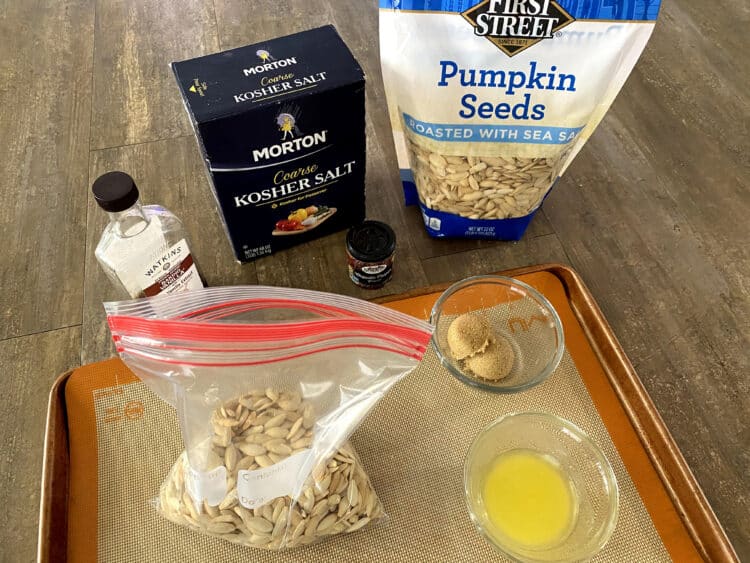 Place the pumpkin seeds in a quart-sized sealed plastic storage bag. Pour all other ingredients on top. Mix with your hands until all the seeds appear to be covered.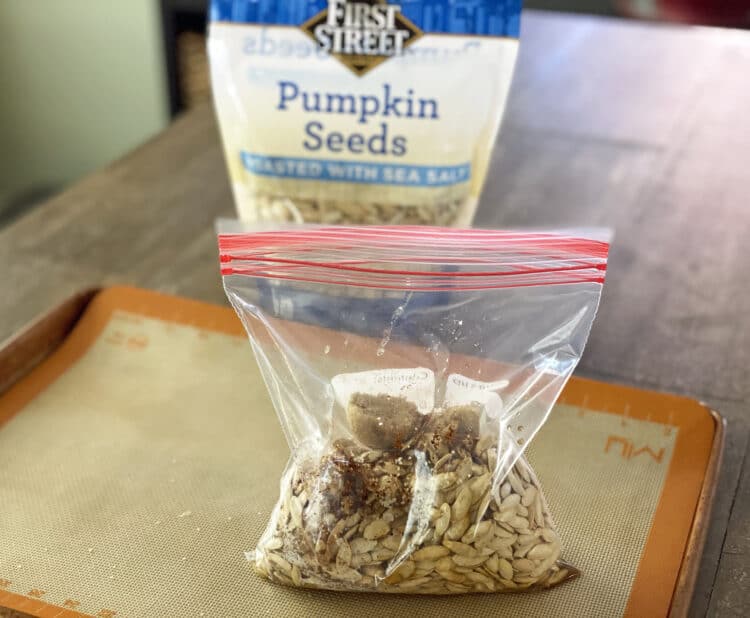 Pour seeds onto cookie sheet with silicone mat. (Alternatively, parchment paper works.)
Roast for 10 minutes. Check for doneness. (You want the coating to be adhered and slightly caramelized but not overly roasted.)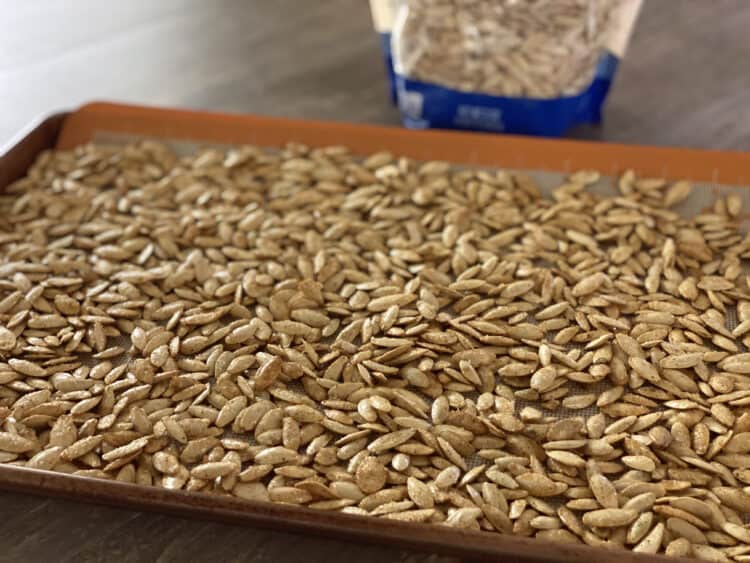 Remove from oven; let sit on cookie sheet another 20-30 minutes. Break them up. They will continue to caramelize a little as they cool.
Enjoy these fresh off the cookie sheet or store in a tightly sealed container or plastic bag for a couple of days. They travel well and I put a few separate small bags together for people to grab if they're in a hurry. The recipe doubles easily; you'll just want to use a bigger plastic bag to mix everything and use two cookie sheets instead of one.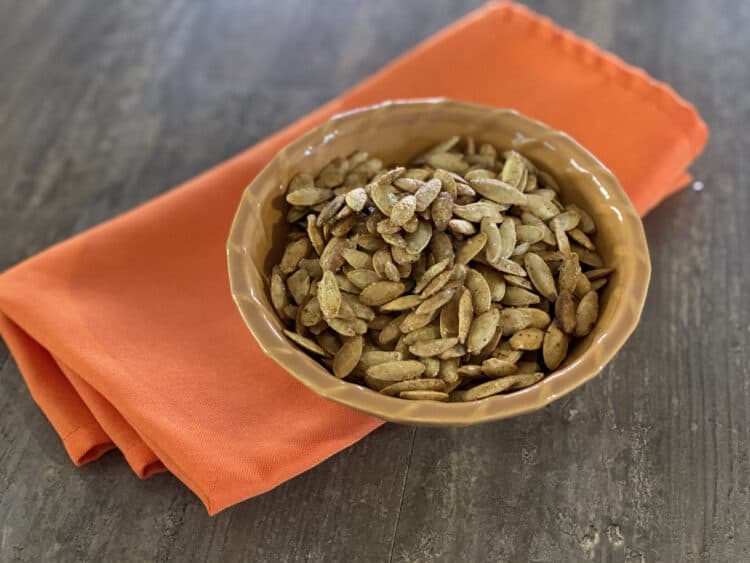 What is your favorite stadium snack? I love popcorn, a drippy nachos and at Dodgers Stadium, one of their infamous Micheladas. (Haven't yet been able to recreate that one at home!) If you have a Smart and Final nearby, you can probably make your own family version — if nothing else, it'll be some pre-game family fun!