Two weeks ago, I was invited to a media tasting event down at Maro Wood Grill in Laguna Beach. Hosted with Gigasavvy, Maro Wood Grill's chef and staff had quite an evening planned for us!
A media tasting, in case you haven't had the pleasure, is a gathering of those who work in media — typically writers, social media, etc. — for the purpose of trying the food at a restaurant. Media tastings are held when restaurants open, re-brand or start a new menu. We try the food, enjoy each others' company and then share our honest feelings with you. Our food and beverages are complimentary so we can tell you about it. Not a bad gig, right?
Especially when you get to try a place like Maro Wood Grill. A small boutique restaurant on Pacific Coast Highway, with the beach behind, has prime real estate in a gorgeous area and is easily accessible via either PCH or down the 133 from the 5 or 405. (You know you're talking about California when you hear all about the freeways!) Maro Wood Grill has an overall intimate setting, with mood lighting and large family tables, all within view of the large wood grill, which is important because every thing you order has seen that grill up close and personal to some degree, even the desserts.
Check out our tasting menu for the evening — and bear in mind, it was served with a neverending supply of fruit sangria. California, beach, sangria and unique foods created with organic and locally sourced ingredients all go together perfectly.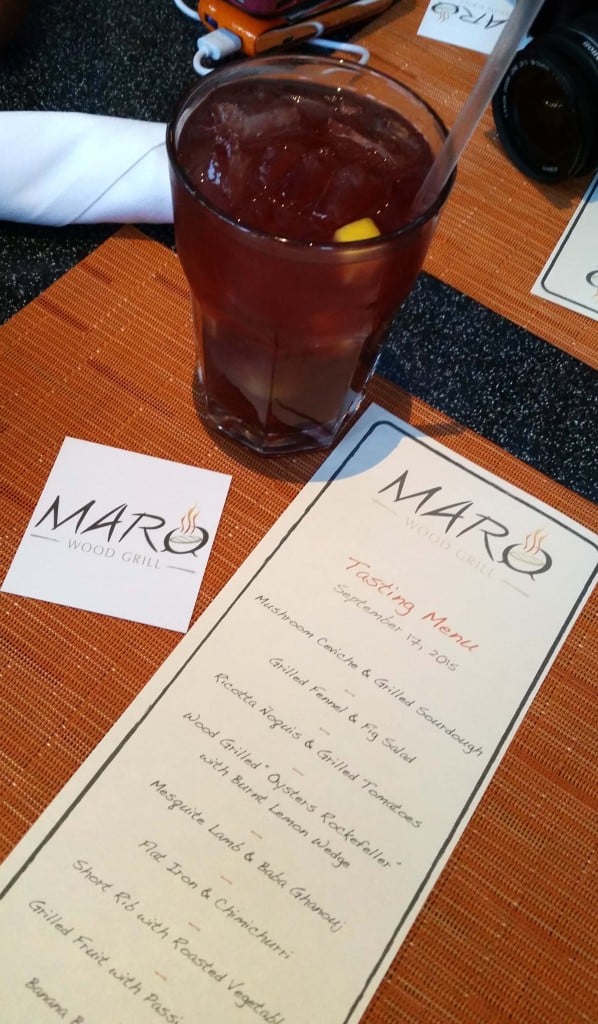 As if that wasn't enough, they treated us to these beautiful edamame and grilled green beans.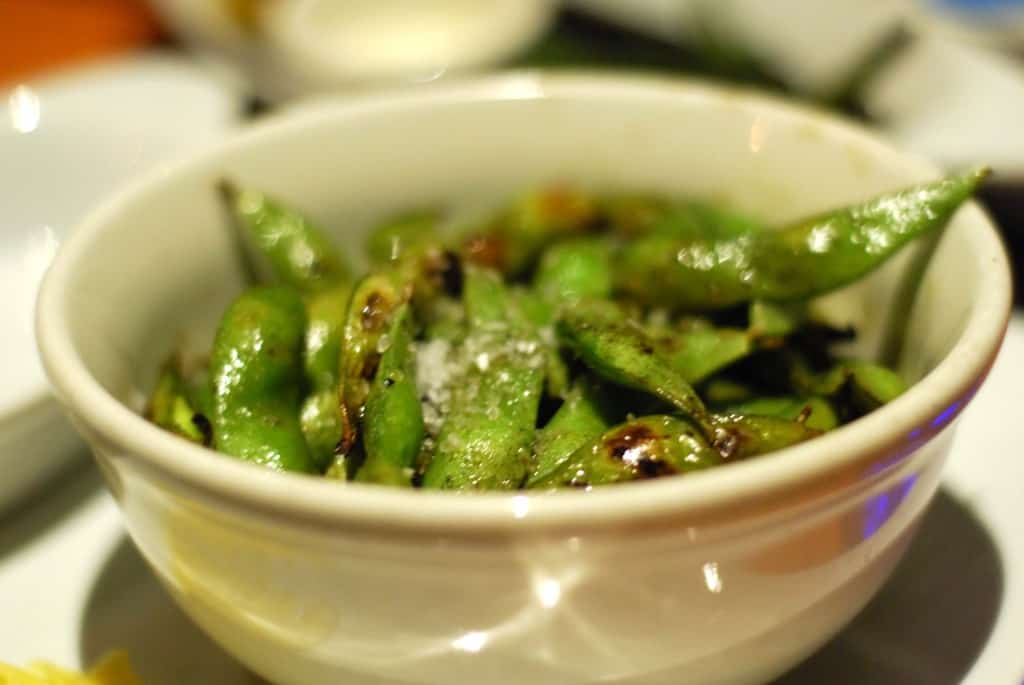 If you're unfamiliar with edamame, they're often served before an Asian meal. You place the entire pod into your mouth, enjoy the flavoring, and then pull out the beans inside; alternatively, you open it and eat the beans separately. I prefer the first way, messy and delicious.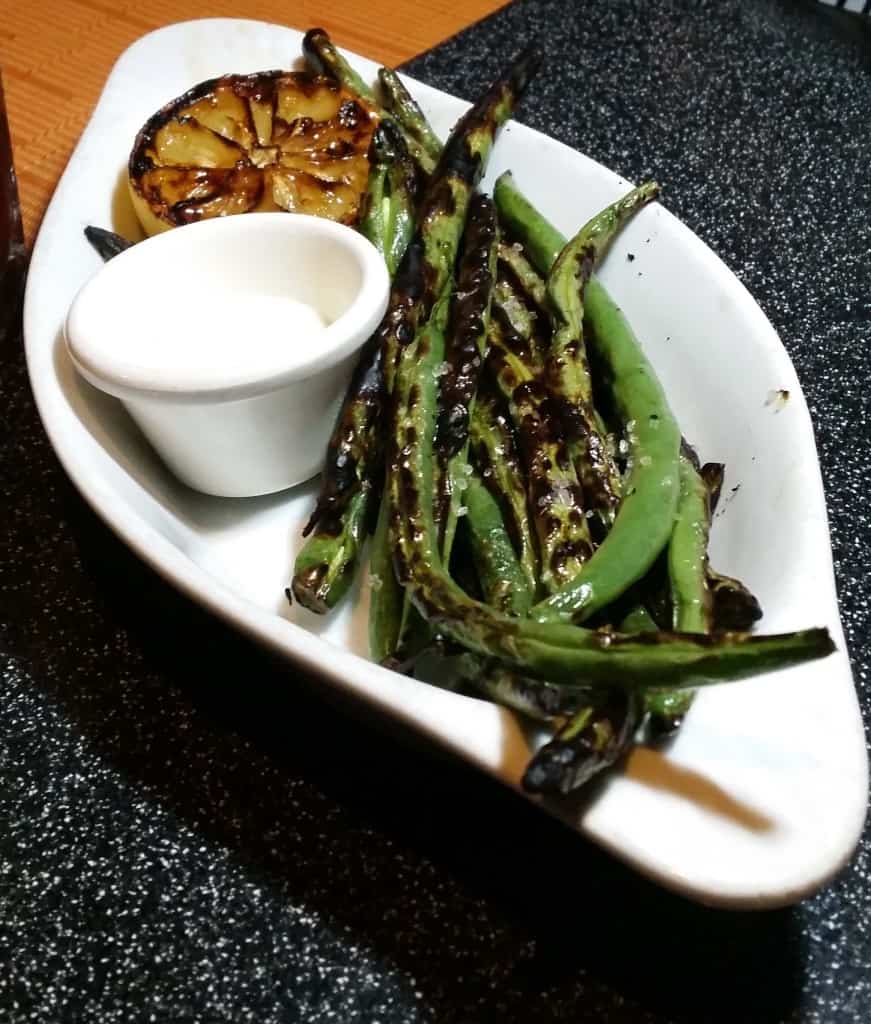 As you can see, Maro Wood Grill is big on healthy and beautiful food. Locally-sourced, organic and grass-fed meat are hallmarks of Maro, and has resulted in another nomination this year for the Golden Foodie award, which they've already won twice.
The mushroom ceviche was a first for me. The grilled sourdough was just crispy enough to not wilt under the ceviche and was just enough to make you hungry for more.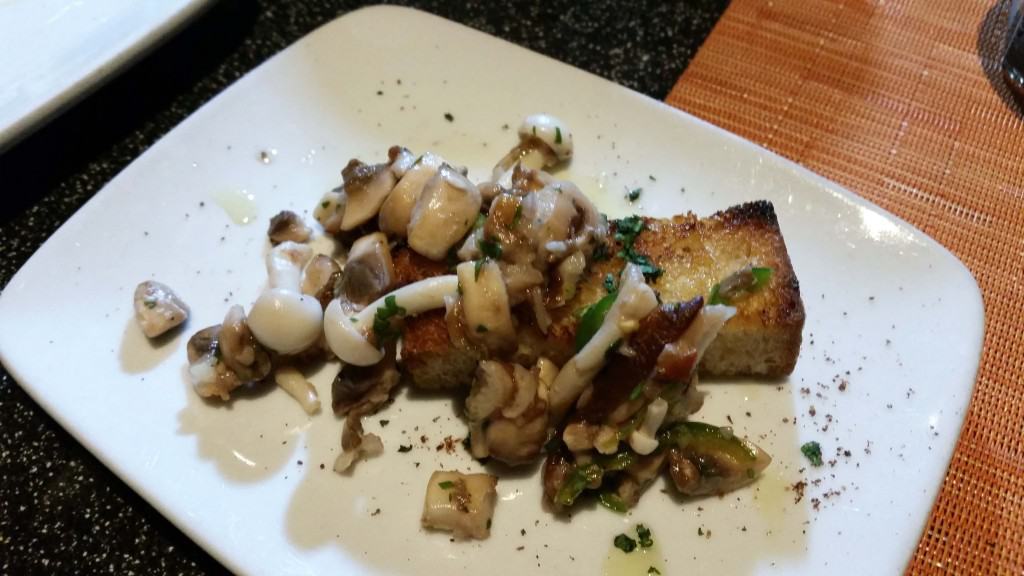 Grilled fennel and fig salad – such a unique combo and it worked perfectly!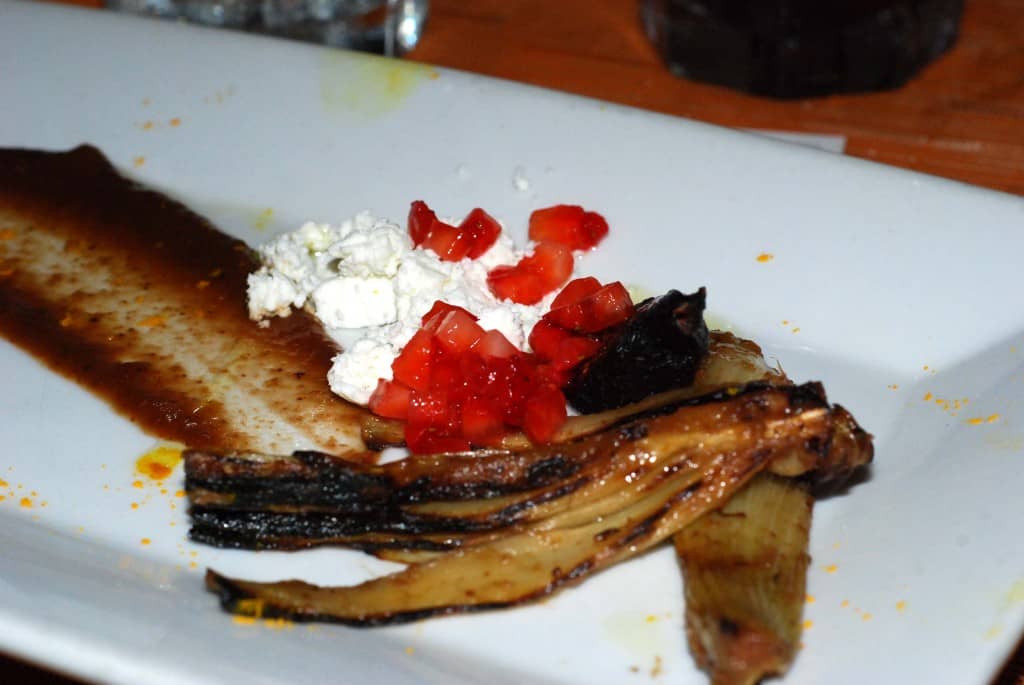 My lighting wasn't great — which is ideal for the ambiance but it took some creativity amongst us bloggers to display the food in all its beautiful glory.
Up next was ricotta noquis. I make a mean gnocchi but I'd never had one like this Argentinean-inspired noqui with grilled tomatoes.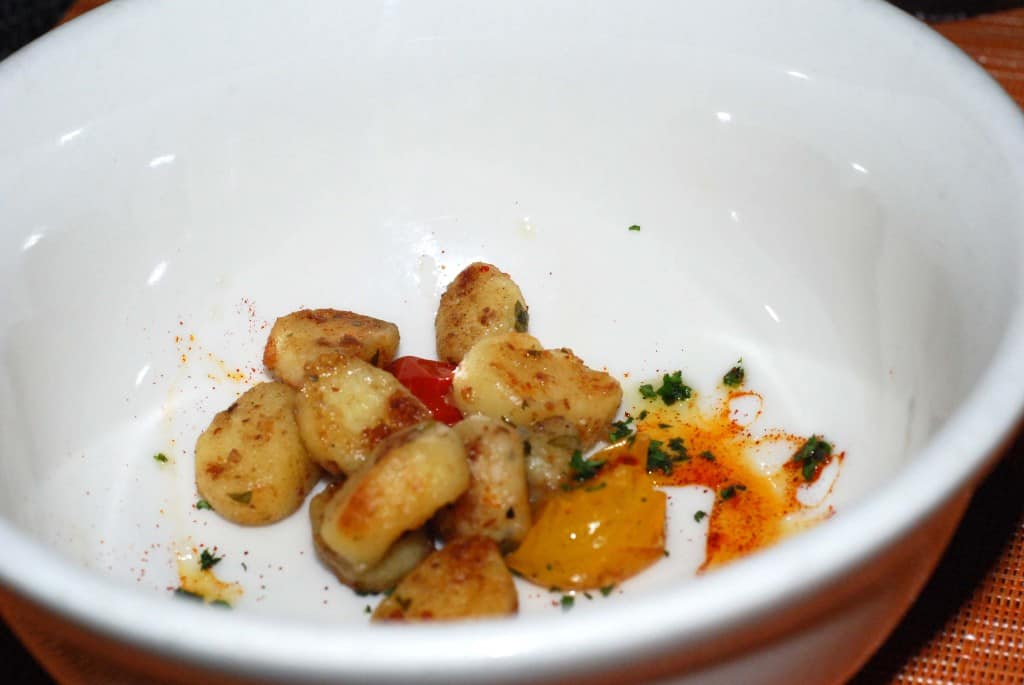 Beautiful food just tastes better, right?  This gorgeous plate below was a take on Oysters Rockefeller with a burnt lemon wedge. I'd never have thought to create something like this and it so worked. Oysters aren't everyone's cup of tea, but I happen to love them; if you're thinking about an oyster shooter, picture the flavor of the oyster but the consistency of a good spinach, artichoke dip, and you'll have the this appetizer below. So good!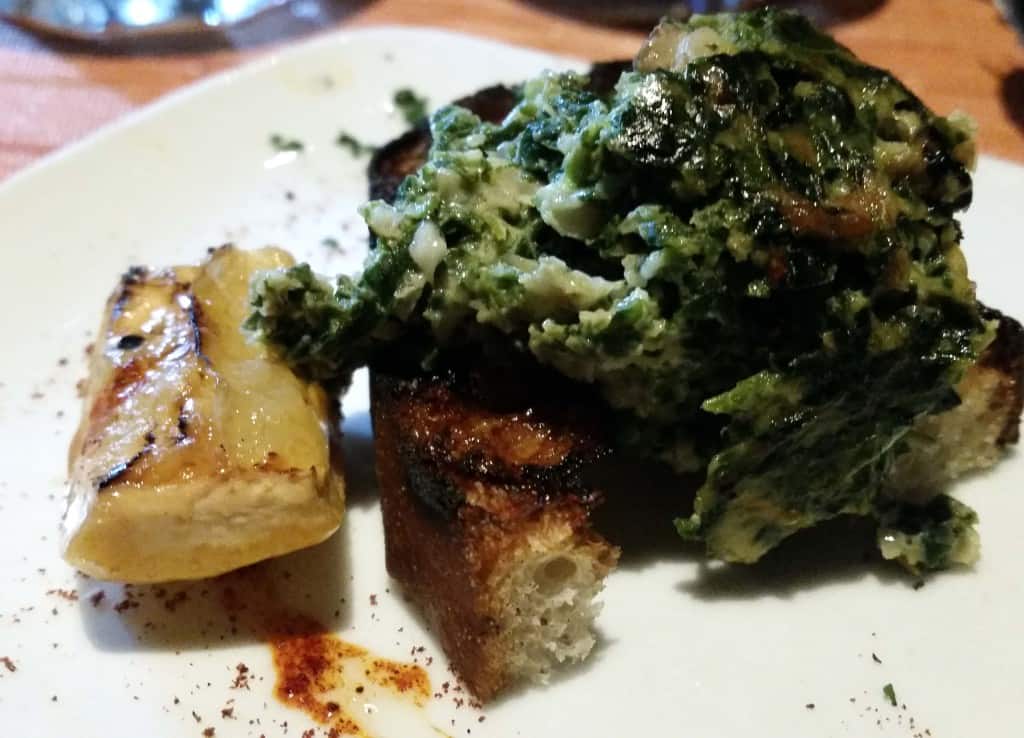 Something I've really found I love lately is lamb, and this grilled lamb with baba ganoush was de-lightful.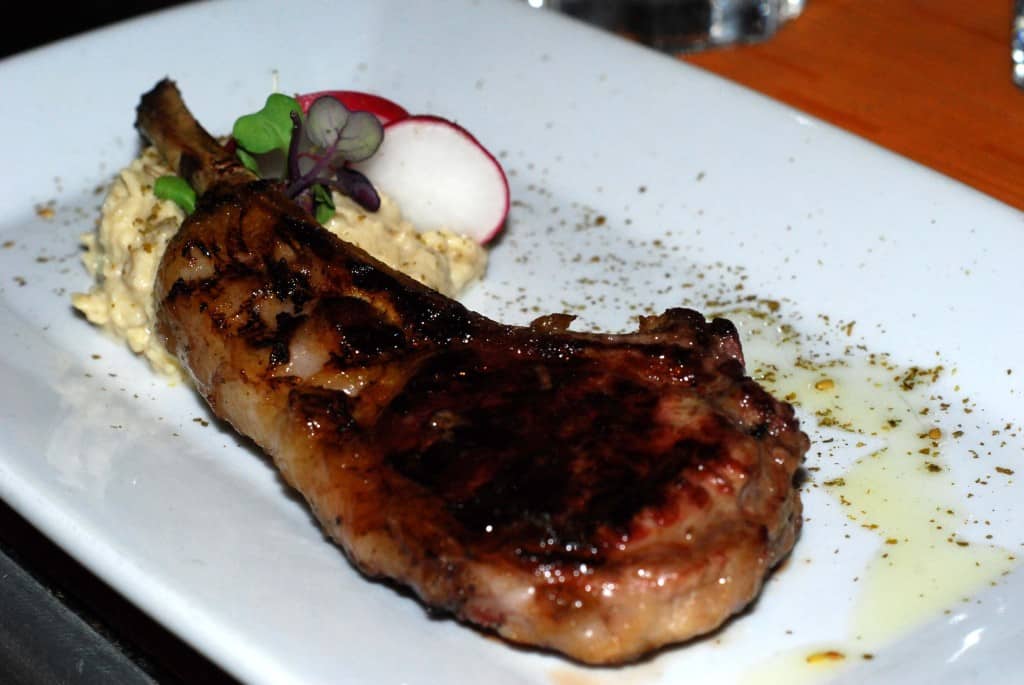 I could have eaten three of those. No problem at all.
Sadly, I couldn't eat the flat iron and chimichurri or the short ribs (I love them, but they don't love me back) but they certainly looked good.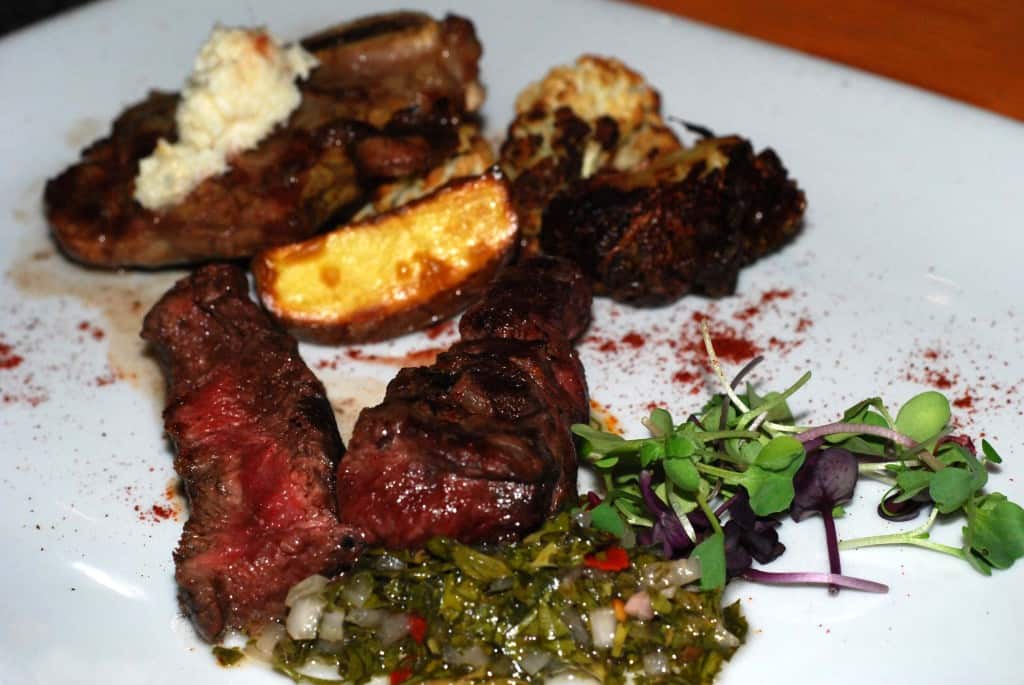 It was another colorful plate and I heard my table mates all ooh'ing and ahh'ing over how tender and flavorful it was. I did try the chimichurri and may have eaten all that was on my plate.
There were two desserts, a gorgeous grilled fruit with passionfruit curd and the Goldie Foodie award-winning Banana Bread Pudding. I don't do the "OMG" often, but I did with that dessert.
Kiwi, grilled pineapple, an edible orchid and other fruit on top of that luscious curd. Such a light but perfectly tart dessert.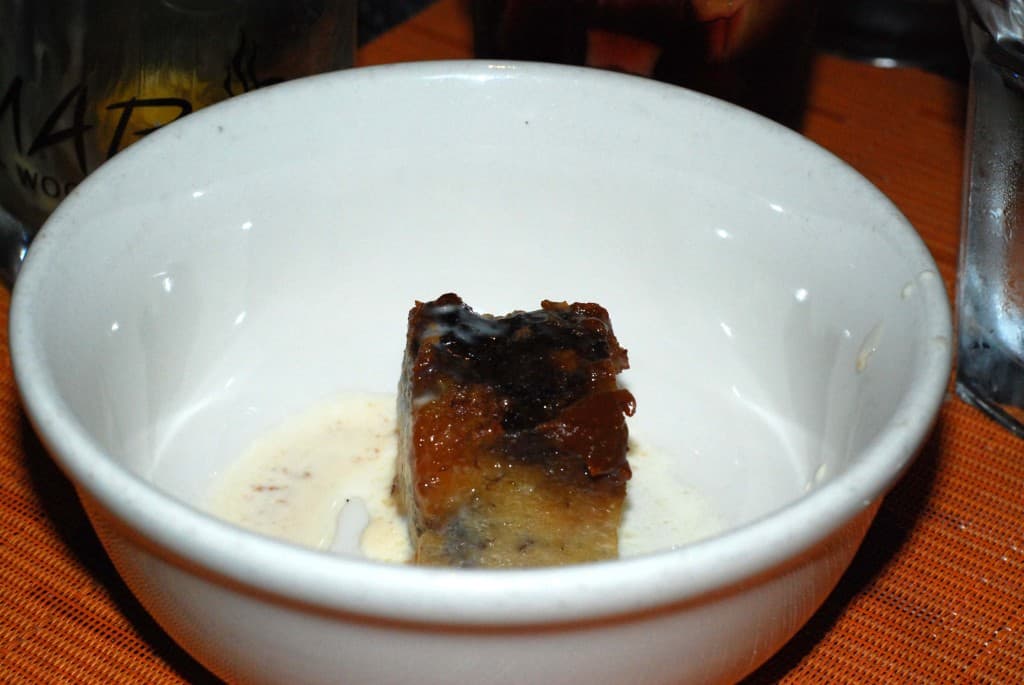 That banana bread pudding — looks are deceiving, as it's bigger than it looks, and let's be real, after all the other food, I couldn't have eaten more. I will be going back though, these desserts need to be tried repeatedly, followed by a long walk on the beach….
Now go to their website and make a reservation, while you're still salivating over the sampling of their menu which I've shared above.  They are closed on Mondays, but available until at least 9pm the rest of the week, which gives you plenty of time to head down after work. (I drove down from here in Rancho Cucamonga and made it down in about 90 minutes, though if I'd taken the 133 down, I'd have shaved off at least 20 minutes.)
Enjoy your foodie explorations and let me know if you visit Maro Wood Grill! Be sure to try the sangria!