For this month's Melissa's Produce recipe challenge, I chose to use one ingredient always in our refrigerator: wonton wrappers. Gyoza, otherwise known as pot stickers, are a crowd pleaser and if you've got wonton wrappers in your pantry, you'll never go hungry because you can fill them with anything in a pinch. My Vegetarian Gyoza with Kabocha Squash are a surprisingly tasty twist on the traditional version and I think you'll find them to be a great way to use a vegetable that you may not normally buy.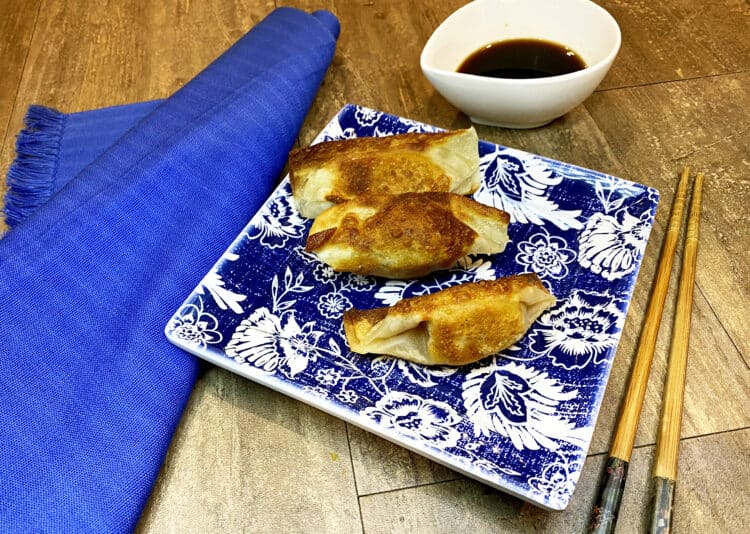 My family has been eating traditional gyoza for years now. My stepmom is from Okinawa, born and raised, and our kids were lucky enough to grow up eating her authentic Japanese food. I have a large family still in Japan, and one day I hope to visit but until then, my gyoza are an homage to Grandma K, using an ingredient she often used in many meals.
The kids were also fortunate enough to be raised with a lot of Japanese culture. My daughters were learning to properly wear a traditional kimono at young ages, they all learned how to write some kanji and one of my son's most treasured items is a Japanese dictionary that had belonged to my dad. The Japanese culture has always been a part of all of our lives and we treasure it and have always tried to honor it whenever possible. My gyoza may not be on the same level as Grandma K's but the family did declare them a hit!
If you've never had a gyoza, you're missing out. Some people refer to them as dumplings, but they are known to initially have come from China, where they were called jiaozi. A lot of people refer to them as pot stickers, and others pan-fried dumplings. You know a food is popular when it's got so many revered names!
A gyoza is a piece of thin dough, wrapped around a filling of meat and vegetables. I typically use a mix of hot and medium sausage, with a few other additions, then I pan fry them several minutes on each side (left, right and bottom) in oil on the stove. The filling process can take some time, until you get in a routine; Grandma K could knock them out so fast! The kids and I have stood around the kitchen island filling gyoza, so it can be fun family time.
I'll be honest though. Confession time: the last couple of years, I use a wonton folding contraption. You lay out the wonton wrapper, put the tablespoon-ish of filling, wet the four sides of each wrapper, then fold in the sides of the tool. (It's actually a red cube when folded up for storage.) It's so much easier to bust out a bunch of fully-sealed gyoza faster than I could do by hand, especially since it's now often just me in the kitchen during prep time. (Moms and dads of young kids, quarantine stinks but our lives are flying by while we're sidelined — take the time, if you can, to still involve the kids with meal prep, don't let COVID steal more from us. Time is a currency, and each minute matters.)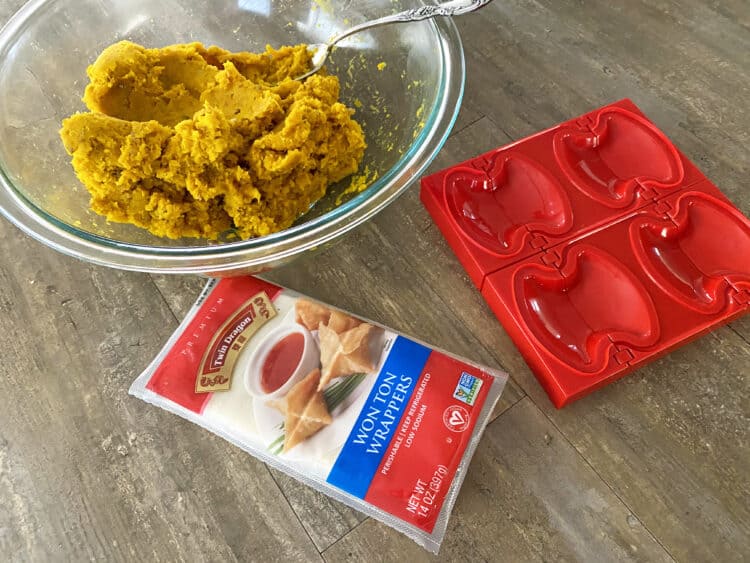 Thank you, Melissa's Produce, for this gorgeous box of produce! I have a lot of fall ideas for using the rest of the ingredients that I don't use in the below vegetarian gyoza recipe. My husband took some of these leftovers to work, shared with a co-worker and got a solid thumbs-up, so I call this recipe a win!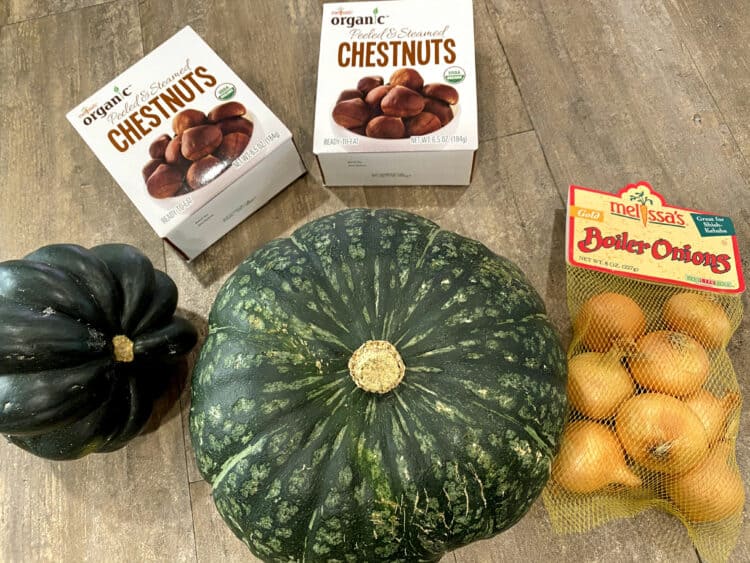 Don't let the look of a Kabocha squash intimidate you! If you don't know to use a Kabocha, you'll be happy to know it's so easy to use. Directions for prepping the squash are below the recipe, along with some variations you can make if you're feeling like you need meat in your meal or if you want to make vegan pot stickers instead.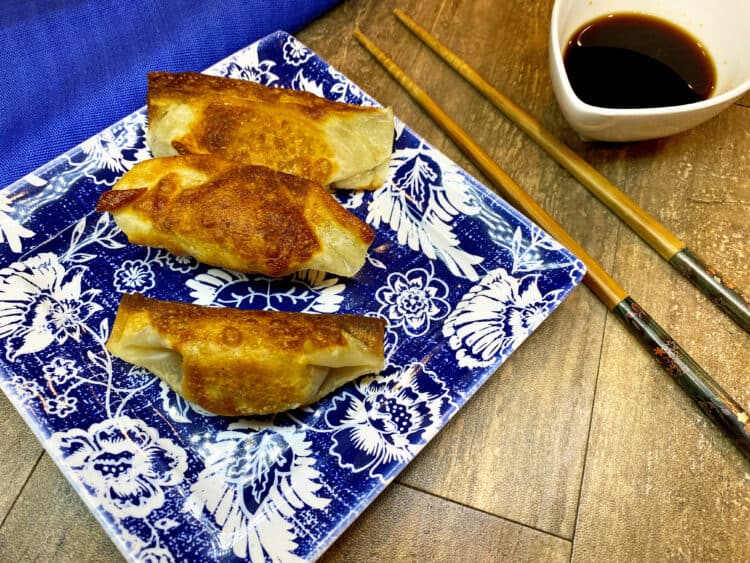 Vegetarian Gyoza with Kabocha Squash
6 tbsp Butter
One Kabocha squash
7-8 Chestnuts, peeled and steamed
1 tbsp Chili Powder
1/2 tsp Nutmeg
Salt and pepper
1 package ready-to-use wonton wrappers
Slice the Kabocha squash in half from top to bottom. Scoop out the seeds, rub olive oil on all exposed non-skin surface, then sprinkle on salt and pepper. Place in a shallow pan and put into a 400 degree oven for 50-60 minutes. It is considered done when you can poke the flesh (not through the skin) with a fork and it feels soft, kind of like a baked potato. You do not want it chunky, so be sure to give it enough time to reach a consistency that allows you to mash it in a bowl.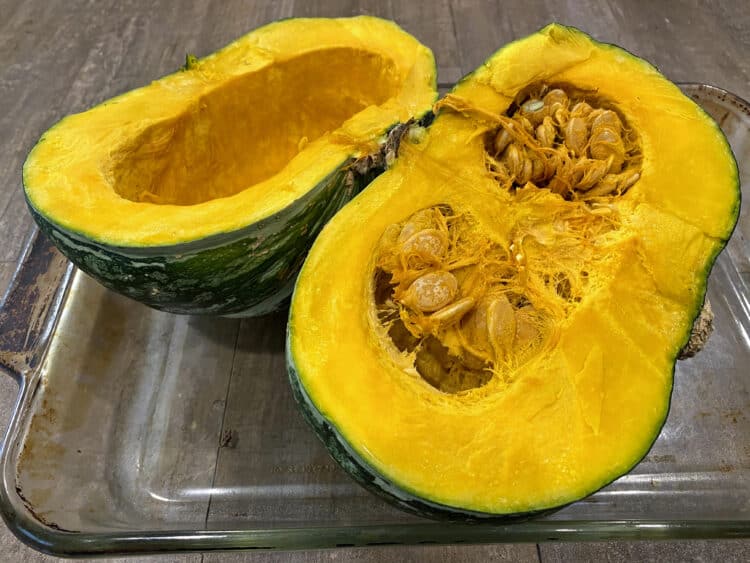 Side note: you can at this time use the Kabocha in so many ways, basically like you'd use an Acorn Squash or Butternut. Slice, peel, top with pepitas and a little melted butter. Make Kabocha soup, add it to pancakes/waffle batter or serve it just like mashed potatoes. (It's similar-ish to a sweet potato, and it will add much-needed fiber, Vitamin C, Iron and more to your daily nutrient requirements.) See how big this beast is?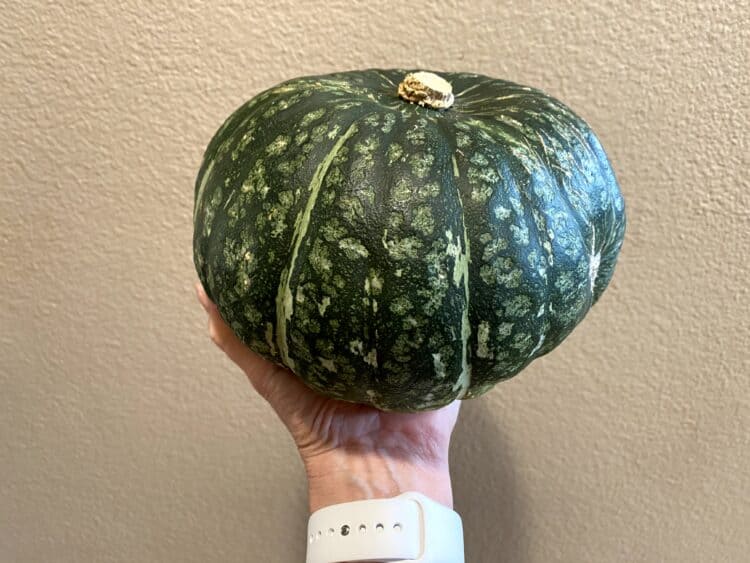 While the squash is cooling, put the six tablespoons of butter in a small frying pan to slowly brown on low. You want it to get nutty and dark brown with specks, which makes it really nutty. (Just be sure to not let it burn!)
Once the squash is cool enough to handle, hold it with one hand and with the other, scrape out the insides into a bowl. (For these veggie gyozas, I used the entire squash.) Mash thoroughly with a potato masher, add the browned butter, chili powder and nutmeg. Mix and then add salt and pepper to taste.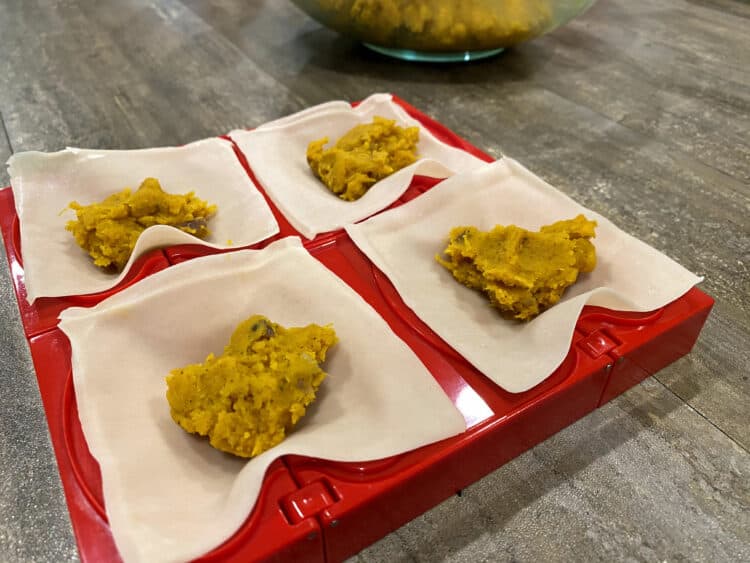 Fill the wontons with the squash mixture. Set them aside until they're all prepared; you don't want to have to worry about watching the stove while filling the rest of the wrappers.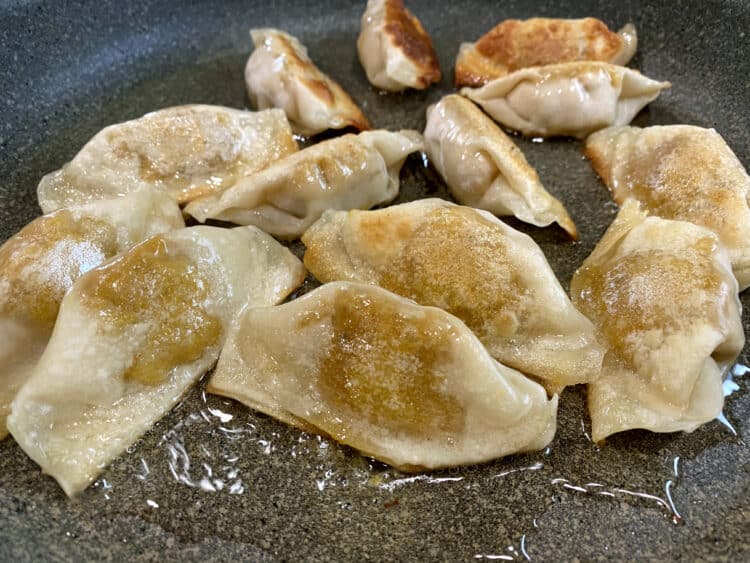 Heat a few tablespoons of oil in a large frying pan. (I used vegetable oil.) When it's heated enough to sizzle a bit when you splash a teeny-tiny drop of water, it's ready to go. Please a good number of gyozas in the pan and fry several minutes on each side, flipping when they are brown and/or crispy to your preference. Don't forget the bottom!
Serve warm with the below dipping sauce and enjoy!
Gyoza Dipping Sauce
1/4 cup rice wine vinegar
1/4 cup low-sodium soy sauce
1 liberal squirt of Costa Azul Hot Sauce (or sriracha)
1 tbsp brown sugar
Combine all four ingredients and it's ready to go!
If you want to make vegan pot stickers, leave out the browned butter. You will notice a difference in flavor, but the spices are still delicious on their own. You will want to buy vegan wonton wrappers as well.
Not a meatless Monday? Ground pork sausage, from mild to spicy, is a great addition! Mix it, in small doses, with the squash mixture. You'll end up with a lot more wontons so you may want to buy two packages. (Alternatively, you can use the mixture for other things and only put half in the wrappers.)
Vegetarian gyozas can also be pan-fried in butter and not as crispy as the ones I made. To reheat for leftovers, we prefer a toaster oven or 10 minutes at 400 in the oven. They tasted just as good the next day, and one of us, which may or may not be me, dipped them in tapatia sauce because someone (the husband) took the rest of the sauce to work. (He doesn't have access to a pantry like I do here at home so it's all good.)
One thing I'm trying next is a fun non-traditional dessert approach on a gyoza. I'll share that here on the blog if the family gives it a good grade! In my head, the idea sounds fantastic but sometimes things just don't pan out like you think they will. (See what I did there?)
Enjoy your gyozas, pot stickers, dumplings, whatever you want to call them, and get creative with your fillings!