In my quest to stay healthier this year, to avoid getting sick and having any upcoming travel disrupted, I've been spending a lot of time researching good nutrition. Finding things I can take to help with leg muscle cramps, dry skin and 3pm slump has been a goal. The information's not always easy to find though, so this new book, Eat Your Vitamins: Your Guide to Using Natural Foods to Get the Vitamins, Minerals and Nutrients Your Body Needs, by Mascha Davis, MPH, RDN, has been a Godsend, providing all the answers I was seeking in one place.
*This post is sponsored by the publisher of the book, Simon & Schuster*
The book just hit the shelves on January 20, 2020. It's essentially an A-to-Z guide to vitamins, minerals and nutrients to help you put away the synthetic supplements you may have you on your shelf and replace them with nourishing food. Sounds pretty good, right?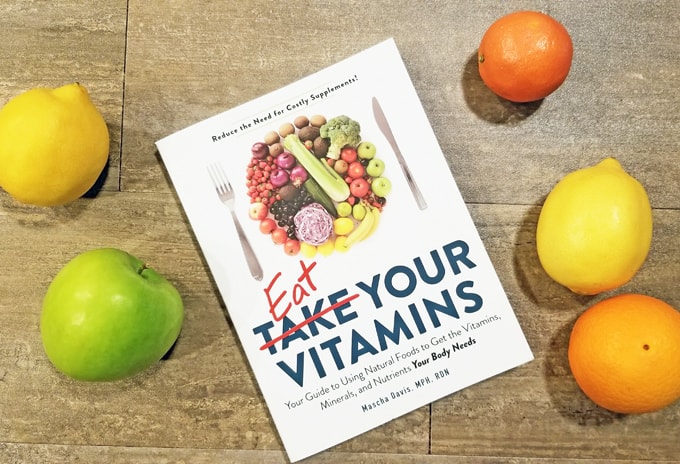 We all know that we need vitamins and minerals for good health, but do we know in what forms? How much we need? How to consume them? I know I don't. I aim to eat the right things but in reality, I'm missing out on a lot of benefits beyond just eating a lot of fruits and vegetables.
Eat Your Vitamins literally goes in A-to-Z order, starting with Vitamin A. It breaks down everything you need to know into small bites (see what I did there?) to make it easy to read and learn. For example, each chapter provides a description of Vitamin A, lines out its role for your body, gives you the benefits of consuming it, lists any side effects or possible issues with it, the signs of Vitamin A deficiency, how much you need (based on age and gender) and the best way to consume.
Following all those specifics, you get a recipe, as in Vitamin A's Golden Immunity Soup. My favorite is the Peanut Butter Cup Overnight Oats in the Vitamin B1, Thiamin section. The recipes are varied, from snacks to entrees to beverages, so you can have options for all meals of the day.
The author is a nationally recognized dietitian nutritionist and founder of Nomadista Nutrition, a private nutrition practice based in Los Angeles. She's also been featured in many publications and gave a TEDx talk in 2016 about her international humanitarian work in Africa, where she worked towards preventing malnutrition in women in children. She knows her stuff, and that's apparent in the book's approach and style.
I love to learn, but I don't always have a lot of time. The layout of this book makes it so I can do a quick search in the Index for a specific issue or problem and find the nutritional approach to solving it. Like I said above, I suffer from leg cramps and I've been fighting the early stages of glaucoma for many years now. I can help decrease leg cramps now without taking a pill and I can improve my overall eye health just by planning my meals a little better. That's a win-win for me. Good food, good health.
My copy of the book is a paperback, is 208 pages long, and has been stuffed in my bag a few times as I run out the door. I took it on a recent trip to Oklahoma, so I could read through it on the plane and hopefully stay a little healthier during the long days of a business trip.
Available at Amazon and other book stores, just flipping through the pages of Eat Your Vitamins will yield tidbits of information you can take with you to the grocery store instead of the pharmacy. To good health!