My son doesn't want me to tell these stories in front of his friends, but I'm sure it's okay to tell them here, right? There's a really special reason I'm excited about the release of the steelbook Avatar the Last Airbender 15th Anniversary Collection. Keep reading for that, for details on the anniversary release and free printable Valentine's Day cards to download!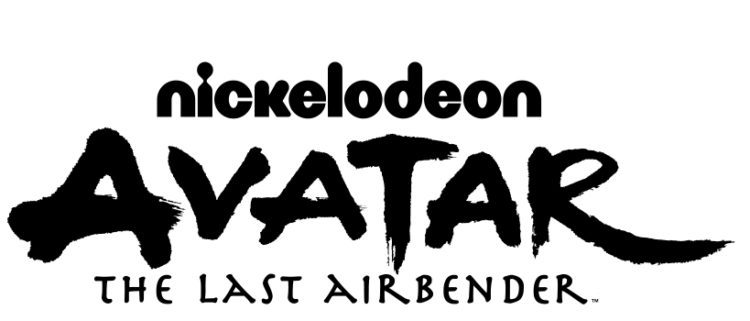 From the early days of the show, my youngest loved it. So did a couple of my older kids, but my youngest son was obsessed. He wanted to watch it every day, and he didn't want to just watch it, he wanted to keep them on repeat. The best part was that he wanted to watch them WITH ME.
As kids grow up, you don't realize how important these things are. You're tired, and sometimes the last thing you have time for is a 30-minute sprawl on the floor watching a show in which you have no interest. But then you do it anyway. And if you give it a chance, you really enjoy it. You then become <almost> as interested in the show as your child is.
More importantly, you love the snuggle session while you watch. You watch his reaction, his excitement, and you look forward to these moments more and more. Then suddenly, they don't happen anymore. He's watching football games, or going out with his friends to play them, and your snuggle sessions are done.
You cry a little. You smile. You're so proud. But you miss it all.
So what's my sappy story's point? I know there's hope of more TV sessions…albeit without the snuggles…with the release of the Avatar the Last Airbender Anniversary collection on February 18. We can relive a few of those moments, but with all new memories. Ang and all the gang are waiting for us with its release, and I can't wait.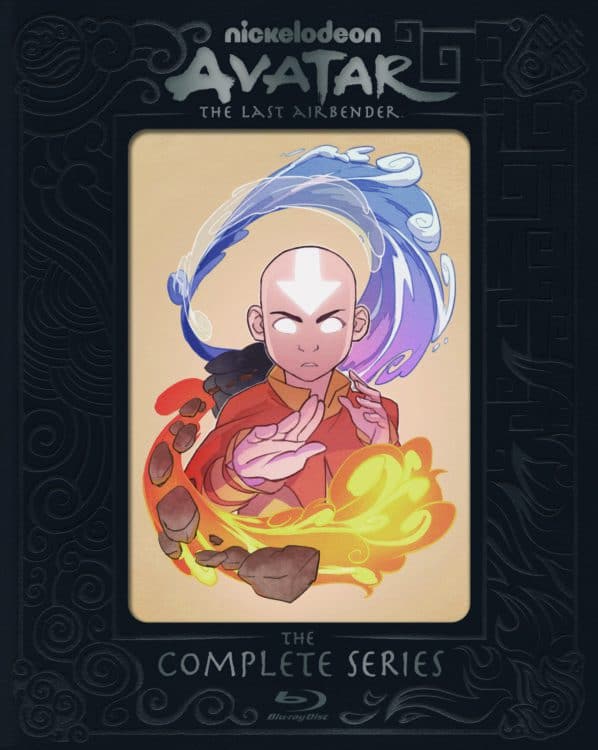 In the meantime, here are some free printable Valentine's cards. Download and use at your leisure, and enjoy a little flashback to a timeless series that will regain old fans and earn new ones as well.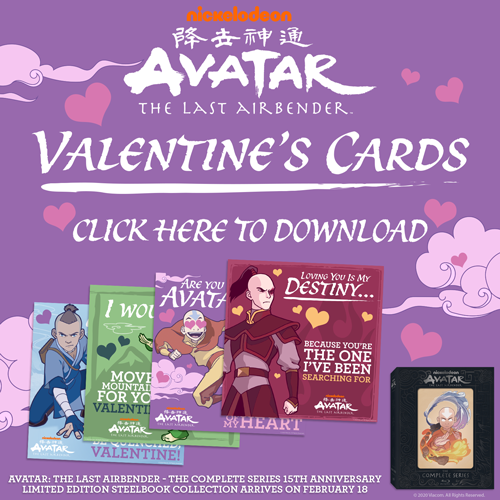 Here's a little more details about the Avatar the Last Airbender anniversary collection straight from the press release:
The 3-book collection features stunning new artwork by artist Caleb Thomas, with each book featuring a different element (Water, Earth, and Fire) and the covers combining to form a beautiful triptych. Thomas was handpicked to design the collection's covers after series co-creator Bryan Konietzko became a fan of Thomas' art style on social media. The collection's production run will be limited to 20,000 units.

Created by Konietzko and Michael Dante DiMartino, Avatar: The Last Airbender aired on Nickelodeon from February 2005 through July 2008, garnering both critical and audience acclaim while also winning Annie®, Genesis®, Primetime Emmy®, and Peabody® awards. The series features an iconic blend of anime and traditional animation, alongside a talented voice cast including Zach Tyler Eisen (The Ant Bully, TV's "Little Bill"), Mae Whitman (Scott Pilgrim vs. the World, TV's "Parenthood", "Teenage Mutant Ninja Turtles", "Family Guy"), Jack DeSena (TV's "All That", "Grounded for Life"), Dante Basco (Hook, TV's "The Legend of Korra"), Dee Bradley Baker (TV's "SpongeBob SquarePants", "Gravity Falls", "Star Wars: The Clone Wars"), and Mark Hamill (Star Wars franchise, TV's "Batman: The Animated Series"). The fan-favorite series has spawned a beloved animated sequel series, The Legend of Korra, as well as an upcoming live-action remake (with its original creators) to be produced for Nickelodeon and Netflix. Avatar: The Last Airbender – The Complete Series 15th Anniversary Limited Edition Steelbook Collection will be available on February 18, 2020 from Paramount Home Entertainment and Nickelodeon Home Entertainment for $97.99.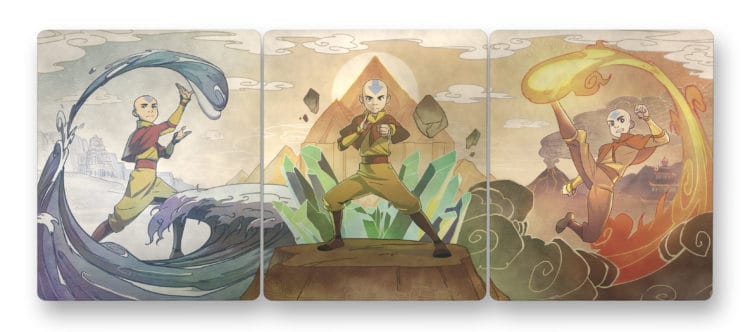 Get it fast, before it goes away!