A few months ago, I wrote a post talking about the trend of busy moms trying CBD oil products. Since then, the practice seems to be increasing and a lot of people are sharing stories of positive experiences. Now this new book, CBD Drinks for Health, is going to help a lot of those busy ladies find new ways to incorporate CBD oil into their daily lives.
The book, written by Carlene Thomas, RDN, LD and published by Simon and Schuster, shares 100 CBD oil-infused smoothies, tonics, juices and more for your total mind and body wellness. It even shares recipes for cocktails and mocktails! I was sent this complimentary copy in exchange for a review.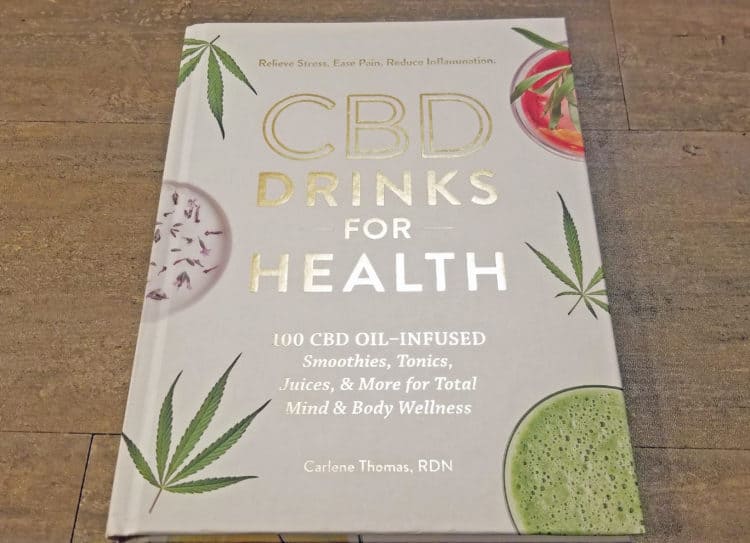 CBD oil is known for its stress-relief potential, the possibilities for heping with anxiety, pain and inflammation, and its effects can be felt almost immediately. There are always a lot of questions about the legality of CBD oil, but the author addresses that question, along with how it works in the body, its many health benefits and more, including proper dosage.
The book reads like a regular cookbook. Each recipe takes up a full page, and most have an accompanying photo on the opposite page. Many of the recipes use one of the base recipes in Chapter 2, such as CBD Simple Syrup, CBD Honey, Magic Latte Starter, CBD Whipped Cream and more.
Right from page one, the colorful and attractive book dispels a lot of myths and clarifies all the basics: what is CBD oil? Is CBD oil the same as marijuana? What's the difference between full-spectrum CBD oil and CBD isolate? Page 14 begins to outline the health benefits of CBD oil and how it works, and you'll also learn how to know which CBD oil to buy, how much to take and when it's contraindicated for use or where more studies are needed.
Make no mistake though, CBD Drinks for Health isn't solely about CBD oil recipes. It also focuses on health benefits of natural foods overall. The Raspberry Kiwi Smoothie, for example, includes chia seeds, kiwi and orange juice, so the author explains how the flavor combinations work together and the secret ingredient in orange juice, hesperidin, is an amazing antioxidant. Its benefits towards inflammation reduction, cardiovascular health and even bone health are bonuses in addition to the benefits of the CBD isolate oil.
If you're on the fence about using CBD oil in any form, give it enough of a chance to do some research. It's not about getting to an altered state or a 'buzz.' It's about health benefits that you may not be able to safely achieve with over-the-counter or prescription medicines. (I am not a doctor, so none of this is medical advice; if you have questions, I recommend speaking to someone in the medical field that you can trust.)
The book is a great addition to your cookbook shelf and even if you choose to leave out the oil, you're still going to have 100 good, solid recipes that will help you meet your daily nutritional needs in a fun, tasty way. It's available at Amazon and other book stores, is hardcover, and it hit the shelf on January 14, 2020.
CBD Drinks for Health may help change your life, and your health, for the better!