Attending a red carpet premiere is a surreal experience. You plan ahead: buy the dress, choose your makeup style, decide what you're going to do with your hair, and buy the shoes and accessories. What color do I wear? Long dress or short? What shoes?? The list of preparations feels long but if I had to give a first timer any advice, it would be to enjoy the experience. Don't let all the decisions get in the way of having a good time. I know firsthand, because this past Monday, I got to attend the premiere of Disney's Nutcracker and the Four Realms. First, I did a happy dance. If you've been around the blog at all before, you know how much I love Disney. I also have fond memories of taking my first daughter to see the Nutcracker when she was a toddler, and like many young kids, I grew up loving the story. Getting to attend a red carpet premiere to see it before it hits the theaters? Sign me up!
I watched the trailer a few times and decided that I needed to be as vibrant as possible. I did purchase a whimsical dress with a lot of gold glitter, but in the end, went with a burgundy number and gold accessories. New shoes? Yes, please! Seeing the premiere was part of a three-day press event with 24 other wonderful bloggers, where we had an agenda packed with wonderful events, and the premiere was on day two. The anticipation was building and the buzz in the shuttles before the big evening was about our attire. Not only were we excited about pulling ourselves together in a short period of time, but what was everyone else wearing? Knowing we were aiming for a group photo on the Oscar stairs at the Dolby Theater was exciting!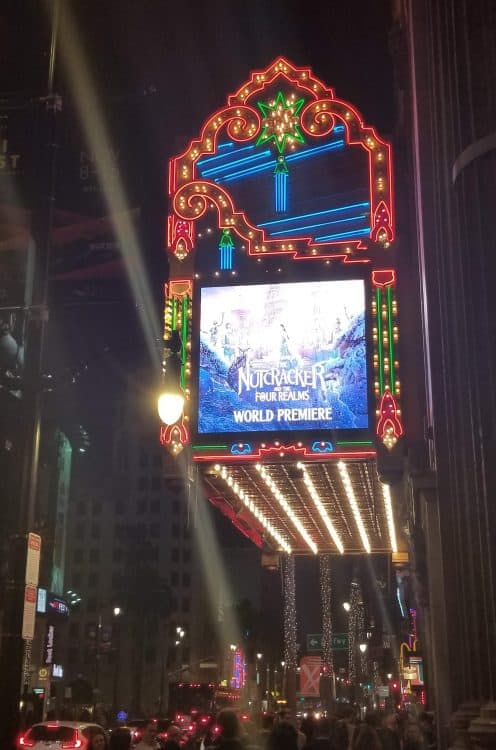 This wasn't my first Disney press trip, so I knew we had a busy evening ahead. We began by interviewing two of the movie's stars, Mackenzie Foy and Misty Copeland (more on that later in separate posts) and then walked to the pre-party at the Dolby Theater on Hollywood Blvd. 25 women in gorgeous dresses and high heels in a procession through the tourists and along the Hollywood Walk of Fame? We all got a kick out of the commentary we overheard! Upon arriving at the party, we clamored to get photos in front of the official red carpet backdrop. We had 90 minutes to enjoy the pre-party and all its activities, including a few moments to eat. That meant getting busy the minute we walked in the door, so we didn't miss out on anything.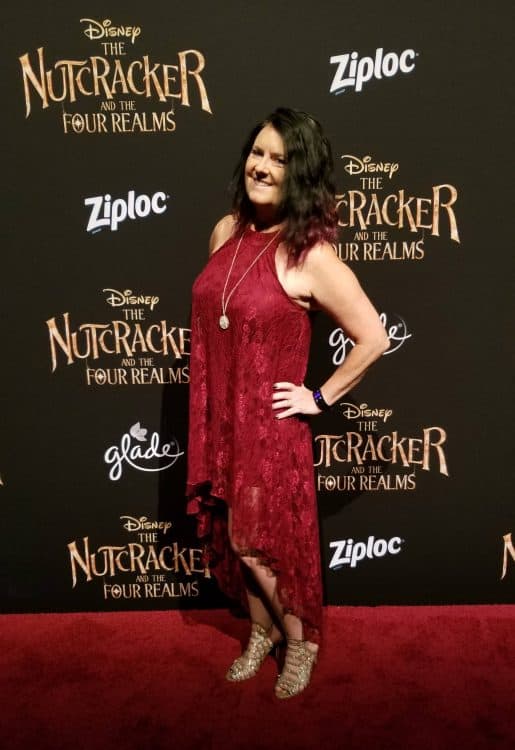 After securing our red carpet photos, we all scattered in various directions. The pre-party offered us opportunities with various sponsors, such as O-P-I Nail Polish, who was providing manicures and nail touch-ups. For those of us who didn't want to get our nails done, or already had manicures, they gave us the new Nutcracker nail polish set. The colors are beautiful and I can't wait to try them out!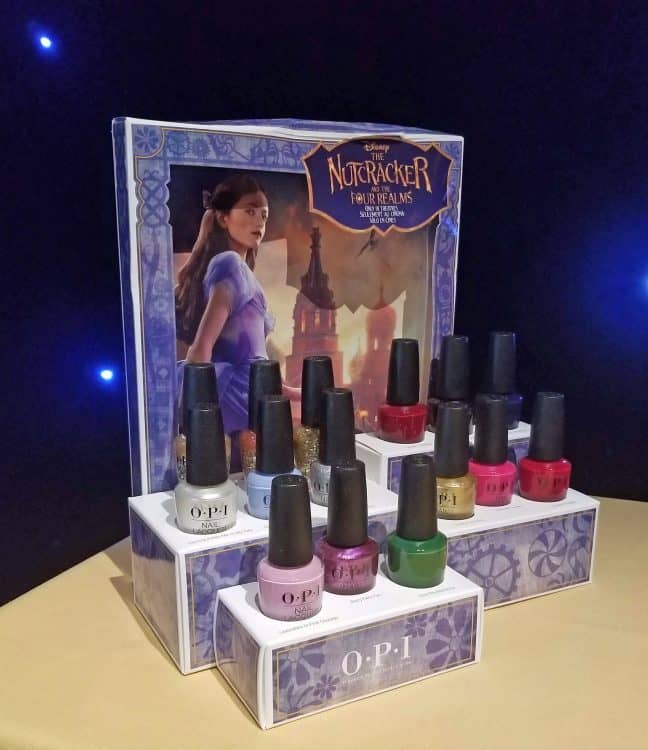 A lot of us got our hair done in a whimsical style based on the four realms in the movie. In keeping with my snowflake theme, which began with our visit to the dance studio in LA owned by Gleb Savchenko of Dancing With the Stars fame and continued as my photo backdrop at the green screen photo booth, I chose to get my hair glammed up with glitter and snowflakes. Little did I know exactly what that entailed! My hair wasn't cooperating as I'd styled it myself, so I was excited to have a pro try her hand at it. Fifteen minutes later, I rolled out of the hair salon area looking entirely different! Go big or go home, right? How often will I get to try something like this?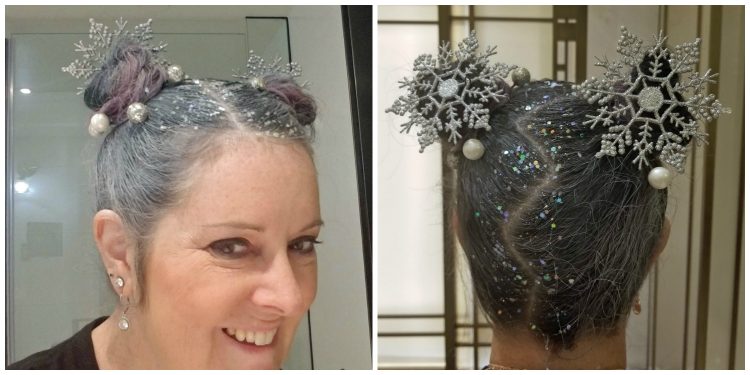 Let me backtrack a little though. Red carpet premieres are a whirlwind. Celebrities are wandering all around you, and we run into them while eating, taking photos or even using the powder room. When you walk into the party, you have to take a moment to breathe. Absorb it. Look around, take in everything and relax just enough to say "I'm here and I'm going to make this moment count!"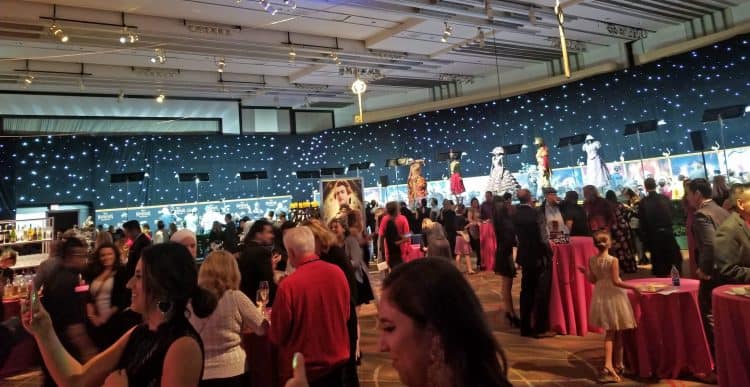 Attending as bloggers/media is no different. No matter how many times we get to do this, we still have that OMG moment. On this occasion, the room was lit in a way to mimic a starlit sky, decor was themed after the four realms (including sweets, flowers, snowflakes and amusement) and then there's the knowledge that Morgan Freeman, Misty Copeland, Mackenzie Foy and more could pop up at any moment.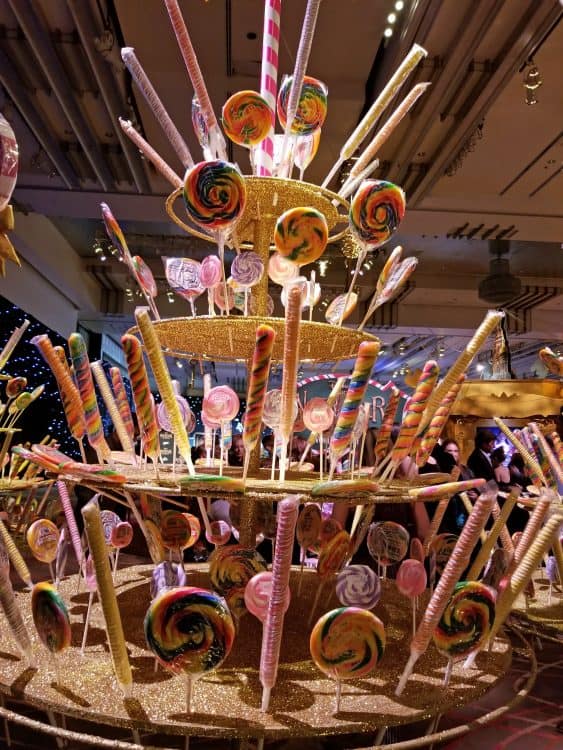 We walked in, got the lay of the land, and went about securing as many photos and memories as we could. We filled plastic bags of sweets at the candy bar, ate short rib grilled cheese sandwiches and tiny pot pies, and more, at the buffets. We made snow globes, tissue-paper flower bracelets and tried a beverage. Everywhere we looked was whimsy, glitter, bright colors and active performers catching our eyes as they juggled while walking on tall stilts.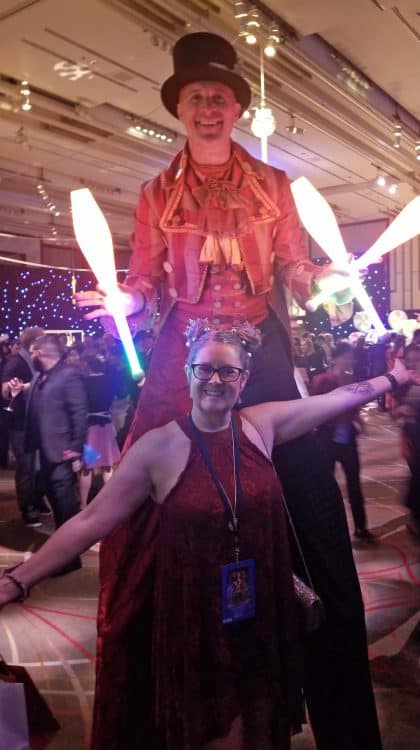 Then there was the red carpet, wrapping around two walls on one side of the venue. The talented cast of the movie walked the carpet amongst the paparazzi, just behind the original costumes from the movie. We had the pleasure of watching quite a few cast members from the movie be interviewed by major media before we walked across the street to the El Capitan, where the real magic was about to take place!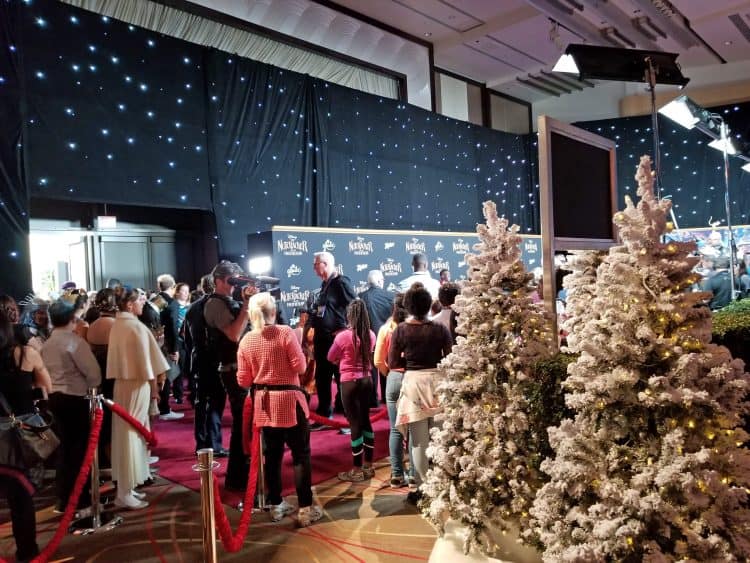 And speaking of those costumes — here are the original costumes that the main characters wore in the movie. From the left, you'll see the purple dress Clara (Mackenzie Foy) wears prominently in the movie, Mother Ginger's dress (Helen Mirren), another Clara outfit, the Captain and Nutcracker, (Jayden Fowora-Knight) and the Sugar Plum Fairy's dress (Keira Knightley).

The El Capitan Theater is known for it's in-stage organ. The marvelous musician who plays it can rock any song from any genre, but he focuses on Disney-themed songs. The organ and his bench rise up and down, so just before the movie ends, he sinks below the stage. It's such a magical feeling that gets you in the mood for any movie you may be seeing.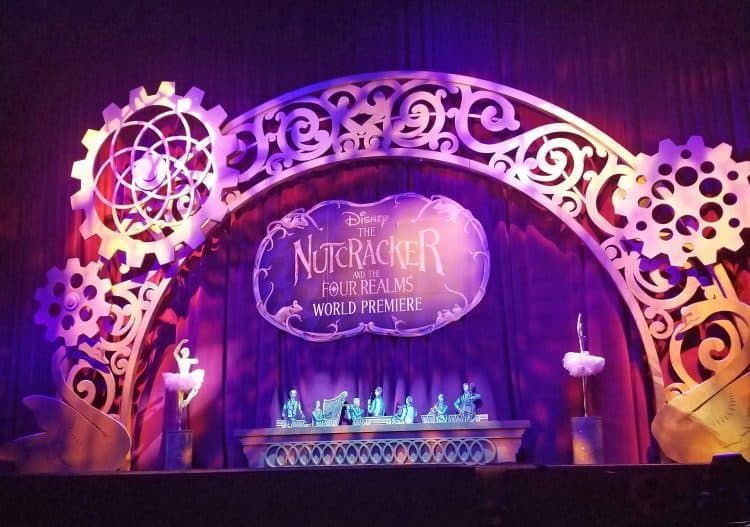 Before we knew it, he was done and the lights were dimmed so we could watch. We had second-row seats, providing spectacular views for the entire evening, but then again, there is no bad seat at the El Capitan! (They do year-round movies for everyone as well as red carpet premieres and special holiday showings of seasonal movies, such as Halloween's Nightmare Before Christmas. Keep an eye out on their website for the chance to buy tickets for upcoming shows!)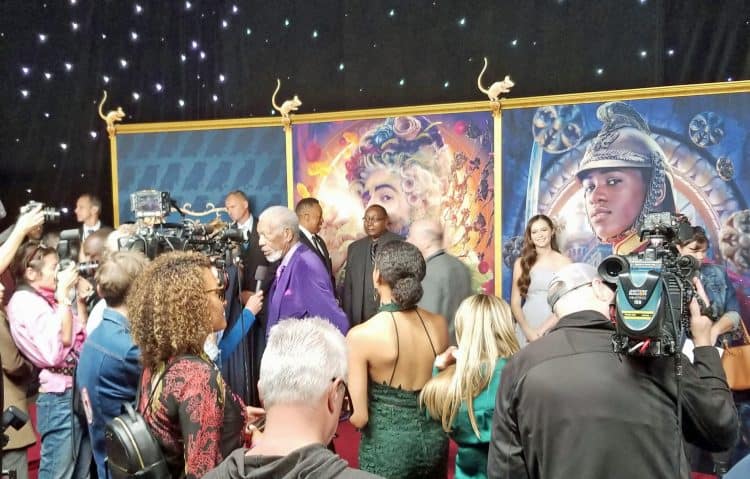 Our entire evening was almost a blur, and I'm thankful for my red carpet buddy for taking photos (since I may never excel at taking selfies, as I am not great at mastering the small button on my Galaxy with my long nails) as well as the many memories I made. My hair was very much over the top, and it garnered a lot of looks; I honestly hadn't expected it to be quite as silver, requiring two shampoos later that evening and a deep-conditioning the next day, but I'd totally do it all over again! How many times will I have the chance to dress my hair up in honor of a big part of a major movie? Snowflakes and shiny adornments and my hair up in a way I can never do on my own? Sure thing!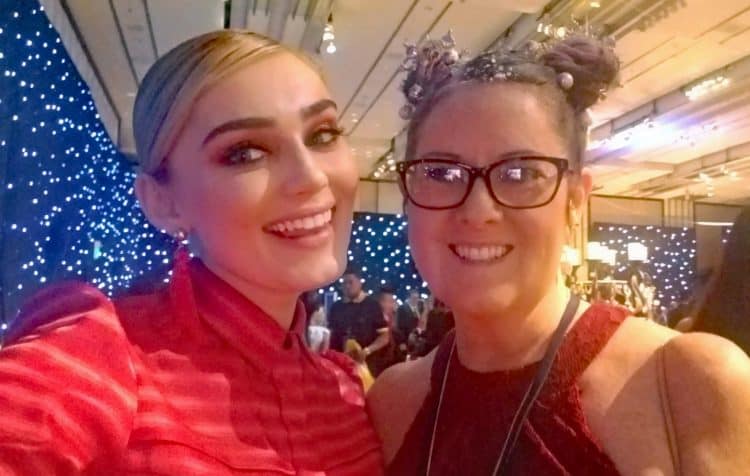 Grabbing food, I ran into an actress from one of my favorite ABC shows, American Housewife — Meg Donnelly! She was so kind and took a couple of selfies with me to try to get the best lighting. (Thank you, Meg!) I made it throughout the night with no blisters, and the only mishaps centered on the fact that the lace on my dress was so fine, it frequently caught on anything and everything, including my shoes, the chair in the theater, the corner of a table, and even the escalator. Still, I'd wear it again and smile at how I wore it on such a prominent evening!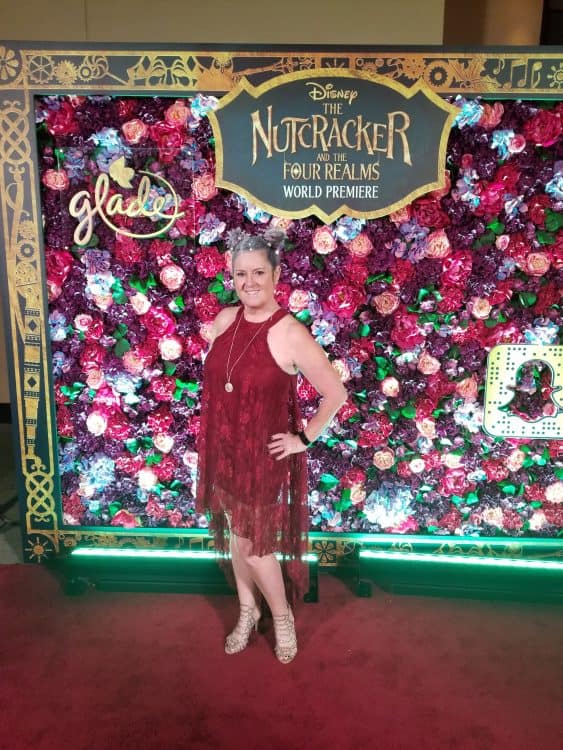 Thank you to Disney for a once-in-a-lifetime event! The movie was fabulous and being part of the experience is something I will always cherish. Eating under the stars, listening to themed music while rocking snowflake hair? I am so thankful!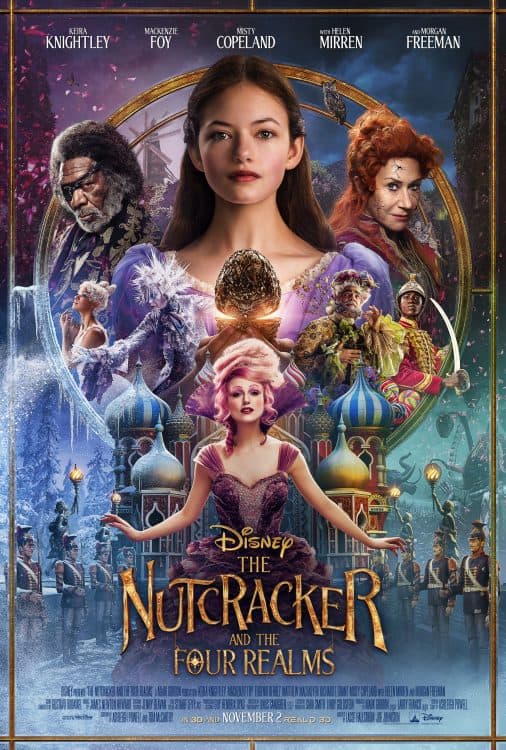 Keep an eye out for a series of posts about the cast and the movie, as well as other fun things we did during the entire Nutcracker press trip. (And buy your tickets to see the movie in theaters when it debuts on November 2!)
Enjoy this trailer in case you haven't seen it yet!