In early March, I was invited to attend the Disney-Pixar event for Finding Dory at the Monterey Bay Aquarium. It was a whirlwind of a trip, but we were hosted at an amazing Hotel (The Intercontinental) and the Monterey Bay Aquarium packed in so much fun during our two days. I have so many photos, it was really hard choosing which to share with you!
I flew out really early on Monday morning, everything packed into one carry on and a work bag, when the unthinkable happened literally 10 minutes before boarding: I noticed my phone, which I'd had plugged into an outlet there in the boarding area, wasn't charging. Cue the momentary panic as I think about how much of this trip hinged upon me being able to USE MY PHONE. Taking photos. Using periscope. Filming short videos. Staying in contact with the other bloggers on the trip. Sharing everything on social. Oh, and being accessible to the family in the event of an emergency. I ran to the tech store right across from the gate, dropped $50 on two new chargers and got back to normal breathing. After all, it's all about Finding Dory and I didn't want to miss anything.
It was a quick and fairly smooth flight despite the bad weather all over California. I met up with other bloggers for the luxury shuttle to the Intercontinental, where we were lucky enough to check in early and check out our rooms. The hotel was literally right on the water with beautiful views and only a short walking distance from the Monterey Bay Aquarium as well as the theater we were scheduled to meet with some of the Finding Dory crew, including the director and animators.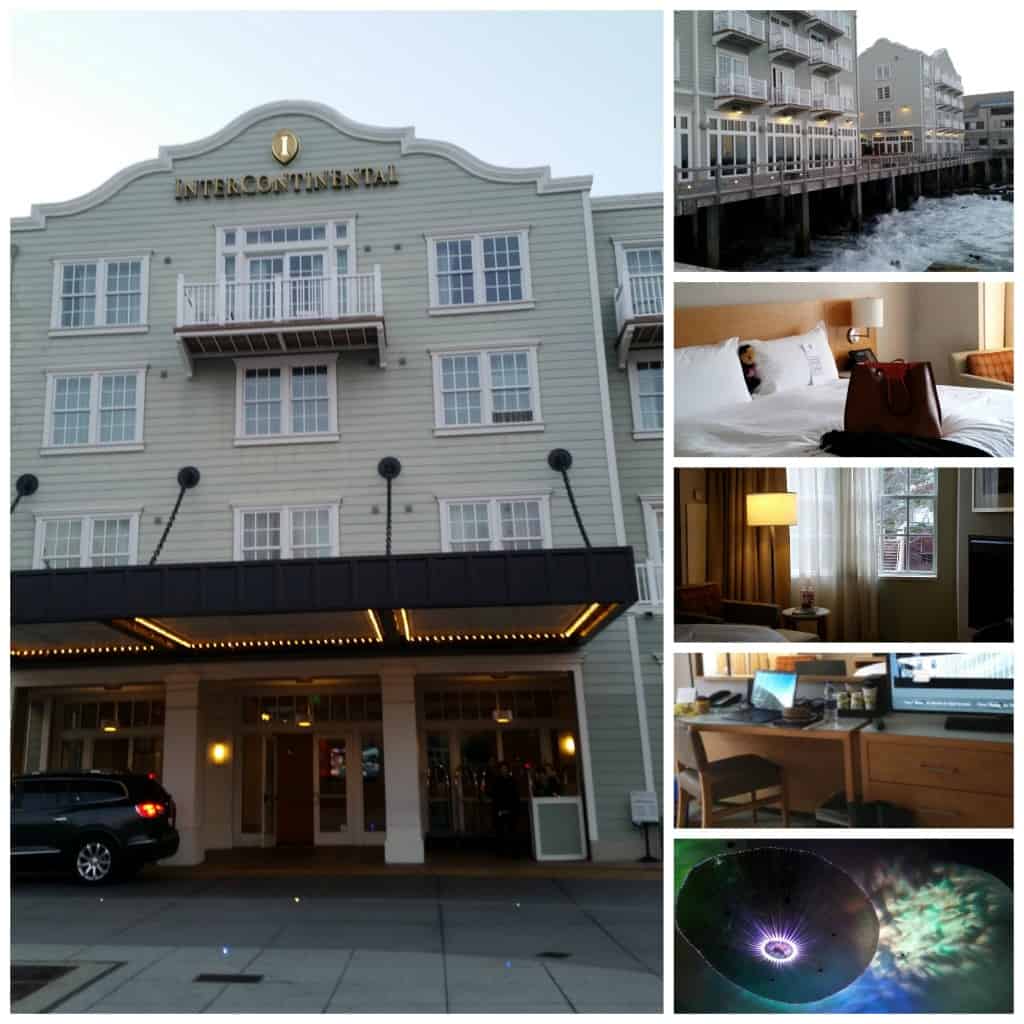 We spent most of the day at the aquarium, with a little time in between to wander the streets of Cannery Row and Monterey. The town has many gift shops and unique boutiques to buy souvenirs, chocolate, cookies, anything you need to stay energized.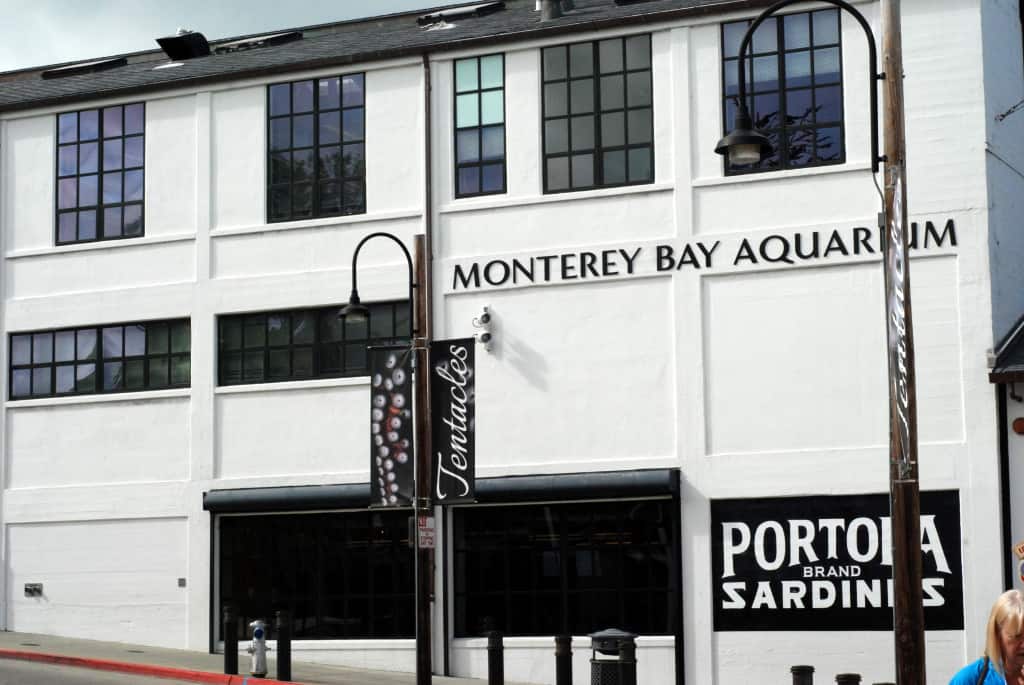 I hadn't been there in probably 8 or 9 years, and seeing it as an adult, not having to chase my kids around, gave me the chance to see it in a totally different way. We were able to take part in private tours, go behind the scenes in Tentacles and the sea lion area, and even see a new exhibit unopened to the public until mid-March.
If you haven't been to the aquarium recently, it's definitely something to put on your travel wish list. The aquarium highlights all the various types of sea life, from outside views of the bay to a touch tank, a children's area, the otter tank, sharks and turtles and everything in between. Want to buy souvenirs to help you remember your visit? There is more than one gift shop, and the main one is huge. And did I mention the views from the outside?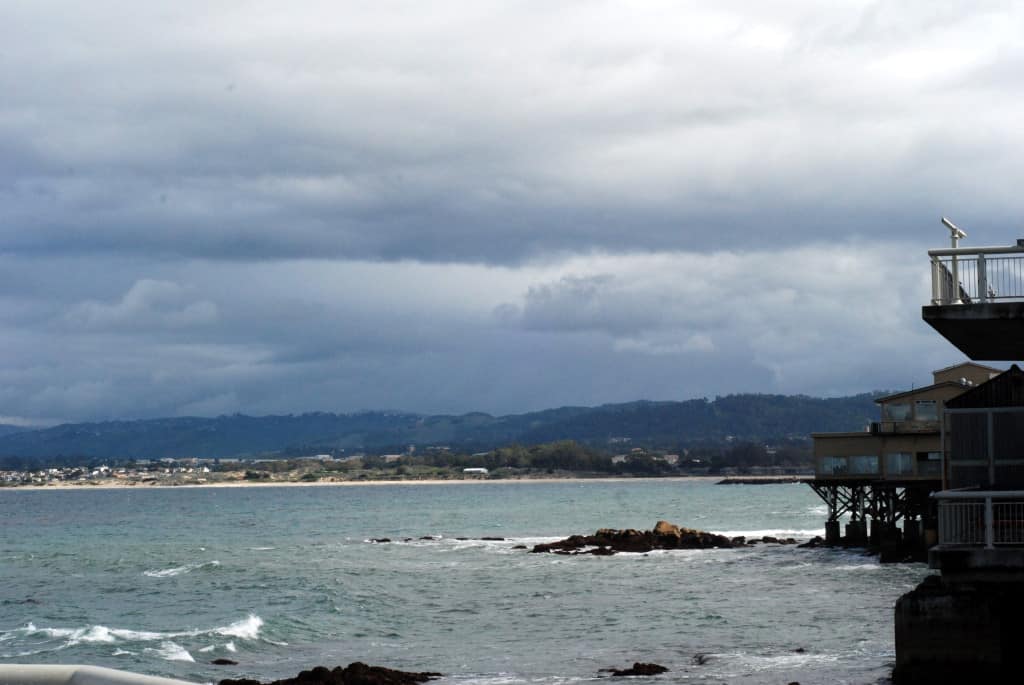 One big highlight for us all was seeing the baby wild sea otter and her mama. The mama had swum into the protected reef the day before and had her baby; she was going to have to leave soon, due to the tides and it not being the environment she needs to raise her baby, but we got some great photos of the two together. At one point, the baby slid off her mama's tummy and I snapped a lot of photos as she scooped her quickly out of the water and examined her thoroughly, much like you'd see any other mama do.

I think she knew we were all watching her, too — what do you think?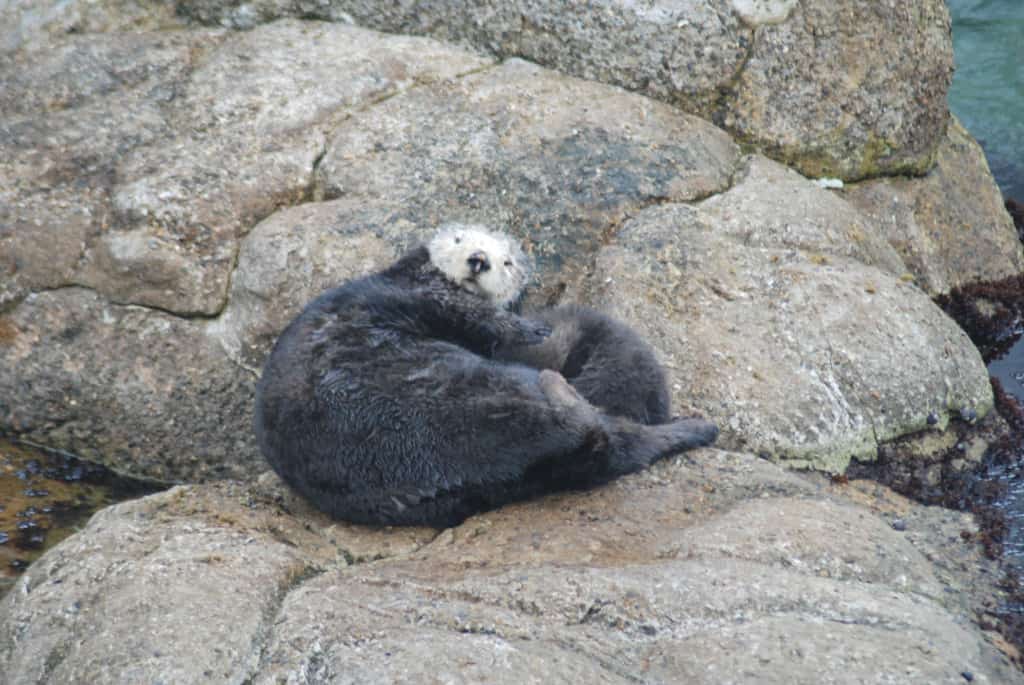 Getting to go behind the scenes to the trainer area during a feeding and training session was such a blast!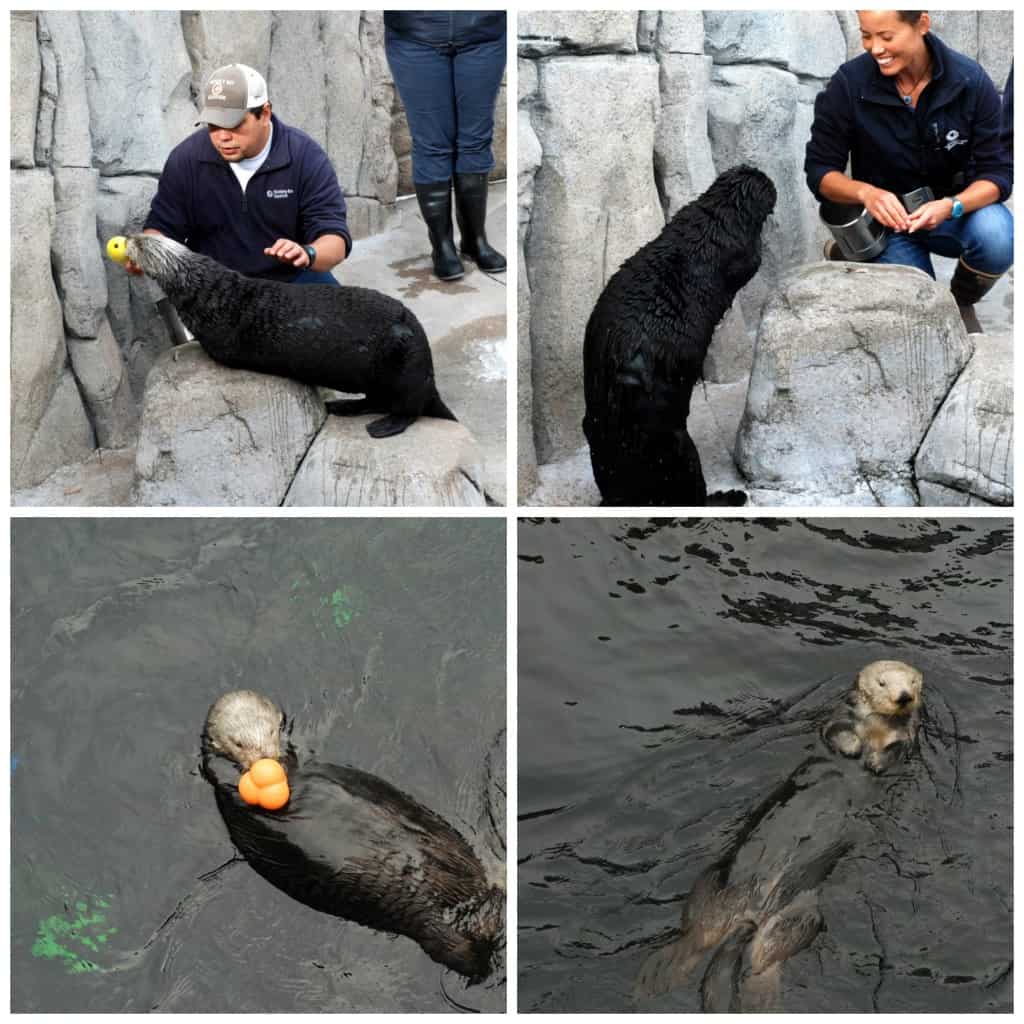 Don't they look like they're having a good time? Four otters were there playing and I took a few minutes to head back to the guest viewing area for more shots. Here are a couple of videos!

Aren't they adorable?

Then it was time to visit the other exhibits some more. The Monterey Bay Aquarium staff had supplied us with a detailed map directing us to all the various areas where we'd find things that related to Finding Dory. And we found Dory! It was so much fun seeing her along with "Nemo" and "Marlon." The tangs and clownfish are so colorful!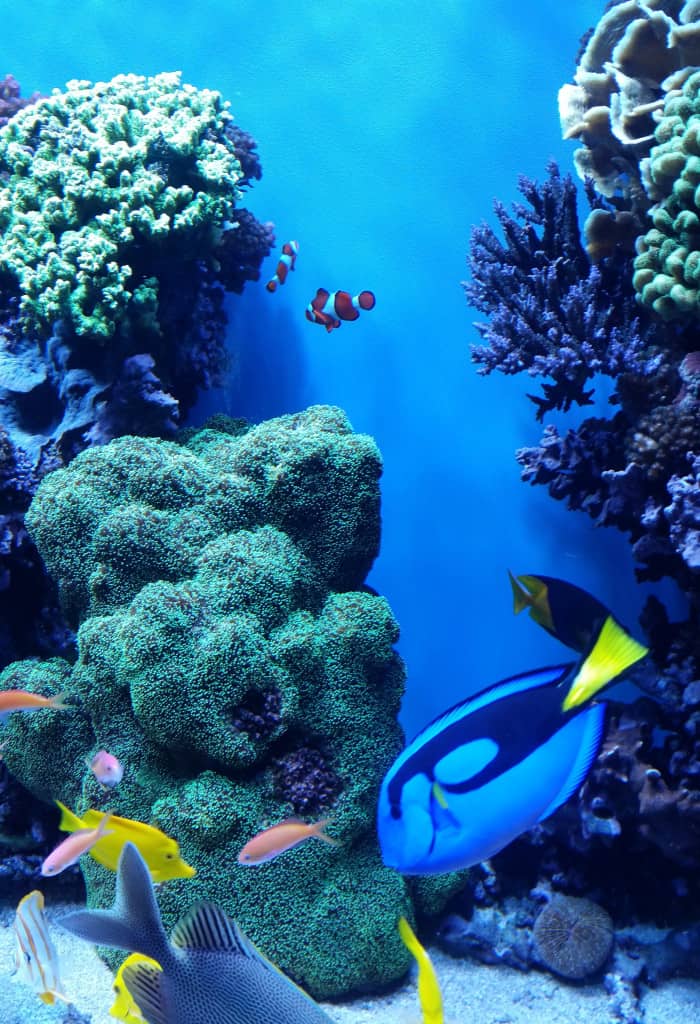 I took so many videos — these jelly fish were so mesmerizing!
The new Baja exhibit is going to be popular. It has a lot of interactive exhibits, as it's designed to help educate people about how Baja, California, is much more than meets the eye. The whole eco-system deserves a lot more audience and appreciation than it gets, and the 10-15 minutes I spent behind the curtain made me that much more interested. We 'colored' pictures with a touch screen, watched a video on whales and got to see the roots of trees and other animals up close and personal.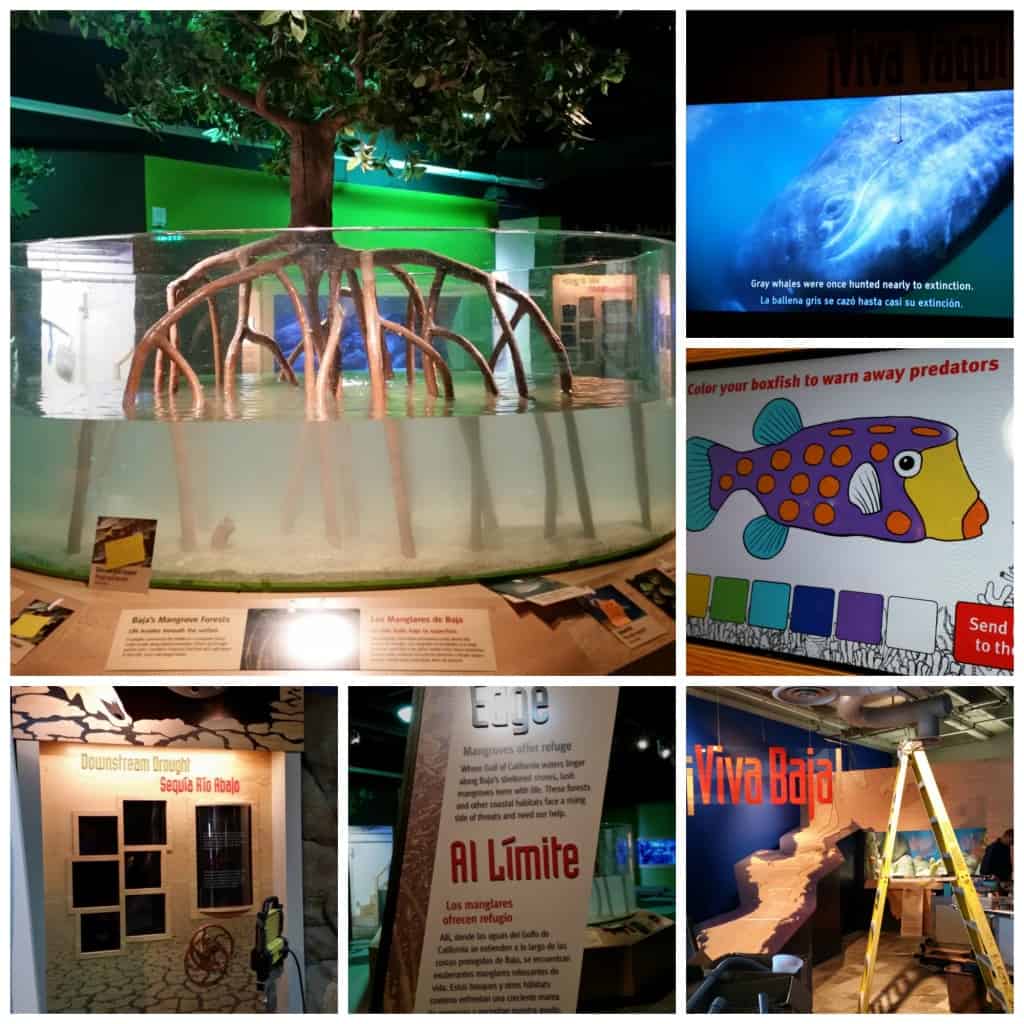 Then we wandered some more, making sure to hit up all the highlights, though there are way too many to share here. This guy was hiding from me, but then peeked around a corner after another guest with a flash on his camera finally walked away. (Flash scares the animals and isn't always healthy for them either.)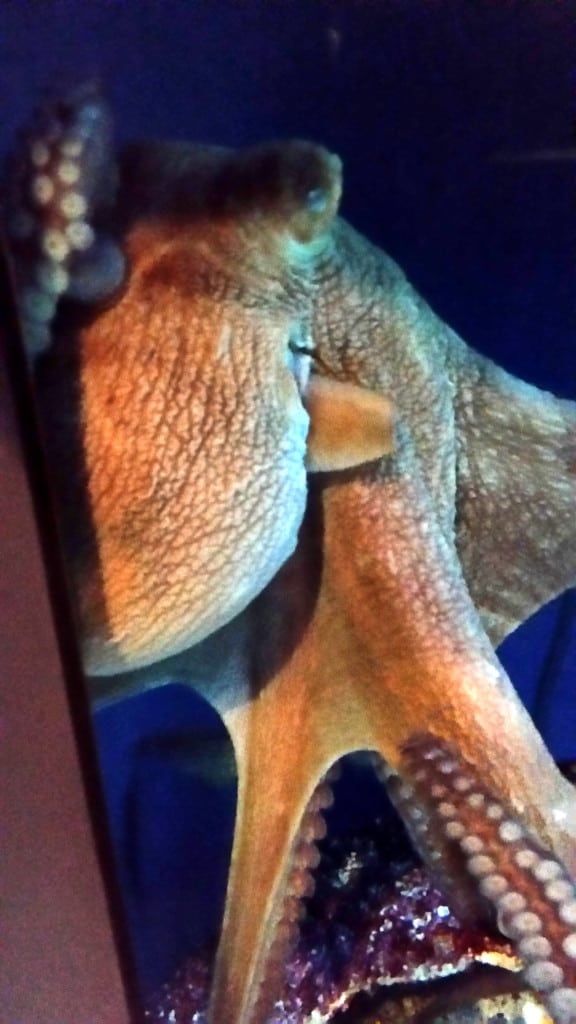 The colors of all the tanks were too pretty to capture fully — but I tried, as I found I had over 400 photos by the time I got home! This touch pool was so much fun, I don't know that I've experienced touching a star fish or anything in years.

The reception in honor of Finding Dory was held in the atrium area of the aquarium. How often do you get to eat gourmet food amongst the fishes, eels and octopuses?

And this tank! It has to be seen to be believed.
The visit to the aquarium taught us so much about the ocean and the animals that live there. When we get to see Finding Dory in its entirety, there will be a whole new appreciation for everything included. (More on that in another blog post!)
Finding Dory comes out on June 17, and in case you haven't seen a trailer yet, here's one to get you excited about the movie!
Whether or not you have seen Finding Nemo, you'll love Finding Dory, with a stellar cast that includes Ellen DeGeneres reprising her role as Dory. Buy your tickets soon and until then…you know what's coming…just keep swimming, just keep swimming…