As a long-time fan of Disney – Pixar's Incredibles — much like everyone I know — I was SUPER-excited <see what I did there?> when I heard there would be a second part to the story. I was even more excited when I learned it takes place immediately following the original Incredibles story line, including Jack-Jack as an infant, Violet getting over her adjustment as a super in a world that wasn't always welcoming (and her inherent shyness), and of course, Dash, always wanting to use his abilities.
Incredibles 2 is not only as good as the first, but quite possibly better. Not only is the entire beloved Parr family back at it, but everyone's favorite character, Edna Mode, is back in a way that surprises us all! Now that Incredibles 2 is available on digital as of October 23, 2018 and is coming FAST to Blu-ray, DVD and more, on November 6. DASH over to the store to get your copy today!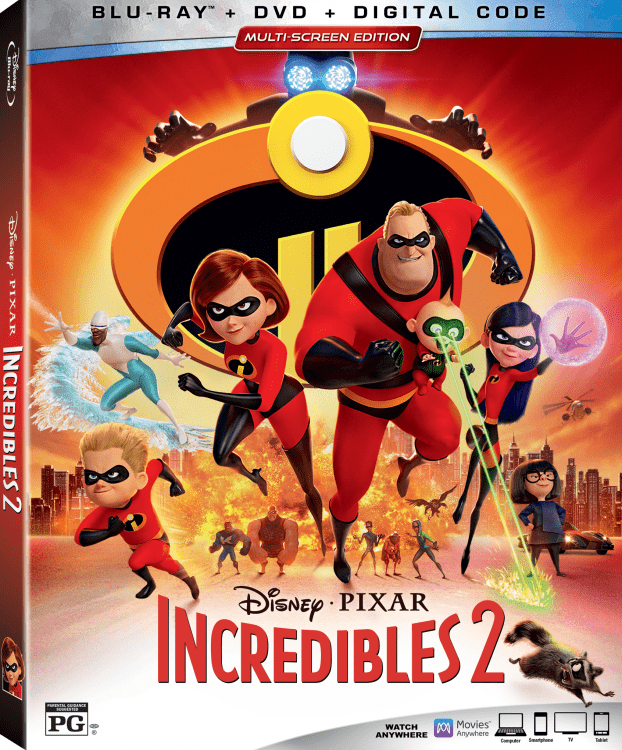 The Blu-ray has a lot of fun bonus extras, including a code giving you the ability to see it on Watch Anywhere on any of your mobile devices.
Bonus extras include: 
An Auntie Edna mini-movie
Heroes & Villains: short documentaries about the back stories of the characters
Insight from the creators of Incredibles 2, telling you how they envisioned and then animated various scenes
A Lesson in Animation, from Brad Bird, where he talks about his early years at Disney Animation Studios
A fun musical short video about how Jack-Jack came to life, hosted by Frankie and Paige from Disney's Bizaardvark
The short "Bao" movie — but beware, if you are a parent or a child over 18, you WILL want tissues….and only in the best way possible, as this mini-movie tugs at your heartstrings. I watched it with my 17-year-old son, and he leaned over, teary and sniffing, telling me he would never leave me. SNIFF.
Theme songs, outtakes and MORE
Go pick up your copy at the store on Tuesday, or pre-order it online. It's a movie for all ages, and you'll probably want to watch it a second time. So many funny lines, and an incredible scene between Jack-Jack and a raccoon….then there's Auntie Edna, transforming from a fashionista who "doesn't do" babies to someone who can't put Jack-Jack down.  I promise you're going to love it!