With the latest of the Frozen franchise due in theaters on November 22, there's a lot of hype out there about Frozen 2. Will it live up to the standards of the first movie? How does Elsa get her powers? What happens to Anna and Kristoff? I attended the Frozen 2 cast interview a few weeks ago so I have some insight onto all of this and more to share with you.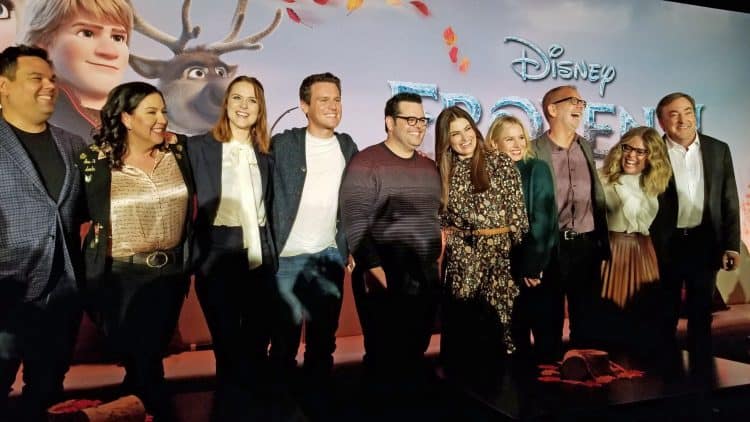 Frozen 2 Cast Interview Attendees
Idina Menzel
Kristen Bell
Josh Gad
Jonathan Groff
Evan Rachel Wood
Kristen Anderson-Lopez
Bobby Lopez
Director Jennifer Lee
Director Chris Buck
Producer Peter Del Vecho
That's a lot of musical chops in one room, and I don't mean just the usual suspects.
Wait, what?
That's right. While I could fill you in on a lot of cool things about the creation of the movie — and I will share some — what I want to tell you first is what I feel like was the highlight for everyone in the room. The group sing-a-long!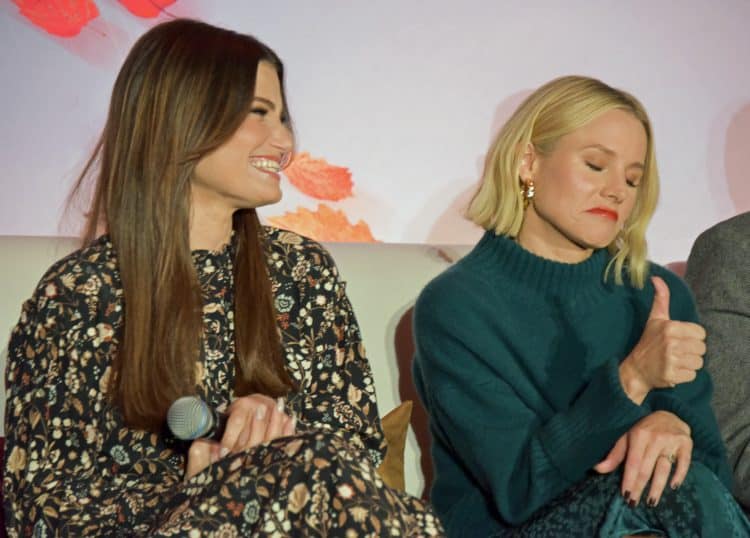 Without giving away anything critical from the movie, I will say there is a scene from Frozen 2 that is a standout. In fact, maybe it should be. I feel like it would make a great music video in itself. All I will say, until the movie is out and people have seen it, is that there's a scene I call "Kristoff meets 80s music video." And it's STELLAR.
Bobby and Kristen, who are a joy to watch in tandem, explained that this scene is one that almost wasn't. The original intention was something different, but as it morphed and grew, it became clear it needed to be left just as you'll see in the movie. And you'll love it.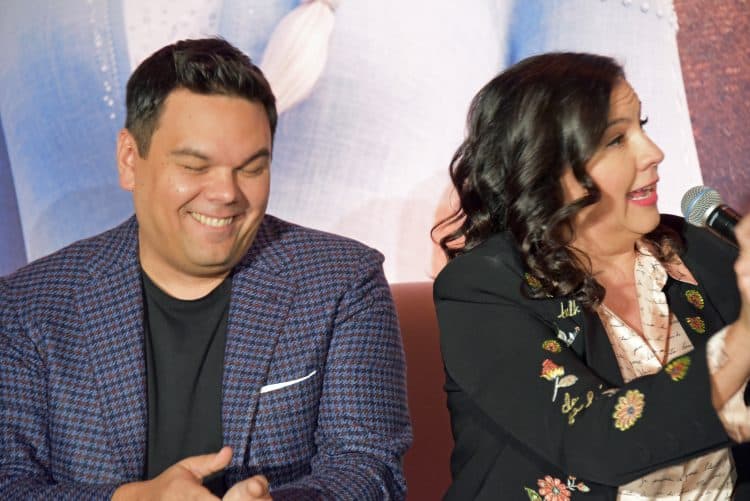 The collaborative efforts of the husband and wife musical team, who are both EGOT winners (Emmy-Grammy-Oscar-Tony), result in seven original scores for Frozen 2 — and a lot of good story-telling and conversations in the Frozen 2 cast interview. You know when you're at a party and you meet a couple for the first time, and you know little about them, yet you can pick up from inane party chatter for 10 minutes that they're happy and probably have been together a long time? That's how it feels listening to Bobby and Kristen talk.
I could listen to them all day long…but they'd have to promise to throw in a few duets and riffs like they did during the interview. Which leads me to the highlight of the day, which occurred at the end of the Q&A portion. With Josh Gad being the natural-born comedian that he is, in the most genuine sense, where his humor flows so perfectly into everyday conversation, he turned the group photo at the end into a Bryan Adams sing-a-long, belting out "Heaven," and with everyone joining in. These guys were holding out!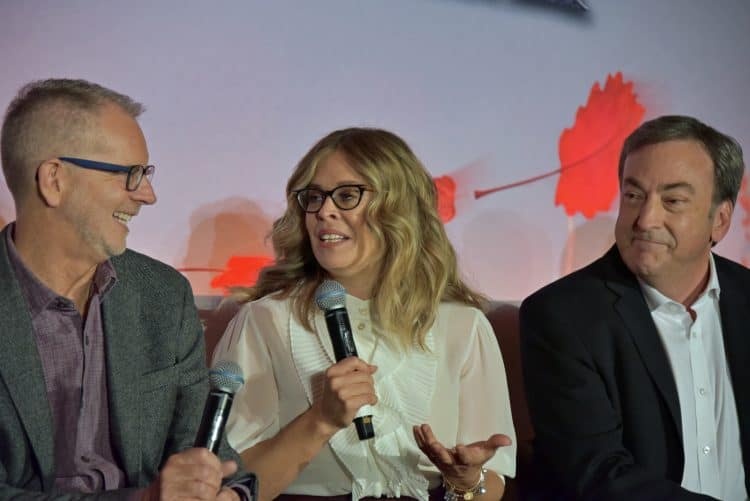 Sterling K. Brown wasn't able to make the cast interview, but Director Jennifer Lee did share with us that he was wonderful to work with, basically going along with everything. He plays Lieutenant Mattias, a new role in Frozen, and an important one in portraying the history of Arendelle.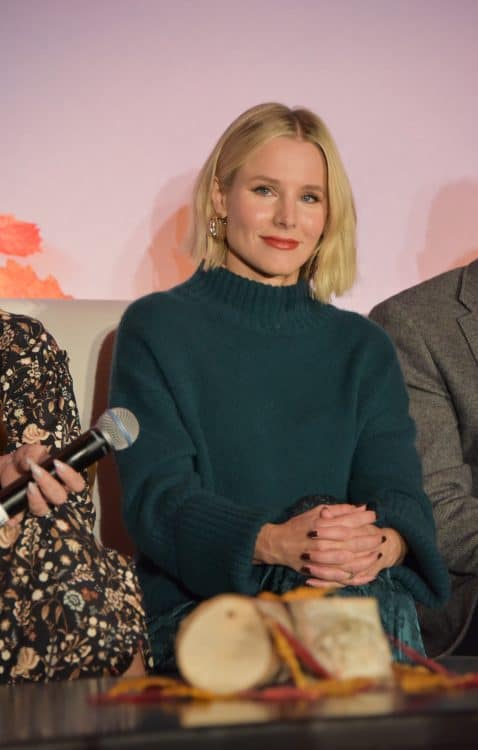 My favorite addition to the story, beyond the backstory of Anna and Elsa's parents — prefaced by the beautiful song their mom sings to them as children — is Nokk, the frozen horse based on a German mythical creature who would lure men into the sea, except Nokk turns out differently than you may think when you first see Nokk raring up to Elsa as she struggles to stay above the volatile water.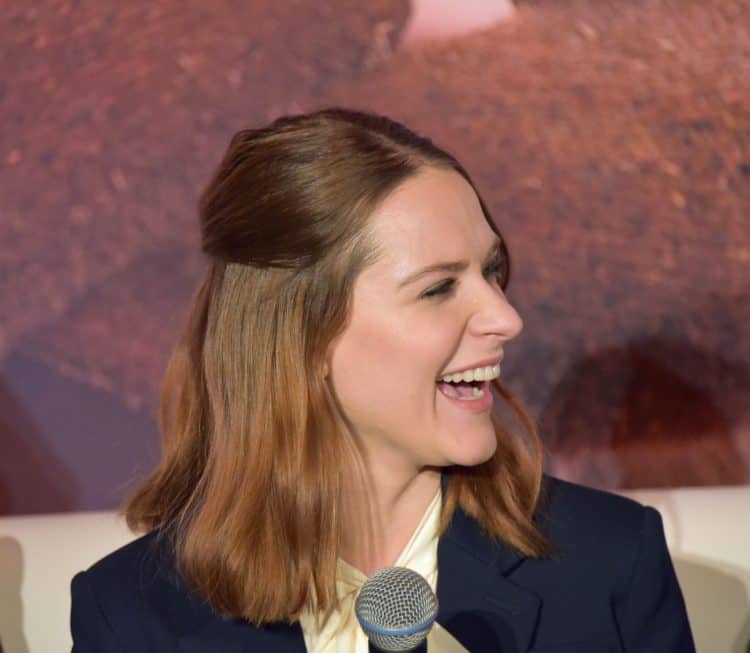 Speaking of Anna and Elsa's parents, the voice of Queen Iduna in the first Frozen was provided by Jennifer Lee. Rachel Evan Wood portrays her in the expanded role in Frozen 2, which is not a sequel but part two of a story. You won't really understand Elsa's powers, their history, and the relationship between Elsa and Anna without knowing where they and their parents come from…and it's not as predictable as you may think.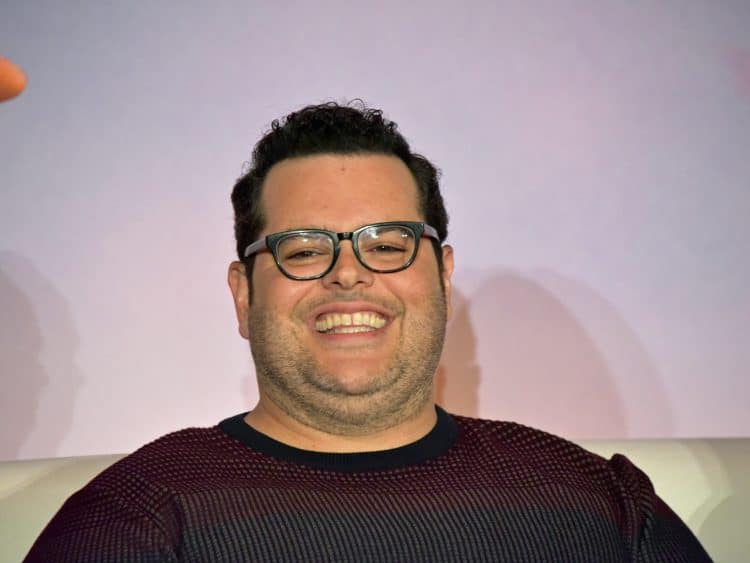 The Frozen 2 cast interview was another fun gig with a lot of laughter and smiles. Enjoy my photos, check out the trailer below if you haven't seen it yet, and buy your tickets to see it.
The kids are going to love Olaf and you will be laughing at the Kristoff scene. (But be prepared — while the movie is technically for kids of all ages, it's darker than the first Frozen and there is at least one scene that will make some adults cry.) Learn more about the making of the movie and the Frozen 2 soundtrack in these other blog posts. Then let me know what you think of the movie!