The next Disney-Pixar movie to come out on the big screen is the third installment in the Cars series, the story of rookie-turned-pro race car Lightning McQueen and his ragtag band of friends from Radiator Springs. This latest addition to Disney's lovable hero has Lightning McQueen concerned about his inevitable aging out of the racing industry as new and improved cars begin to take over the track. Enter Jackson Storm, a spiffy new statistically-probable winner and a change of scenery for Lightning and you're in for a few surprises!
Here's a brief round-up of all the Disney-Pixar fun and interviews with the Cars 3 cast before the June 10th premiere! (We even got to hear a few Cars movie voices!)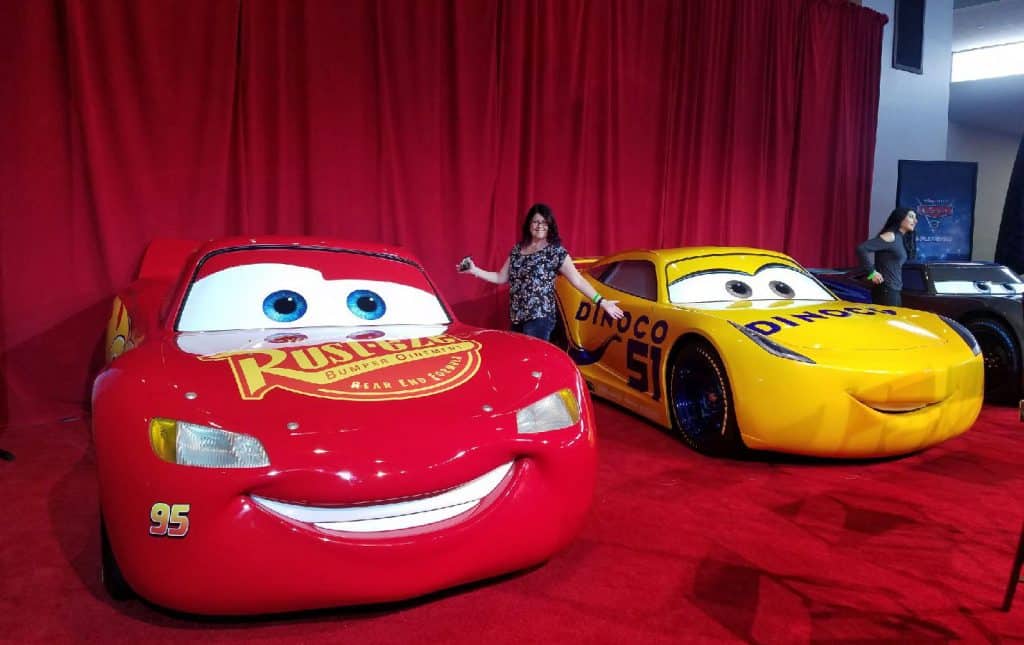 We got to see Cars 3 in the middle of a weekend whirlwind of press junkets, pre-screenings and the premiere in Anaheim, with an after-party of epic proportion held aptly in the Radiator Springs attraction at Disney's California Adventure. I spent the weekend in Anaheim and to say I had a good time would be the understatement of the year. We saw the movie on Friday night, at the AMC Theater in Downtown Disney, then headed to the press junket bright and early on Saturday morning. If you've got to be immersed in "work," it doesn't get anymore fun than this.
In attendance at the junket were:
        

Owen Wilson

(voice of "Lightning McQueen")

        

Kerry Washington

(voice of "Natalie Certain")

        

Cristela Alonzo

(voice of "Cruz Ramirez")

        

Armie Hammer

(voice of "Jackson Storm")

        

Nathan Fillion

(voice of "Sterling")

        

Larry the Cable Guy

(voice of "Mater")

        

Lea DeLaria

(voice of "Miss Fritter")

        

Isiah Whitlock Jr.

(voice of "River Scott")

        

Director Brian Fee

        

Producer Kevin Reher

        

Dave Mullins

(

LOU

Director)

       Dana Murray

(

LOU

Producer)
Before the screening of Cars 3 began, we watched the latest short, Lou. Lou is the long-planned movie about a young schoolyard bully struggling for friendship and acceptance, dealing with it via a bad habit of stealing classmates' personal belongings. With the help of Lou, the friendly playground Lost and Found box, magic happens. Dave Mullins (Director) and Dana Murray (Producer) shared with us the process, from thought concept to its fruition on-screen.
Pixar Films wants to ensure their films have heart, using an animated character that may be flawed but can be brought to life in a way that people get excited about and can understand. Dave Mullins came up with this idea based somewhat on his own childhood experiences of moving a lot and feeling invisible, so he wanted to create a character who was basically hiding in plain sight. The bully in LOU is an elementary school student who steals but ultimately just wants to be accepted and liked. Animation of the short began in 2015, and was different off the bat due to its inclusion of so many characters. Most shorts don't have that many, but the playground scene presented a challenge to the creators. They actually ended up using characters from Inside Out and Finding Dory rather than starting fresh and taking longer.
Once the basis of the film is settled, it goes to the story department where things are heavily edited and re-edited. LOU is 100% animated by hand, something you don't necessarily see a lot anymore. In 2016, the short moved into the layout phase, then into the color script phase and onwards to music. We watched a short example of how the music was done in circle style, where each instrument played one night from a field of musicians in a big circle. It results in a unique sound experience! In 2016, the film was completed and now you get to see this short that we thoroughly enjoyed. Seeing LOU come to life and the bully get a brief schooling on behavior is something everyone will enjoy.
Then more fun began, watching the cast of Disney Pixar Cars 3 interact with each other while fielding questions from NASCAR racing consultant, Ray Evernham. Ray spent years being Jeff Gordon's crew chief so his questions were interspersed with apropos racing terminology. Questions quickly were handed off to members of the press audience, where cast members shared their feelings on why this movie was so important to them.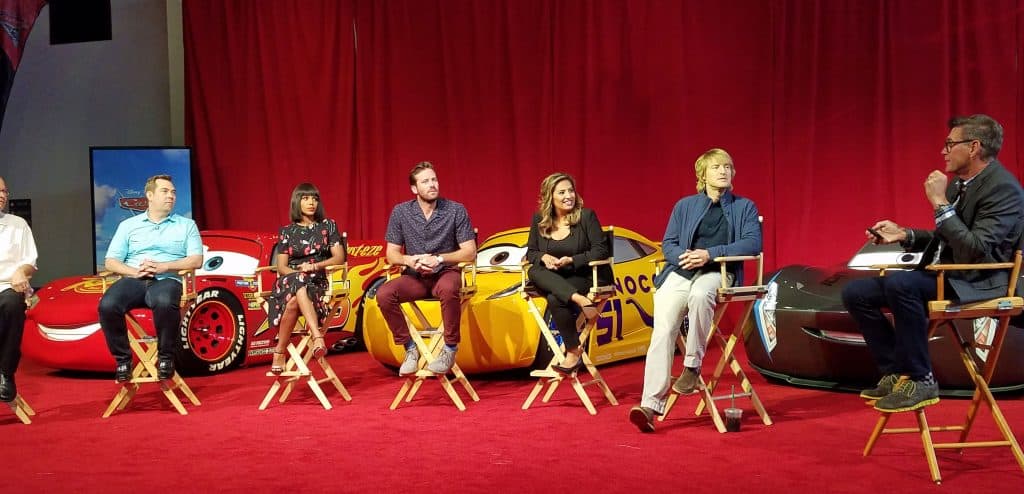 Cruz Ramirez, voiced by Cristela Alonzo of comedy fame, is a new addition to the Piston Cup racing stories. Cruz is a professional race car trainer with a penchant for routine and use of the technology made available by Sterling, one of Lightning McQueen's biggest fans. Without giving away anything from the movie, things don't go as planned. These new challenges and hurdles and the relationship between Cruz and Lightning make up a large part of the rest of the movie and they are make up a lot of the reason behind why so much of the cast was excited to take part in Cars 3.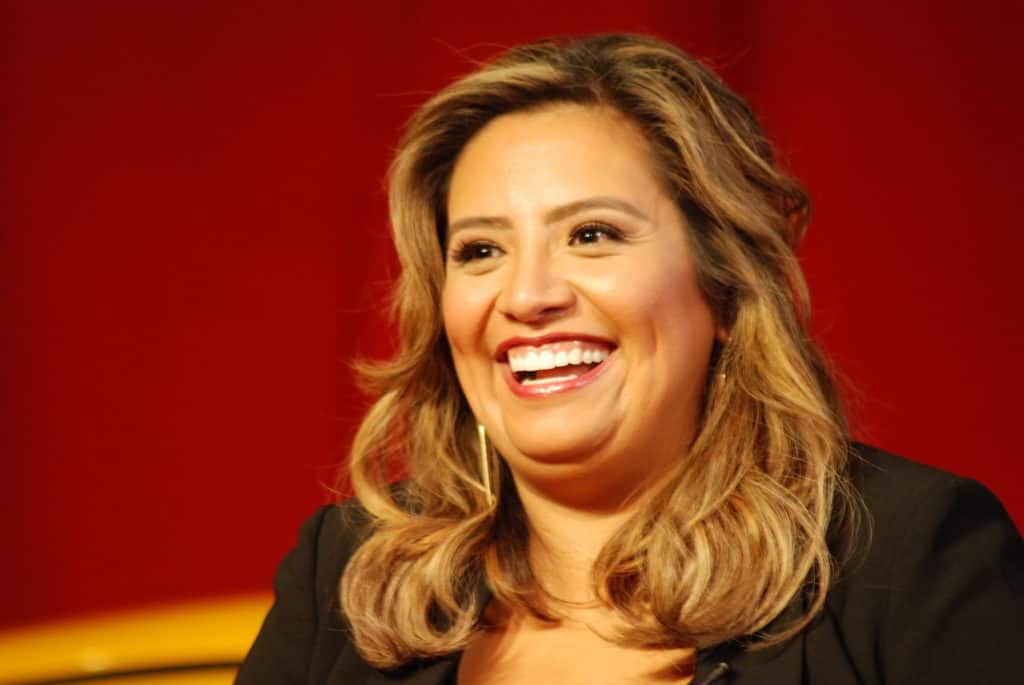 Cristela Alonzo's childhood was one of love amidst the fight to survive in a poor family living in a border town of Texas. This upbringing enabled her to relate to the character she played, and helped her to see the main message of the storyline: don't ever let anyone tell you what you can or can't do, including yourself. We all face challenges, and it doesn't matter whether we're male or female, car or human, but we can surmount our challenges and accomplish what we choose.
Kerry Washington's take had a different spin. Her feelings were similar regarding how we can overcome if we want something bad enough, but she focused on how we can do it together. Both perspectives were so valid and really made me think about how it really is that simple. The things we can learn from an animated movie, right? It really is all about looking at what we want to achieve, believing in ourselves and believing in each other.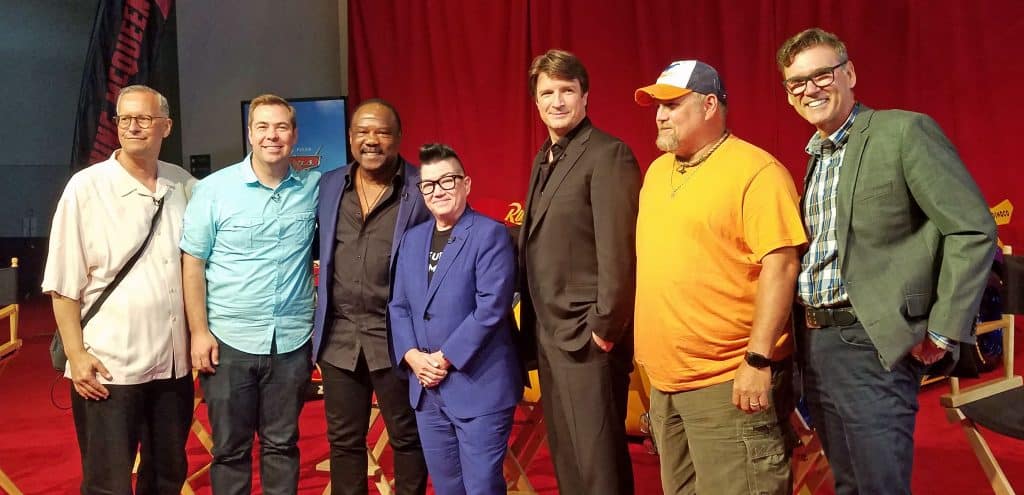 Both groups of the Cars 3 cast had us laughing during the entire junket. Every cast has its own vibe, and as the cast members are rarely in the same room together during filming, it's fun to see how they interact in person. There were lots of laughs — Owen Wilson and Cristela clearly are good friends, joining hands more than once while teasing each other, and Owen is as relaxed in person as you somehow expect him to be. Nathan Fillion is strikingly tall and handsome, displaying mannerisms that had me thinking Castle the whole time, while picturing him as a shiny silver car saying "It's your legacy." Gesturing throughout the entire interview, it was harder finding a serious picture than one of his very varied facial expressions. He's too much fun to listen to!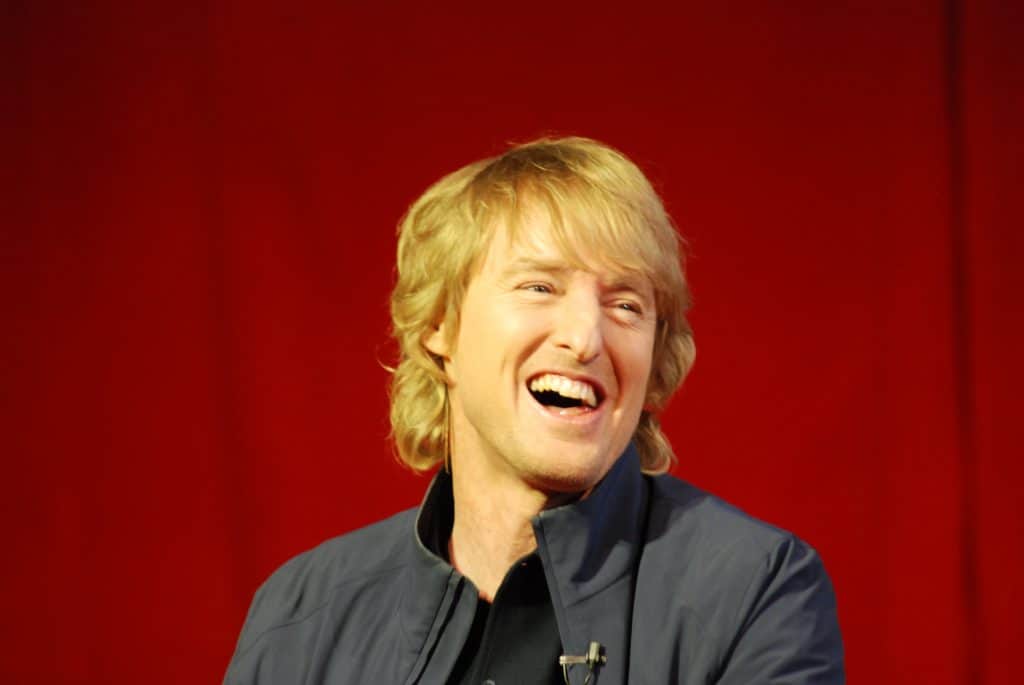 A common question at almost all Disney and/or Marvel press junkets is what it means to be involved in one of their massively successful movies. When asked about the level of involvement in Cars 3, as Cars 2 heavily featured Tow Mater, Larry the Cable Guy summed it up perfectly: "I'm in a flipping Disney-Pixar movie! It doesn't get any better than that!"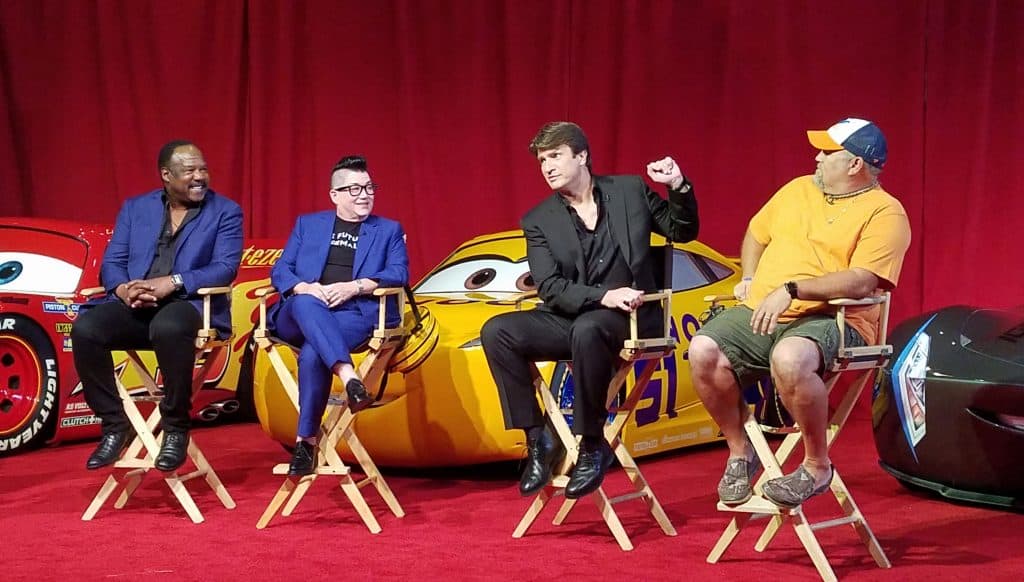 I'd never had the pleasure of interviewing Lea Delario before, but I really wished I had more time to speak with her one-on-one. She has an engaging smile and a wicked sense of humor. When questioned about her role as Mrs. Fritter, a rowdy and somewhat scary demolition derby bus driver, she shared a rowsing laugh about how she was unconventional herself, as were Lightning McQueen's training methods. (More on that to come on Friday.) Bonnie Hunt is also a part of the cast but was not at the interview.
The Cars 3 cast is a talented crew with a long list of accolades, all so different from each other yet coming together much like the blooming mentorship of Cruz and Lightning. Despite having a script in place, the ability to craft each role and turn it into their own has yet again happened. Cars 3 comes out on Friday, June 16. Buy your tickets now and with or without kids, head down to the theater and watch the latest saga of Lightning, Tow Mater and friends new and old.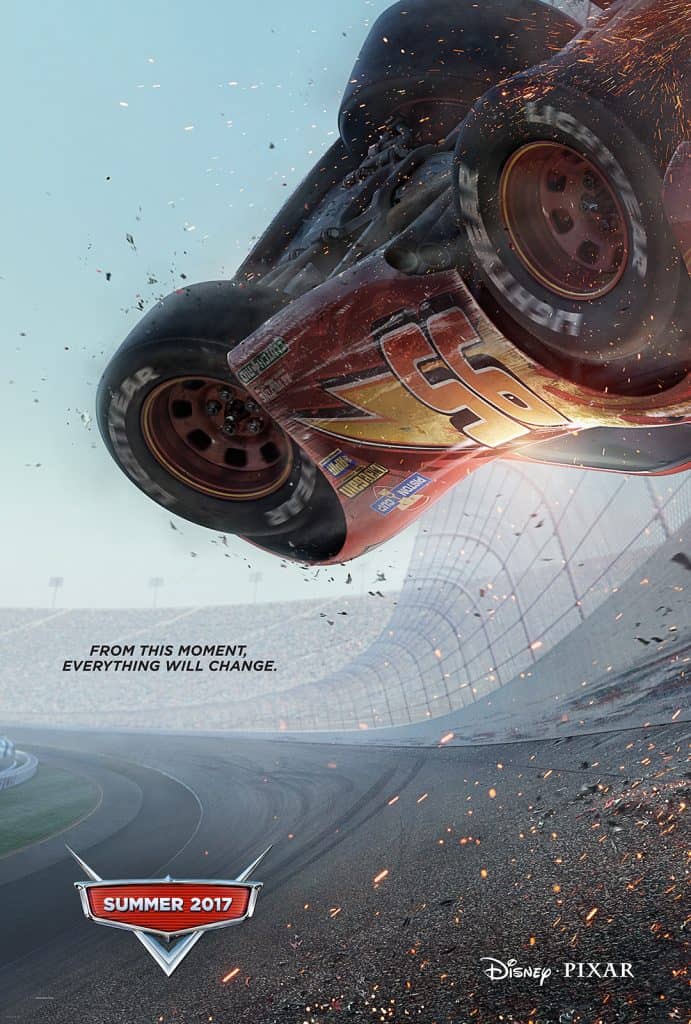 If you haven't seen the trailer yet, here you go! Toy Story is one of my favorite Disney Pixar movies ever, but the Cars series is another favorite. This latest addition just solidifies that!