Last week, my friend and I were having a casual chat when the topic of dinner came up. I threw out that I was serving chicken wings and tater tots. "What's your recipe?" Whatever kind is in the bag was my reply. She laughed, "Seriously, you're a foodie but you're serving frozen food to your family?" Yes, foodies use frozen food, too. Ask us how, we're a plethora of frozen food ideas.
Let's get rid of that stigma or myth right now. Not everything needs to be made from scratch, not even if you're a foodie. We can pump up our meals with the injection of a frozen food ingredient — or three — without guilt. It doesn't mean we're not making good food, or that we're lazy, or that we're cheating. It simply means we're making our cooking a little more convenient, and it's going to still be better than fast food.
Did you know that March is actually frozen food month? There's a whole month devoted to helping us remember that it's okay to buy in advance and pull out a frozen food item to pop into the oven or into a pan when we're tired, when we're busy, when we just don't feel like cooking…and Smart and Final is here for it, helping us make it easy. (They have compensated me for this post, designed to share with you that you can have fun during frozen food month and beyond with frozen foods.)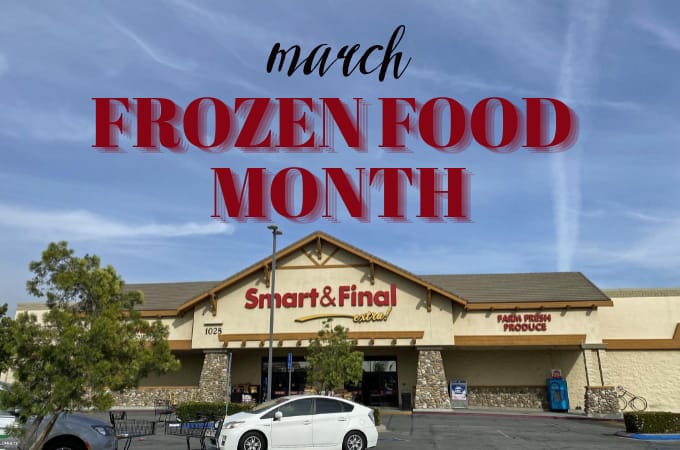 Frozen food has come a long way. It's no longer those small TV dinners with a long list of preservatives and additives. You can purchase individually-wrapped unseasoned boneless skinless chicken breasts or cauliflower rice or chopped vegetables and fruit chunks. Morning smoothies are so much easier to make on a whim when you can just pour those frozen berries into the blender, and we all know that easier in the morning is better, right?
I love to put together a quality, fresh dinner nightly, but sometimes I need to take shortcuts. Some weeks, I'm just not able to get to the store so with a few tweaks, I can take frozen food items and change them into a meal that no one knows ever got near a freezer.
Frozen veggies are a game changer. I made a huge Shepherd's Pie last week, using ground turkey rather than beef, and it had been a really busy day with client meetings, so rather than chopping up carrots, I used a bag of frozen peas and carrots from Smart and Final. (And I also used gravy packets from that same shopping trip, adding one more timesaver.) I had dinner on the table in under an hour from start to finish, including browning the ground beef and onions. Just one of my easiest frozen food ideas that has helped me sneak veggies into food without the kids seeing me prep them. Winning!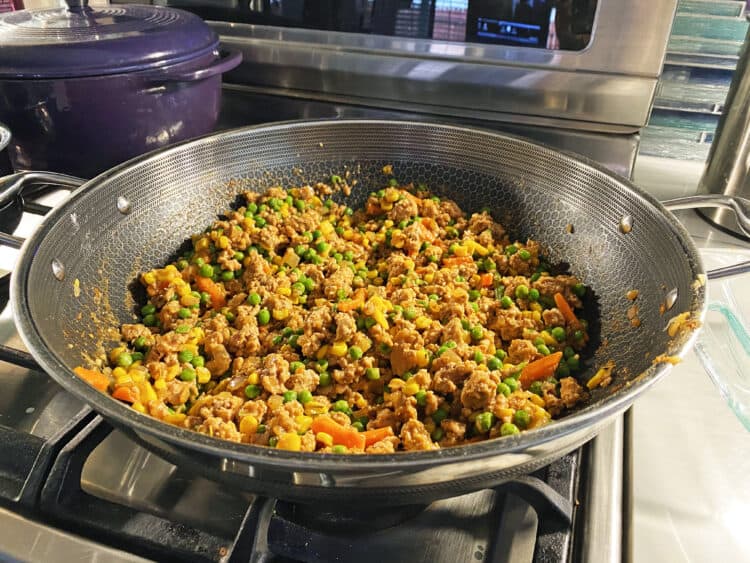 This week, I spent two days down in Orange County, combining business and pleasure. (Business meetings, work and then a day at Disneyland!) The day after I returned, I was playing catch-up on chores and errands but still had to make dinner for just two of us. Cooking in smaller portions can be challenging because packages typically hold a lot more meat than you need, so using individual pre-cut/skinned chicken breasts allows me to cook just what I need without the time to divvy up a big package, trim and freeze the rest.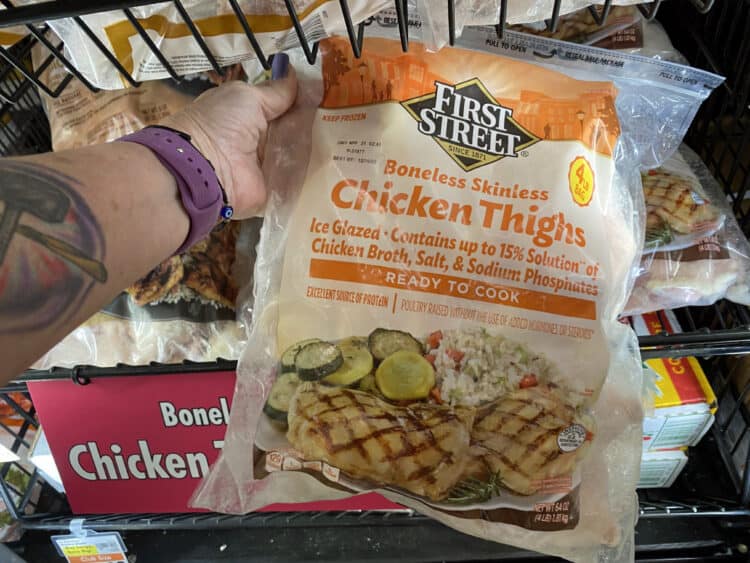 That evening, I took four chicken thighs from the bag, resealed it, got them thawing while I did my last errand, then sliced them open, filled them with a couple of tablespoons of cream cheese, a few sun-dried tomatoes and fresh basil leaves. Bake at 375 for 30 or so minutes, and they were fantastic! No one knew I'd taken a shortcut and there was no leftovers to waste since the next day we had other dinner plans. It felt like restaurant food with only a few minutes of prep. You can also do this to chicken breasts. Eating good doesn't mean hours in the kitchen or heading to a restaurant.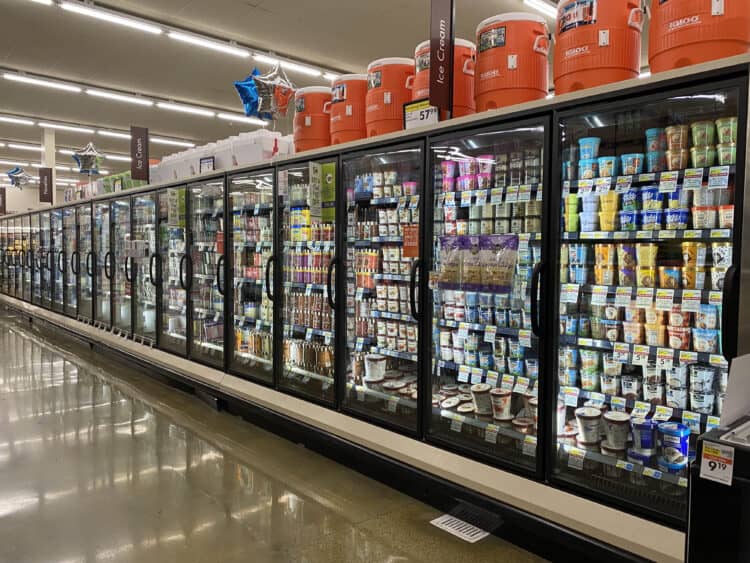 Smart and Final has evolved from a big box store, where you purchase items in bulk, making it easier to get all my food there. Their frozen food section is immense, with items ranging from the meats and produce I've mentioned, to pizza snacks, garlic bread, individual dinners (much healthier kinds than the TV dinners of old), and so much more. I can fill my freezer for weeks in one trip, which makes me really happy, because grocery shopping is one of my least favorite things to do. I come away each visit with more frozen food ideas for meals than I can actually make. (That frozen garlic bread? We sprinkle on a mix of parmesan cheese, parsley and fresh rosemary before baking! Add it to a meal of frozen lasagna and boom, easy meal, fast.)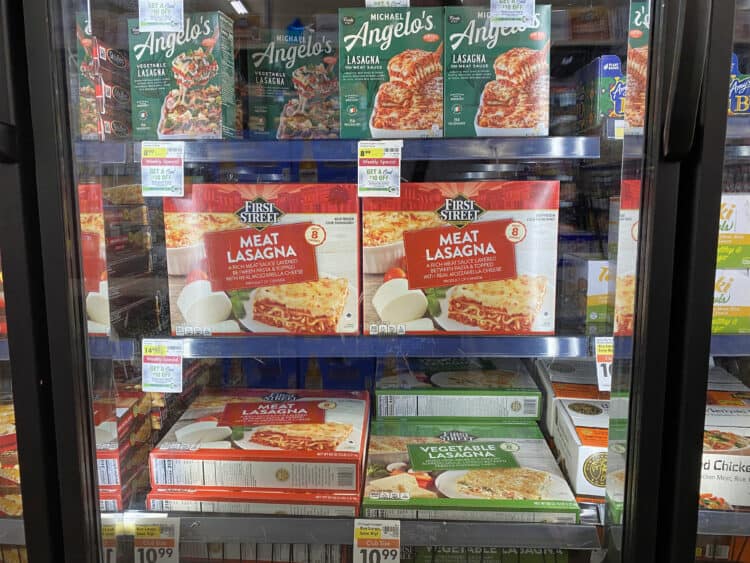 The First Street line of food items is Smart and Final's brand, and it helps you save money on so many different items throughout the store. It's just as good as the more popular brand names and is very budget friendly without sacrificing any quality. I prefer sweet potato fries over regular, and one bag, which is enough for one meal for us, with a few leftover, is only $1.99 per bag. That's a steal.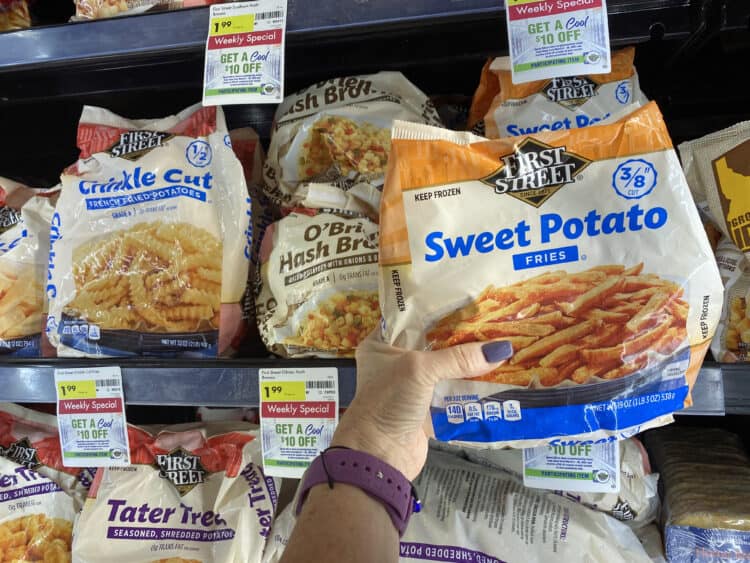 Don't let anyone tell you that serving frozen food to your family is a bad thing, or that it somehow makes you less of a foodie. In fact, take it as a challenge. You can see it as a way to be so creative, changing things up rather than buying one big bag of barbecue wings or plain tater tots. (How do I spiff up my tots? Melt a little butter, mix in some Italian seasoning and garlic, and spritz onto your tots. Bake as normal, maybe adding just a few minutes on to bake time to make sure they're crisp. Easy-peasy!)
One more easy meal idea using frozen food is my fast take on a pot pie. Take a few of those thawed, frozen chicken breasts and boil with basic seasonings. Cool, shred, set aside. Thaw and drain a bag of frozen mixed vegetables; place in a bowl, sprinkle on a tablespoon or so of flour and mix to coat. Pour them into a frying pan, heat and slowly pour in 1/2-ish cup of chicken broth. When everything's lightly coated and the broth thickens, pour it into a 9 x 9 greased baking pan. Drop the shredded chicken on top, then place a layer of frozen tater toes on the whole top as a cover. Bake at 400 for approximately 20 minutes, or until tots are heated through at a consistency you like. It's such an easy dinner and kids love it because of the tots!
Tomorrow night's dinner? Frying up just a few of these Tilapia fillets and making fish tacos. That will leave me a couple of fillets left over to make for my lunch later in the week…and for only $9.99 per bag.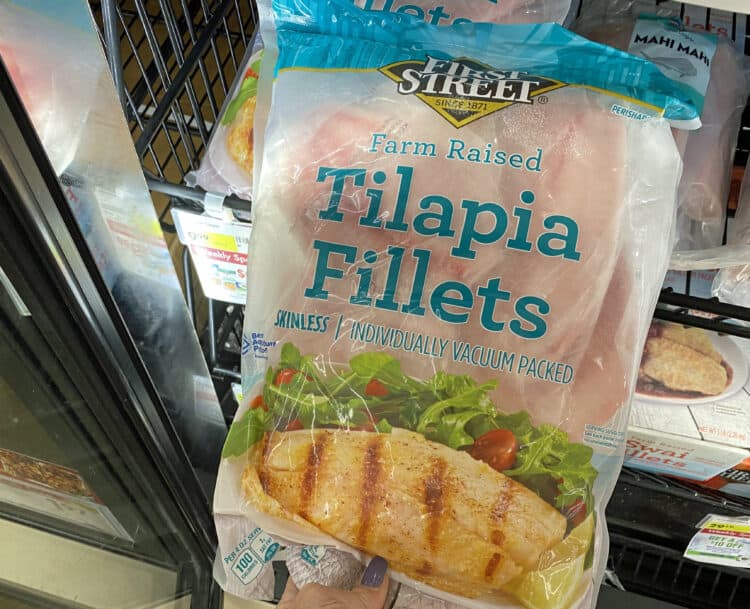 Sometimes using frozen food means you just add a small twist to change the flavor profile, and no one gets bored while you save money and time. Thanks to Smart and Final's expansive line of large bags and small, your options for frozen food ideas are huge. What's your go-to frozen food meal?