Fat Tuesday is coming around quick, which means I'm working fast and furiously on my new family-size jambalaya recipe for our yearly Bourbon Street party. It also means I needed to create a new dangerous cupcake, so this year's Mardi Gras cupcake recipe is a cherry-filled batter iced with orange buttercream, drizzled with bourbon glaze and decorated with candied orange peel. This fruity combination comes together perfectly, and if you're baking for kids in addition to adults, you can easily leave off the bourbon glaze, making it a good cupcake recipe that everyone can enjoy!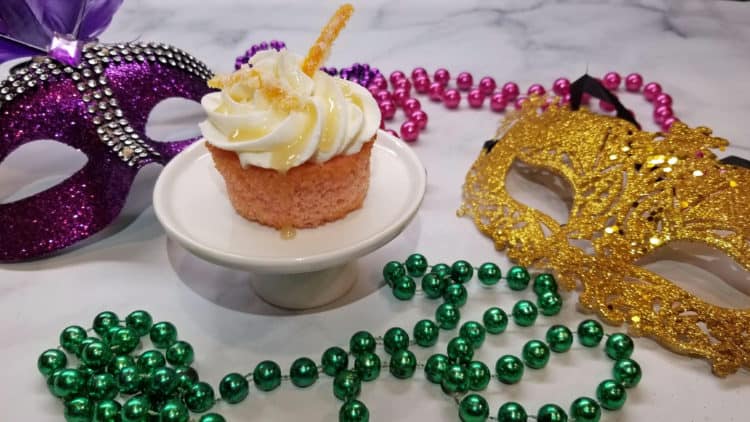 A good Mardi Gras cupcake can take many forms, but we wanted to try something reminiscent of a Hurricane Cocktail. Colorful, light and not overly sweet, it's an easy recipe to whip up without a lot of time. (It also makes a LOT of cupcakes, so you'll have enough cupcakes for a crowd. My batch made 39 regular sized cupcakes!) You can check out last year's dangerous cupcake here!
My dangerous cupcake recipes typically have alcohol in the cupcake itself, so this is a departure from that with the only boozy aspect in the glaze. It uses orange-infused bourbon, which ideally you can do several hours ahead of time. If you want to add more of a bourbon flavor, thin out the bourbon glaze (recipe below, along with how to infuse the bourbon) and brush it on the top of each cupcake after they're cooled, before you pipe on the orange buttercream. Options!
Someone asked me recently why we celebrate Mardi Gras. We do have French roots, but it's more of a throwback to our days of being a homeschool family. We looked for excuses to try new foods, so we looked at every holiday that came around as an opportunity to learn and appreciate cultures new to us. We may not have made the food as authentically as we'd have liked, but my kids grew up with a big appreciation for different foods, and that's a win in my book.
It also really pushed me out of my comfort zone, resulting in a killer gumbo, jambalaya and beignets. (I also make a mean biscuits and gravy and I learned how to make the best greens from a random elderly woman in a grocery store who saw me struggling to choose in the produce section. I think of that southern moment so often!) I'll be back here next week sharing my jambalaya recipe, so be sure to return.
Back to this year's Mardi gras cupcake recipe!
There are four components to this recipe: cupcake batter, buttercream, bourbon glaze and candied orange peel. Below, I've shared the batter recipe, the buttercream recipe and how to make the bourbon glaze.
You can use other types of sour cherries if you'd prefer, over the maraschinos, including frozen, but I loved the color these maraschinos provided.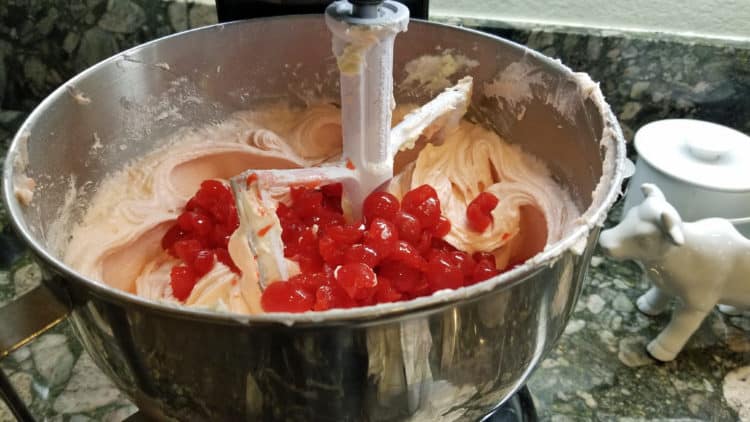 For the candied orange peel, I'd recommend you visiting Google, as we didn't really create our own recipe so much as riffing it from a few we saw online. Some take different approaches, and it all depends on how much time you have. (They are all pretty easy though, mainly consisting of peeling the zest in long, thin slices and boiling it in a sugar syrup that reaches a certain temperature. Then they dry on a rack for hours or overnight. So good and they make a fun little snack, too.)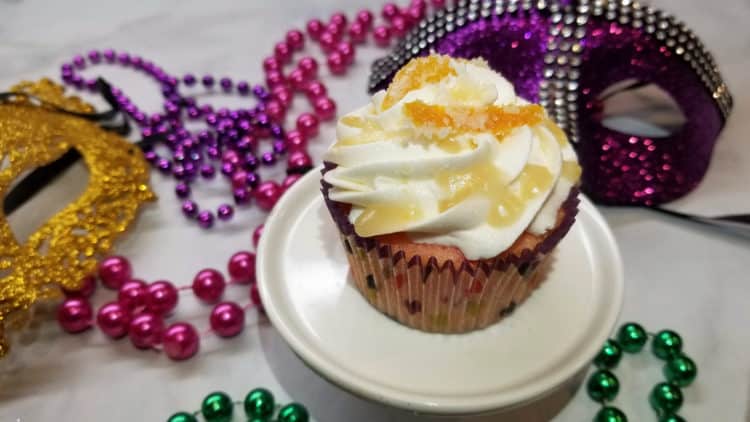 Cherry Mardi Gras Cupcake
Ingredients
1/2

cup

softened butter

1

cup

shortening

2

cups

granulated sugar

4

whole eggs

1

egg, white only

2 3/4

cup

flour

2

tsp

baking powder

1/2

tsp

salt

2/3

cup

milk

I used almond.

1/3

cup

maraschino cherry juice

1 1/2

tsp

almond extract

1

cup

maraschino cherries, chopped
Instructions
Preheat oven to 350 degrees.

Combine flour, salt and baking powder. Set aside.

Whip together butter and shortening on medium-high speed until fluffy. Gradually add in sugar, mixing until fully combined. Add eggs, one at a time.

Alternate adding dry ingredients, milk and cherry juice into batter. Mix just until thoroughly combined. Add almond extract, beat just until blended.

Add in chopped cherries, stir until mixed.

Using ice cream scoop, place one slightly-heaping scoop of batter into each lined cupcake well.

Bake 14-15 minutes per batch. Check at 14 minutes. The cherries may make them take longer than the typical 12-14 minutes per batch.

Cool completely on wire rack.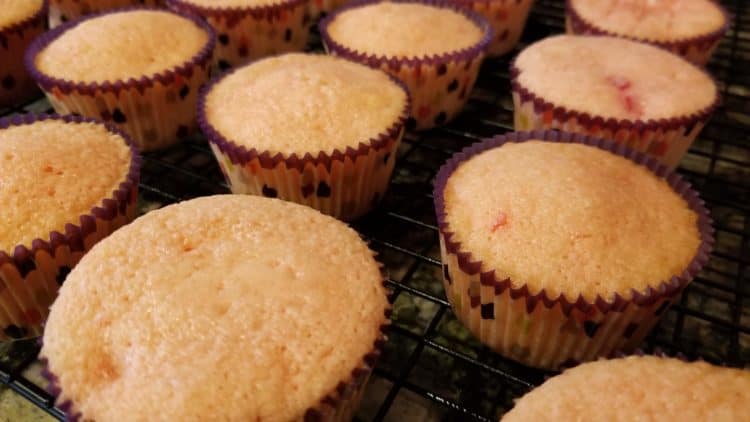 Orange Buttercream
Ingredients
3

sticks

butter, softened

6

cups

powdered sugar

2

tbsp

half-and-half or heavy cream

2

tsp

orange extract
Instructions
Whip softened butter until light and fluffy. This may take several minutes.

Add in powdered sugar and milk, and mix slowly until it starts to come together. Then increase the speed of the mixer to combine them thoroughly.

Add in extract and whip until fluffy, but don't overbeat.

Pipe onto completely cooled cupcakes in any style you prefer.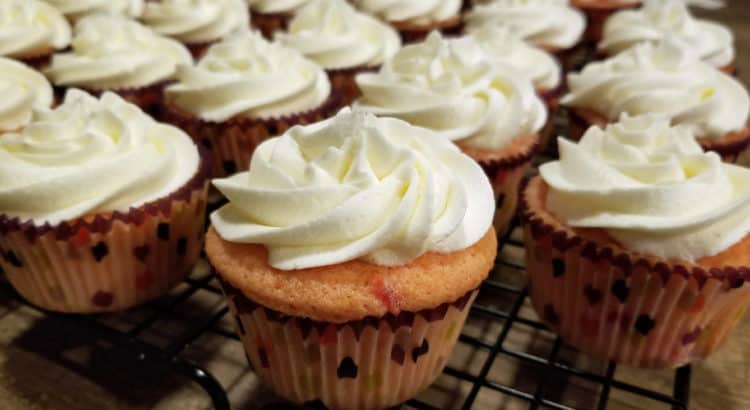 Now comes the fun part, the bourbon. First, get that bourbon infusing. It's so simple, you'll wonder why you haven't been infusing all the things. Wash a couple of large oranges, use a zesting strip tool and drop a couple of long pieces of peel into a small bottle. Top with bourbon.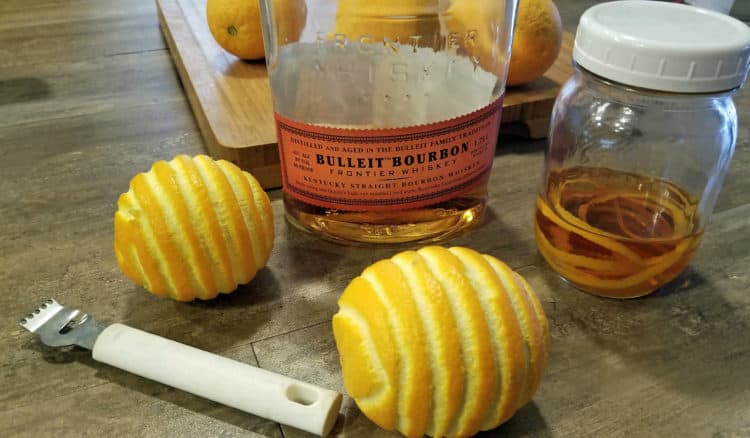 Close it up, shake it up and keep going back to it and shaking it up because it's fun. Take a sniff, it's ah-mazing. There's no real limit on how long to infuse, but mine sat for about four hours before I used it in the glaze below.
Bourbon Glaze
Ingredients
1

cup

water

1

cup

sugar

1/4

cup

orange-infused bourbon

(Recipe below.)
Instructions
Combine sugar and water in small saucepan. Bring to a boil. Boil until mixture starts to thicken, and then reduce heat and continue to boil for another 8-10 minutes.

Remove from heat. Let cool, but stir as it cools so it doesn't get too cold too quickly and become too thick.

When the syrup is cool enough, add the bourbon and gently combine.

Drizzle over cupcakes when cooler. (It can be slightly warm still.)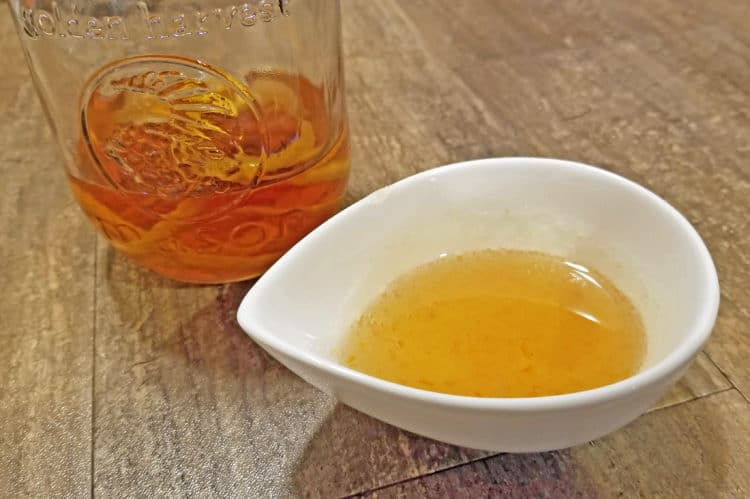 After you drizzle that beautiful bourbon glaze gently onto the Mardi Gras cupcake, add some candied orange peel and enjoy! These cupcakes are a gorgeous light pink in color and with or without the bourbon glaze, they were a hit with the family. Looking forward to making them again next week when the whole gang is here!