A couple of weeks ago, I was sitting at my table, laptop in front of me, TV on and a pile of notepads next to me. Three lists on separate pieces of paper were on the other side of my house, with my favorite cheap pen and the idea of checking off the things on my list as I did them.
Problem was, I'd had the same lists for a few days and they kept getting longer. The only activity the pen had had was to add things to this list. I wasn't checking anything off.
Don't get me wrong, I was getting things done: client deadlines were being met, thrown-together dinners were being made and my Yorkie had been getting her dialysis-ish treatments. I sorted my physical mail, added magazines to already huge unread stacks, paid my bills, and gotten my job done. We'd gone on vacation, watched movies, barbecued and had a party, so life wasn't sitting still.
I just wasn't getting enough done.
I had new cookbooks that I hadn't opened. My laundry pile was growing. The list of topics I wanted to write about was so big that the first ideas I'd added were no longer timely. My social media marketing new business plan was only halfway-completed, I hadn't finished the last module of a Google Certification course I had been taking and the guys at the gym no longer recognized my face. My mixer literally had to be wiped down, I don't know when the last time I'd cleaned behind the refrigerator and my garden was dying.
It was really discouraging. I thought about it, then looked around and realized how badly the house needed a Spring cleaning…so bad, that I'd missed Spring and it was now summer. It wasn't dirty, per se, but the light switches had smudges. The baseboards were dusty. The most recent Food Network was on top of a fashion mag that, let's face it, I was never going to read.
On a good note, I'd cleaned out the closet recently. After losing fifteen pounds, I was happy to rid myself of the baggy clothes. I even got rid of shoes…that's unheard of, but I when I found sensible shoes to wear as part of my Amy and Sheldon Halloween costume IN my closet, I knew I had a problem.
No more, Amy…
I miss baking. I miss experimenting with cupcake flavors, following a detailed recipe for dinner and serving something that took some time. I hate the clutter, the smudges and the things that take away from the feeling I typically expect from my house: feeling like it's an oasis.
So I decided it was time for a change. I had to get things under control. It felt overwhelming, but I knew it was necessary so I could feel more focused. I wanted to be get things done so I could get to doing the other things I needed: courses to take, recipes to create, crafts to do, and more. But how to get there?
First things first: clean the house, top to bottom. I had a few days before I could devote an entire day to it, so I used that time to write a list of all I wanted to achieve, things like scrubbing the tubs, cleaning off window ledges…you know, all that fun stuff. The scheduled day came and I was up bright and early. Scrubbing. Wiping. Dusting. Vacuuming. Sorting.
[perfectpullquote align="full" bordertop="false" cite="" link="" color="" class="" size=""]"The best way to find out what we really need is to get rid of what we don't." Marie Kondo [/perfectpullquote]
I also decluttered every shelf and drawer. The piles of things to be donated weren't as big as I'd expected, but I also threw a lot away. I found craft machines I'd never used. (Sizzix, anyone? Cuddlebug?) The piles of books from when I taught bible study hadn't been opened in almost ten years.
It felt SO good to have lightened the load. It wasn't extreme, but I can't operate well in clutter, so not having extra stuff just sitting around in view is a spectacular feeling. My tables are empty each night, counters neat, no real 'clutter' around other than my poor decorating attempts. (That's why you don't see a lot of decor stuff here on the blog. It's just not a skill. My backyard? I rock at that but indoors, not so much. The husband is far better at that than I am.)
Next up was getting everything else in order. I wanted to start a bullet journal but I didn't relish the idea of all the fancy doodles and work to create pages. I wanted something I could just write lists in, a one-stop resource that didn't require constant updating. On one of my many other small Marvel notebooks I carry around, I created a list of the pages I wanted to create:
Personal/Self-Care
Household Chores
Finances
Blog Daily Promotions
…and so forth. I made sure that every area of my life was represented, even the dogs. I then numbered them on my scrap list in what order I'd put them in the journal. Personal and Self-Care went first. I even have a page entitled Dogs in there, as they are both special-needs and there are a lot of medicines involved.
Once I really thought about it to be sure I'd included everything, I took a beautiful purple notebook my daughter had given me and started labeling the tops of pages to coincide with my list. Personal/Self-Care got one page. Household Chores got another. Books I Want to Read. Shows I Want to Watch. I was really inclusive, and after I did my blog task pages, I added one in for podcasts, education, certifications for social media, etc., then I left a couple of blank pages.
[perfectpullquote align="full" bordertop="false" cite="" link="" color="" class="" size=""]"Getting organized is a sign of self-respect." Gabrielle Bernstein[/perfectpullquote]
Twenty pages later, I have them all in there. On each page, I wrote the things that relate. For self-care, it was down to the obvious basics in life, but things we don't always remember to do. Moisturize. Face mask. Hair deep-conditioning. Meditate. My fitness page included running three times per week, yoga twice, and weights once.
Household tasks included the daily chores, the weekly chores, and the monthly chores. You can group them by those categories or you can put a D, W or M next to them.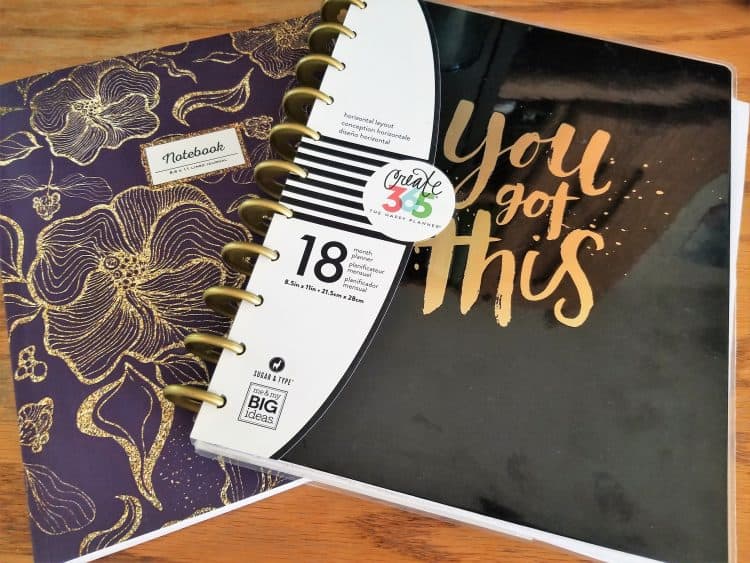 See, even my calendar is encouraging. You GOT this.
But how does this all work? How does this help in my quest for getting organized?
Each day I open the journal and skim the lists. I am not obsessive about it, because life happens, but it spurs my memory. Oh, darn, gotta go moisturize. I need to schedule out ten tweets for tomorrow. I need to create a Pinterest pin for my latest blog post. Time to refill the dog's prescription.
As far as the roaming lists, like what shows to watch, what books to read, podcasts to listen to, I add to those spontaneously. When turning on Netflix, if I see things I want to watch and the Info looks good, I add them. If someone talks about a show on Facebook, I add it. Books for social media come up a lot on various social media manager groups, so I add them. Same for tools I want to try, they go on the Social Media or Blogger Tools to Try.
Basically, if it's something I want to try, buy, explore or look at, it goes on a list.
At this point in my life, I'm pretty definitive. I don't just throw stuff up there, because I weed out what I want to try, buy, explore or look at early on, so the pages don't fill up with useless stuff. It's important to not let your lists overwhelm you more than you were without them.
Your journal can be something you take with you when you travel, to help you stay on track. Having dental surgery? It's all in there if the husband needs to step in for something. (You can also add in a page with logins and passwords, but I have a special file for that.)
I combined this with a spiral calendar. I buy one every year on Black Friday at Michael's. I get one from Create 365 usually. They are 50% off, if not more, so I get one for $15 or less. It's 8.5 x 11, since I need a lot of space, and it includes daily, weekly and monthly entries. I can add in my dental appointment (cry), when I need to renew our Disney passes (yay), my yoga class, deadlines for clients, topic ideas, vacation, whatever it is that's going on in our lives.
Google Calendars are fab as well, and I keep one of them as the husband can coordinate and see our events at a glance. It takes no time at all to add something to it that we can both access from any device. That's only appointments though, not deadlines or routine reminders, so I find combining my journal with a Google Calendar keeps me organized.
Getting organized isn't an overnight thing. It will take a few days and some devotion to seeing it through, but once you get your system chosen and set-up, you are home free. Then you'll end up with more time to do the fun things, your house is clean for those drop-in guests and you aren't running around at midnight taking photos for a post due the next day. You won't run out of important pills (true story), you'll have wine on hand for that party on Friday night, you can add your menu planning onto the calendar (and the related grocery list), and before you know it, you're no longer overwhelmed.
When you're not overwhelmed, you can rock your business because you have it all laid out in front of you. Entrepreneur, mom, career woman, all three…life will be easier.
And that, my friend, is something to be proud of. Life is short. Do all you can to enjoy it.