Using YogiTunes for My On-the-Go and At-Home Yoga Practice: sponsored by YogiTunes!
As life gets more stressful and busy, I find myself getting to the gym less. That's not a good habit but sometimes, it's unavoidable. Sometimes, even with the best of intentions, it's impossible to get to the gym, so I have to turn to other methods of toning and working out in some form. Yoga's great for days like that, as it not only relieves stress but it's portable. You can do it almost anywhere: office, hotel room, bedroom, I know someone who has even done it while hospitalized in modified form. (Get your doctor's permission before you do that!) It may not always be the most conducive environment, so I like to play music to help me focus. This is where YogiTunes comes in!

First, thanks to YogiTunes for giving me a membership to try it out and share with everyone. I love it! Before using YogiTunes, I had to search online for a music track or piece one together myself. Now I just click on something and I can either download it and use it on a playlist, create a full playlist or play random music online. Now, no matter where I am, using YogiTunes helps me create the right ambiance for my yoga practice. I can shut my eyes and even if I'm on a towel on the floor of a hotel, I'm relaxed and able to tune out the sound of the airport across the street or noisy neighbors.
Using YogiTunes is easy. Head to YogiTunes.com and sign in for your free 30-day trial. Give it a spin before you have to commit. If you decide you like it, you can continue your membership for as low as $9 per month or $99 per year. There are different packages available depending on your needs: personal yoga practice, non-studio affiliated yoga teacher or studio access, ranging up to $36 per month, or a little lower if you pay in advance. Put together the playlist you need, with the kind of music you prefer and the length of time you want it to run. It's that simple!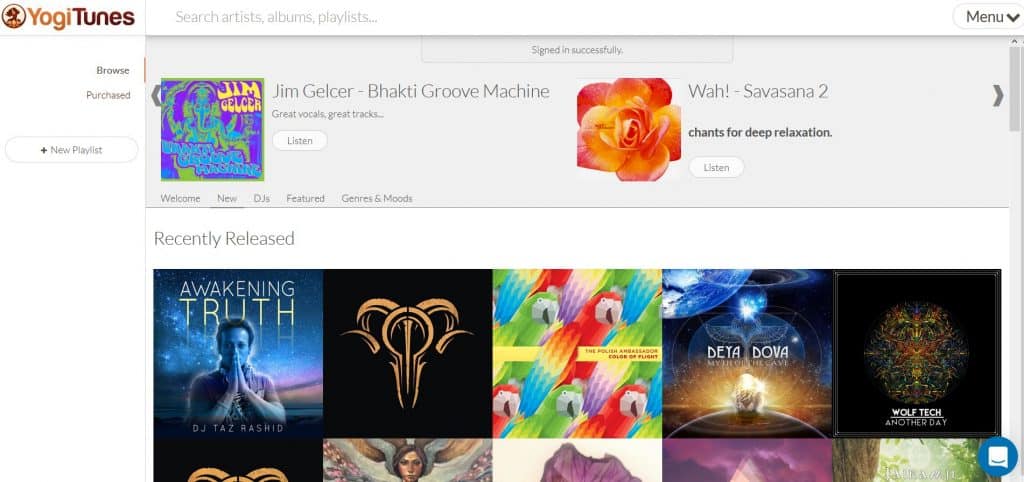 The music options are endless. New music is added continuously, without ads or interruptions, and there are tens of thousands of choices. You can even pick the music by the mood, how cool is that? Sometimes my practice is a little more active than other flows, so that's a cool option to have. If you're in a pinch and don't have time to put together a playlist, use a pre-made one. Pick the type of music you're looking for — chill, meditate, gentle yoga, etc. — then from there, you can look at new additions, pick a mood or look at featured suggestions. Using YogiTunes won't take much time and you'll have no problem keeping each session unique.
Turn on. Tune in. Bliss out.