Back in 2012, when I was still working for a division of NBC Universal, the husband and I surprised the kids with a road trip. We told them what to pack and when to be ready, but didn't tell them the destination until they realized we were headed towards Florida. Yes, we're going to visit Universal Studios and the Wizarding World of Harry Potter!
Shrieks. Loud shrieks. Then a universal "BUTTERBEER!"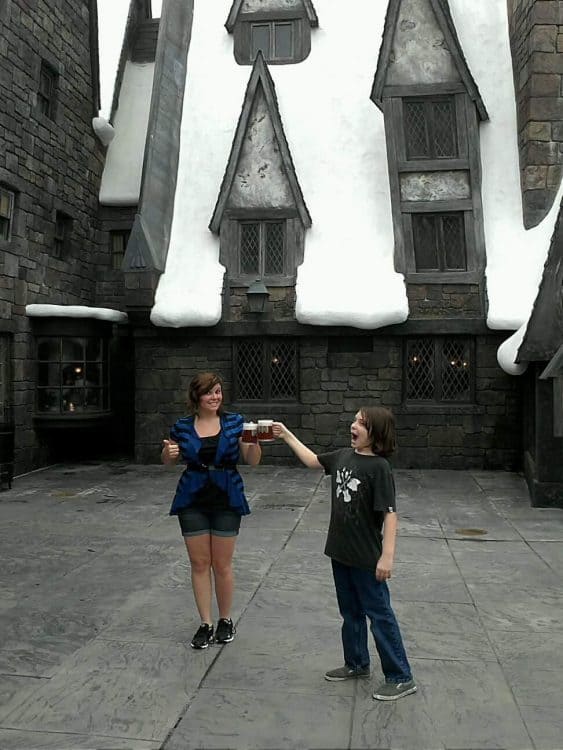 The trip was amazing, everything we planned…and a little we didn't, when Tropical Storm Debbie hit the east coast and flooded out all the parks in the area. Our trip ended two days early, but the kids declared it was mission, accomplished. They'd ridden the Harry Potter rides and tried the butter beer, even bringing home the cool souvenir mugs to show their friends.
Fast forward a year and we moved back to California, and the Wizarding World of Harry Potter hadn't yet opened in California. They had their Orlando memories, knowing we were too far to make another road trip. When it finally opened in Hollywood in 2016, we were so excited to have this magical area once again available — and within an hour's drive.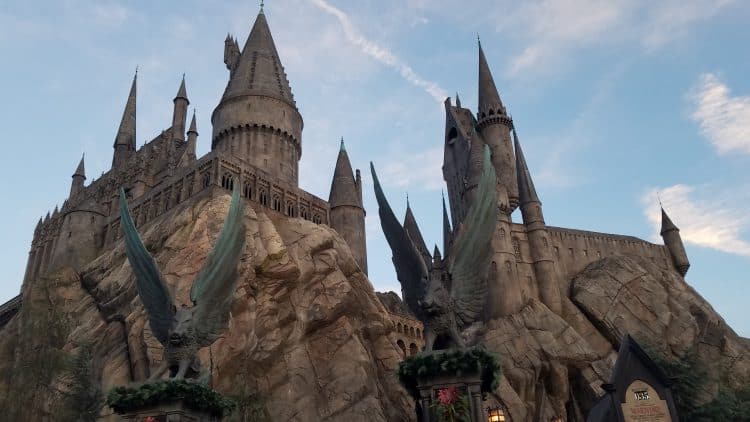 You'll notice a lot of things have changed when you visit Universal Studios in Hollywood, and we got to try them all in our latest visit last week, courtesy of Universal Studios. (Thank you again, Universal Studios!) Honestly though? It is all about the butterbeer, so rather than immediately head towards a ride or a photo opportunity with a beloved character, we headed towards Three Broomsticks for breakfast, and when I say breakfast, I mean butterbeer with some food.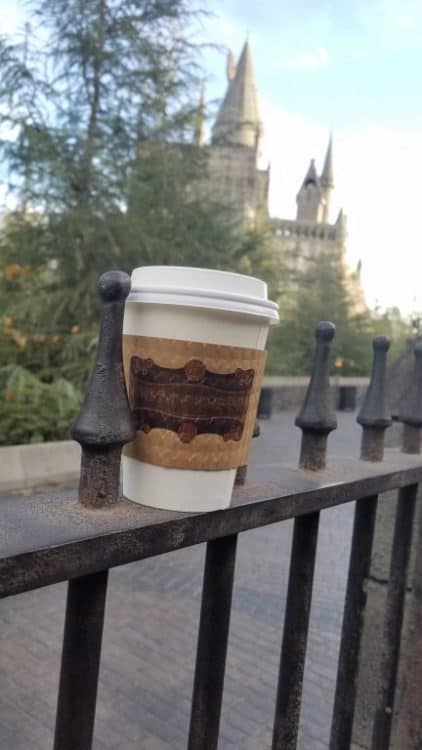 I chose the hot butterbeer, a delightful creamy warm drink that made me wish it was winter, and the son got a cold butterbeer. Then for kicks, I made him pose in front of the restaurant just like he did all those years ago in Orlando. He muttered "okay, okay" as he drank the butterbeer and I did a couple of sniffles remembering the first time and how little he was.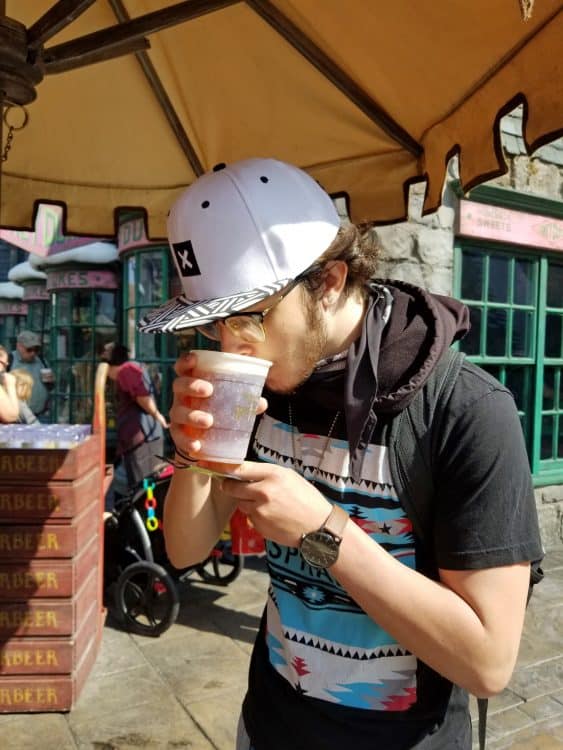 Time flies. See the difference between this photo and the top? Same kid…young boy, young man. Sniff.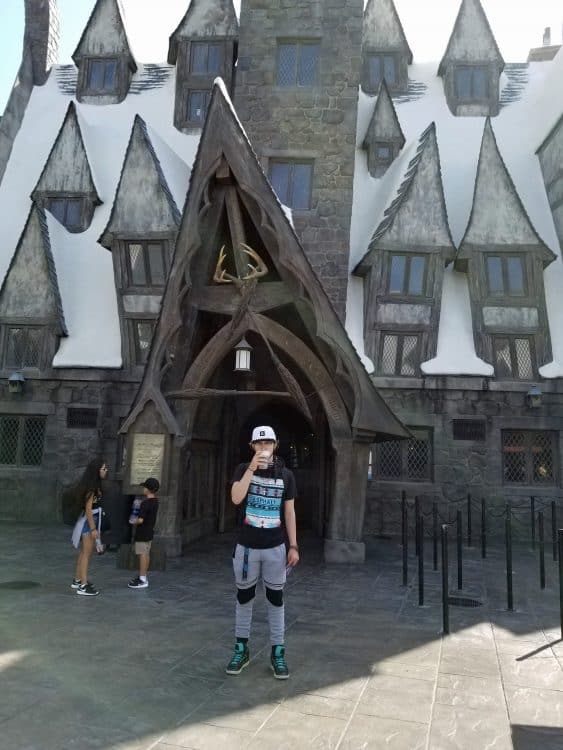 Our food at Three Broomsticks was plentiful, and quite honestly, we over-ordered. (Tip: there is SO much to eat in the park, you may not want to eat a lot at any one meal. Sharing a plate is a good idea as they are big.) He got a traditional breakfast plate, which excited him due to all the different things it included, such as beans, a stuffed tomato and various meat, and I got a fruit plate with a scone and croissant.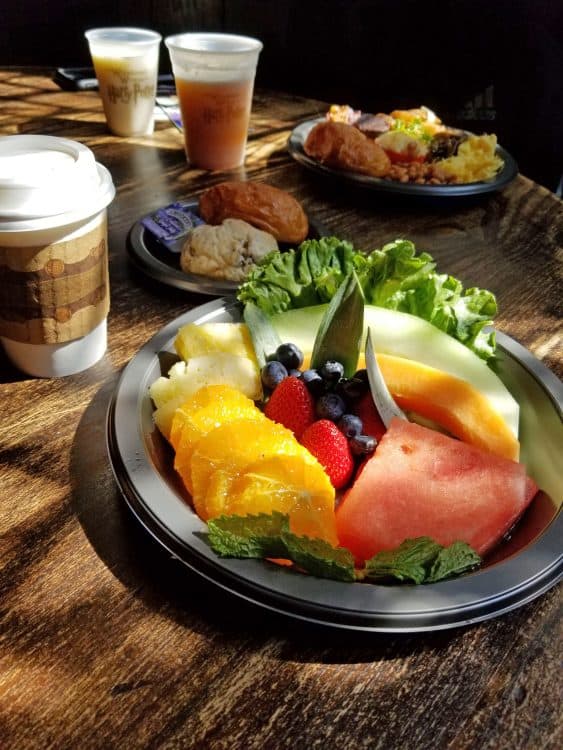 Three Broomsticks has a whole new menu available, with authentic food you'd expect, including Ploughman's Lunch, Cheese Toastie with Chicken and Sunday Roast Sandwich. We were so full from breakfast and butterbeer though, we didn't get to eat it. Let's face it, we focused on the butterbeer. The one thing we kept in mind is that we needed to leave room to try the most recent addition to the butter beer menu: butterbeer ice cream!
First though, we headed for the studio tour. We each had a Universal Express pass, which allows you to go through a side entry into the rides and shows (not character opportunities) and experience a much shorter line. On that hot summer day, the last summer of the Jurassic Park ride, lines were long and that pass was a lifesaver.

The studio tour was as fun as ever, especially when my son was practically laying across my lap to avoid 'getting wet' or being near the fire in a few of the fun backlot areas. I personally was creeped out by Norman Bates — the Psycho lots are so reminiscent of the Alfred Hitchcock movies I love! I think son was less worried about Jaws eating him than when the explosion occurs….and I won't tell you where and ruin the surprise!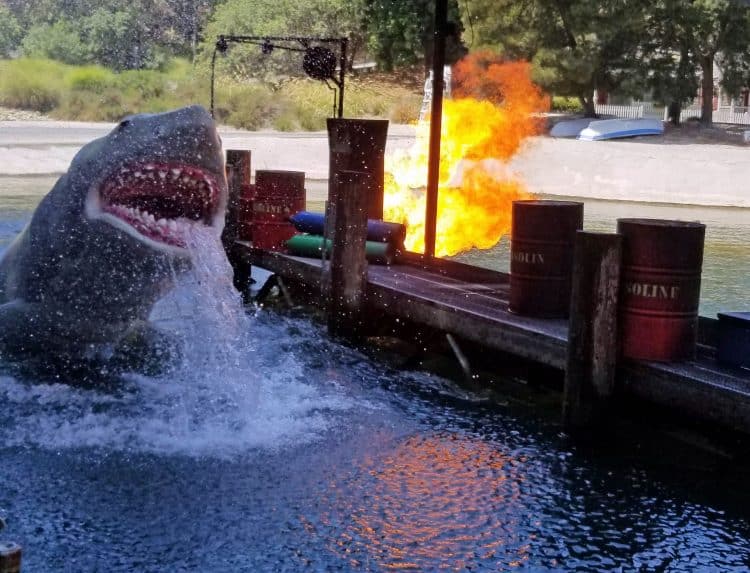 We really wanted to maximize our day and get in as much as we could, so next up was the Jurassic Park ride. It is going extinct on September 3, so don't miss riding it one last time before it's gone for good! (They are replacing it with another ride from the Jurassic Park franchise in 2019, so we won't be without our favorite dinosaurs for long!)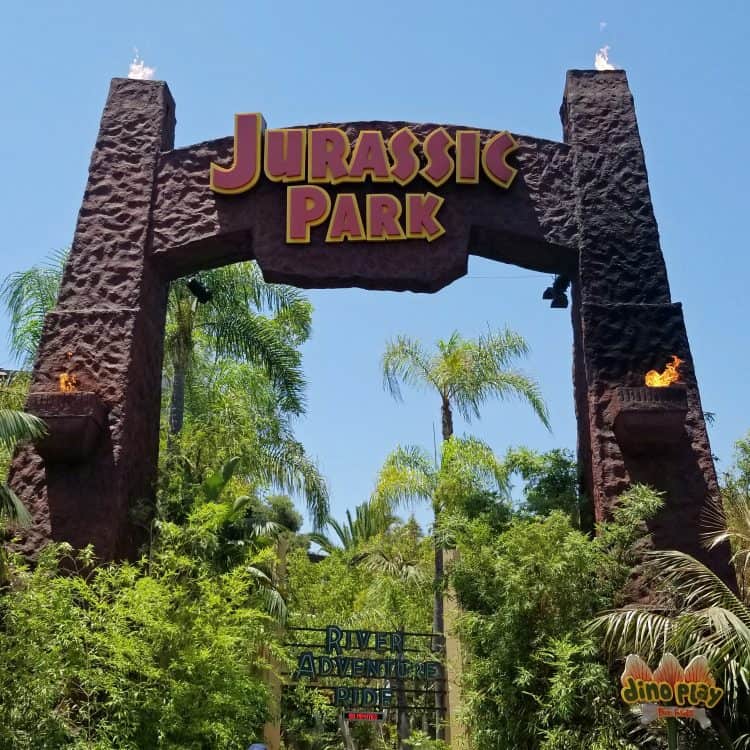 I wanted to video the ride, and the infamous "Welcome to Jurassic Park" music, particularly when the gates opened, revealing the park and the rambunctious dinos, but an adorable little girl sat on my left and in her enthusiasm to experience the ride, her arms were all over the place. I can't fault her at all, I may have been that excited on my first Jurassic Park ride, too! Knowing this was my last time seeing this? Sniff.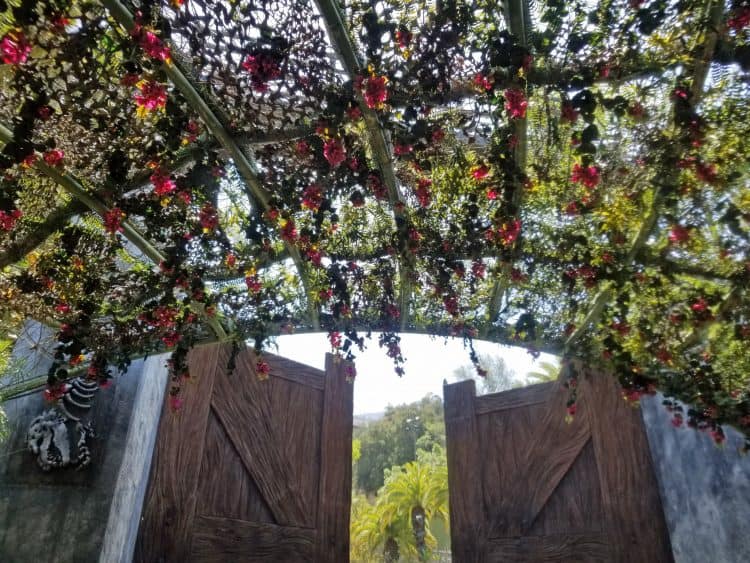 I was feeling nostalgic as I rode it this last time. I wanted to savor every second, and my son and I laughed as we got squirted and watched the little guys fight over popcorn. That t-rex though! The ending slide down the waterfall, ending in a huge splash, is everything and I will miss it!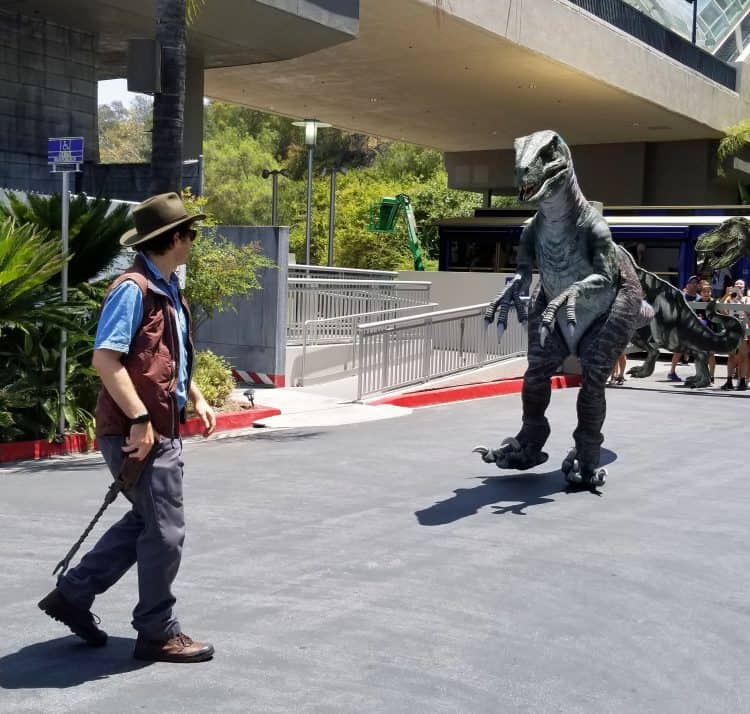 If you saw Jurassic World, you'll remember Owen Grady's famous 'dancing with raptors' scene. Now you can meet Blue, his favorite raptor, up close and personal! Blue is available at various times throughout the day, just to the left of Jurassic Park. Blue interacts with the crowd and if you get there early enough, you can get a photo taken with her. She may growl a little though…so be ready!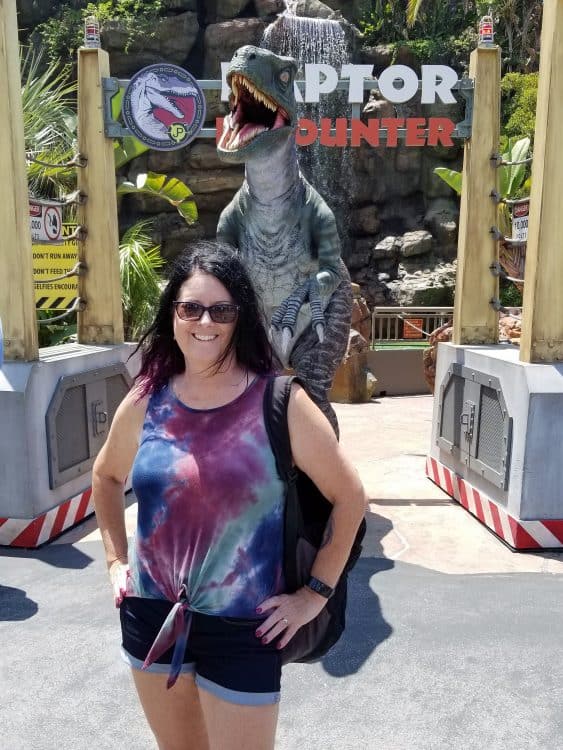 If you're a fan of Kung Fu Panda, you'll be glad to know that Dreamworks Theater has now opened a show there on the upper lot. Kung Fu Panda: The Emperor's Quest. Once inside the theater, waiting for the gates to open to be seated, you are treated to a digital show with many of your favorite Dreamworks characters, but that's just a prelude to the Kung Fu Panda show itself. Each guest has their own seat — one per seat only — that is detached, with room to place your bag or backpack down safely. The show starts with Po and his friends riding a raft, which means you are riding a raft. Don't be surprised if you get sprinkled as your chair rocks and rolls along with the digital movie. The movie on the circular screens around the theater wall makes you feel as though you are turning, ensuring you always have a front-row seat to the action and adventure with the Dragon Warrior. This show may have been my favorite thing all day!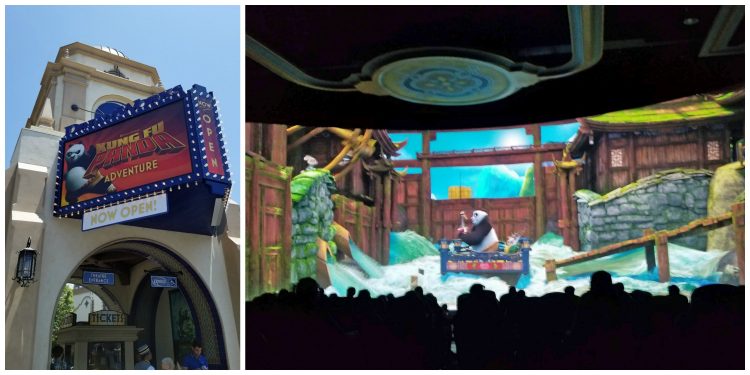 Once you exit the show, walk across the walkway and you'll find Mr. Ping's Noodles, a new Asian-inspired restaurant where you can try one of several movie-related foods.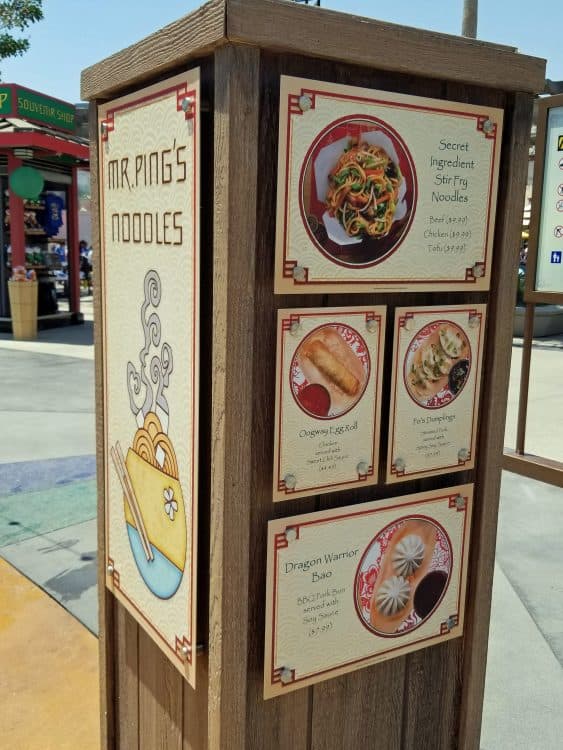 You can also interview Mr. Ping and get a photo with Po, which of course I had to do. I may or may not have been the only adult alone in that line, as the son was waiting to meet Shrek, his favorite character. I scored a hug and a photo, but unfortunately, Shrek had to take a break, leaving me with a bummed teen…until about 15 minutes later, as we were walking towards one of the many gift shops and Shrek happened to walk by. Shrek noticed my son's excitement and came towards him just enough to give him a high five.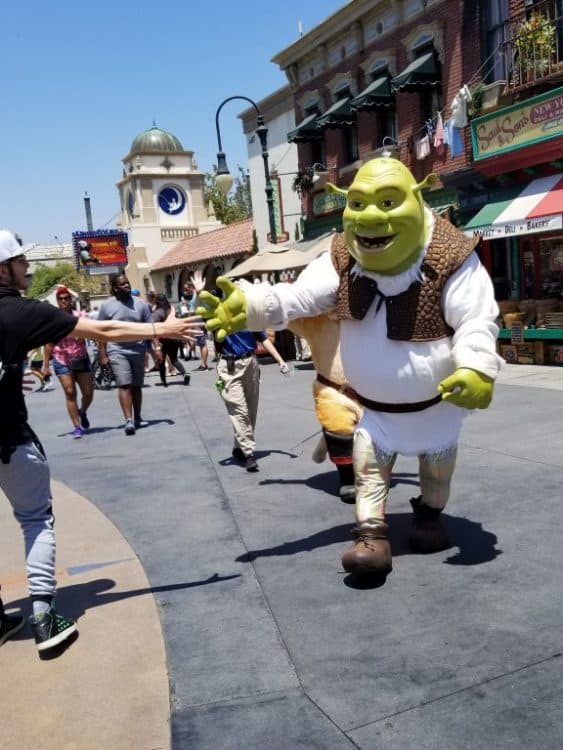 Day. Made. (And here I was thinking it was the butterbeer.)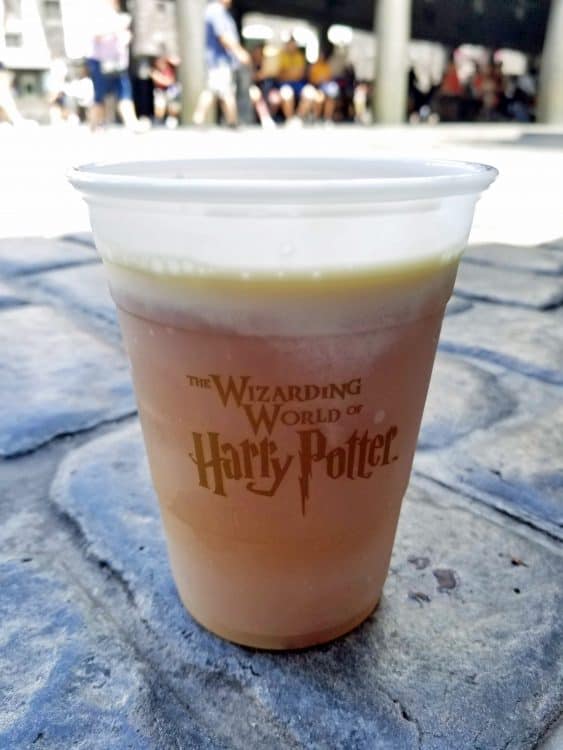 Speaking of butter beer, we headed back towards Hogwart's to try that ice cream and explore the shops. If you buy one of the many wands, which you can have chosen for you based on your personal profile, you can cast spells in various windows all through the Wizarding World. There are even two new spells to try: Incendio (fire-making) and Alohamora (unlocking). Don't worry though, you don't need a wand to enjoy the fun. Kids are all over trying the spells so you can witness the results and their joy as they make things light up or open and more.

No self-respecting Harry Potter fan is immune to wanting a wand, a cape, a hat or one of the costumes. New to the park, in Gladrags Wizardwear, is Hermione's Yule Ball gown and Severus Snape's robe. They're both pretty dashing and available in a selection of sizes.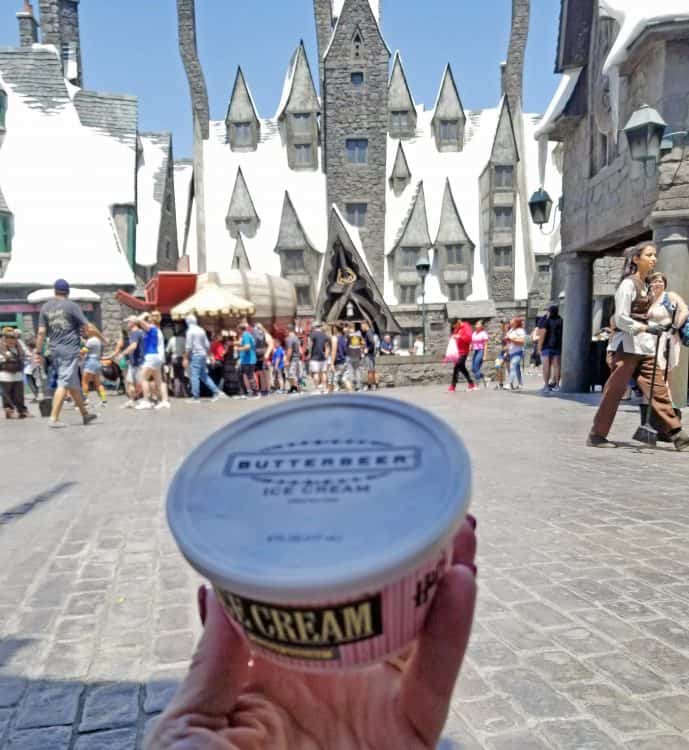 Then it was time for the ice cream. I can only explain it as being similar to fudge ripple ice cream, but with the taste of butterbeer and almost with a little root beer flavor in the dark swirls. It was pretty amazing! It was hot so we got our ice cream — and a frozen butterbeer for the son — and sat on the ground in the shade of Hogwart's. It was all part of the fantastical world that is the Wizarding World of Harry Potter!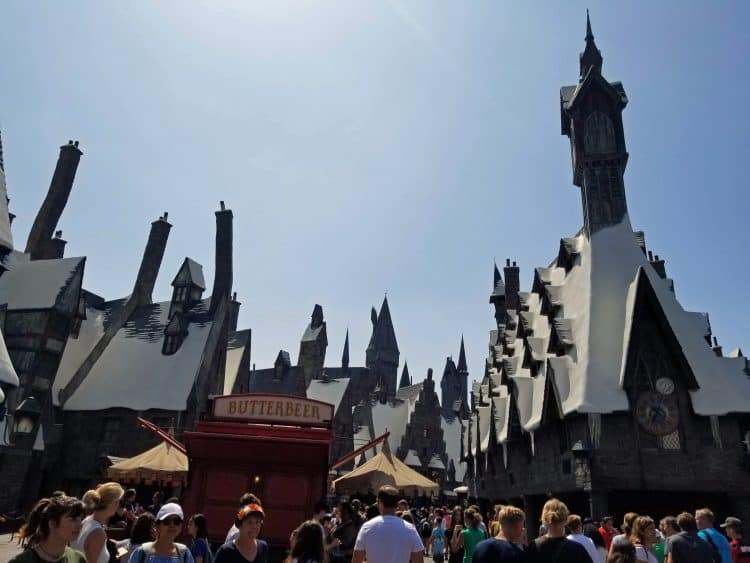 Our day at Universal Studios Hollywood included so much more, too much to share, but riding The Mummy, saving the world with Bumblebee and meeting Curious George in real life…it was a day that a mom of a teen loves, a day enjoying his laughter, a few screams and just having fun. Living in Southern California means we're so close to the world of entertainment, it's easy to take it for granted. Sometimes we need a day like this to remember all the cool things nearby.
If you're planning to visit Universal Studios, try to get it in before Jurassic Park leaves. Stay throughout the evening to witness the Nighttime Lights at Hogwart's Castle. (We saw them several months ago and they are AMAZING. It's worth the wait.) Try the new butterbeer ice cream, meet Blue and her trainer and help the Dragon Warrior get the prize safely to the end of its journey. Food, shopping and photo opps are everywhere, along with a lot of places to relax and give your feet a break in the shade. Before you know it, Halloween will be here, beginning the special seasonal events such as Halloween Horror Nights and Grinch-mas, so even if you can't get there in time to get chased by a T-rex, there are always new things to watch, eat, ride and do. You can't go wrong whenever you visit Universal Studios!