Have you started your Christmas shopping yet? I haven't, and I know in a couple of weeks I'm going to start to feel the pressure of getting behind. I have a long list of friends to buy for, and of course, the kids….all six have entirely different needs and wants, and I haven't even started putting together a plan!
Enter the Harvest Festival Original Art & Craft Show in Pomona, California, held from November 30 through December 2 at the Pomona Fairplex. I've attended a couple of times now, spending several hours wandering through the Fairplex hallways getting inspired by all the creativity and chipping away at unique gifts for those I love.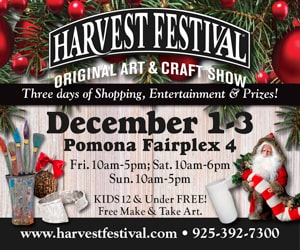 Last year, I made my friend really happy by gifting her kids with handmade travel bags that included coloring books inside the big pocket and crayons in a smaller pocket on the outside, made with themed fabric for some of their favorite television characters. I bought earrings (for myself, shhhhh) and quite a few other items. I also came home with some fantastic ideas that made me want to pull out my craft supplies and hunker down for an evening of wine and fun and crafting with my friends!
There's also food available, and it's not just the normal beer and hot dogs that sometimes go along with expos like this. There were crepes and bread pudding and other holiday-themed food, which is great for those who get tired of walking around and may just want to plant themselves at a table while others in their party go shopping amongst the many booths. With over 24,000 items available from the 300+ exhibitors, you'll be sure to have no problem finding gifts!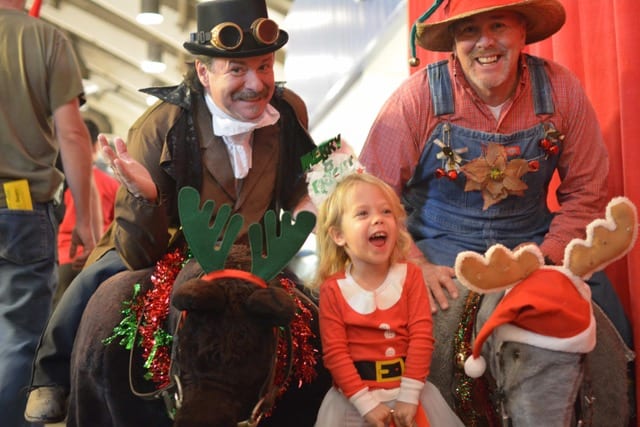 While there's no stage entertainment, there is strolling entertainment that will get you further into the holiday spirit.
Friday 
9:30 – 3:30       WC Willy as Stilt Santa
11:00 – 5:00     King's Krooners
11:00 – 5:00     Fables of the West
Saturday
9:30 – 3:30       WC Willy as Stilt Santa
11:00 – 5:00     King's Krooners
11:30 – 5:30     Fables of the West
Sunday
9:30-3:00         WC Willy as Stilt Santa
11:00-4:30       Fables of the West
This festival has been going on for over 45 years, making it one of the largest indoor arts & crafts show on the west coast. General admission tickets are $9, but if you bring canned goods, you will save $2 and your donation will help the Foothill Family Shelter. Kids under 12 are free! There's also an interactive kidzone hosted by Macaroni Kids, Priceless Pet Rescue is available for pet adoptions and Home Depot will have a "build it" area for the kids. Something for everyone!
If you're interested in attending, head to their website for info, OR you can enter my Harvest Festival ticket giveaway, where I will be giving away a family four-pack of tickets! Rules are simple: residents must reside in the United States and be over 18 years of age. No purchase necessary and winner is randomly chosen. Winner must respond to email notification within 24-hours or prize will be forfeited and a new winner will be drawn. Winner must also provide physical mailing address.
Enter now, the giveaway only runs eight days so I have time to mail you your tickets. Happy holidays!