From one dog lover to another, feeding your dog healthy food is critical to a long fun-filled life. We all know it, but sometimes it's hard to do.
     What kind of foods can I make?
     How do I make them?
     Do they take a lot of weird ingredients?
There are a lot of questions for a homemade dog food newbie, but the new book, Yin & Yang: Nutrition for Dogs by Judy Morgan DVM and Hue Grant sets out to make it a lot easier.
As I've shared with you all many times, my dog Missie has been on a special diet for years. Her brother, Charlie, also has a sensitive tummy. We work hard to ensure he eats healthy food with as few additives as possible. My sweet Missie passed away, peacefully in my arms, last Friday but in the last few weeks of her life, we were on a 'whatever you can get her to eat' diet. That's when I pulled out my copy of Yin & Yang. (Thank you to the PR company for the book for providing me a complimentary review copy so I can share my review with you!)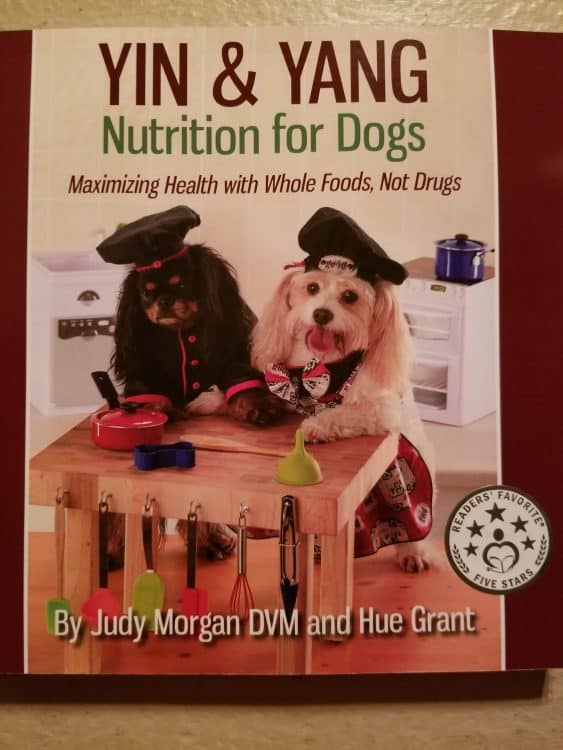 Yin & Yang: Nutrition for Dogs surprised me, in a good way. I had expected it to have a lot of recipes for more traditional foods, but it really showed me I had a lot to learn about dog nutrition. I had no idea all the things that were good for our canine babies to eat!
I am a big believer in trying to feed everyone healthily without additives and preservatives, and if someone gets sick — two-legged or four-legged — we try to utilize more natural approaches to healing as much as is possible. Yin & Yang: Nutrition for Dogs is all about maximizing health with whole foods, not drugs. That's right down my alley! I had joined a Facebook group a few months back for parents of dogs with kidney disease. The group was extraordinarily helpful and supportive, and a common topic was how to make food that our pups would eat. Many are going through difficult situations where their appetites wane, so we have to get in as much good stuff in as we can, as many of the dogs don't eat a lot. I got the book at just the right time for our needs. I made the bone broth immediately, as we needed to continue to encourage hydration and flavorful broth enticed her to eat more.
The book includes a lot of recipes, but it's so much more. It is an all-in-one volume about the basics of feeding our dogs, including how we should prepare food, how much we should feed, preparation, storage and debunking some popular myths. The chapters on traditional Chinese medicine food therapy were expansive, as you can see by the long Table of Contents, which is broken down into feeding for personality, such as Fire, Earth, Water, Wood and Metal, and how to know which is which. It gives help for dogs dealing with cancer and other health issues, things to keep on hand for first aid and other urgent health issues, and one area I read immediately, helping arthritis in both winter and summer, as Charlie has osteoarthritis.
One-pagers that everyone will like — a recommended feeding chart, a body condition score, determining energetics (Yin or Yang), tongue diagnostics diagrams, and a list of toxic foods.
There are also recipes for dehydrated treats and other homemade treats, as well as appropriate supplements.
If you're a dog mom or dad looking to help your dog live as natural a lifestyle as you are, Yin & Yang: Nutrition for Dogs is a good addition to your bookshelf. It's available online and on Amazon. It's an easy read to get the basics down, and you'll quickly find the specifics you need, too.