It's official, the new Deseret Industries thrift store is now open in Fontana! The grand opening was the weekend of May 7 – 9, complete with free bags for the first 500 entrants each day and live music. Deseret Industries did a fantastic job with getting the word out and making it a fun event for everyone. I am so glad I made it in, and I'm already planning another visit where I can more slowly wander and use my imagination a little more. (And as a disclaimer, this post is sponsored by Deseret Industries, but the opinions and photos are my own.)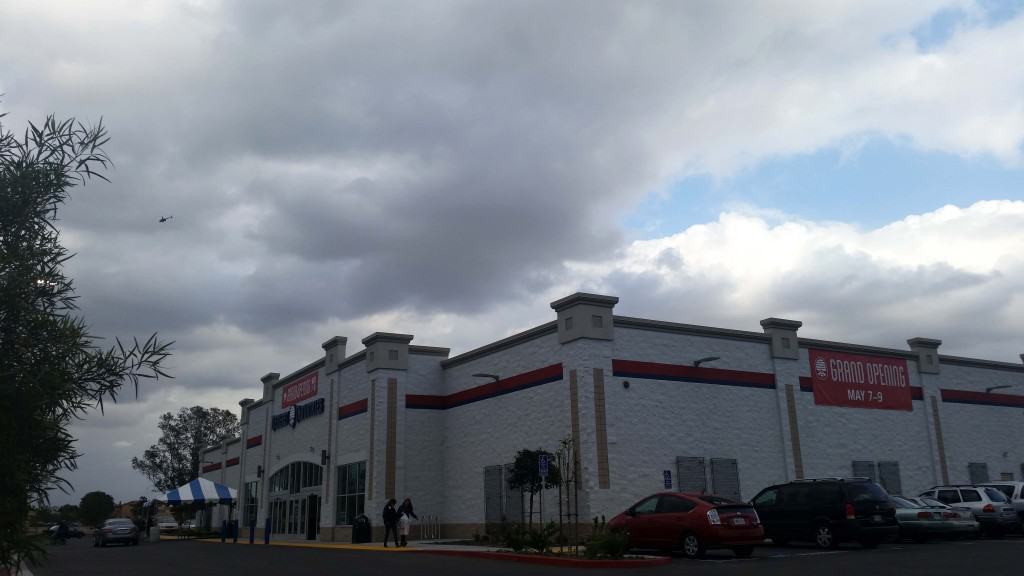 Located at the corner of Valley Boulevard and Cypress Avenue, you can't miss it. The store is huge, with ample parking and easy access from the 10 freeway. I missed the live music, as I had to visit in the evening, but I'm told it was a great crowd and there were tons of people happy with the store and all the deals they found.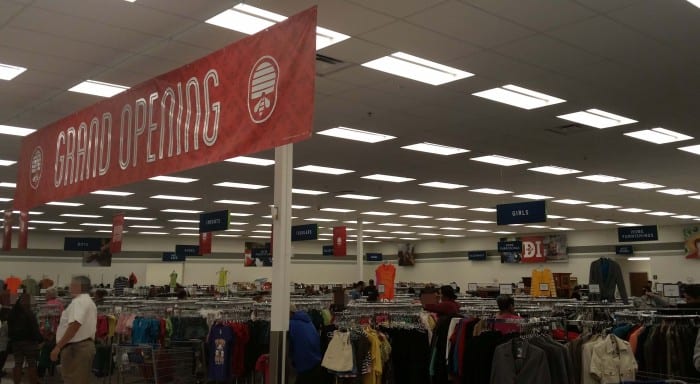 I was standing in the center, beyond the cashiers, as I took this photo — imagine how large it is, given you're only seeing basically about a quarter of the store. Areas are well laid-out with clothes categorized by male, female, etc., and then by dresses, short-sleeved shirts, etc. Everything is well-marked and aisles leave plenty of room for carts, a peeve of mine when shopping.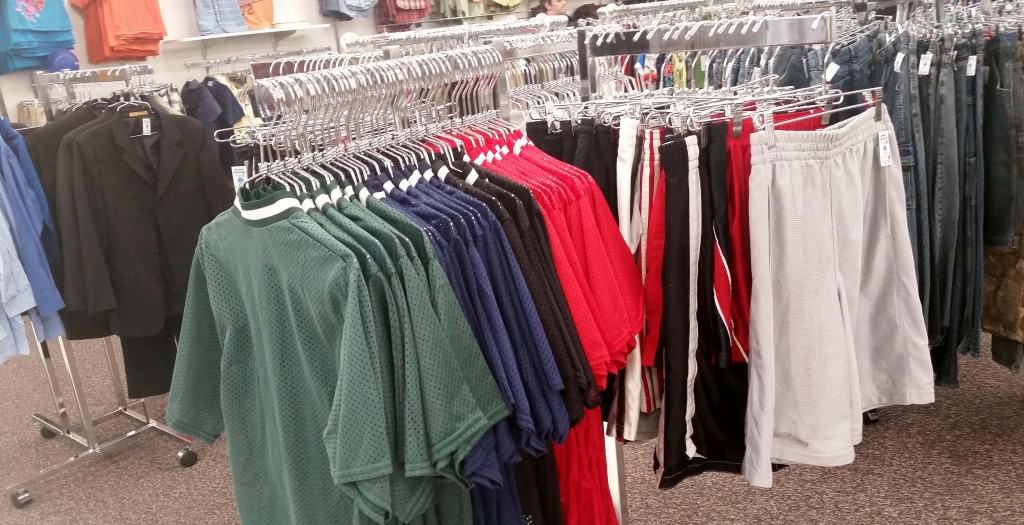 All the areas were organized like the above photo of the boys' section, making it extremely easy to locate what you need. Sometimes thrift stores get a bad rep, as some stores sell clothing with a quality less than what you'd want to purchase, but I didn't see anything like that here.

So many clothes were available in the women's section, I was about to get sucked in and spend all my cash. (You can pay with a card but paying with cash helps make sure you stay within your budget.) Prices were fair and there were a significant amount of items with original tags still on them. New clothes aren't inexpensive, and if you're responsible for a whole family, shopping at a thrift store is just a good way to cut back on your expenses, particularly if you're buying for children, who grow so fast, they don't necessarily put a lot of wear and tear on the clothes. (Then you can donate them back to the store, help another family and also get a tax break!)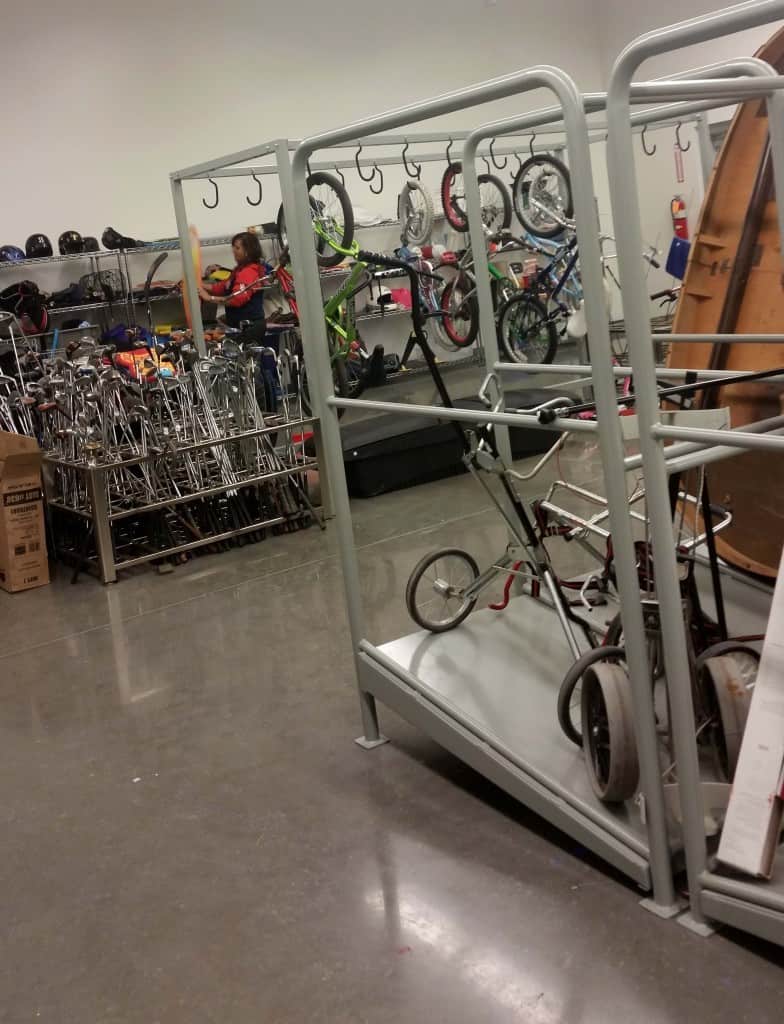 This "Yard" section was full of outdoor items, such as bikes, backyard toys, golf and sporting equipment, etc. I was tempted to pick up that golf bag cart! Every child deserves a bike and this store helps make that possible.
Then I got to the book section. I'm an avid cookbook collector and with a collection as large as mine already is, I have to be selective about what I bring home so I have space to display and access it. I spent quite a bit of timing poring over the books for sale and if I'd had the room, I'd have bought a large stack. Instead, I bought only three, books I think any good cook should have in their arsenal. (I bought Julia Child's A French Chef Cookbook, The Gourmet Cookbook, and a book by Lidia Bastianich, infamous for her superb Italian food, all for only $7 and each was in perfect condition, though the Julia Child book was missing its paper cover.) How easy it would be though to stock the shelves for a community kitchen or a young adult's apartment!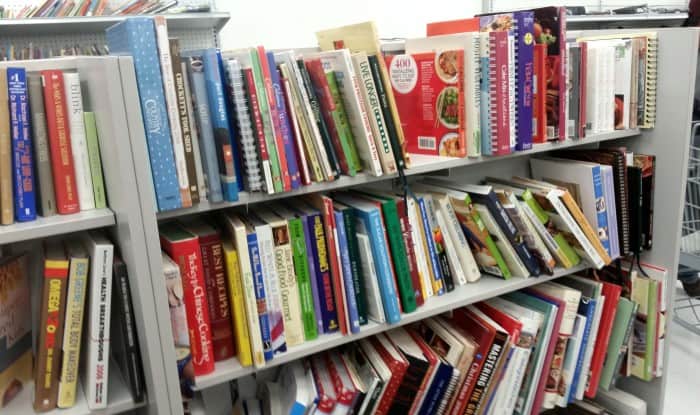 Here's something you don't see in every thrift store — a section full of new, unopened items. Household goods, bedding, socks, underwear and more, completely brand new and still in the original packaging, so Deseret Industries busts one of the biggest myths of thrift store shopping: you can indeed buy new, as evidenced by the below cabinet and the tags on clothing.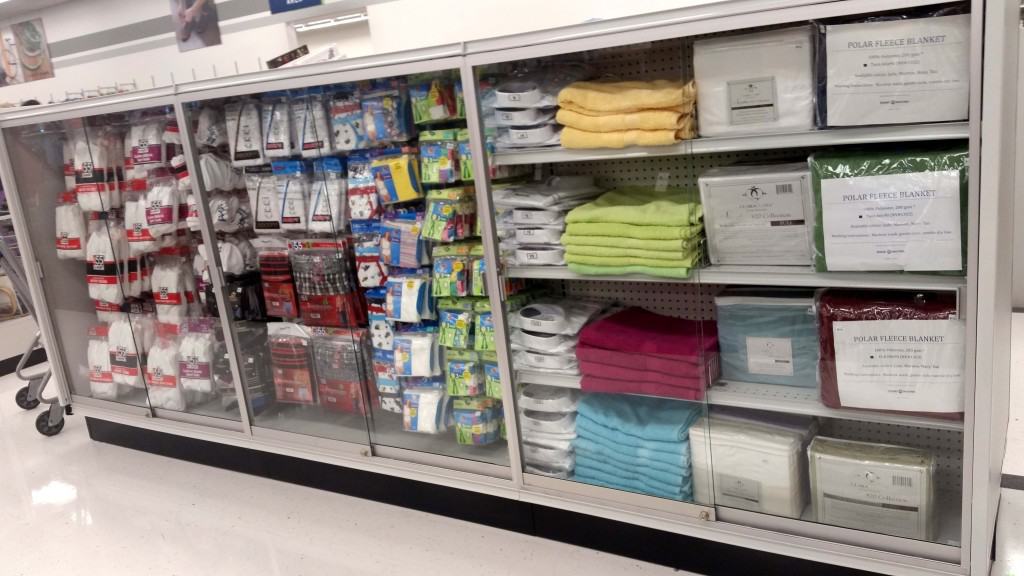 Looking to furnish your first apartment or just trying to furnish your home on a tight budget? Don't let the stigma of thrift store shopping stop you from doing just that! Recycling and re-using is smart. That blonde table on the left was in great condition and I considered picking it up for my son's new apartment, as he still needs a dining set. DIY'ing is such a big thing anymore, and creative decorating means that chairs and tables don't need to be all part of a set. With a little elbow grease and a trip to the local hardware store, tables and chairs can be resurfaced and recovered in any number of ways, meaning you've created a one-of-a-kind set of furniture that expresses your personal style and doesn't build up credit card debt or empty your bank account!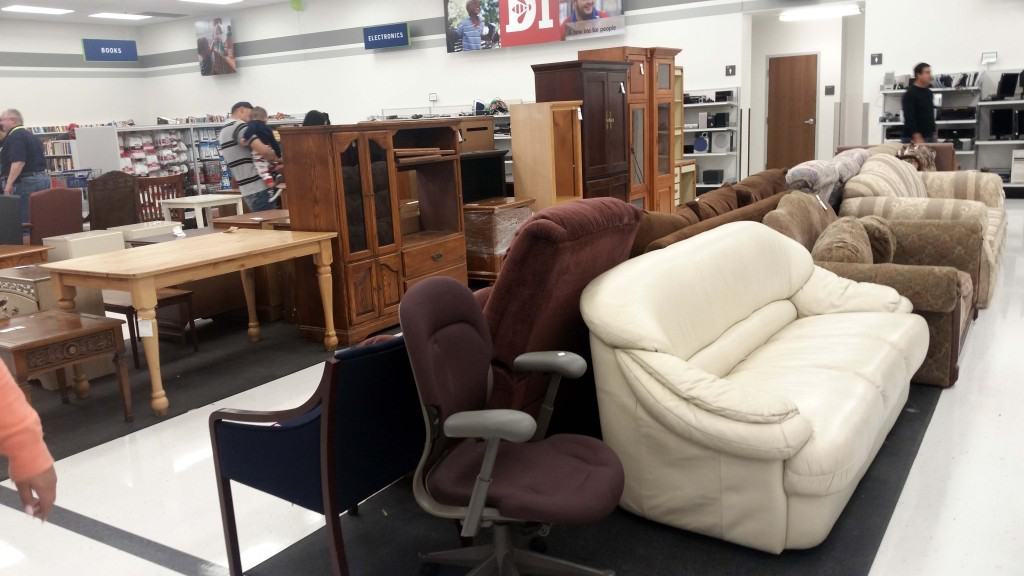 What items do you like to buy at a thrift store? I bet you can find them at Deseret Industries! Now that they are open in Fontana, many more people can now find a way to save money or have fun recreating a pre-used item. For more information, visit their website or just head on down! Then tell me how you saved money and if you did a DIY project — I'll be sharing one very soon, using an item I bought at Deseret!