Cookbooks are a popular gift for foodies, but unless someone hands you a list of what they want, it can be difficult to know where to start on your hunt for the perfect gift. I've had the pleasure of receiving numerous complimentary copies of cookbooks and I have gathered six titles below that are a great place to start. With something for everyone, the list also fits our lifestyle and the focus of the blog — healthy and fit with a bit of deserved indulgence! I think when you read the list, you'll see what I mean.
Paleo Ice Cream: 75 Recipes for Rich and Creamy Homemade Scoops and Treats bMy Ben Hirshberg, published by Ulysses Press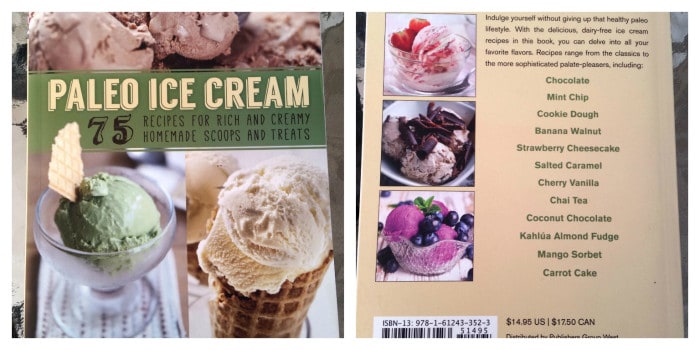 While I'm not on the paleo diet and don't follow it, I am mostly dairy-free for health reasons. The Paleo Ice Cream book is a lactose-intolerant ice cream lover's dream! 75 recipes using mostly coconut milk, it provides a wonderful basis to help you get started on making your own ice creams, sorbets, custards and drinks. It also has a chapter covering shells and syrups for the desserts after you make them. I was so excited to get this book, because I bought a new ice cream maker over the summer and worried that I could either make ice cream that the family would love, or I could make an ice cream I could eat. This book proves that wrong.
Each recipe is brief and clear and uses ingredients that are found in most regular grocery stores. (The oddest thing I found was the xanthum gum, which may not be at the corner liquor store but is at places like Sprout's Farmers Market, Whole Foods and other similar stores; I even have seen it in the gluten-free section of some mainstream grocery stores lately.) From basic flavors like vanilla and chocolate, you'll also get inspired to get a little adventurous with some new additions and combinations you may never have thought of before. Following these recipes, you'll be eating ice cream that's nutrient-rich — something many people don't think of when thinking of ice cream — and also flavorful. Kahlua Almond Fudge, Double Chocolate Candy Bar, Blueberry and one I have got to try: Quick and Dirty Banana Pumpkin Pie Ice Cream. Ginger-Lemon Frozen Custard is also on my list! There is even a section for some things that don't really fit anywhere else, like Affogato and Kombucha Float. You like your ice cream in cones? There's a recipe in here for that, too!
The book is not heavy on the pictures but the font is pleasant and clear and the index makes it easy to find what you need, if you didn't see it on the large, expansive Table of Contents. It's a paperback book, stays open flat with a little pressure and doesn't take up a ton of real estate on your cookbook shelf. All of those things together with the quality recipes that make tasty ice cream and frozen desserts makes this book a winner and an excellent choice for any paleo or lactose-free ice cream lovers, or anyone who wants to try a new approach to ice cream.
Guilt-Free Girl Desserts: Delicious Figure-Friendly Recipes for Any Occasion from the Bonnie Marcus Collection, published by Parragon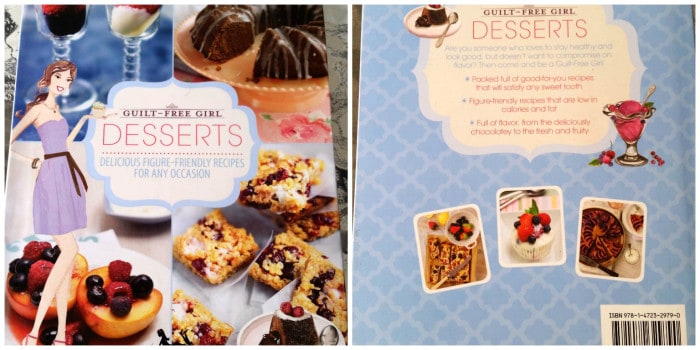 The first thing I noticed about this hardback book was its cute vintage style illustration on the book cover. It's not a big book, but as part of the Bonnie Marcus collection from Parragon Books, it is focused on busy ladies and the collection covers a number of topics. This book is focused on helping us eat our cake and look good doing it; each recipe in the book is less than 250 calories per serving. With chapters like The Perfect Little Bite, Superchilled, Like A Warm Hug, Fresh, Fruity & Fabulous and Dinner Party Showstoppers, there's a wide selection of low-cal treats for any occasion. The first thing I made was a Vanilla Souffle Omelet. The picture is what made me choose it. Each recipe is on the left page, with the photo of the finished item gorgeously photographed on the right. The omelet is filled with fresh raspberries in the photo and it totally caught my eye as I love raspberries.
I also made the Pumpkin Custard with Whipped Cinnamon Topping. I had leftover pumpkin from two different cans, so I easily had a cup leftover for this recipe. Custard is a win with everyone, and this recipe uses real light brown sugar, so it still has the sweet taste a custard needs all the extra fat and calories you often get. I want to try the Red Wine Sorbet, as it sounds really easy and the color is beautiful.
One thing that stood out to me with this recipe book, other than the colorful photos and cute imagery, is that most recipes could be made with small amounts and nothing is hard to find. With unique creations and names that are appealing, like Frozen Hot Chocolate with Hazelnut Liqeur, you can't help but easily find something to make for your next book club or girls' night out. This book is on the easy scale for foodies but isn't that how many people become foodies? If all you know is that your foodie likes sweets, this is a good book to consider and the price is right!
Vegetarian Grilling: 60 Recipes for a Meatless Summer by Karen Schulz and Maren Jahnke, published by Skyhorse Publishing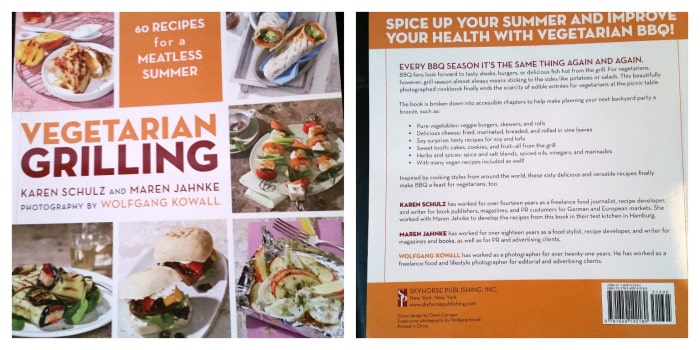 We recently renovated our back yard, and one reason is so we could more easily entertain while barbecuing. I love to barbecue, and I mean actually do the barbecuing. To be clear: I am not in charge of the grill during a dinner event. What I like to barbecue is fruit and veggies. I like to doctor something up in the morning and throw it on the grill later for lunch. Working at home means I have full access to good food, but sometimes you get into a routine where you make the same boring salad or sandwich every.single.day. I'm in a salad rut, so when I can change that up without making it difficult or time-consuming, I'm thankful. This book helped a lot, and is perfect for anyone interested in barbecuing anything except meat, whether they are skilled at the barbecue or a novice.
A lot of people I know are in the same boat as me; we are trying to cut back our meat consumption but without going full vegetarian, and many of us have spouses who aren't entirely on board with that plan. That means we have to make sure that the food isn't lacking in flavor and doesn't make someone miss the meat. That's not always easy, but Vegetarian Grilling added a whole list of options to our weekly and monthly menus, satisfying both meat-lovers and vegetarians and everyone in between.
The book is paperback and divided into six food categories: Skewered, Wrapped & Rolled, Grilled, Stuffed, Dips & Spices and To Round It Off. The index is extensive and there's also a small section in the beginning to help ensure you have the right equipment and have the basics down. With recipes like Portobello Mushrooms Stuffed with Pine Nuts, Pimiento Skewers, Grilled Pineapple with Vanilla-Ginger Syrup (pictured below), Antipasto Panini and Soy Patties with Olives, you will have a hard time choosing which to make first. I took it to Sprout's with me once to match what produce was on sale and/or looked good with recipes so I could experiment. The Tomatoes with Tabouleh Filling were a hit, and that was unexpected as I have a meat-loving family. I wanted to make the tofu skewers but still am unable to find the lime leaves, so I may just give up and try it with basil. (Have you ever tried crispy basil? SO easy and delicious!)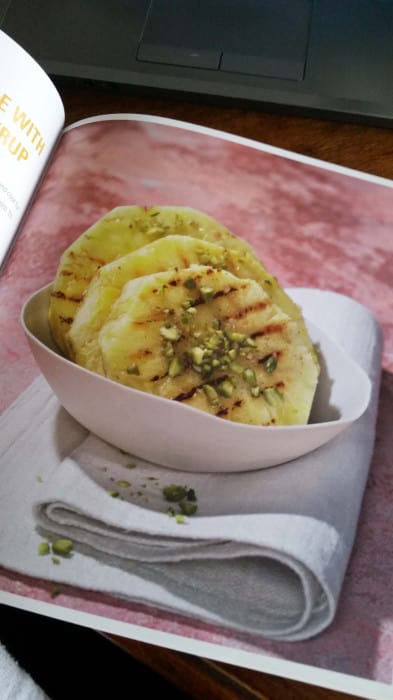 Don't let the title of this book scare you away. Even if you want to throw a steak on the grill, you can still benefit. Who doesn't like Stuffed Potatoes? Here in California, we can barbecue almost year-round (except in the rain storms, because even if your barbecue is under cover, the rain blows sideways) so we can plan a bbq entree or side or even dessert for almost every meal. Check out this book for the barbecue lover in your life!
Superfood: Juices, Smoothies & Drinks, Advice and Recipes to Lose Weight, Prevent Illness and Improve Your Emotional and Physical Health by Jason Manheim, published by Skyhorse Publishing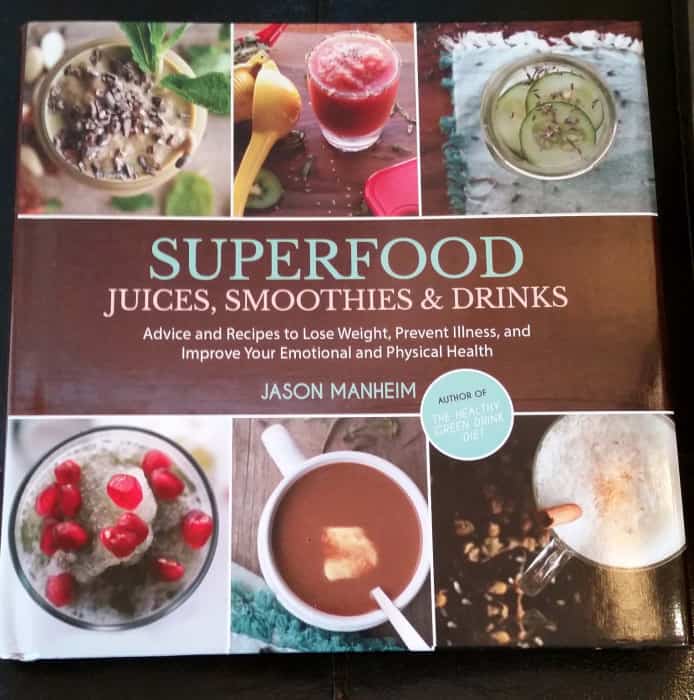 I love this book. I just want to say that first. All of these books are great and I wouldn't include them on my list otherwise, but this book is something I reference frequently. It has taught me a lot about what really works in a smoothie and why. Superfoods — it's a word you hear frequently, but do you really know what it means? I have a whole new respect for smoothies and their nutritional benefits after this book. Did you know that if you start eating a diet rich in superfoods, which is way easier than you may think, you can lower your risk of heart disease, balance your cholesterol, eliminate headaches (a problem I really need help with), and help your insomnia, amongst many other things? All by just changing your diet or adding foods to it! The book also explains the differences/benefits between smoothies and juicing, which is a question I had.
If you're new to smoothies or superfood inclusion, this is a great place to start. If you've got a fitness buff on your gift list, this is a fun gift; they'll love the colorful photos, the large print and the way it lays flat so you can place it on your counter next to your blender and get smoothie-making easily. It breaks down food into categories, explains them and helps you learn where to purchase them, along with the equipment and other tips to help you get started successfully. There are a few ingredients that aren't just found at your local corner store (like camu-camu or camu berry powder) but most items are easily found.
One really good thing in this book is the recipe benefit index, where you can look up recipes according to the goal you have: protein, cleanse, immunity boost, low-cal, beauty, etc. There's even a section on infused waters, which I particularly love as I need to stay more hydrated but I'm bored with plain water. (What a baby, right?) You may find you want this book for your own wish list, too!
Green Kitchen Travels: Healthy Vegetarian Food Inspired by Our Adventures, by David Frenkiel & Luise Vindahl, published by Hardie Grant Books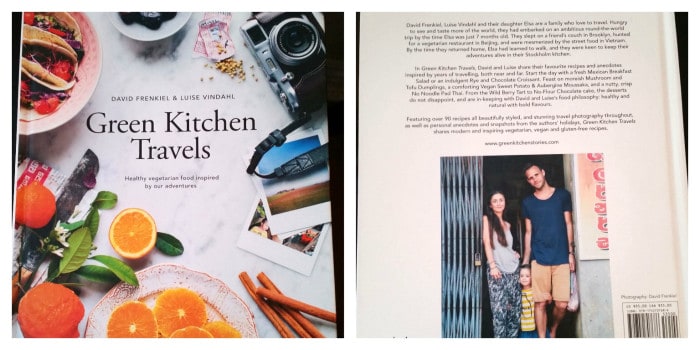 Let me start by saying that this is a big book and not entirely what I'd call a cookbook. It's a book that will pull in someone interested in travel or a foodie, and easily overlaps and draws you in. This book has a story to it beyond just wanting to share a food philosophy with you, and it's based on the travels of David and Luise, the authors. They took leave from their jobs, packed their bags, and took a trip around the world, all with a seven-month daughter! They tried new foods along with new cultures and seven months later, returned to Stockholm, Sweden, with a new culinary inspiration. Check out their blog here. It even won a Saveur Best Food Blog award in 2013!
This book is actually their second book, and it includes more than 90 recipes heavy on the freshness and flavor and light on the shopping requirements. No matter your dietary approach — vegetarian, vegan, gluten-free — you'll find meal ideas in here, even if you're a meat-lover or have a meat-loving family member. The photos in the book alone are beautiful. I was going to take a couple of shots to share but I can't do the pages justice. My copy is hardcover and is a rare one that lies flat without a ton of pressure. (You'll see my feelings on this in almost every book review; I hate having to fuss with a book that I can't get to lay flat when I'm trying to read from it while mixing or rolling.)
Every recipe has a full-page photo and every category of food is included, from breakfast to dinner, from additives to beverages to snacks. The sweet potato gnocchi? Yummmm… A special treat this book includes is that every recipe has a paragraph above the ingredients that talks about the photo, or the inspiration behind the recipe or some other anecdote, making it a pleasure to read instead of just perusing for dinner ideas. This is a good book to open while you're drinking your coffee or tea and will be enjoyed by anyone on your foodie gift list!
Extreme Brownies: 50 Recipes for the Most Over-the-Top Treats Ever, by Connie Weis, published by Andrews McMeel Publishing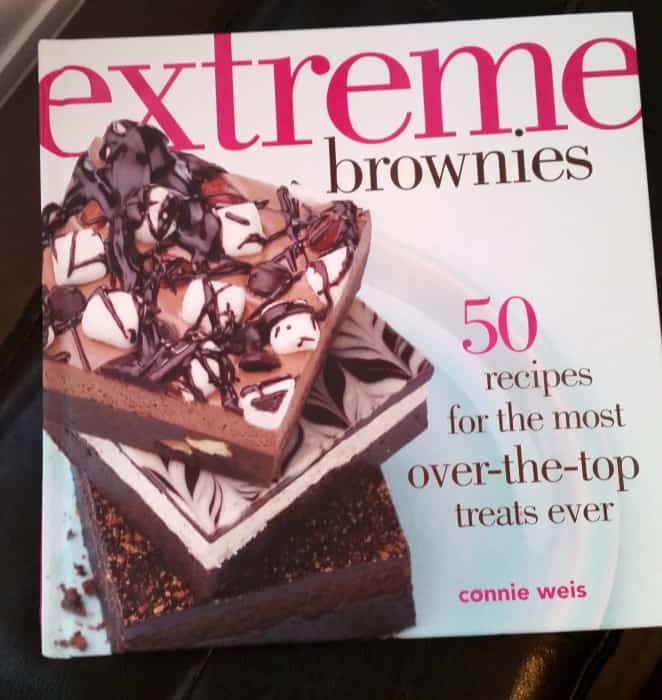 Brownies. I had you at that word, right? The book certainly did. Even my non-chocolate-loving young adult daughter grabbed the book and paged through the book when I'd left it out one day.
I didn't know where to start when I opened it. If you're like me, you page through until something catches your eye. For me, it was the Chookie Brownies, a delicious heavenly smelling rich-but-not-too-rich combination of two favorites, chocolate chip cookies and brownies. There was no picture, but who needs one with a name like that? (Not every recipe has a picture, but that may be a good thing or I'd have to run two hours a day.) These brownies did not disappoint. They are a three-step process but trust me, totally worth it.
The book is for any level of baker — it has a few pages at the beginning covering proper ingredients, equipment and how-to's, even how to properly cut the brownies with sharp, clear defined edges so you have good shapes, something I fail at miserably. There is also a set of tips on shipping brownies, another fail. I really wonder sometimes if my recipients don't tell me "Thanks, it was great!" but secretly had to dump it into the trash after a round of "what was this supposed to be?" since I see how badly many of my shipments arrive to me. We need this 'how to ship" info. I'm going to be using it when I pack brownies for my son's teachers next week. He has to cram them into his backpack (full of forty pounds of other 'necessary' stuff) or I'll have to wait in line to drop him off with 7000 other parents, 200 of whom forget the concept of it being a 'drop off' line and not a sit and chat line. Shipping information is SO appreciated.
Whatever your flavor profile is — lemon, various chocolates, marshmallows, coconut, etc. — you'll find it in here. It's not a book for those who are gluten-free or vegan, though you may be able to adapt the recipes somewhat or use them as springboards. As any regular reader of my blog knows, I'm a big believer in indulgence at times. Life is meant to be enjoyed, and food isn't work or a chore. It should be flavorful and fun, and even if on a diet to lose weight, I still think it's important to have a treat now and then. (That is not medical advice and obviously, if you have a medical issue, ignore this entire section about brownies as they aren't helpful.) Brownies are the perfect way to make a quick treat that almost anyone can love! Buy this book for someone or keep it for yourself, but either way, it's a sound investment for any cookbook lover's collection.