Cooking every single day wears on even the best of us during these difficult times. I love creating recipes and serving my family delicious food, but as it gets hotter, our minds start going towards frosty, cold treats instead of our traditional desserts. Problem is, someone has to make them, and who wants to be in the kitchen any longer than necessary? Enter my new Berry and Basil Lemonade Granita recipe, something to help us beat the heat that takes less than 10 minutes to make and can be served in about three hours!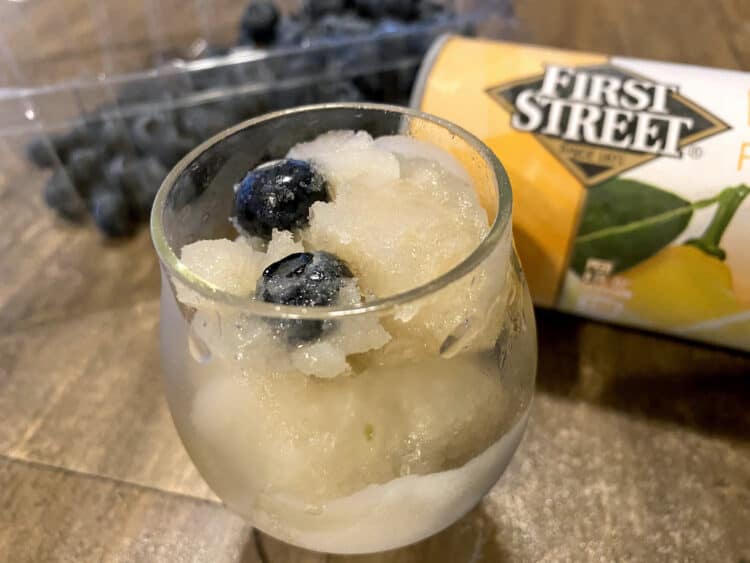 Over the years, I made my kids no short of a million sno-cones. I went through a few machines, and I still have one here in the garage. (Even with the kids are young adults, they still enjoy them just as much!) They were always fun to make but what if it could be even simpler, with a little less of that sugar?
Granita is so simple. It's basically shaved ice, a little less smooth than a similar dessert, sorbet. There is sugar but it also includes fruit juice to add flavor instead of additional processed sugar, and it's so easy to infuse in other flavors, making it savory, sweet or sour. The options are endless.
A granita recipe can come together in minutes. Combine the liquids, usually over heat so as to melt the sugar properly, and pour into a pan. Add in any whole fruits or herbs and freeze. You can put it together as an impromptu treat or a last-minute dessert, because the longest part of the process is letting it freeze for a few hours. It's the perfect quarantine dessert because you typically have the ingredients on hand, and if not, change them up a bit and use what you have!
I don't shop a lot during lockdown, but I hit up Smart and Final again on Friday, grabbing a few things we needed as well as the ingredients for this Lemonade Granita recipe. (They have compensated me for this post, but the photos and recipe are my own.)
The First Street line of products are affordable and varied, so I chose to use the First Street frozen lemonade to replace the typical water in granita. It will still freeze to a proper consistency and add a nice fruity tang. (It can also replace fresh juice or fruit if you can't find them or don't want to leave the house.)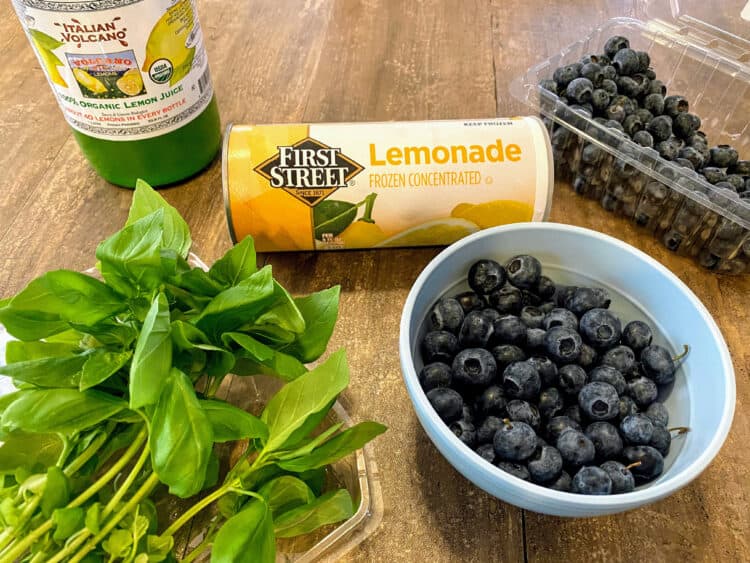 Berry and Basil Lemonade Granita Recipe
1/2 cup sugar
1 1/4 cup water
10-12 fresh basil leaves
1 cup First Street frozen lemonade, still frozen
2/3 cup lemon juice (fresh or from a bottle)
1 cup blueberries, whole and washed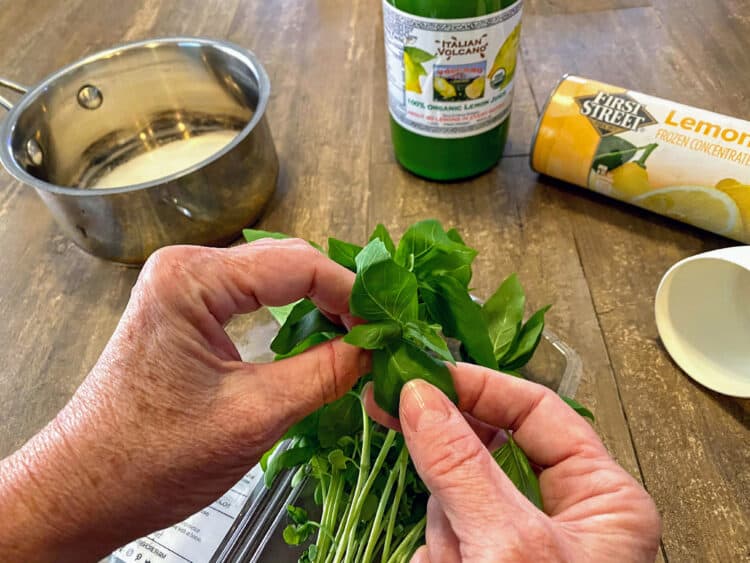 Add sugar and basil leaves to a small sauce pan. Muddle them together, bruising the basil and infusing it into the sugar.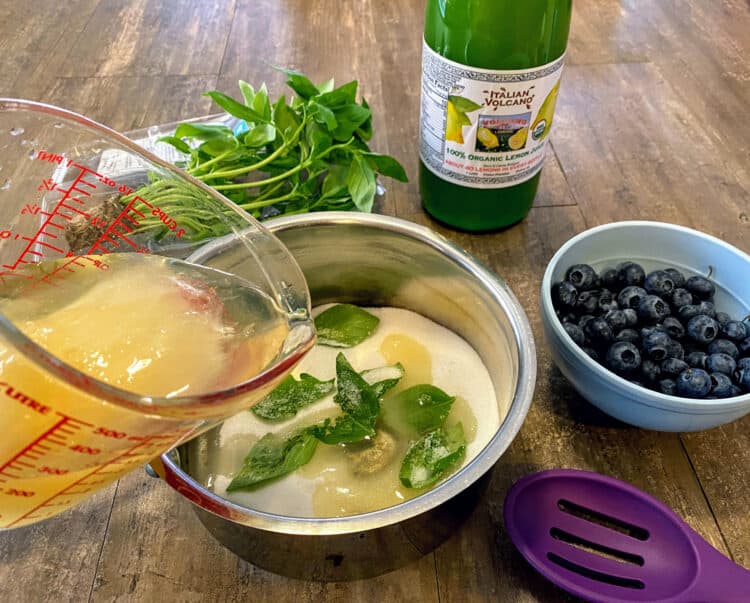 Add the water and the one cup of frozen lemonade straight from the freezer container. Also add the lemon juice and stir thoroughly.
Bring to a low simmer and let it gently simmer for 3-5 minutes. Stir frequently and make sure the sugar is melted.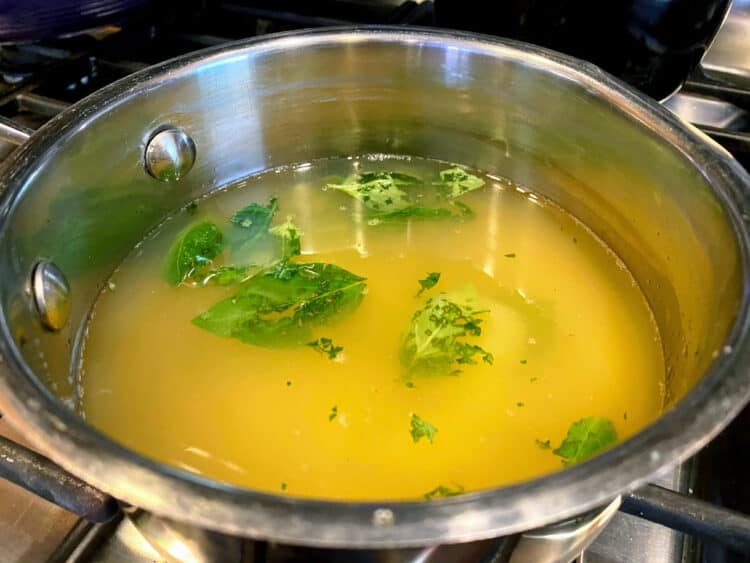 Let cool to at least room temperature; if you have space, you can also place the sauce pan into a refrigerator to make it cool faster.
When it is cool, strain out the basil leaves then pour it into an 9 x 13 pan and place in the freezer. It will probably take around three hours to freeze. It seems like it's too shallow when you pour into the pan, but if you pour it too thick, it will not freeze properly.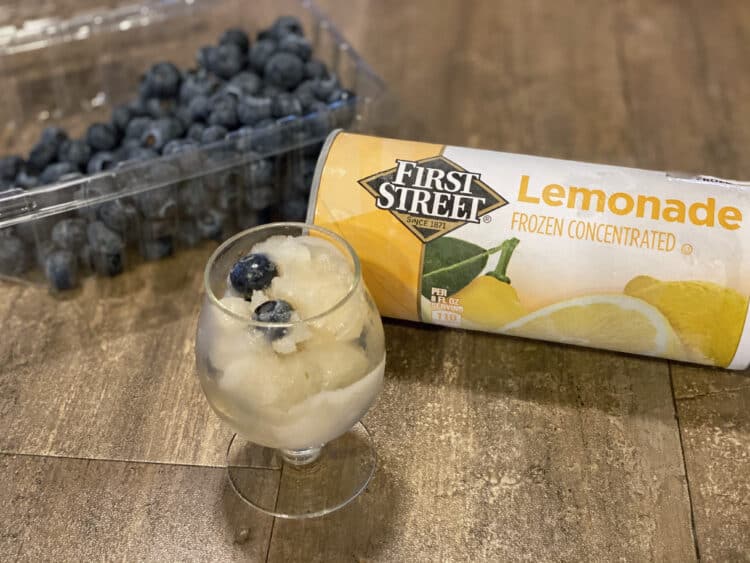 When it is completely frozen, use a spoon to scrape it out and scoop into small bowls, adding the blueberries. Top with additional berries if you choose! (You can also add the berries or other fruit when you put it in the freezer initially, but be sure they are small enough to enjoy in one bite as they will freeze solid. I tried one batch this way with blueberries and they were too frozen to be enjoyable, but other fruits may be different.)
There are a lot of other options to change up your granita flavors. You can mash up the fruit or use other types of juices. Nectar would work great, too! Herbs like thyme and rosemary would also be delicious, just depending on your flavor combinations. Blackberry Thyme, Mango Mint, Watermelon Basil, Orange Vanilla, Lime Chile…the possibilities are endless.
If you have time, infuse the herb flavor into the sugar by putting the two of them in a tightly-sealed container and shake them up; let sit for a day or two. The flavor will be stronger but it's definitely not a requirement.
How are YOU beating the heat this summer? Smart and Final wants to know! Enter their sweepstakes for a chance to win a $500 gift card using one of the three entry options listed on the Smart and Final website; be sure to use the tag #MySmartandFinal!
Also, follow along on social media to see how others beat the heat! I've shared a couple of tips on my Instagram stories, and I've got another one that I'll be telling you about in a couple of days.
For now though, my biggest beat the heat tip is this: don't overthink it. Look in your pantry to use what you already have and consider how you can use your freezer as your biggest prep tool. I promise, the ideas will flow!
Beating the heat isn't just about food though! It was hot here in Southern California so we hit up the beach on Friday. First time I'd left the house in quite a while and only the second time we've visited since COVID hit. We socially distanced and walked in the waves. It was heaven.
Others are beating the heat by hanging in the shade by their pool, taking a hike in the mountains, walking through a botanical garden (at a safe distance from other strangers) or having a virtual movie night with cold beverages inside an air-conditioned family room. How are YOU beating the heat? Be sure to share with Smart and Final so you can possibly win a $500 gift card!