I'm a big gadget person. It applies mostly to kitchen gadgets, but I also am pretty up-to-date on electronic gadgets. When I was offered the opportunity to be an ambassador for Hamilton Beach, I did a little <big?> happy dance. New appliances to create new recipes in, from a quality company I've followed for a long time? Sign me up! So here I am, an ambassador and loving it. Hamilton Beach does it right with their products and I'm really glad to have the chance to use them to create delicious food and share it all with you. Thank you, Hamilton Beach, for the complimentary food processor; the opinions and photos are all my own.
This time of year, we're all uber-busy. Squeezing in shopping, decorating, baking, cooking, visiting, partying, whatever it is your family does as a tradition – it can have you falling in bed exhausted each night, so if you can make life easier and save a little time, why not do it, right? That's where the new Hamilton Beach Stack and Snap Food Processor comes in. I love to make salsas but the chopping…the endless chopping…it's mind-numbingly boring and if I get through it without cutting myself? Zzzzzz….so having a food processor that does the job for me, quickly and without injury, is really important. I've had one for years, but a few weeks ago, I found a crack in the base of the main dish. OH. NO. I love that food processor but the idea of hunting down and buying that part scared me. Especially at this time of year, when the last thing you feel like dealing with is one more household dealio. This all made the timing of the arrival of my Stack and Snap even more exciting.
Lots of parts but so easy to just snap together without all the twisting and adjusting of other food processors. I was able to quickly assemble it and get right to work. The buttons are clear, easy to push and the blades come on/off without issue — yet not too easy. A HUGE deal for me? I was able to pour from the bowl, when the salsa was done, without worry that the blade was going to PLOP out into my receiving bowl, making a huge mess. (If you've used a food processor before, you know what I'm talking about!) It was easy to clean, sturdy yet not heavy. Snapping the lid onto the bowl is easy and you know right away if it's on, no wondering why it won't turn or anything like other food processors. I like the small footprint, so it won't take up a lot of counter space, and blade storage is easy.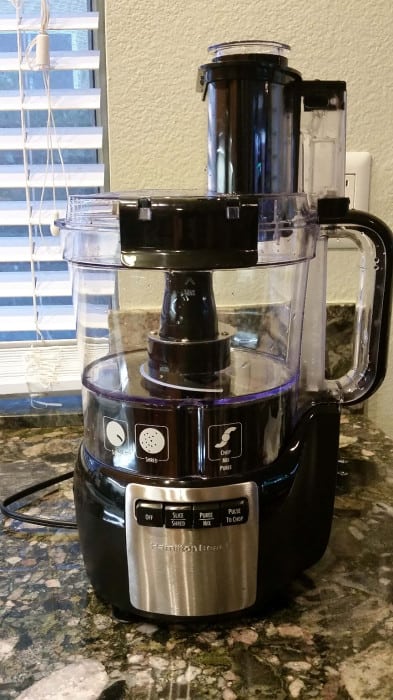 I'm doing Christmas dinner at my house this year. Low-key, just me, the husband and the kids, and the dogs sitting and staring hoping we suddenly decide to share with them after 4+ years of table food being a no-no. (It's still not going to happen.) We're doing Christmas Eve here too, though that is probably going to be a buffet of fondue and crostini fixings with some friends. Still low-key, but those crostini toppings will take some time. You can bet I'll be using the Stack and Snap for prep work that night!
Keep reading for the giveaway below the recipe!
I'll also be using it to make the cranberry relish recipe I share below. It's easy, doesn't include too many ingredients and is multi-purpose. The night I created it, we put it on baked Hoki. (That's a fish I'd never heard of until I saw it in the freezer section of Fresh and Easy. It was good, reminded me of tilapia in both taste and consistency.) I could also pour it over cream cheese or dip pita chips into it, amongst other things that I'm sure we'll try in the future. Here is the recipe – you create it and let me know what you use it on!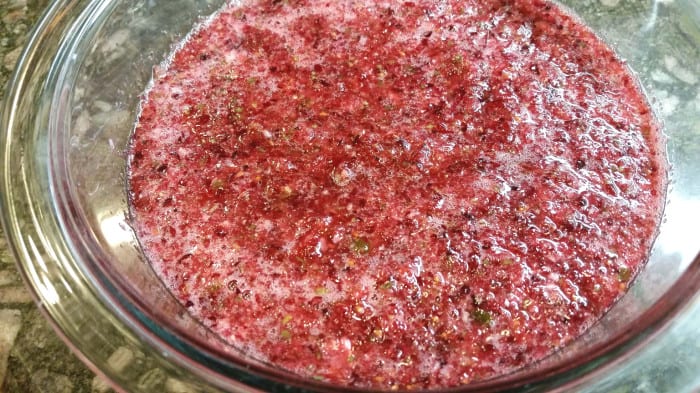 Cranberry Jalapeno Relish
½ bag of cranberries, thawed
1 orange, peeled and cleaned (no pits and as little pith as possible)
1 large fresh chili pepper
¾ cup sugar
1/8 cup cranberry juice (I use no sugar added, no high-fructose corn syrup)
5 green onions
Put everything into the food processor. Run until almost pureed. Refrigerate unless using immediately.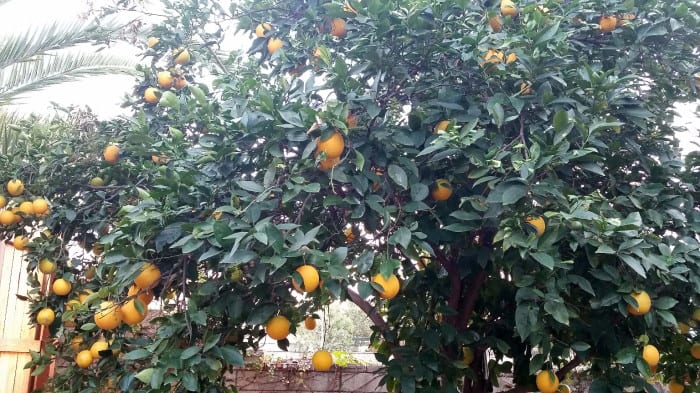 The orange tree I get all our beautiful oranges from — isn't it pretty!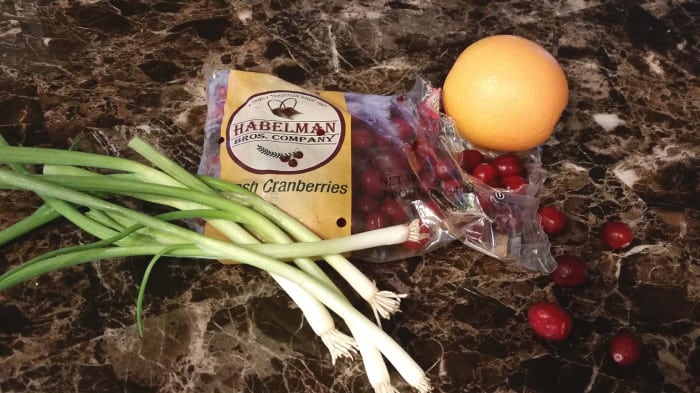 Assembling the ingredients….
My secret weapon — 100% cranberry juice..no additives, no high-fructose corn syrup.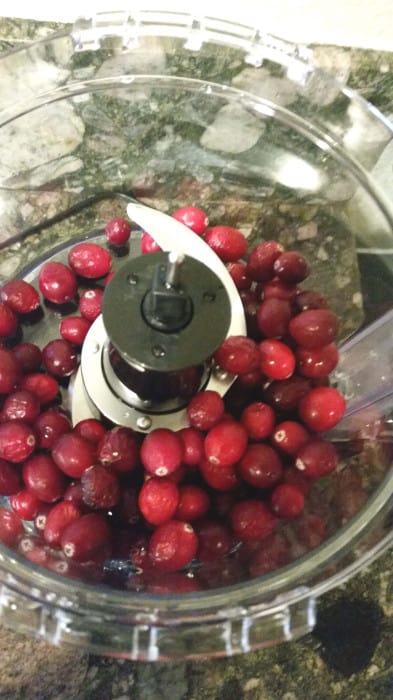 Aren't they pretty? I love the bright red color.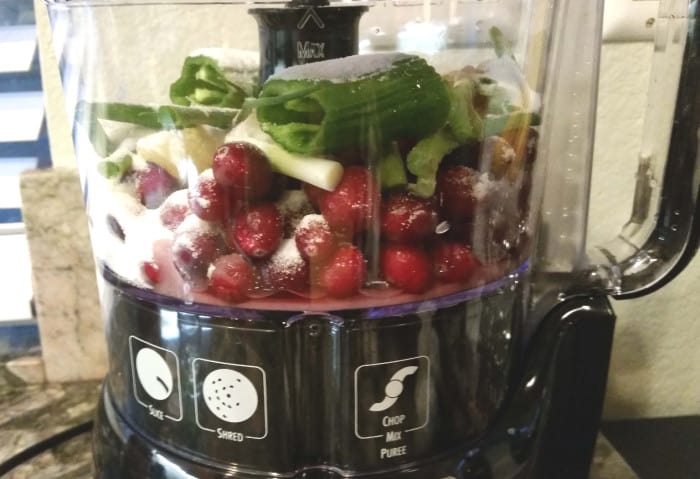 Almost done!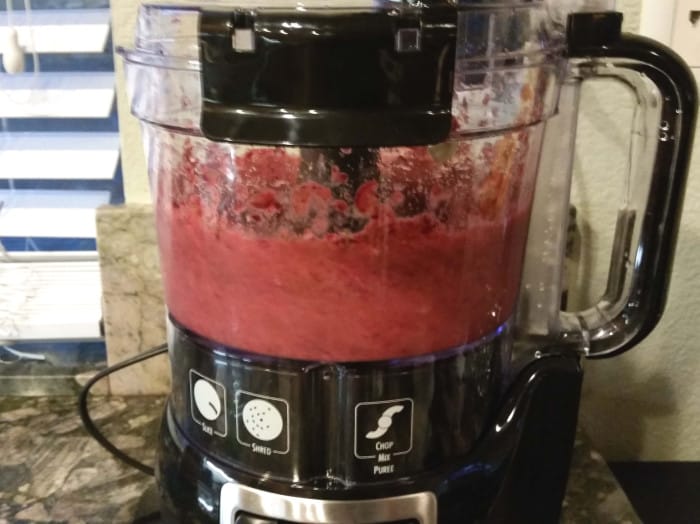 Whirring up — I used the chop blade.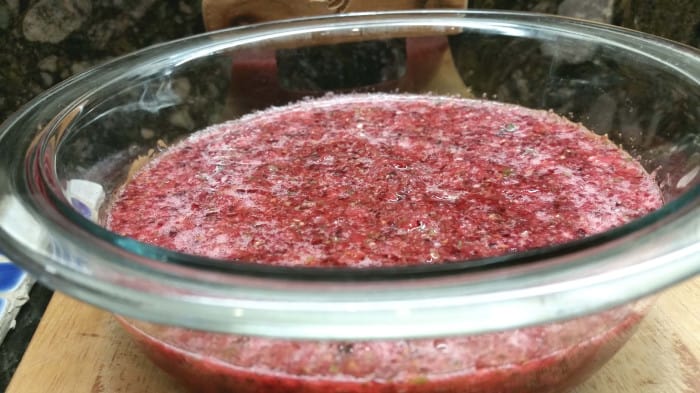 The finished product! You can see the chunks of scallions and the color is beautiful.
Do you have a favorite Christmas recipe that you make each year, or something new you're excited to try this year? I'd love to hear about it! I'm always up for adding new things to the menu and trying something new!
Want a chance to win your own Stack and Snap Food Processor by Hamilton Beach? Enter for a chance to win using the Rafflecopter widget below. It ends December 20, and the prize will be shipped directly from Hamilton Beach.