The DVD and Blu-ray release of Marvel's Black Panther is only a few weeks away! This record-breaking movie will be available digitally in HD and 4K Ultra HD™ and Movies Anywhere on May 8 and on 4K Ultra HD™, Blu-ray™, DVD and On-Demand on May 15. If yo haven't seen the movie yet, now is your chance! Black Panther is the third biggest movie of all time, making $665 million domestically and spending five weeks as number one. Impressive, right?
And, if you're Marvel-obsessed like me, now you can watch it over and over and over until you can quote it at random times in life.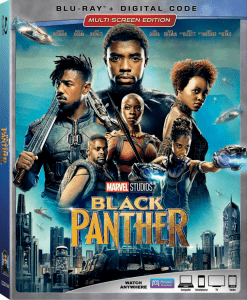 Black Panther is the story of T'Challa (Chadwick Boseman), a young man who returns home to his beloved Wakanda, a high-tech country hidden away from the public eye, to take his place as king following the death of his father. This doesn't sit well with others though, including Killmonger (Michael P. Jordan) and T'Challa has to face his ultimate battle in leading Wakanda into the future and changing the path for himself and fellow Wakandans forever.
The movie is fast-paced, suspenseful and it will have you on the edge of your seat. The cast is stellar, starring Chadwick Boseman ("Captain America: Civil War," "Get on Up"), Michael B. Jordan ("Creed," "Fruitvale Station"), Academy Award® winner Lupita Nyong'o ("Star Wars: The Force Awakens," "12 Years a Slave"), Danai Gurira ("The Walking Dead," "All Eyez on Me"), Martin Freeman ("The Hobbit" trilogy, "Sherlock"), Daniel Kaluuya ("Get Out," "Sicario"), Letitia Wright ("Urban Hymn," "Glasgow Girls"), Winston Duke ("Person of Interest, "Modern Family"), with Academy Award® nominee Angela Bassett ("American Horror Story," "London Has Fallen"), with Academy Award® winner Forest Whitaker ("Rogue One: A Star Wars Story," Lee Daniels' "The Butler") and Andy Serkis ("Avengers: Age of Ultron," "Star Wars: The Force Awakens").
Watch this trailer!
Be sure to pick up your hard copy of this Marvel blockbuster — check out the extras that are available!
BONUS MATERIAL (may vary by retailer):
Blu-ray:
Director's Intro
From Page to Screen: A Roundtable Discussion – Delve into the film's making
Crowning of a New King – Explore the world of "Black Panther" in all its color and complexity
The Warriors Within – Get to know Wakanda's women and the actors who portray them
The Hidden Kingdom Revealed – Wakanda's diverse people
Wakanda Revealed: Exploring the Technology
Deleted Scenes
U.N. Meet and Greet
Okoye And W'Kabi Discuss the Future of Wakanda
T'Challa Remembers His Father
Voices from the Past
Gag Reel
Exclusive Sneak Peek at "Ant-Man and The Wasp"
Marvel Studios the First Ten Years: Connecting the Universe
Director's Commentary
Digital Exclusives:
In World Wakanda Tourism Ads
Come to Wakanda "Before"
Come to Wakanda "After"
You know where I'll be the day this movie is released — on my couch, popcorn in hand, surrounded by the husband and kids, watching this amazing movie again!