So many years of snuggling with my kids, reading a good Christmas book and talking about what we saw in the pictures. Questions, cuddles and getting excited about the holidays, those memories are indelible. I may not have any small children now, but the holidays are just as special, and now we have grandchildren in the mix! This year, thanks to author Megan Alexander, and Simon & Shuster Publishing, I have a new Christmas book to read to them, "The Magic of a Small Town Christmas."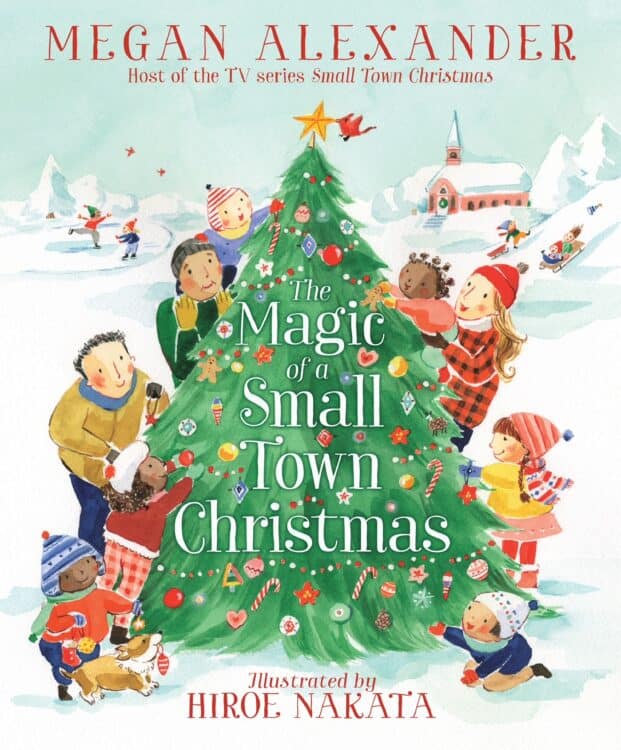 This book is truly magical. Beautiful watercolor-esque illustrations that evoke the holiday feeling fill its pages, from cover to cover, and the rhyming prose makes for easy reading. I really can't wait to read it to Charlie Rose and Finn, my daughter's children; I may order them their own copy, in fact. I know they will love the scenes of the family making Christmas cookies, sledding and eating together as a large group. The drawings are diverse and inclusive and feature real scenes from a family holiday, and you'll love it.
If you're from a small town, you know what a small town Christmas can be like and this book may bring back happy thoughts from your childhood. If not, you may wish to experience it at least once. It can be a lot like a Hallmark Christmas movie – cocoa with friends on a porch under the stars, hayrides, sledding and chatting by fire pits, saying hello to people downtown as you run your errands, community celebrations and festivals. I remember caroling as a child, getting in a sleigh and going from home to home, where people would give us cookies and hot cocoa.
We had the chance to sit with Megan, and moderator Laura Osnes, for a Zoom Q&A session a couple of weeks ago. Megan's backdrop was as full of the holiday spirit as one could be, making me wish I'd been sitting in front of my own tree and sipping cocoa. We peppered her with questions about the inspiration for the book, where she most envisioned when writing her stories, how much of her family experiences are in the book and more.
Here's a little bit about Megan from our press info, as there's a very good chance you've already watched Megan on one more television shows.
Megan Alexander is an Emmy nominated national host, author, speaker, actress, and the owner of M.Alexander Productions. She believes in creating and launching meaningful projects that matter. You can hear and see Megan on a variety of outlets, like the syndicated national news magazine television show INSIDE EDITION, CBS television shows, Fox News, Lifetime, the Hallmark Channel and many more. Megan has covered a variety of news topics like the last 10 Super Bowls, swimming with wild animals, covering an adventure travel story or chatting with celebrities. She is known for her sense of humor and knack for putting people at ease while entertaining and informing the public. For the 2014 and 2015 NFL seasons, she covered Thursday Night Football on CBS. She hosts the popular sports podcast "Women Talk Sport".
An actress and producer, her film credits include roles in the movies Space Warriors, Redeemed, Heartbeats, and in the television dramas "Nashville" on ABC and "Still the King" on CMT. She is Executive Producer of the feature film "HEARTBEATS". Megan hosts the nationally televised Inspirational Country Music Awards each year from Nashville, TN.
Megan's transition to being an author began with her first book, "Faith in the Spotlight – Thriving in Your Career While Staying True to Your Beliefs," which was released by Simon & Schuster in October 2016. She's not new to the process but is very excited to bring a new book out into the world of a different genre than her first.
My question for Megan was about the illustration process. As a longtime art lover, and someone who toyed with the idea of being an illustrator (to the point where I was double-majoring in art and psychology for a while there), I am fascinated by how drawings can make or break a book. Hiroe Nakata illustrated The Magic of a Small Town Christmas and she's a very talented artist.
I asked Megan about the collaborative process, because some authors let the illustrator come up with the concepts, and some present their plans to the illustrator. Megan does the former, giving Hiroe some basics and then letting her run with it. They would then collaborate to fine tune photos, such as making the dog more similar to Megan's, getting the ages of the subjects more accurate, etc. Hiroe lives in Japan and they hope to meet in person one day. "At that point, I would say we're 90% done with the process. She's so good!" Clearly their partnership is successful!
Before we ended the Q&A, we got photos with Megan and Laura. They were both so kind and a pleasure to speak with.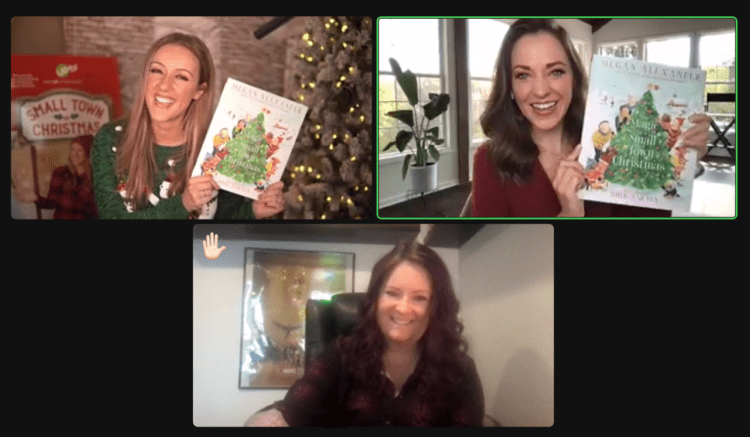 The Magic of a Small Town Christmas is available for purchase now on Amazon and other book sellers. (That is my affiliate link, fyi!) It's an adorable book made for ages 4-8 but I think it could stretch to more on either end of the age range. It would make a great Christmas gift! (I gave it to three families and they all loved it!)