"When you find you, come back to me." David Cook
I was listening to Pandora during my run today and I was thinking how lucky I am. I am so fortunate to be able to be the mom of four amazing kids. They are my life and it's happily been all about them for 26+ years now, but I'm not just a mom. Crazy thing is though, they grow up, get their own lives and need us less. I still have one at home, my 13-year-old, that needs me a lot but he's finding himself, developing outside activities and relationships as he should be and my 19-year-old daughter is at home as well, but she works full-time and has a really busy social life, just like she should be, too. The song made me so glad that while being a mom is my favorite thing ever, and my main goal in life, I am not just a mom. I don't need to find me — I think I've never really let 'me' go, I've just had other priorities.
What do I mean? Does that mean being a mom isn't enough? No way. Not at all, but just because it's the biggest and best part of my life, parenting with my husband, I still need to have more to my life. I am not just a mom, and while I've been being a mom, I've worked on keeping a life of my own, too. That's going to make the next few years, and after, a whole lot less emotional. I already know I'm going to have a hard time letting go; making more memories and holding onto the youngest a little tighter than the others, I guess it's normal but I know I can't do it forever. (I can, however, stretch it out long enough to decorate huge pumpkin cookies for Halloween and watch holiday shows together one more year!)
Those who know me best know that I am not looking forward to the empty nest phase. Luckily, I have no doubt I'll have grandkids to spoil and be heavily involved with, but I'm so glad that I've taken the time throughout the last 26+ years to have my own interests, to try out new things and grow along with my kids instead of laying the burden on them to be my life.
Take my running today, for example. It's really hard to fit in. Work, business, blog, chores, errands, etc…and that's not counting the obvious family commitments. I was telling the husband over the weekend that if I don't make a real effort to get and stay fit, it's never going to happen. These ten pounds aren't going to fall off by themselves. If I don't schedule my workouts and exercise as important as anything else on my chore list, I won't do them and they'd be at the top of my list of things I want to do in my life but don't. Running isn't always the most exciting thing, but running in the rain, seeing the clouds, the mountains, the flowers, and the feeling after means I don't want to give it up. So I'm a runner.
Crafting. I love to make earrings and I have a few scrapbooks that I thoroughly enjoyed putting together — and a closet full of supplies to prove my interest, but those supplies are dusty. I have made it a goal to pull out the jewelry case tonight and put together a pair of pretty fall earrings. Again, if I don't put it on my list, that case is going to continue to do nothing more than make an indent on my office carpet. I love making earrings, so why am I not doing it? Is a load of laundry or vacuuming up dog hair reason enough to not do it? No, because I'm not a housekeeper, I'm a crafter.
Another example is getting out of the house. Friends, family or just by myself, I am thankful to have friendships and relationships to prevent me from becoming a hermit, but if I don't plan it or if I make excuses — money, time, "I have to fix my hair," — those relationships aren't going to be there anymore. I work at home all week long, so getting out of the house is even more important. I love to host, don't get me wrong, but there's a big beautiful world out there and there's something to be said for when someone hands me a pre-made drink and the most I have to do is put on make-up. We live in California, land of 24/7/365 opportunities. Beach, hiking, outdoor music, museums, gardens, camping, I really could do something every single day and still never do it all. We love to take the kids frequently, but there's also a lot to be said for having the adult time and put being a mom on the back burner, telling the kids to stop texting while I'm out and fully focusing on those I'm with. I'm getting so much better at saying "No" and they're better for it, too. And then I appreciate the house and kids even more when I return.
My business and blog have also done so much towards me being 'more.' Please, don't think I'm saying that being a mom is not enough — if that's all I do, I'm okay with that — but we don't stop having interests and goals just because we have kids. My blog has opened doors for me I never envisioned. I picked a career 18 years ago but now have paths in so many different directions; I couldn't have done that with every career choice. I may be exhausted some days and look at my list of things to do, thinking I'll never get it all done, but I wouldn't have it any other way.
The husband and I love to travel. I'm still not entirely into road trips after the two cross-country moves in three years, but I do love to get into the car and explore. We've had several weekends of traveling since we returned here and are in the midst of setting up another in November. We are huge Nascar fans and we enjoy it together. Not all marriages can bond over the smell of burnt rubber and noise that makes your ears vibrate for a couple of days, but ours sure has. We've been thrown a few curveballs in 20 years together, but common interests that don't revolve around the kids helps and I hope that if nothing else, we've taught the kids that as well as that you don't let what happens to you define you or cause you to give up things you like.
Food…ah, what can I say about being a foodie? It's a family effort. We sit down with a meal and we say grace and everyone waits until the appropriate number of camera clicks occurs. Then we eat. Having fun together in the kitchen, or alone, as I'm happy experimenting with a new cupcake creation or cookie or smoothie, whatever, is way underrated. You don't need to be a good cook to have fun in the kitchen, but you may become one despite it!
So many other interests and things I choose to spend time on: reading on the balcony with a good glass of wine, barbecuing in the halfway-landscaped backyard, shopping for the landscaping materials to finish it, planning just the perfect fire pit for entertaining, amusement park visits, concerts, laying on the uber-couch watching a bad Lifetime movie or a family Marvel or game night..I really can never say I'm bored unless I choose to be.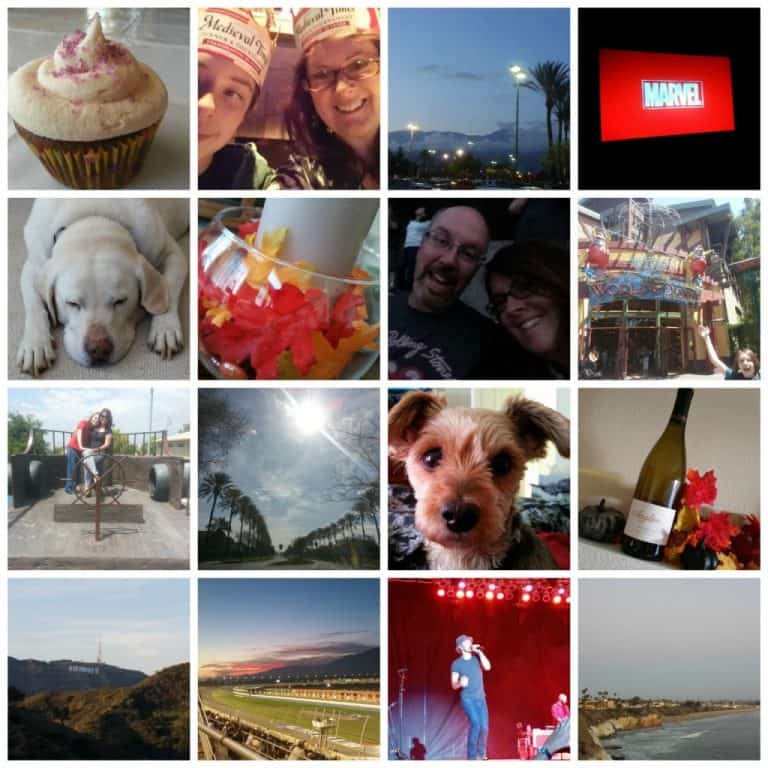 Just a little snapshot of my life!
Being a mom is the most rewarding thing ever, for me, but I don't want it to be the only thing ever. I can't give my kids everything in life if I'm too wrapped up in theirs, including their daily dramas with friends or whatever, to know what it is to have my own life, so I think that while I'll be sad when my last child moves out (which better not be for a long time) it's not going to be the end of anything, just another way of living.
If you're a mom of young kids and feeling overwhelmed, don't ever feel like it's all there is. You're never just a mom. Spend a few minutes on yourself every day and call it an investment in your future.