If you are ever looking for me and can't find me at home, I'm either at Disneyland or Victoria Gardens. Between those two places, I can pretty much fill any need from food to family to fun, so with Valentine's Day gift shopping on my To Do list, I knew exactly where to go!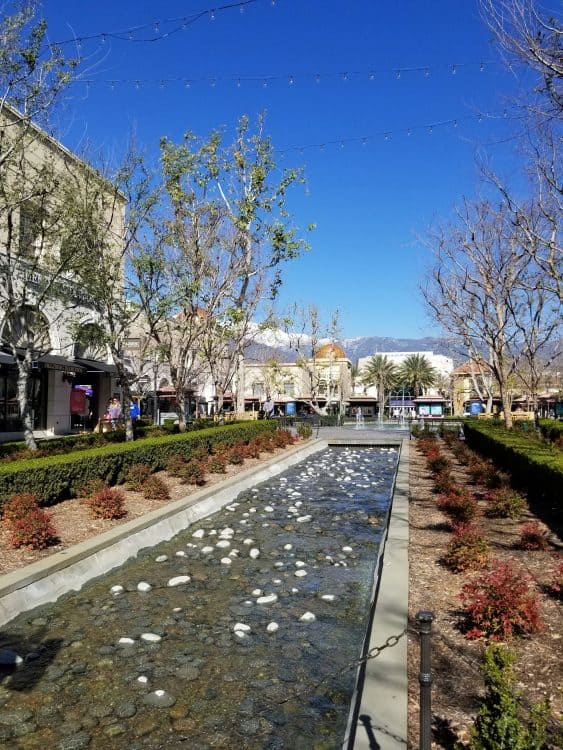 Victoria Gardens is located in Rancho Cucamonga off the 210 or 15 freeways, easily accessible to SoCal and in the shadow of the mountains, which are currently covered in snow. Spending an afternoon at the open-air mall, which opened in 2004 and spans 147-acres, is just what a busy mom needs. I was compensated for this post, but the photos and opinions are all my own. Wandering from shop to store to food kiosk and restaurant, I easily spent four hours before I realized how much of my day had sped by!
I visited a long list of places, and had to return to my car at one point to stow my purchases so I could keep going! That's how you know you're having a successful day shopping…along with the big smile on your face. Victoria Gardens is not only full of a wide variety of stores and shops, but it's simply a beautiful place. Amongst all the buildings, you'll find quiet little corners to rest while you plan where you'll go next. Eat your gelato on a bench by the fountains, drink your coffee in the shade of palm trees or just give your feet a break over by the Locks of Love photo opp on the west side of the mall, one of many fun places to make a good Insta-moment.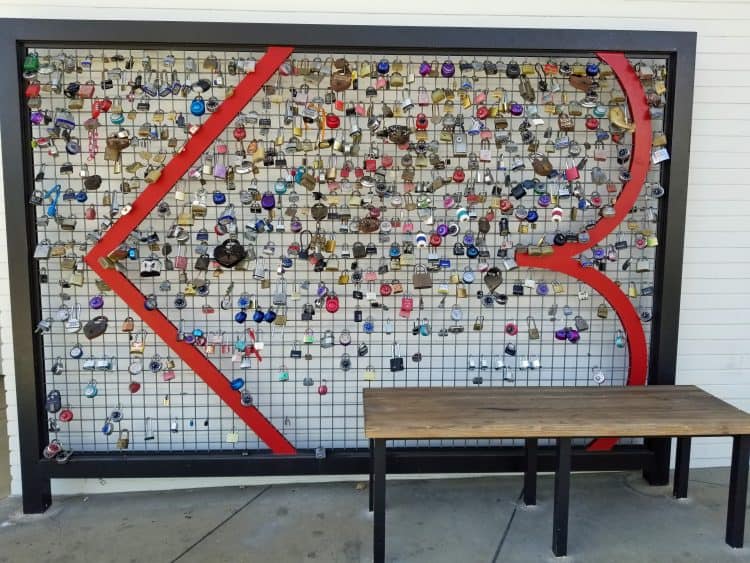 Victoria Gardens isn't just a perfect place for you to go Valentine's Day gift shopping, but it's where I do the majority of my Christmas shopping, birthday shopping, splurge shopping and more. It's also family-friendly. In the summer, you'll see kids running through the pop-up fountains on the south side of Chaffey Square, and year-round, the Cucamonga Choo-Choo takes kids around the square for a small fee. There are also many kids' events held in the square, offering free craft days, readings, music and more.
Adults aren't left out of the fun, as the square has been host to wine events, bands, free yoga, and more! We head over a lot to just stroll before and after whatever place we choose for dinner, and during the holidays, we love the nightly 'snow!'
When I went shopping for Valentine's Day, I cast a wide net to find gift ideas. To be completely honest, I was shopping for myself a lot, too. Who wouldn't, with so many options, right? I wanted to look at clothes, home goods, treats, jewelry, fun pampering things and shoes. It's a good starting point, because I never just buy what I went for…right?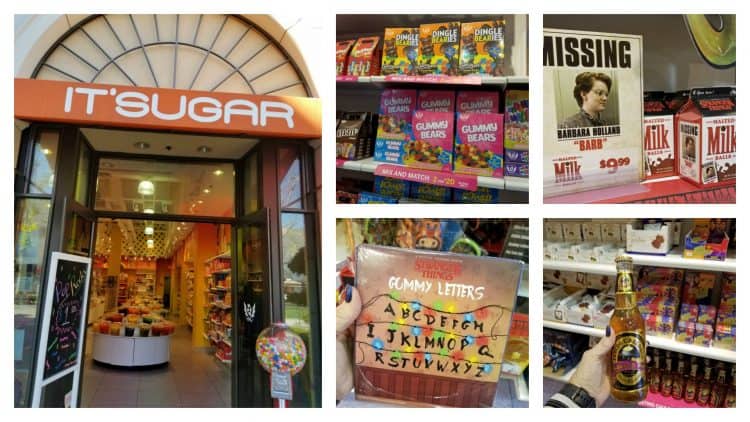 Not everyone likes chocolate, but almost everyone likes some sweets, right? IT'SUGAR carries more gummy bears than you can ever imagine (and I'm a gummy bear-lover, so that's a LOT), big boxes of your favorites, bags of silly trendy items and everything in between. I got a kick out of the Stranger Things-theme Malted Milk Balls, Gummy Letters and more. And the butter beer? Totally went with our dinner that night.

Who doesn't wander into a jewelry store when they pass? That crown necklace in Kay Jewelers called out to me. I have a crown tattoo and other crown jewelry, but I don't have one with the brilliant ruby in the center. It was so shiny yet could be worn on the daily. And those Levian diamonds? Beautiful!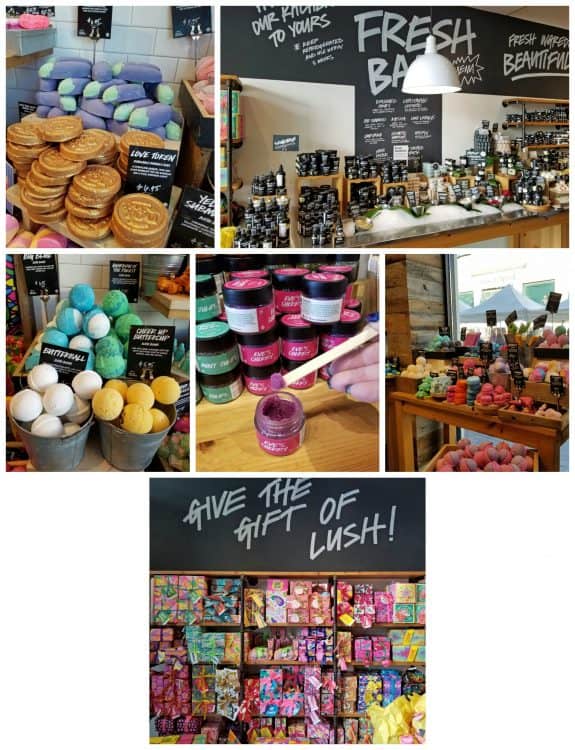 If you haven't been in a Lush Handmade Cosmetics store yet, you are missing out! It is a candy store of bath and personal hygiene items, and not the run of the mill stuff you expect. Instead, there are custom bath bombs with kitschy names, lip scrubs in unusual flavors, organic and healthy hair care and bath products, boxed gift items, lotions, soaps and more bath bombs. You can easily get sucked in here smelling items, tasting items and watching them experiment with the bombs in the display tub. It's such a fun store!

L'Occitane en Provence is still on the far east side of Victoria Gardens, and is in a perfectly placed building where the sun filters through the windows onto the displays in a way that makes you feel like you're in France. The  floral displays, colorful shelves and oh, the scents….you'll find gifts for men and women here, from shaving products to lotions to everything hygiene, but only high-end. (Special gift package with purchase was available when I visited, but there was only so many so it may no longer be available.) You can even buy a bouquet of lavender!

No teenager is actually a teenager unless they've popped into Claire's. I've been visiting forever now, and all my kids have also shopped there. They offer ear piercing, jewelry, headbands, bags, whatever type of accessories you need. Those earrings I'm holding above match a red carpet dress I have perfectly! I can't wait to wear them. The Harry Potter backpack is going to make a certain child really happy, as all my kids are Potterheads. Lots of deals going on at Claire's, like buy two, get two free…they depend on whatever day you go in but there's always something.

Loft is a newer store to the Gardens and is a fashion store full of brightly-colored displays of the latest in clothing trends. I am not a fashion plate, so it's nice to use mannequins as inspiration as to the colors of the seasons and the new styles. Loft is huge and their jewelry bar is full of gorgeous sparkling items you'll want to take home for yourself.

You can't shop all day without a treat. Or two. The Mug SHAKES Restaurant will fill you up with either regular lunch fare like burgers, but you really need to try one of their infamous shakes. Picture a shake in a mug, then ramp it up a few notches. You will want to be hungry when you try, and have your camera ready! It's an Instagram photo for sure!

Speaking of treats….what Valentine's Day is complete without getting someone chocolate, specifically See's Candy? We were given a box at Christmas, and it went FAST. Their nougat-filled rectangles of chocolaty goodness are one of my favorite candies anywhere. You can customize a box or buy pre-packaged to save time. There is also a variety of non-chocolate options, and the store is full of Valentine's-themed items, including the sour hearts I bought last year that were a big hit.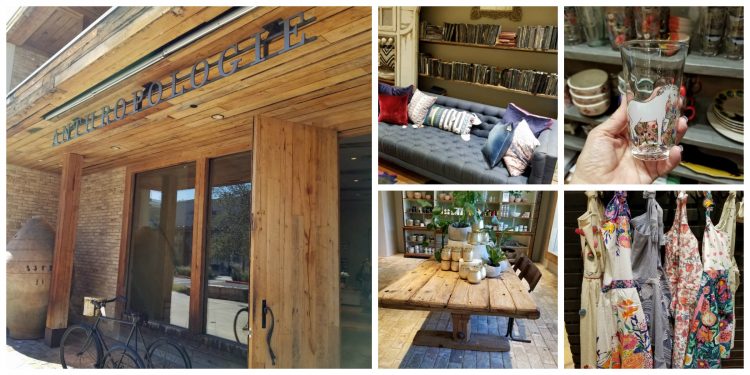 Anthropologie is an experience, not just a store. You wander from relaxing room to another relaxing room, giving you the feel that you're exploring a big, old home. The displays are unreal, with perfect color blending, taking advantage of the plank floors and pale lighting. I love the unique gift items you find, and that unicorn glass was perfect for a friend of mine who collects odd glassware. I'm a bit of a sucker for unique aprons, and there were so many to choose from! I honestly though wanted to fill that unicorn glass with lemonade and sit on that chaise lounge for a little while…..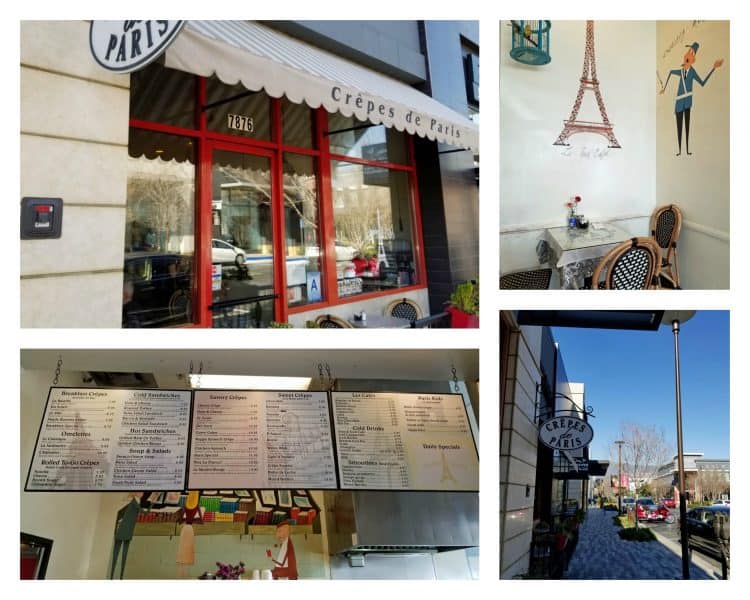 At the end of the day, I was hungry. I didn't get a chance to eat one of the Mug shakes, so I ordered two crepes, one savory, one sweet. As I waited, I sat street-side on the little bistro table, watching people go by. It was a chilly day so I ended up inside at a little table that felt straight out of France. The menu is varied and the crepes are large, so two people can share if you're not super-hungry. My order surprised me in to go boxes, so I don't have photos to share but trust me, yum. The Moulin Rouge crepe has salmon and I ate every single bite. By the time I got to the Dulce de Leche, I couldn't eat but half, and even that was pushing it. Tasty and full of soft caramel, topped with more caramel, it will fill your sweet tooth.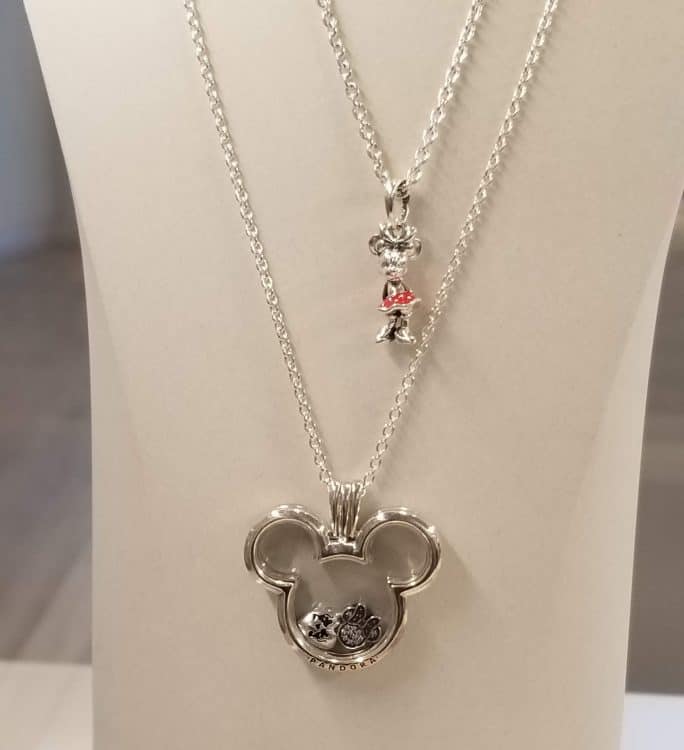 I swung into Pandora quickly on my way to the car. I wanted to see what new additions they had to their Disney line, and I was not disappointed. The above necklace is currently on my wish list! With Pandora, you can personalize your purchases and there is a large selection of beads in many styles and colors. I think this Mickey pendant goes perfectly with all my Disney outfits!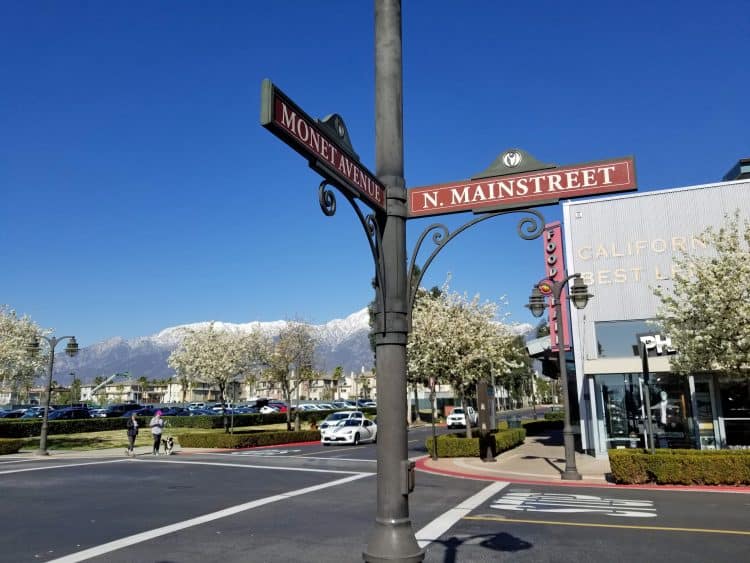 Isn't the snow amazing? We always have beautiful views up here every winter, but this year is a little more extreme, and we are loving it. Parking around Victoria Gardens is plentiful, but if you park on the Day Creek (west) side, you get an unobstructed view of Cucamonga Peak. (And if you head up into those mountains just a little west, you will make it up to Mt. Baldy, a great place for snow play, skiing and a ride to the top of the hill to tube or eat!)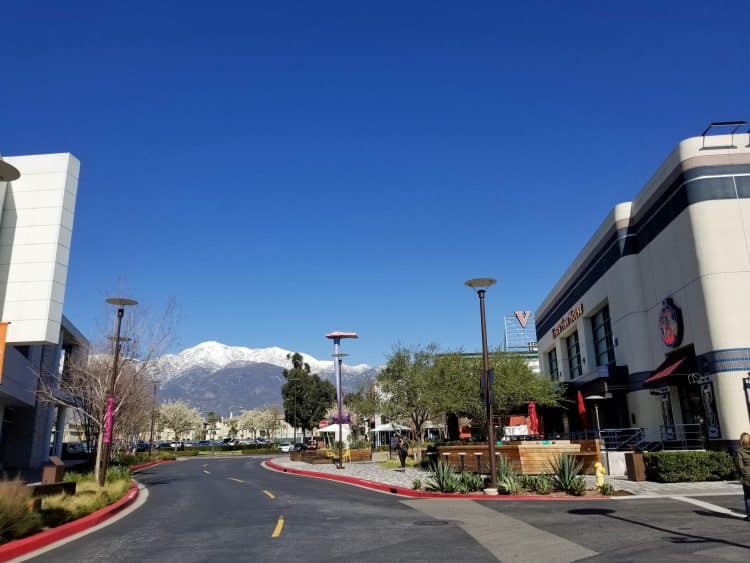 Victoria Gardens is not just a shopping destination, but the place to be on a weekend. Happy Hour options abound, and whatever kind of food you want, you'll find it in one of the many Victoria Gardens restaurants. (The State Victoria Gardens is one of our favorites! Stop in at AMC Victoria Gardens to watch a movie on one of their many screens. There's even a large food court if you would prefer a different take-out option or you want to eat where you can watch the kids play on the playground. We head over a lot to Kabuki for sushi and sake, or the State, for craft cocktails. Name it, we've tried it, and will continue to be big fans of all things Victoria Gardens. I hope your Valentine's Day gift shopping is successful, wherever you go!
Visit the website for Victoria Gardens hours, as some stores are open later than others or for the Victoria Gardens map. There's even a Victoria Gardens library, the Rancho Cucamonga branch near the AMC theater.