Marvel is a huge part of my life. We see all the movies and have family movie nights to see Marvel movies on repeat. I have about 20 various Marvel-themed t-shirts, there are cardboard cutouts of Thor and Loki in my foyer and I have made the ultimate displays in fandom: my license plate is a phrase from Thor, and I have a tattoo of Loki's scepter and the mjolnir on my arm. (And I'm currently wondering if I need to have the stonebreaker added in??) Suffice it to say, I'm a huge Marvel fan. When I was invited to attend the awards ceremony, hosted by Ryman Arts, where Kevin Feige receives the Sklar Creative Visionary Award, so I can tell you all about it? SIGN ME UP.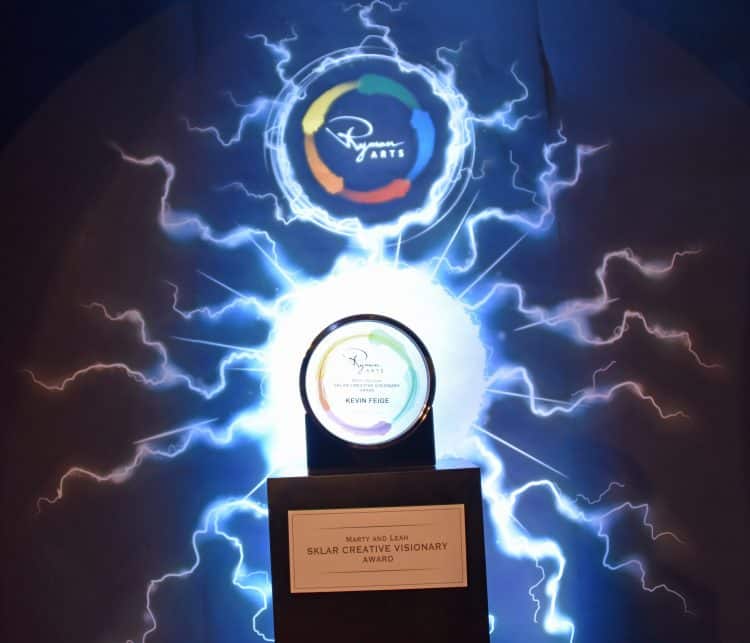 The evening was a star-studded affair that took place at the Majestic Downtown Los Angeles. The venue is gorgeous on a regular day, but for this evening, it was lit with a purple glow everywhere I looked. The purple lover in me was even more thrilled.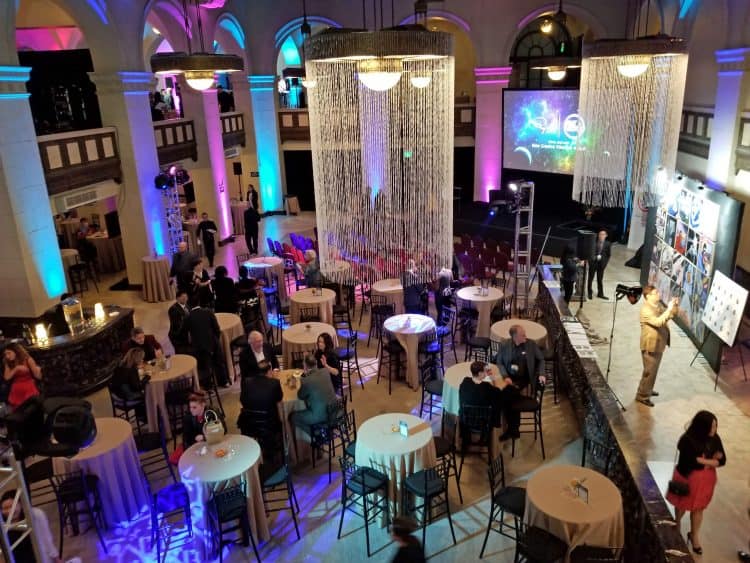 We arrived a little earlier than planned, so we were escorted upstairs to the VIP reception, where a panel was about to begin to discuss the making of Marvel Studios' Black Panther. The geek in me was coming out strong, and as luck would have it, we were given two seats dead center in the front. Four people to my right were Kevin Feige, Peyton Reed (director of Ant-Man and Ant-Man and the Wasp) and David Dastmalchian (from both Ant-Man movies).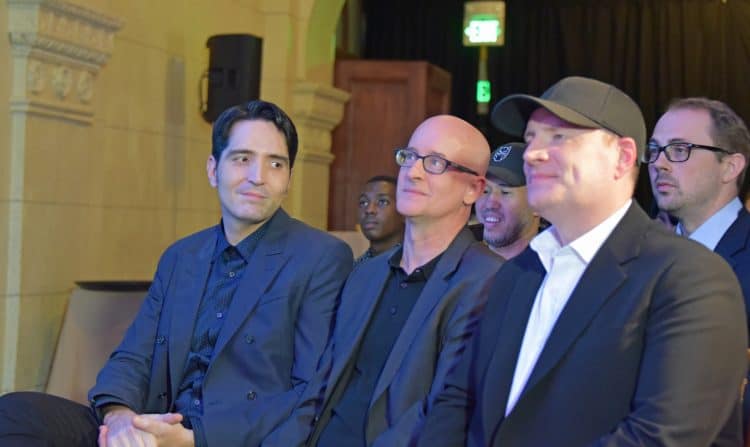 Attending the panel were Rachel Morrison, Director of Photography for Black Panther and Geoffrey Baumann, Visual Effects Supervisor for Black Panther, and it was moderated by Scott Mantz of Access Hollywood. The magnitude of the work involved with the cinematic effects is crazy to hear about, but if you saw the movie, one of the highest grossing in history, you're already aware of how amazing it all was. Creating a realistic Wakanda had to be one of the most challenging tasks and they rocked it. (And who can forget the scene where Thor, "rabbit" and "tree" came down to help with the battle?)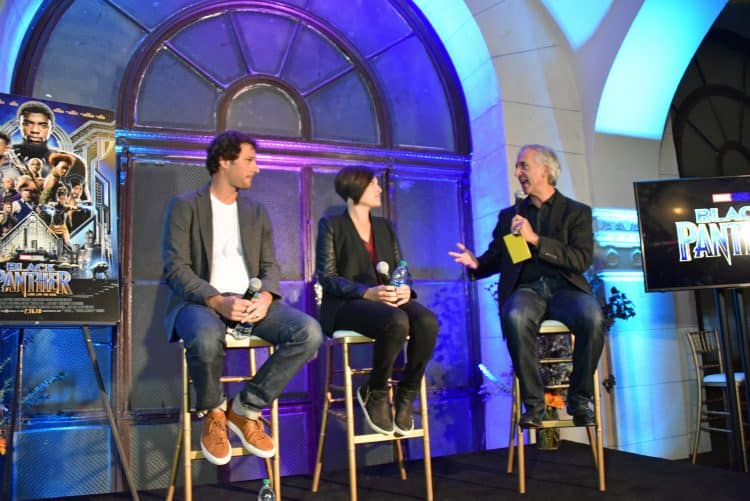 Kevin Feige, President of Marvel Studios, is who we have to thank for it all. Marvel has contributing to shaping our world, giving people an escape and a form of entertainment that has left its mark on history. To be in the audience as he received the first ever Sklar Creative Visionary Award was an honor, and I'm so thankful to Ryman Arts for inviting us.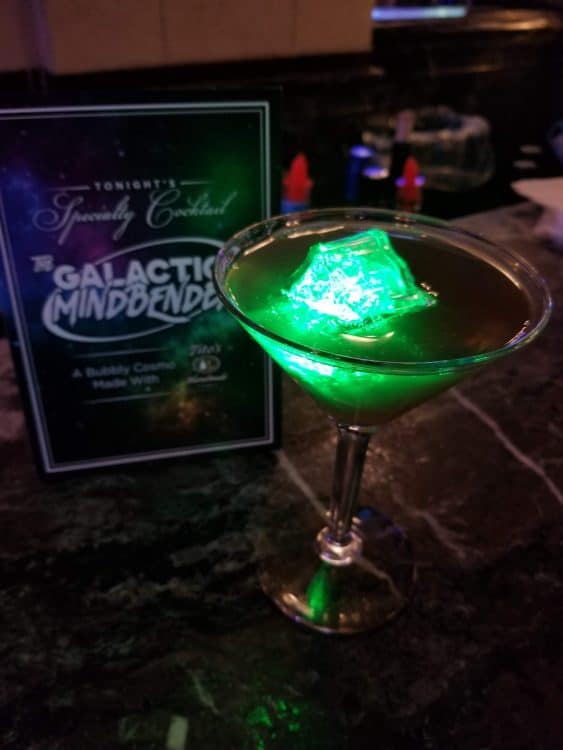 General Admission guests and VIP alike had many choices of buffet food to choose from, including my favorite, where I made my own poke bowl. We also had open bars available all evening, where we had to try the Marvel drink, the Galactic Mindbender, a version of a Cosmo made with Tito's Vodka…and that flickering ice cube was so much fun!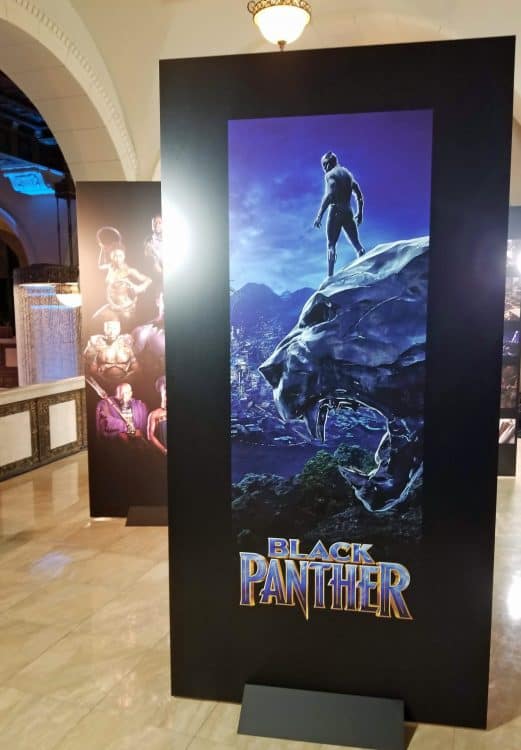 Upstairs, overlooking the awards stage, was a Marvel exhibit of numerous prints showcasing scenes from Black Panther and various Marvel superheroes. This was a popular space throughout the night, almost as popular as the silent auction area, where many awesome Disney- and Marvel-related "once in a lifetime" items were on auction, with the money going to the Ryman Arts program. My favorite thing was this Marvel poster, which also came with two tickets to attend the red carpet premiere of Captain Marvel in March, but that one went quick and the bidding war got hot!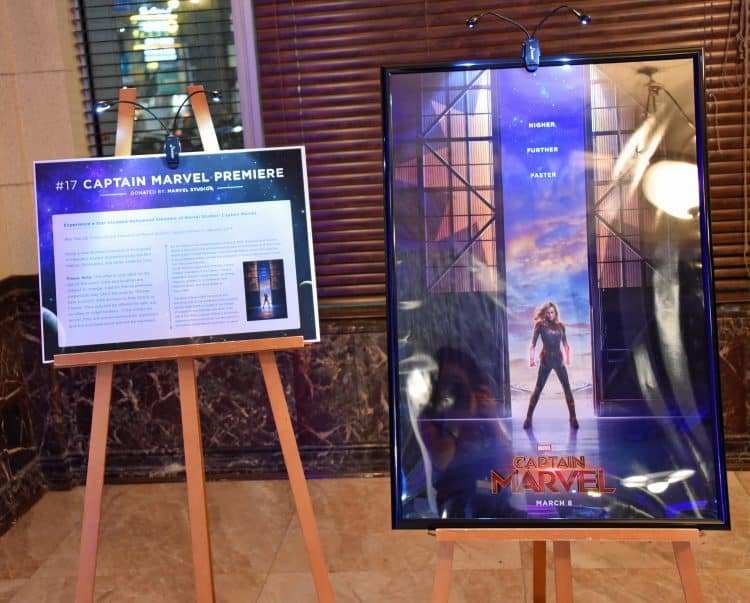 Before I get to photos of Kevin accepting his award, let me explain a little about the Ryman Arts program. Ryman Arts was founded in 1990 in honor of legendary Disney artist and mentor, Herbert D. Ryman. The program provides professional guidance and art instruction along with college and career planning to high school youth with strong art interests throughout Southern California — all at NO charge. (As a former art student in college, I know how expensive art supplies are.) An astounding 98% of program graduates go on to college, with many pursuing careers in a creative field.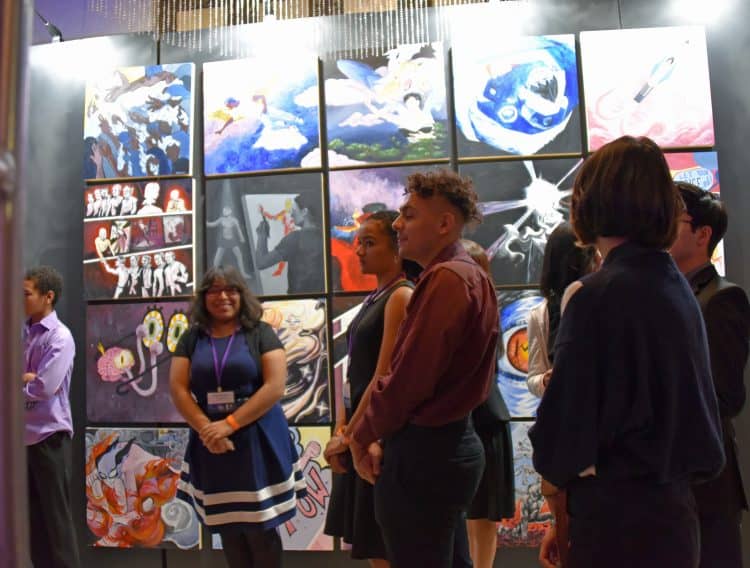 Ryman Arts is helping bridge the gap that many high school students are seeing in the wake of budget cuts. It has helped over 6000 students from over 150 SoCal communities and is committed to continuous outreach to help gifted students reach their goals. (My son is into art and I wish I'd heard about this program sooner! He is a senior now or I'd be all over this!)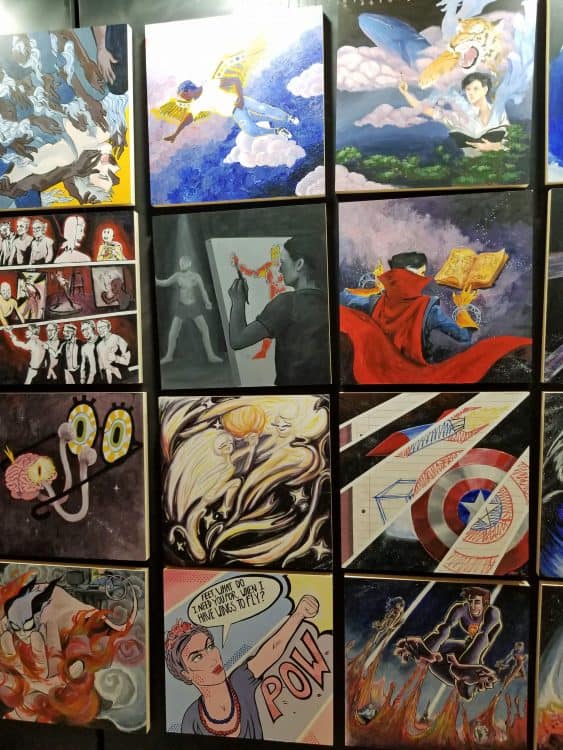 The program takes place on Saturdays on the campus of Cal State Fullerton or Sundays at Otis College of Art & Design. For more information on how to apply, visit the Ryman Arts website or call (213) 629-2787. A few of the students were in attendance and we got to see a large selection of superhero art — these kids are talented and headed for big things!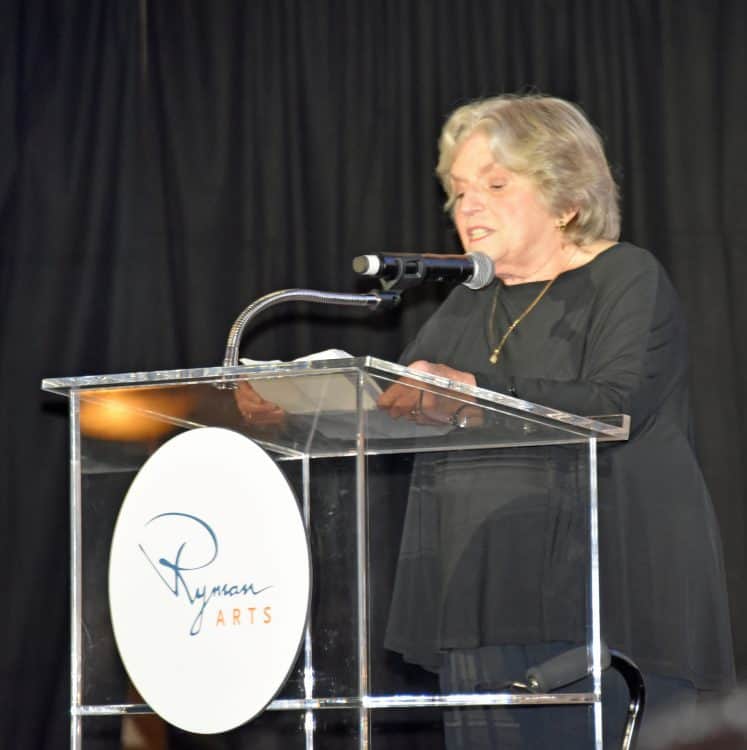 This inaugural award was established to honor Marty Sklar's memory and to celebrate the legacy of two of the founders of the organization. Marty was the vice chairman and principal creative executive of Walt Disney Imagineering, leading the creation of the Disney parks around the world that we all know and love. Marty recently passed, so Leah spoke to us in his place about the honor of the award being named in their honor.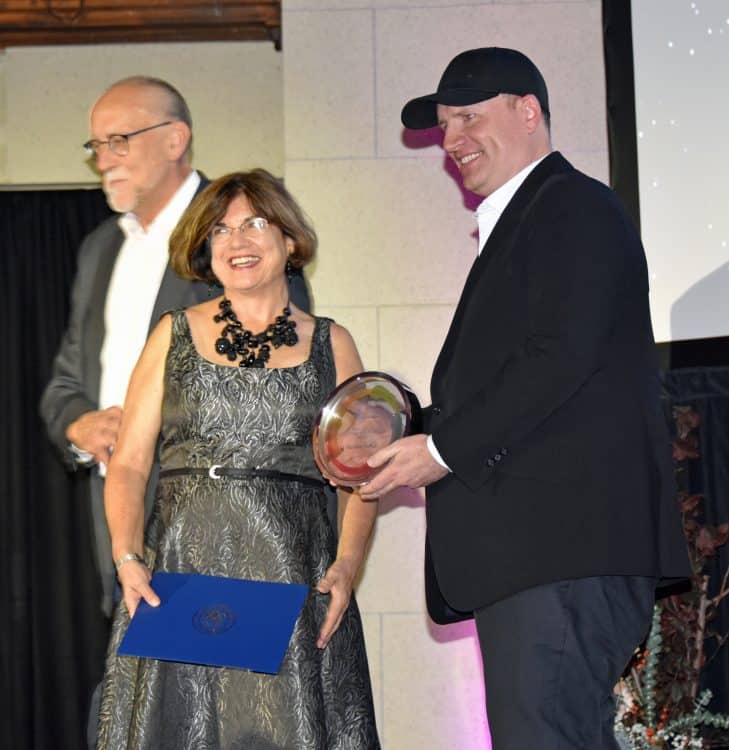 Peyton Reed spoke about Kevin prior to presentation of  the award. Peyton's got a great sense of humor and kept his intro short, but Kevin's acceptance speech wasn't any longer. I had a brief moment to meet Kevin and shake his hand; that was an honor in itself, but then he called to the people he was sitting with to look at my tattoo. That was truly an "OMG that just happened!" moment.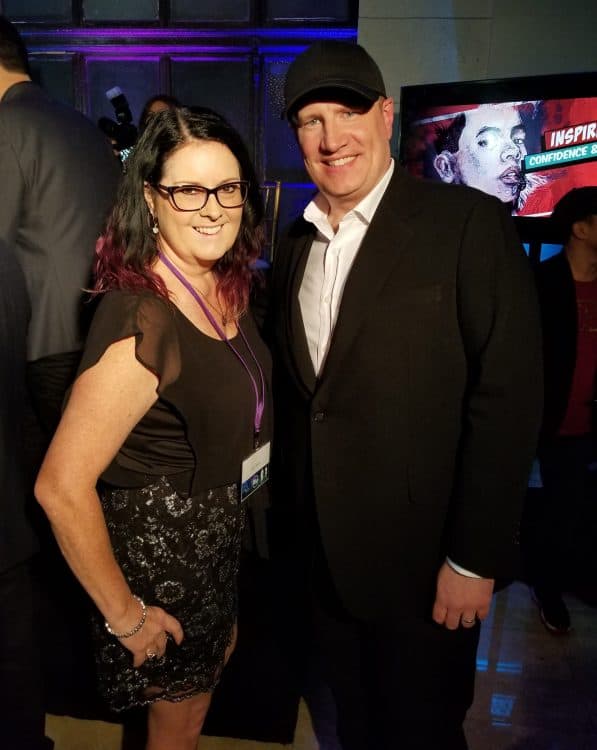 And because I can't mention Marvel without sneaking in something about Thor, here's a gratuitous photo of Chris Hemsworth from the intro movie regarding Kevin and his work with Marvel. Many of the main characters spoke in regards to Kevin but of course, this is the photo I'm going to share.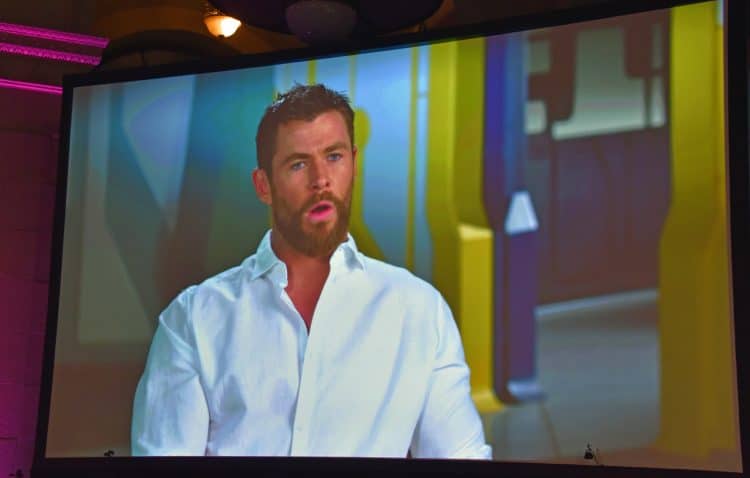 And for fun, a couple of other props from the decor — because anything Marvel-related has to have a few superhero things laying around, right?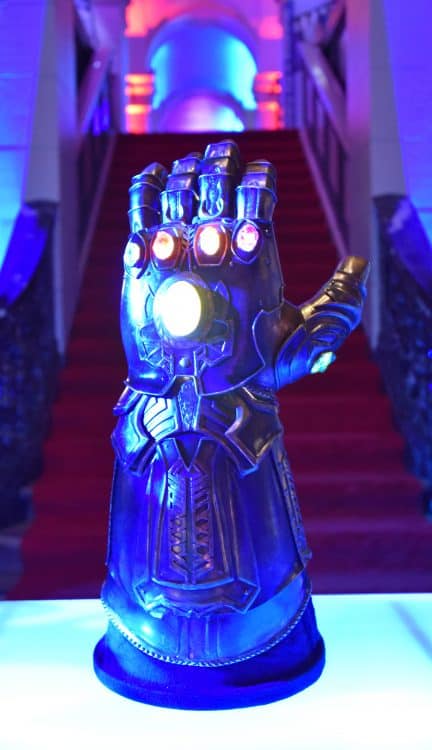 And Iron Man has to oversee, right?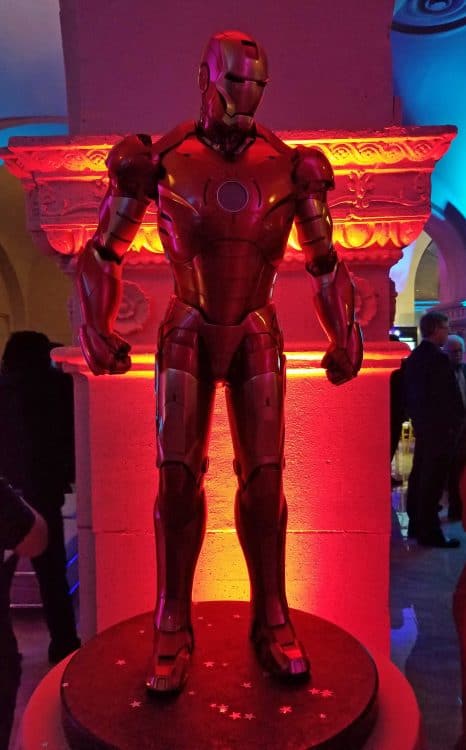 Thanks again, Ryman Arts, for hosting such a fabulous event and for inviting me to cover it! Your program is so needed and I was thrilled to see the donations well surpass the goal of $20,000 that evening! Thanks also to Marty and Leah Sklar for the award and for choosing such a well-deserving recipient. Congratulations, Kevin!