I learned to ski when I was a teenager, and while I was pretty good, I didn't keep up with it. I've always wanted to pick it back up, but even more, I wanted to learn to snowboard. Last week, we were invited to Mountain High in Wrightwood, California for Media Day, which consisted of a full complimentary day of skiing, lessons, food and apres ski beverages and appetizers with the yeti! How can you say no to an opportunity to learn to snowboard or ski in Wrightwood?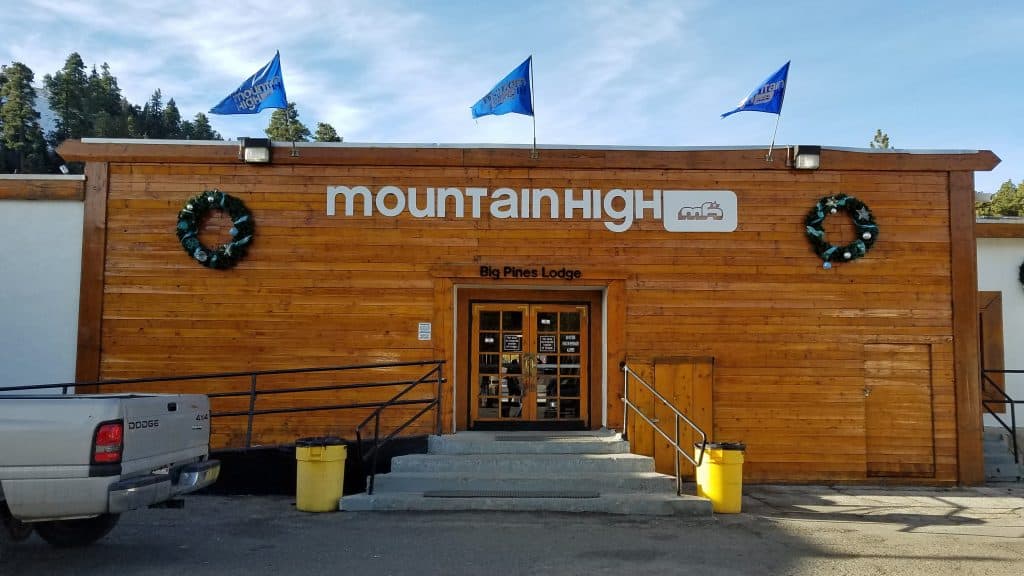 I'm in Southern California, in the Rancho Cucamonga area of the Inland Empire in the foothills. We headed out early, leaving around 7:00am and arriving at Wrightwood at 7:37am — only 37 short minutes to the snow and mountains! Mountain High is known as the closest and most easily accessible ski resort in SoCal and you can't beat the easy drive. If you're not a fan of mountain roads, don't fear this trip at all. Straight up the 15, off at the 138 for a few miles before you turn onto the 2. Just a few minutes later, on slightly curving and elevated roads, and you're in the mountain town of Wrightwood before even realizing you've climbed. Snow on the ground, pine trees all around, and the air is clear.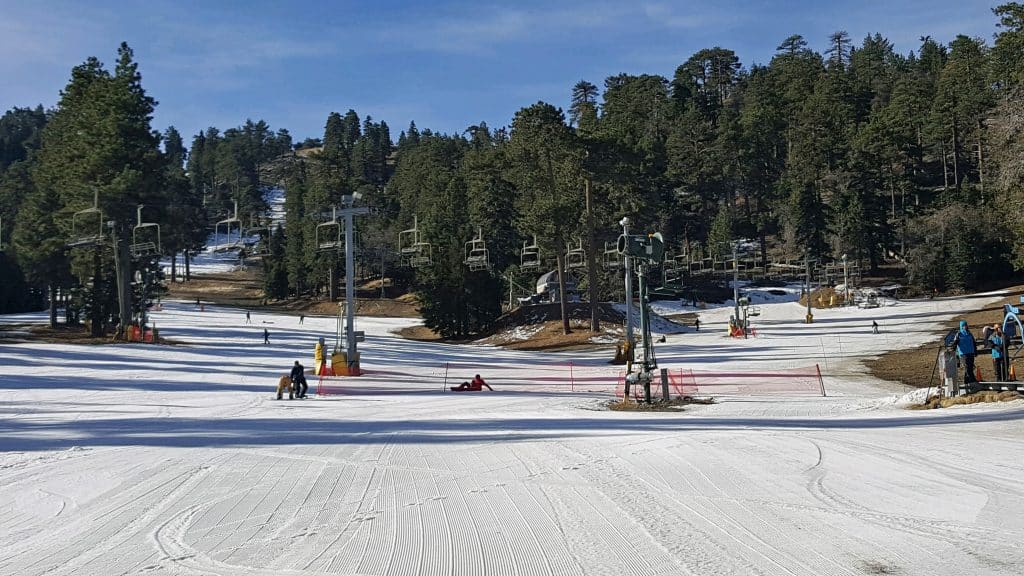 Sometimes chains are required, so check before you go, but the roads are all paved with two lanes on each side for most of the way. It's a drive I can easily make on my own in the truck, though I wouldn't take my Challenger up there if there's snow on the roads, so again, inquire about the roads before you head out so you're in an appropriate vehicle. For media day, the roads were wide open and even though it was raining somewhat on our way home, the drive was still about the same. Being easily accessible adds to the appeal of taking up this new hobby!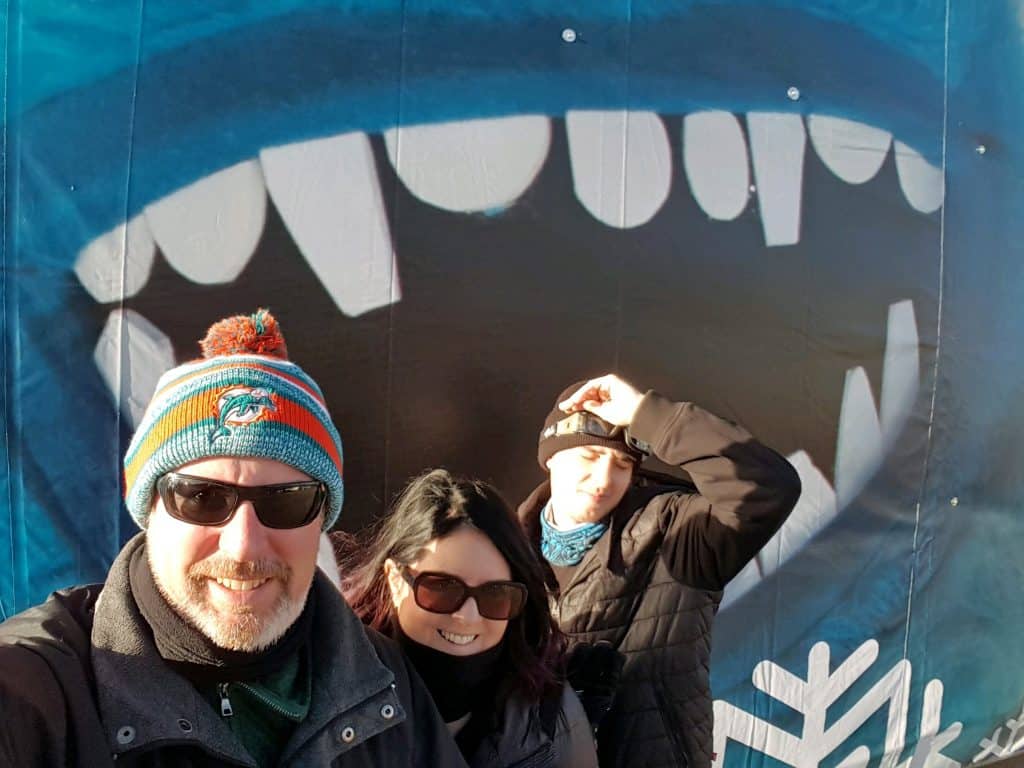 And taking it up, we are, because our youngest son is in love with snowboarding. When we arrived, fully clothed in warm snow gear (mostly purchased at Big 5 Sporting Goods, though I got my jacket at Burlington), we were welcomed with hot coffee, cold juice and a continental breakfast in honor of Media Day. We carb-loaded, checked-in and headed over to the rental area out front by the parking lot. Lockers are available for $5 per day per locker, but we got there early enough that we were in the first row in the lot beyond handicapped and VIP parking, so we didn't need to get a locker.
Tip: Parking tends to fill up by 9:30, so earlier arrivals get better parking. There is overflow parking available and shuttles that get you between Mountain High West and East.
Yes, You CAN Learn to Snowboard
Renting our gear was easy. We entered some basic information onto a computer screen along with our rental confirmation number; it sends a printed piece of paper to the front counter, where they hand you the printout and send you up onto a raised area to be fitted for your boots. Be patient, as the boots are snug so it can take a couple of minutes to get them on properly. Trust me, you want them comfortably snug, because loose boots can cause injury if not blisters and chafing.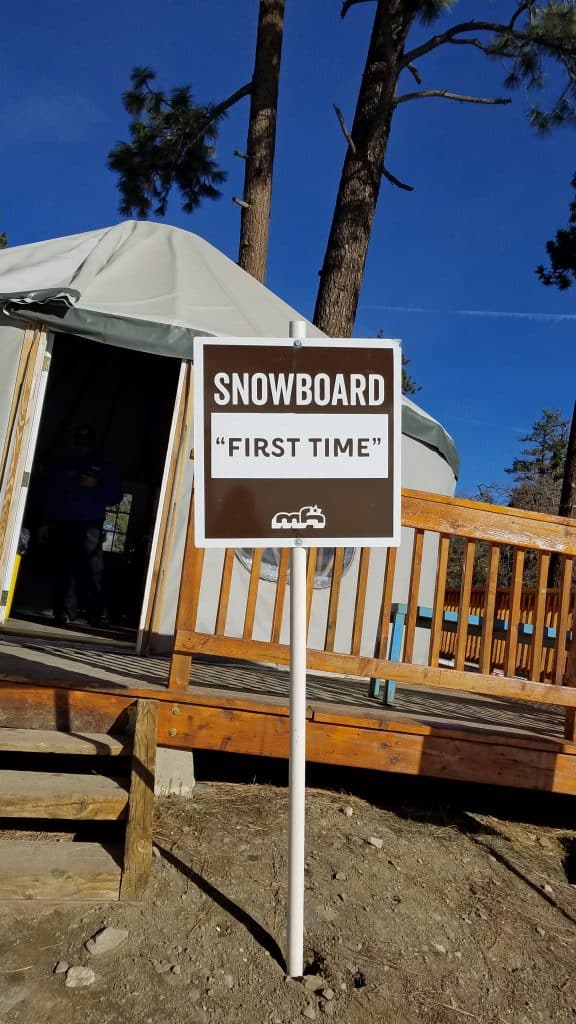 After the boots, we headed to get our boards; they are custom-fit for your height/weight and ability. Once we got our snowboarding gear, we went up the magic carpet, essentially an escalator without steps, that took us to the Mountain High Winter Sports School for our 10am lessons. Participants are broken up into ability, and the three of us joined the "never before even put our foot on a snowboard" group, or "First Time" boarders. Our instructor was incredibly patient with the five of us. (We were really impressed that the groups were not overloaded, so everyone got personal attention.) We were given the basics of our ski gear, getting our boots into the bindings safely, and how to maneuver.
I was really anxious to get going on the mountain, but after just a few minutes of realizing how unwieldy the board can be when it's attached to one foot — which is how you get on/off the ski lift — I was thankful for the chance to learn how to walk with it. More importantly though, our instructor showed us how to roll off with the board attached to both feet so we could stand up once we'd fallen.
This is a really, really important skill. You will use this a lot.
I spent quite a bit of time like this.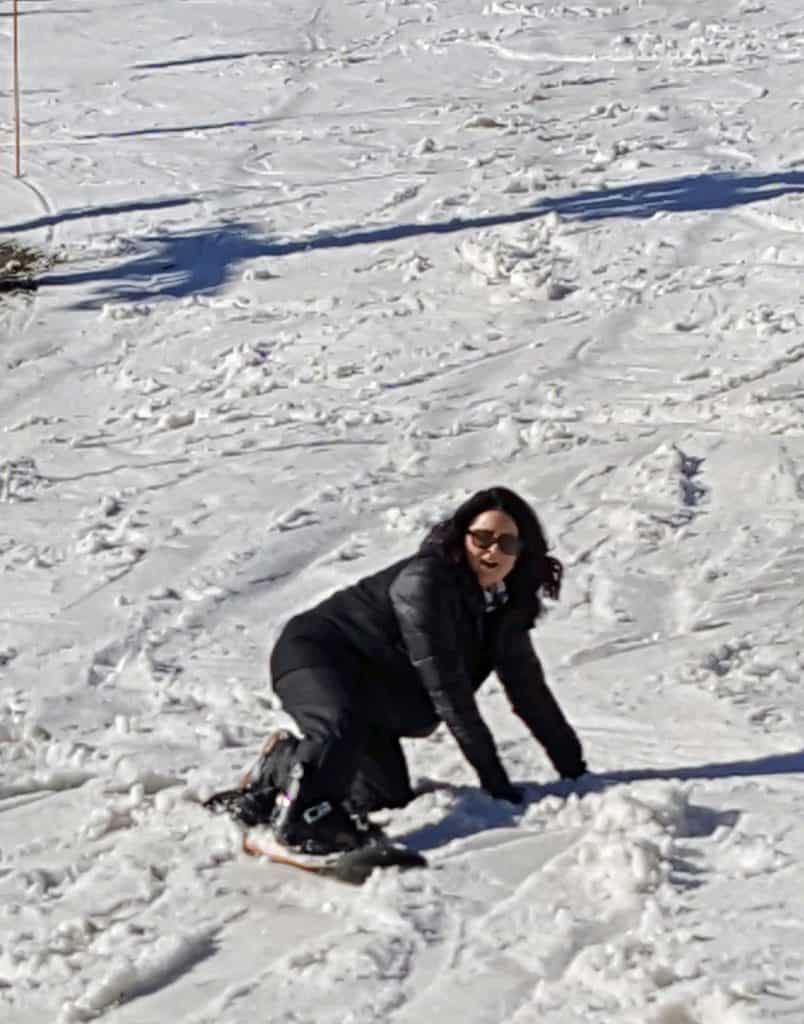 After learning how to use our toes and heels to stop and control the board, we were shown how to use our body to guide the direction of the board. This is critical information, because you can try to muscle the board all you want with your legs, and it will increase your chance of injury because nothing turns the board where you want to go more than turning your shoulders. Once I got that skill down, I knew I could stop at any point, even if it meant putting my hands down in front of me if I stopped too quickly and didn't want to face plant. (We found it was SO much more comfortable to fall face-down than falling backwards onto your tailbone.)
Before we knew it, we were at the bottom of the training area mountain, in line for the ski lifts.
I may have had to stop and deep breathe here for a second. A) I was out of breath. It's serious business learning to board when you're doing it wrong and expending energy you don't have to and B) I was having an OMG I will have to GET OFF THE SKI LIFT AT THE TOP moment. It's really not bad once you've done it the first time, but I was envisioning this huge hill, tripping over my board and just overall failing.
That didn't happen.
Well, I did fall, but I didn't trip over my board and the hill is just enough to propel you out of the way of the next set of boarders getting off the lift. Don't look down, point your board straight and forward, put your back foot onto the board and go, letting the chair slowly shove you down the hill. Easy peasy.
As I say that, I have to confess: I fell more often than not, so I learned that you quickly roll or otherwise propel yourself to the side so you're out of the way of the next people. Given that this was the basic slope, a lot of people fall so you don't want to be in the way.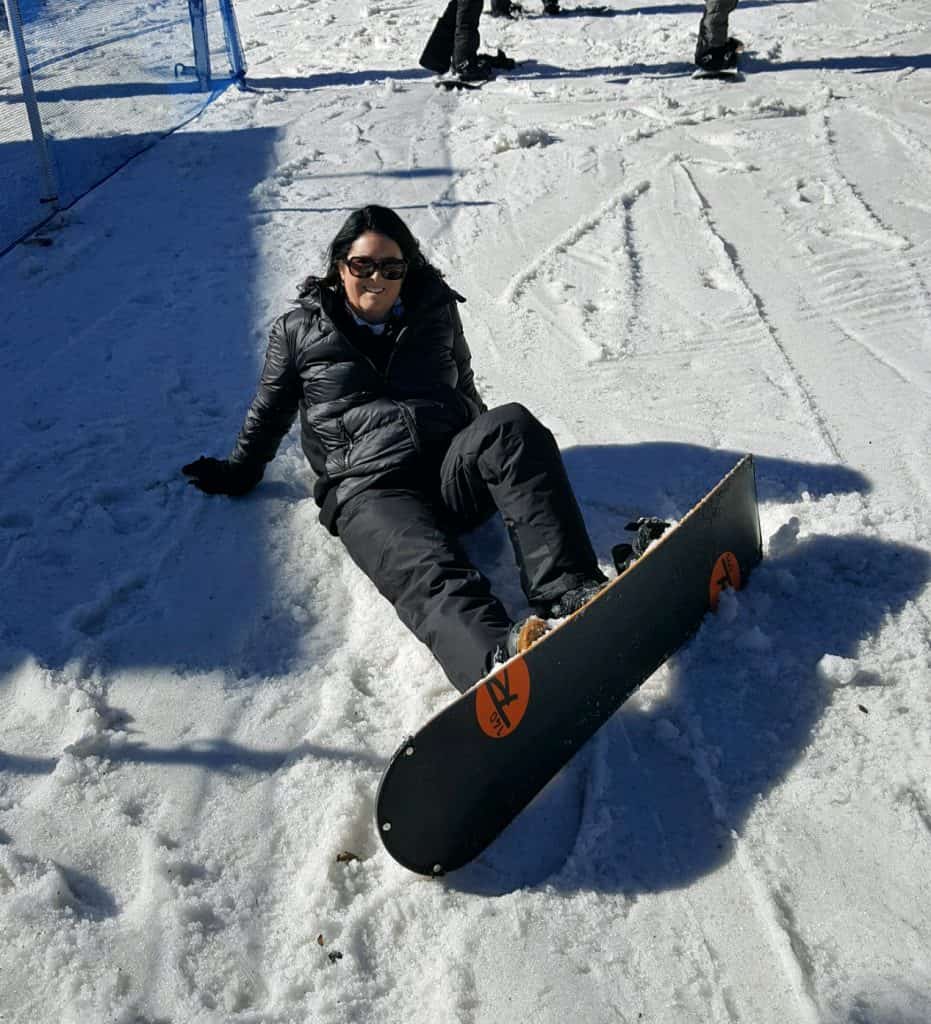 After a few runs, it was time for lunch. We went to the barbecue right outside Big Pines Lodge where we enjoyed chicken sandwiches and a Bloody Mary. And Gatorade. My mouth was SO dry. It was a nice break to catch our breath before we headed back up the slopes. We also took a few minutes to explore the large store full of cool snow gear.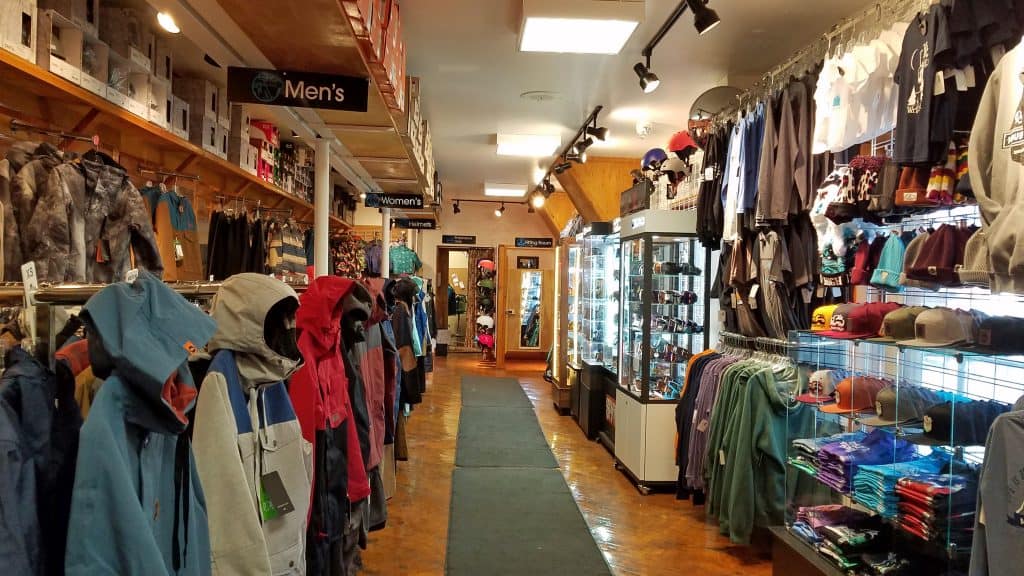 My son had already detached from the lesson about 30 minutes in, excelling at boarding and headed down full-bore like he'd been born snowboarding at Wrightwood. I was both proud and terrified, but so glad he was enjoying himself so much. He took off by himself, heading up higher slopes while the husband and I stayed on the lower slopes…but even then the husband went off with my son and I was left to take the lift and come down the slopes alone. I tackled that quickly but by 230pm, my hands were cold as the fog rolled in, bringing with it some light rain.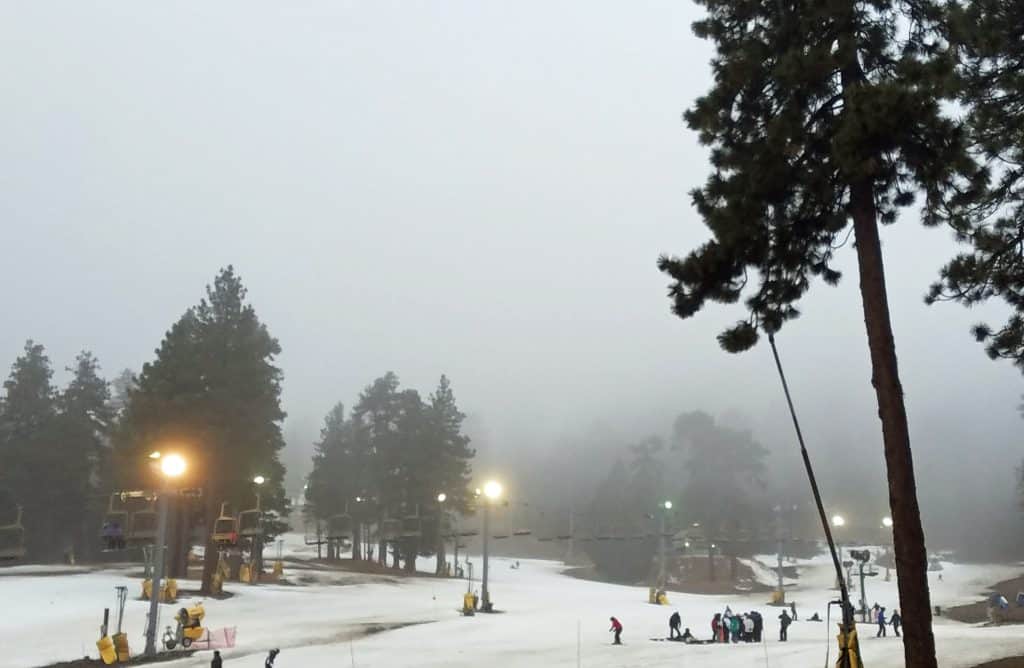 I parked by one of the fire pits, where I met some very nice people to chat with. The husband ended up there before too much more time had passed, so we had a margarita as our gloves dried off. The Foggy Goggle is a great outdoor place to enjoy a cocktail and stay warm while enjoying the view. There is also a cafeteria style food option inside Big Pines. At 3:30, our son returned with tales of going to the top of the mountain "in the clouds" on the highest run. Yes, he fell but yes, he loved it all and wants to do it again and again! I foresee a lot of skiing and snowboarding at Wrightwood in our future!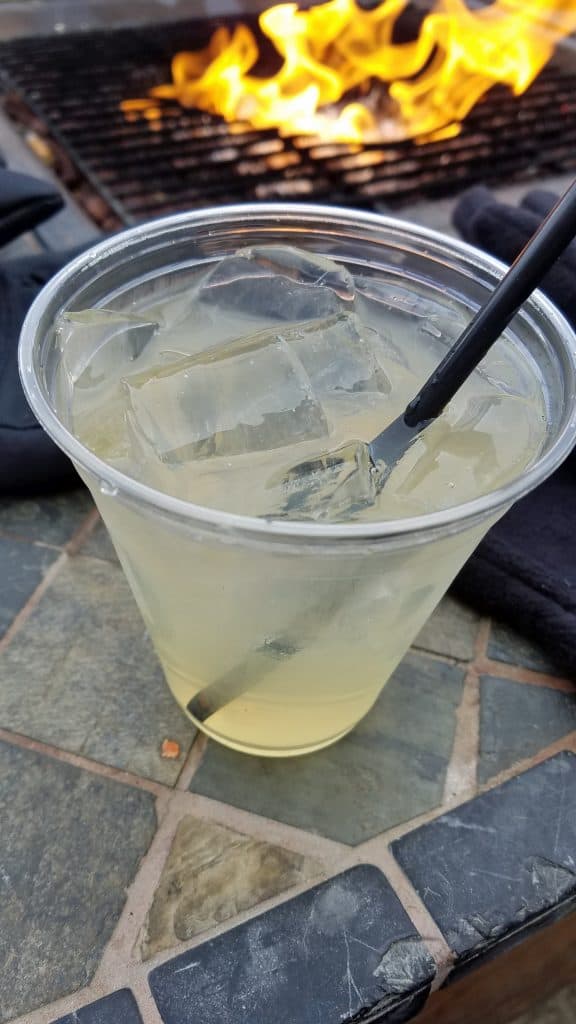 We were ready then to head into the Bullwheel back up by the lesson area. A fireplace, music, a restaurant and a bar, the Bullwheel is a wonderful warm place to relax and talk about your skiing adventures.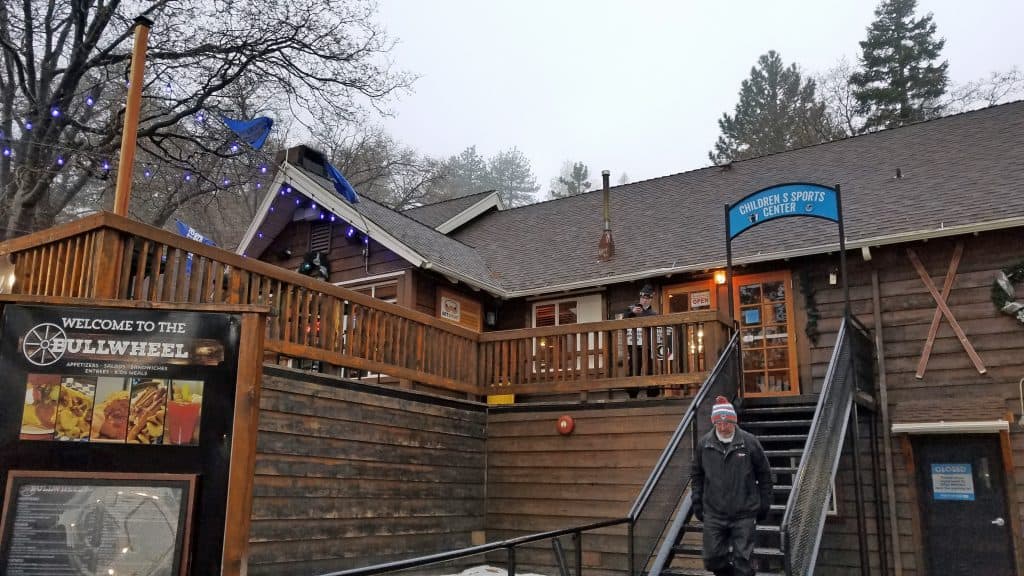 We had our fill of crispy onion rings, jalapeno poppers, fried ravioli and more. I also enjoyed a spiked apple cider, the perfect thing for my cold hands. Yeti made an appearance for photo opps, which of course I had to do. (We had yeti faces all day long, because a neck/face warmer is necessary to protect from the cold and wind, and Mountain High gave us some with the yeti face on them!)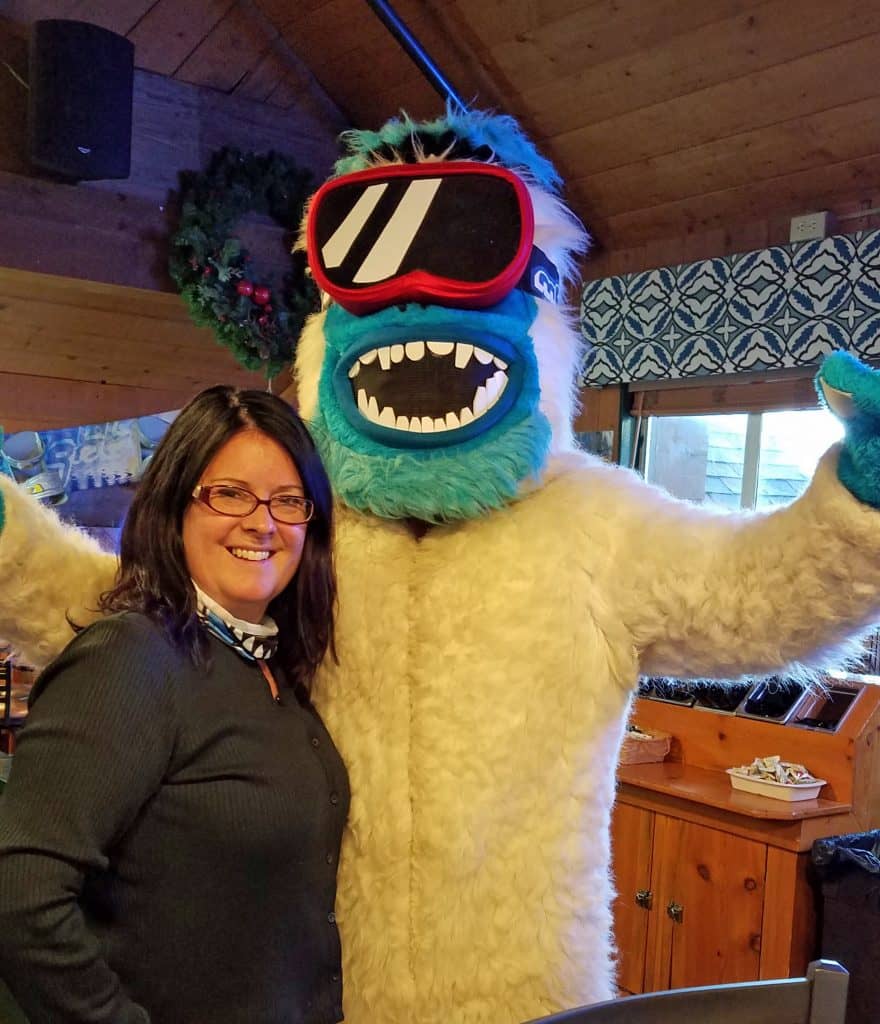 Mountain High is an excellent place for a family day, or just an escape from normal daily city or 'burb life. Ski lift tickets, lessons and rentals are affordable, with plenty of deals available depending on how frequently you want to visit. You can buy a package for a day or for multiple visits. I highly recommend getting a lesson to learn to snowboard properly, or ski, if you haven't ever been on the slopes before; it is worth the time and expense, as an injury will ruin your whole day and quite possibly a lot more.
Visit the Mountain High website for more information on learning to ski or snowboard, along with directions, prices and weather information. There are webcams to show you current conditions. On Media Day, snow ranged from 6″-9″ base, due to our rather uncooperative weather. However, temps have now dropped and rain came in. Mountain High also turned on the snow-making machines a few days consecutive, making it into much more of a white winter wonderland than the day we visited. (Sadly, our winter just hasn't been cold enough to sustain even manmade snow until the evening of our visit.)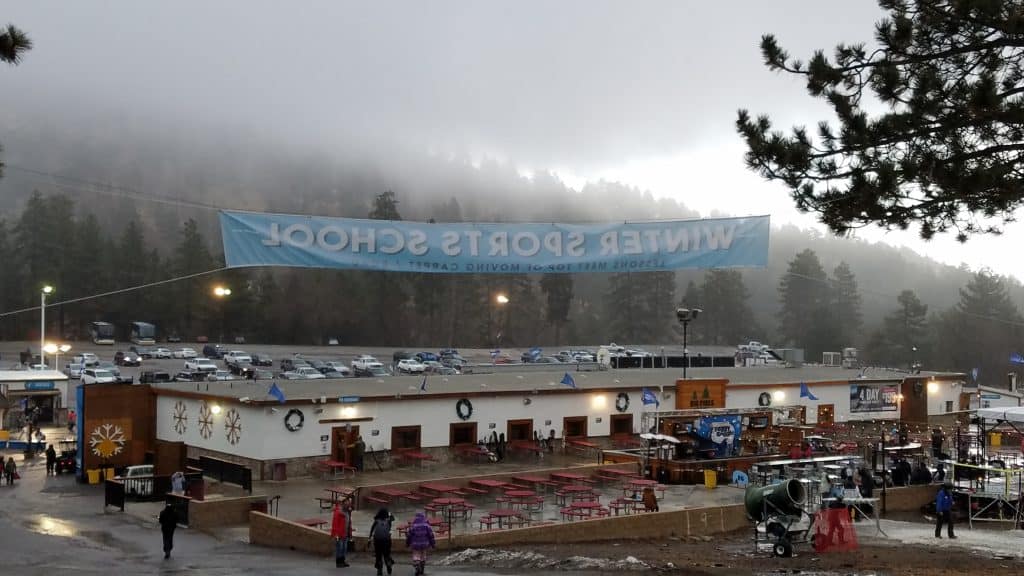 The slopes open typically at 8:30 and close at 10pm. You can purchase all-day lift tickets or just come night skiing for a reduced rate. It is beautiful at any point, but at night, the slopes are lit up in a surreal way and when the weather rolls in, you feel hours away from busy Southern California. When we visited, temps were in the 40s and 50s, but as I write this, it's 25 degrees and I wish I was back there under the pines, perfecting my turns!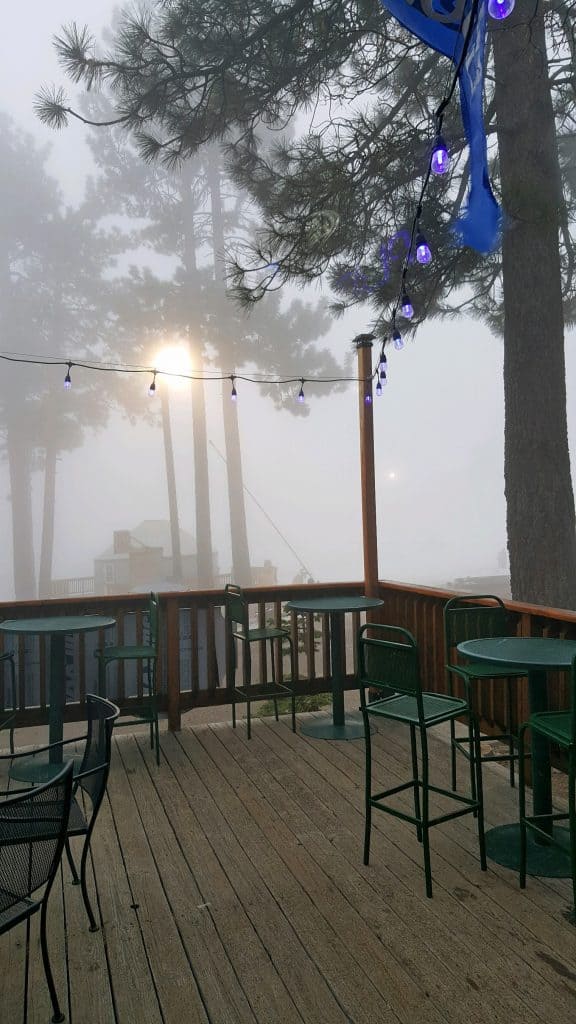 A great place to start making arrangements is the Mountain High First Timer's Guide. Lots of good info available to make your trip successful. You can also follow them on Twitter, Facebook and Instagram. With plenty of staff available, there is always a First Aid area if you need even a band-aid, and you're never far away from help. Need a repair to your own gear? That's also available, for a fee.
Mountain High, thank you so much for the wonderful day. My son has declared snowboarding his new favorite thing, and while the husband and I feel some muscles more than usual, we are thrilled with our experiences and can't wait to return again. The resort has everything anyone could need for a fun and safe day of snow sports for an affordable price. I can't think of a better place to learn to snowboard!