West coast NASCAR fans got a treat this past weekend with the 2022 Busch Light Clash, held at the infamous Los Angeles Memorial Coliseum. It was long-awaited, since the pandemic resulted in no California races in the 2021 season. Now we're back in business, and we had the bonus of seeing the drivers hit the quarter-mile track with a vengeance….and a thunderous roar.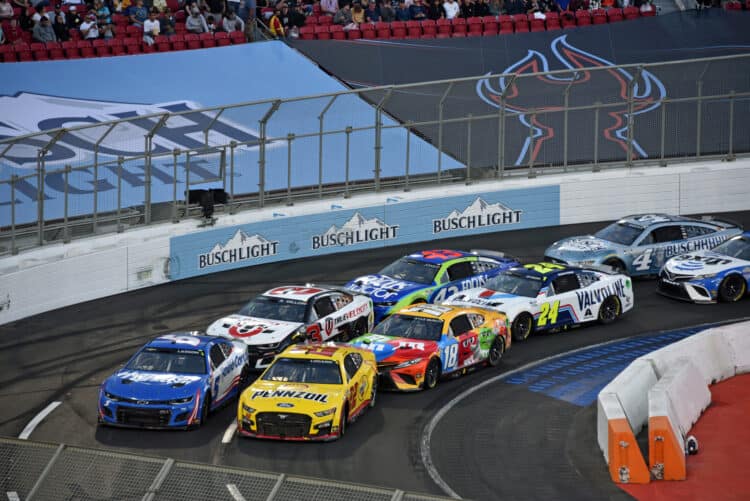 The 2022 Busch Light Clash was a little different this year, but NASCAR fans know that nothing's ever written in stone. This year also welcomed in the next next gen race car, so Sunday's race was a combination of a new racing venue with a new car, making for one hell of a race.
Sunday's events started with the gates of the LA Coliseum opening at 10am. (Parking started an hour or two prior, and by the time I arrived at 9:15am, traffic was already a bit of a cluster. I sat through four lights just to turn onto Bill Robertson, the back side of the Coliseum where media was directed to park in the new structure. Good thing everyone was excited and ready to see some racing, because I'm sure it got worse later in the morning. It didn't appear that LA had done a lot to mitigate traffic issues. No lights that we saw were changed or extended, but I feel like this is something that happens the first year or two at any event. With over 50k fans in attendance, my guess is that the Coliseum will be making changes before 2023's Clash…and yes, NASCAR has signed a three-year deal with the venue, so we'll see what happens.)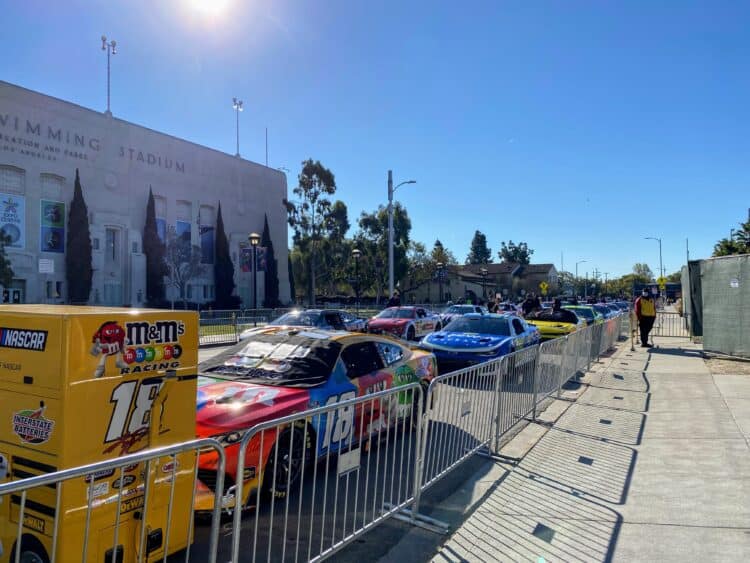 When I exited the parking lot, my eyes were adjusting to the brilliant morning sun as I came up on the cars lined up on Bill Robertson. It was pretty spectacular to see the way NASCAR utilized all the available space to allow the cars to stayed charged, safe and within fan view…though fans on the other side of the track probably didn't get to see these at all, as it's a trek around the outside of the coliseum. This was by Gate 14, and gates on each side of that were open only to specific personnel. Kyle Busch's brightly-colored #18 car was in the front, and almost everyone stopped short for a minute taking in the view. Finally, racing's back in SoCal. Finally.
Upon arriving and securing my credentials, I scoped out the track. Guests weren't inside yet and I was able to get some shots and easily explore. Next up was the garage, which was really a large parking outside the venue. Various drivers, owners and celebs were wandering the area. I didn't spend long there, as I met up with other photographers also covering the event and we headed over to the front of the Coliseum to check out victory lane and the area where the concerts would be held later in the day. (That was probably my only complaint, other than the light pattern in/out of the venue. Speakers were loud and everyone got to hear the music, but most seats were too far from the 'stage' to really see the singers other than on the screens. It can't be helped though, given that the Coliseum was made for football games and this was the first time the field was turned into a race track.)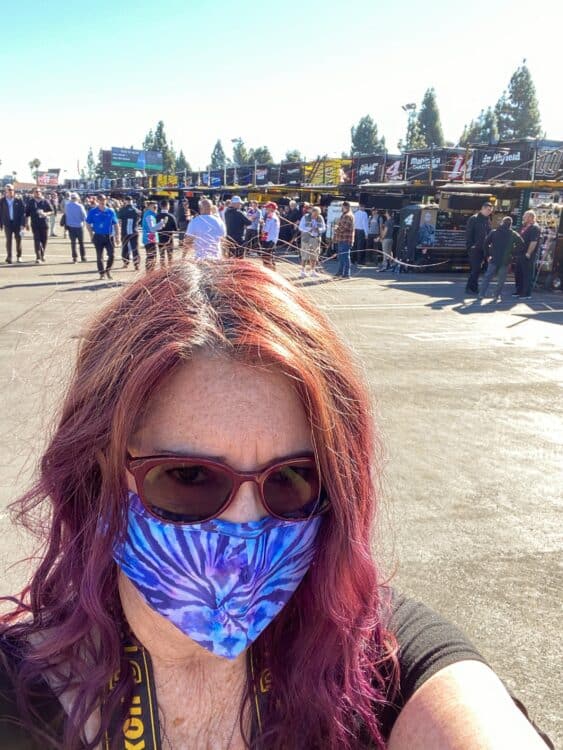 Press viewing was on floor 6 and 7, which also happened to be the VIP lounge. Drivers were wandering and seeing their family members and friends, which made for interesting viewing outside of the actual races. Michael Waltrip was broadcasting from the far end, along with Tony Stewart, Clint Bowyer and others as the day went on.
The main event, a 150-lap go for broke race was preceded by four heats, where the top three of each heat would advance to the big race. I was standing outside turn four, which happened to be a great spot to see the action. A lot of drivers got loose between turns three and four, trying to overtake other cars. (That's my recommendation for seating actually, and if you want get somewhere there, at any level/row, outside of turn two would be my next suggestion.) The next generation cars did pose a few problems, such as the rear axel issues with shifting. More than one driver experienced a problem getting going after a caution and prior to a restart.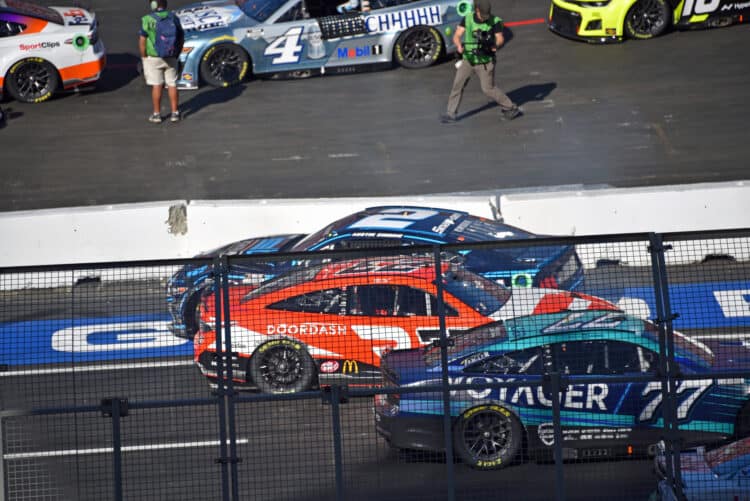 One really interesting thing is how the cars enter the track, and the downside to having no tunnel like you see in bigger tracks like Auto Club Speedway in Fontana. The cars come into the track through a tunnel, and once they, and their drivers, are inside, they're in there for the duration. We watched as cars would wreck and the tow truck should take them into the inner circle; from there, they'd be pushed into diagonal rows to not take up too much space. The drivers ended up standing together by stacks of tires and watching the remainder of the race; if the cars needed to be worked on and had hope of reentering the race, they were pushed to a different side, jacked up and work was begun. That inner circle is only so big and has to hold all the cars for the next heat/race, safety vehicles, tow trucks, flag stand and more. Kudos on navigating the logistics involved!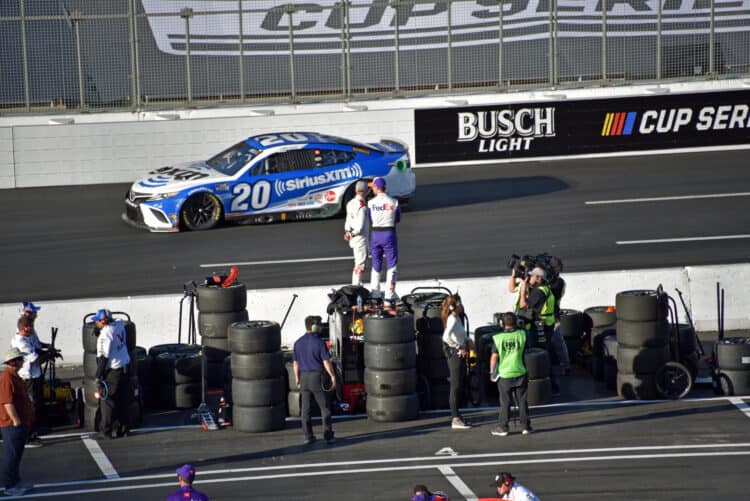 There was a pre-race concert by Pitbull, and halfway through the main event, Ice Cube performed a couple of songs. It was a slightly unusual schedule, but the whole event was slightly unusual — which makes it all even more exciting. NASCAR has incredible roots and to watch it evolve as the fan base changes, while still keeping the OGs, is pretty incredible. I'm so lucky to be a part of it.
The C-17 flyover, albeit a tick late, was pretty amazing. It flew through a long fireworks display and fans were screaming yet showing full respect for the national anthem and the display of both patriotism and fan love for the sport.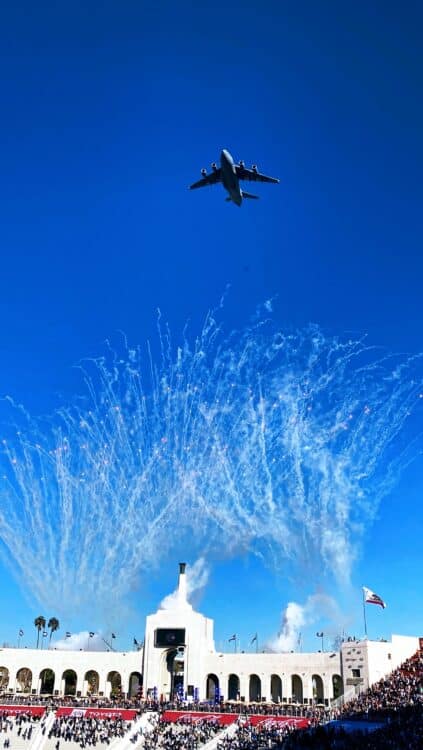 I'll share something super-nerdy with you. We started watching NASCAR races back in 2005, traveling all over the country to see races and tracks, following so closely and attending fan events that it's still surreal to be a part of the magic in even such a tiny way as to photograph and attend so I can share on social media and here on the blog. It's amazing.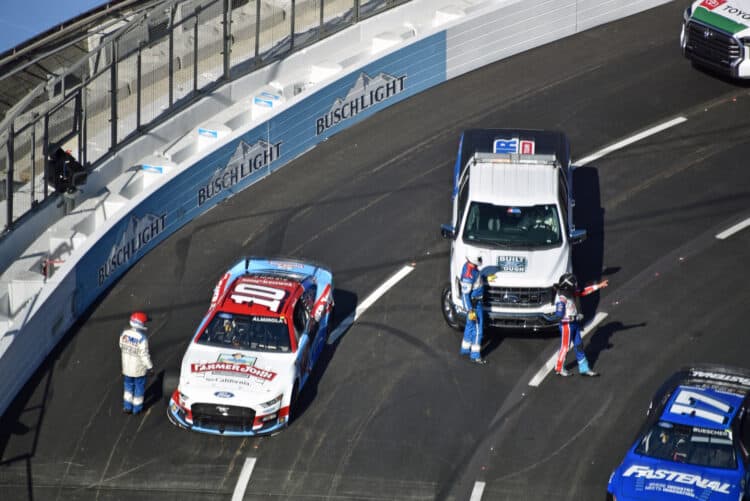 I've been asking two questions multiple times:
"Was the racing really good? I mean, how much can happen in a small venue that's not even a real track?"
YES. It was good. I reserved my feelings for a bit, waiting to see how it went as the day continued. I've been to Bristol, so I know what true small-track racing is like, and my bar was high. The 2022 Busch Light Clash delivered though. It was a real track in every sense of the word other than being a permanent setup. Was there room for some improvement with the venue? Yes, but the racing was fast, loud, the drivers pushed it to advance and the fans were LOVING it. If you wonder how much racing can happen on a small track, watch a Bristol race. A TON can happen, and does, and the Clash was certainly eventful. In going through my photos after, I was surprised how many I had with cars turned and facing the opposite direction. The action was tremendous.
2. "Why were there so many empty seats? I mean, California never seems to sell enough seats."
To this, I would first point out the fact that California frequently doesn't get the best races of the season. We've historically gotten races during our <limited> rainy season, or, when we got two races a year, during our hottest time of year. Neither is ideal and it's hard to compare. But to get to the point: there were not a lot of empty seats that were actually available once the main race started. Prior to that, people wandered in/out of their seats, spending time at the merchandise and food/beverage booths in the outer loops; there was no shortage of food and drinks to try. One really important thing to know is that the first 14-15 rows of the entire stadium were not available for sale because there was NO VIEW. The barriers had to be in place to keep spectators safe, and the venue wasn't built for whole-field viewing at that level. As for those sections on the far end, the main entrance to the Coliseum, they were reserved for press and VIP, as that's where the drivers made their entrance. In short, the stadium holds about 77k people and even with all those unsellable seats, they still had over 50k people in attendance…and the television broadcast was the highest numbers in many years. Very telling.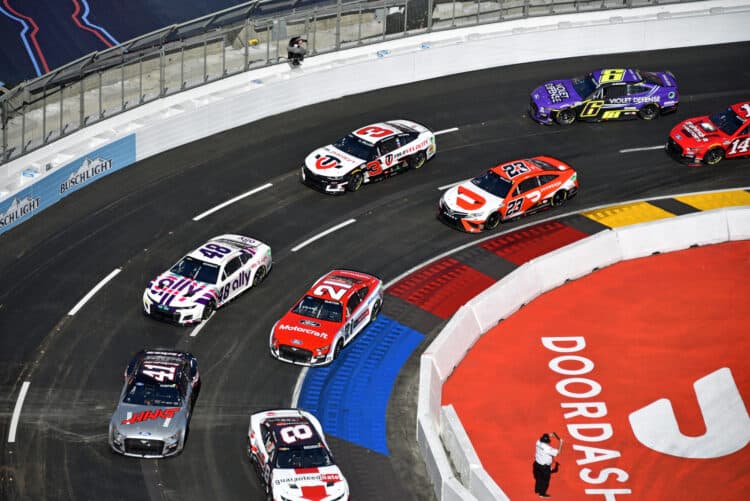 If you're looking to attend an upcoming NASCAR race and you're in California, more particularly Southern California, tickets are still available for the February 27th WISE Power 400, as well as qualifying on Friday, February 25th, and the Xfinity race on February 26th. That race weekend takes place at the Auto Club Speedway in Fontana. If you're a new fan and unsure if it's going to be your thing, the Saturday race is cheaper and has more appeal for the fan zone, where you'll see a concert and can wander all the stands. Sunday is a bigger race, and there's also a concert or two, but the focus is more on tailgating for a couple of hours, heading to sign the finish line if you have proper access, and you settle in for the race with your food and drinks.
A pit pass is definitely worth the expense. (Auto Club Speedway does offer military discounts, so look for that option when making your purchase.) You can get more up close to the cars and the teams, as well as autograph alley and the ability to see the cars enter/exit the track as the test and/or qualify. We spend hours every Saturday morning wandering, getting photos and just enjoying the people watching. And let me tell you, people watching alone is entertaining. NASCAR fans don't always get full credit for being as amazing as they are, but if you are new to the sport, diehards LOVE to help a newbie. They will share their beers, their space along the walls for viewing, and if you need help, they're there for you. That's HUGE.
Joey Logano, driver of the #22 car, ended up pulling out the win. He earned it, avoiding the race-ending wrecks and spins and overall drama that only short track racing brings.
The 2022 Busch Light Clash is in the books, and next up, the duels in Daytona on February 17. (And keep an eye out for a special fan photo video, an homage to the Clash. You may see some familiar footage in there. I'm so stoked!) This season's coming in hot and you don't want to miss any of it!